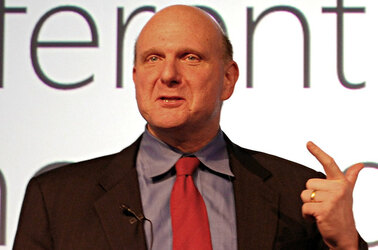 Analysis Less than two years into Satya Nadella's tenure as CEO of Microsoft, he's already had to report a lossmaking quarter. It's only the second time that's happened in the software giant's three decades as a public company, and the $8.44bn write-off Redmond posted earlier this week is the largest in its history.
Big Red warns of ZFS boxen halting when you delve too greedily and too deep
Says they're 'not close competitors'
Top of the pops again among tech giant rivals
Exclusive + analysis
A sorry story of whipped tales, angst and attrition
Let's build out the software defined infrastructure
It did see 'solid revenue growth on a constant currency basis' though, so there's that

Microsoft has revealed the first Preview of Exchange Server 2016.

Exclusive
Troubled HP has hit upon what it thinks is a terrific idea to revive its fortunes: tell techies to leave their T-shirts and shorts at home and obey the corporate "smart casual" dress code instead.

New strategy means hardware business is just clinging on, at best
MongoDB, Redis, Elasticsearch, PostgreSQL to be thrown into the Bluemix


Wall Street got a nasty Q2 shock today from Amazon, which announced an unexpected profit driven largely by its cloudy AWS business.

That's that then: it was a $415m mistake. We have heard from several sources that Cisco has laid off virtually the entire Invicta all-flash array engineering and development team. If true, Cisco – still led by John Chambers – has admitted the 2013 Whiptail acquisition was a complete cock-up.

QLogic, swaying in the doorway with a tatty photocopy of its lousy prelim results in hand, has warned staff they will be axed to cut costs.