Yeah, what of it? Wanna take this outside...
The Big Review One year after the launch of Windows 10, Microsoft has released the Anniversary Update, bringing new features as well as usability tweaks to the operating system.
Windows 10 was always more than just another release. Notable innovations include the concept of Windows-as-a-service, with regular updates (free for consumer editions); and the idea of "One Windows," with a Universal Windows Platform (UWP) for applications, along with shared code across PCs, tablets and devices.
Microsoft also sought to win back users who disliked the dual personalities in Windows 8, re-introducing a desktop Start menu and making UWP applications run in a window rather than full screen. Not everything in Windows 8 was discarded, though. The UWP is the next generation of its Windows Runtime platform, and the Windows App store remains.
Strategically, Windows 10 marks the moment when Microsoft decided it was more important to have as many users as possible on the latest version of its operating system than to generate revenue from upgrades. Profits come from apps, advertising, and integration with cloud services. CEO Satya Nadella described the strategy as to "grow new monetization through services across a unified Windows platform," when he was speaking at the company's recent earnings webcast.
Nadella added that "Bing profitability continues to grow, with greater than 40 percent of the search revenue in June from Windows 10 devices." Cortana, the personal digital assistant built into Windows 10, always uses Bing for search, and users will find it hard to avoid occasional promotional notifications, particularly in the consumer editions including Windows Pro.
What's new in the Anniversary Update
New features in Windows 10 Anniversary fall into two categories: those which immediately affect the user experience, and low-level updates of interest to developers and admins. In this case, the latter are more interesting, but nevertheless there are numerous feature updates and tweaks to the user interface. The original Windows 10 was a rushed release, and fine-tuning is welcome.
The Start menu has been tweaked, and is now a three-column affair with the All Apps list always on view. This saves a click, compared to the earlier effort, but it is unlikely to satisfy those still in love with the Windows 7 Start menu with its simple hierarchical structure and tidier appearance.
If you ask the question, "Why is the Windows 10 Start menu as it is?", the answer is a long story about Windows Phone and Live Tiles and Windows 8 and tablets, and then Cortana thrown into the mix. It is functional though; and not so important when you consider all the other ways to launch applications, such as taskbar pinning, desktop shortcuts, and Search.
Talking about Cortana, there are a few changes here as well. The first is that Cortana cannot be disabled in the normal user interface, whereas there was previously an Off option in Settings. Next, there is an option to use Cortana from the lock screen. Third, notifications can now sync across devices, so you get missed call notifications on your PC, for example.
A Windows 10 annoyance is that Cortana doubles as Windows and Start Menu Search. In Windows 7, you can type into the search box in the Start menu and be confident of finding an application if it is installed. In Windows 10, there is uncertainty about whether you find your application or setting, or search the web. From Microsoft's perspective, this is core functionality. According to this article, if you disable web search you disable Cortana, and if you have Windows 10 Pro or below, you cannot change the setting anyway.
Ink and Tablets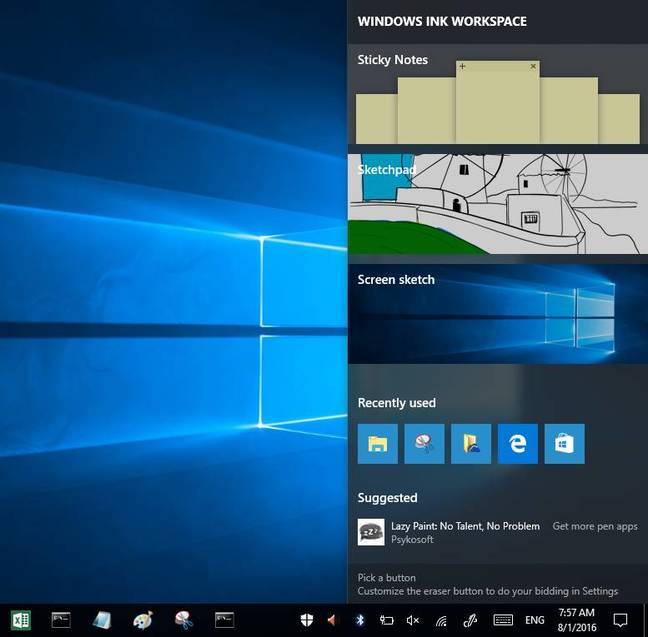 The Windows 10 Ink Workspace
Windows 8.x was optimized for tablets. Windows 10 is not; but Microsoft still supports tablets and has made a big business of the Surface range of hybrid PCs. Windows 10 Anniversary features a new Ink Workspace that brings together pen-focused applications in their own panel docked to the bottom right corner, and launched by tapping a button in the notification area or clicking the back of your pen. New built-in apps include Sketchpad, Screen sketch, for annotating the screen, and smart Sticky Notes that can set reminders and call phone numbers – though when I tried to call a number on my tablet with Windows 10 Anniversary tablet, it uselessly opened the Google Chrome browser for reasons that I have yet to uncover.
Still, Microsoft's smart Sticky Notes illustrate its ambitions for integrating Windows 10 with intelligent cloud services. Office 365 users should get a connected experience, where cloud-stored contact and calendar data magically enhances actions like scribbling notes. Whether and when this will work right is another question.
Pen support was already good in Windows 10, and is further enhanced in Anniversary, provided you have suitable hardware. The ink input panel works well. This is the best operating system for designers using pen, or for tablet users who like this kind of input and manage not to lose their pens.
The doubt here is how many users will appreciate Microsoft's pen efforts, which are irrelevant for most desktop PCs. Arguably, the Ink Workspace is also misconceived, since pen support should be seamless rather than split into its own area.
A common complaint about Windows 10 is that for tablets, Windows 8.x was more usable. Since Windows 10 makes the desktop primary again, that is perhaps unsurprising. Still, the Anniversary update improves matters a little. The taskbar can now be hidden if you want a full-screen experience, and the All Apps list is once again a full-screen view.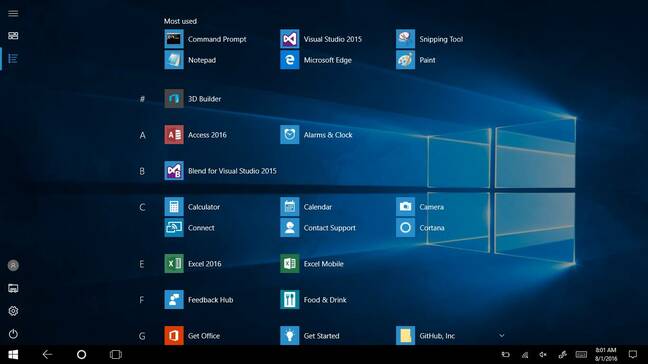 Windows 10 Tablet Mode has a full-screen All Apps Start menu
Unfortunately, Windows 10 Anniversary retains the idea of a Tablet Mode, which in practice is hard to use other than for short periods. One of the oddities is that unlike Windows 8, Tablet Mode disables the desktop view completely. In my experience, it is not long before you need to access the desktop or see floating Windows, even when using a PC as a tablet, and end up disabling the Tablet Mode. This then makes text input awkward, as the touch keyboard no longer pops up automatically. Anyone expecting iPad-like elegance from a Windows tablet will remain disappointed.
The Edge browser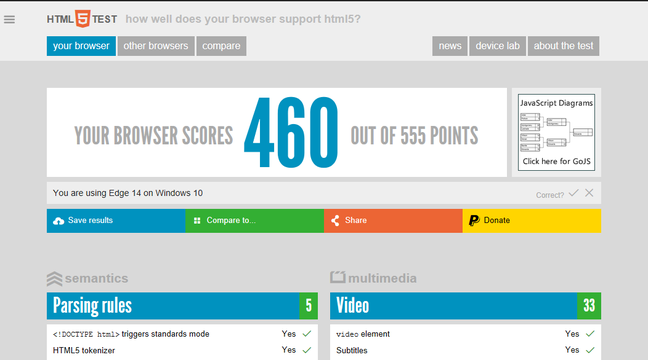 The new Edge scores well in HTML5 standards tests
A lot is new with Edge – Microsoft's replacement for Internet Explorer – in Windows 10 Anniversary. Top of the list is JavaScript-based Extensions, using a similar model to that in Google Chrome so that porting should be easy. Extensions are installed from the Windows Store, and at the time of writing there are just 13, though more will no doubt come soon. Current offerings include AdBlock, Translator, LastPass, Evernote Web Clipper, and Office Online, this last being a toolbar icon that gives direct access to Microsoft Office documents stored in OneDrive or OneDrive for Business.
Other new Edge features include a tree view for Favorites, a warning if you try to exit the browser when a download is in progress, the ability to set a default save location, the ability to pin tabs to the top bar of the Edge window for quick access, and new APIs including Web Notifications, Beacon interface (for asynchronous data upload), Canvas Path2D, WOFF 2 fonts, and more. According to one HTML5 test site, Edge 14 (the Anniversary version) now scores 460 out of 555, putting it ahead of Firefox 47 at 456 but behind Chrome which is 492.
While there is much to applaud in Edge, Microsoft did itself no favours when Windows 10 was launched with an initial version that lacked support for key features like extensions. Many users simply reverted to other browsers, despite the upgrade's aggressive resetting of defaults, and winning them back will be hard. Another issue is that some sites do not function without either ActiveX or plugin support, driving users back to Internet Explorer or elsewhere. Microsoft is playing catch-up here and will not find it easy.
Taskbar features, personalization, and more
Windows 10 Anniversary Update moves more settings from the old Win32/Win64 desktop UI to the UWP-style UI (though still not all), including those for the Taskbar, which now also has new features. One is desktop peek, familiar from Windows 7, which shows a preview of the desktop if you move your mouse to the Show Desktop button at bottom right. Another is badges, which lets developers overlay taskbar buttons with information such as the number of unread emails for a mail app.
On the personalization front, this update has a new "Dark mode" option for apps, which gives many apps a black background with appropriate foreground colour changes.
Windows Defender has been enhanced with an option for an offline malware scan, and the ability to work alongside other anti-malware products, doing periodic scans while a third-party application handles real-time protection.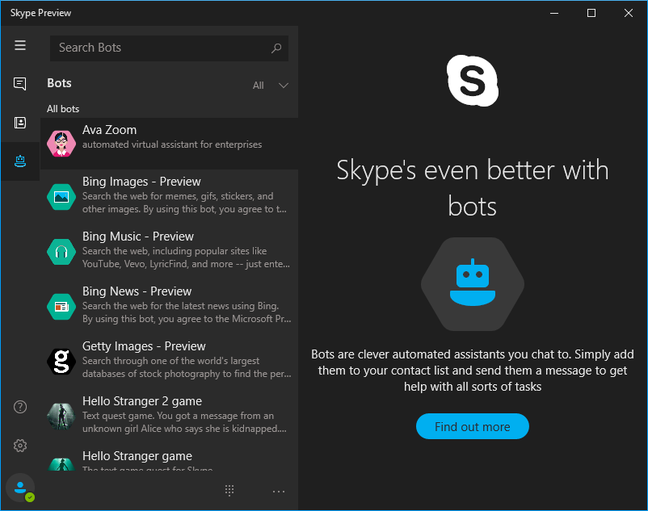 Bot alert! Bot apps feature in the new Skype app
The latest in Microsoft's confusing Skype story is a UWP app, which is still in preview. The new Skype includes a section for Bot apps as well as messaging and calling features. This is in line with Microsoft's push for Bot apps, supported it hopes by back-end services hosted in Azure.
Windows 10 for admins and developers
Two of the best features of Windows 10 Anniversary are aimed at developers and IT administrators. One is Project Centennial, also known as the Desktop App Converter, which allows desktop applications to be packaged like UWP apps, as an alternative to traditional Windows setups. The benefits are:
Applications can optionally be delivered through the Windows Store.
Applications are more isolated from the operating system, thanks to registry and file system redirection, so that even badly behaved applications should not damage Windows or leave detritus behind when uninstalled.
An early example of a Project Centennial application is Evernote, though many more may follow.
The potential here is huge. The arrival of desktop applications in the Windows Store might make it interesting at last, while users benefit from clean install and uninstall and an operating system less prone to decay.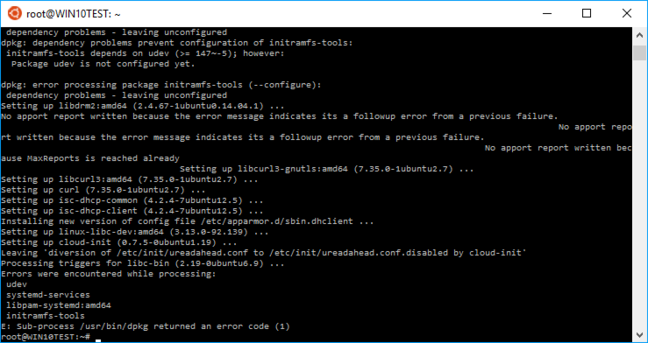 Ubuntu on Windows 10 is great, but the beta implementation is not immune from update errors
Another significant feature is Bash on Windows, which is an implementation of Ubuntu, without a GUI, running via the new Windows Subsystem for Linux, which redirects system calls. The feature, which is still in preview, is primarily aimed at developers, enabling them to use popular Linux tools and utilities. The subsystem has shared access to the file system, but processes are isolated.
One reason to run Bash on Windows is to avoid the MAXPATH limitation, which limits the length of a directory path to 256 characters. This is not an issue for the NTFS file system, but is a gnarly compatibility problem; if Microsoft removed the limitation, many applications might fail or become insecure. It is a real problem for programming tools born on Unix-like operating systems that use deeply nested directories for organising files.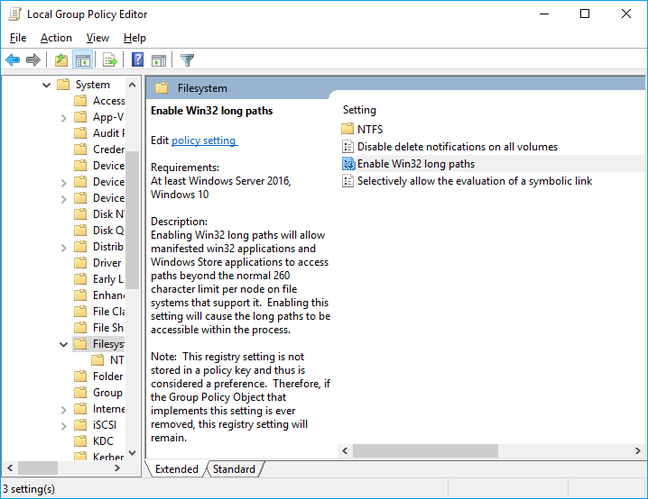 Long path support promises some relief from MAXPATH agony
It turns out that the Windows 10 Anniversary Update has another solution. A new option found in Group Policy, used for automated configuration of Windows systems, suggests that Long Path support will be allowed for applications that specifically state support for it in their configuration files. This feature alone makes the Anniversary Update attractive for Windows developers, especially those who also work cross-platform.
Recommended despite confusion?
Windows 10 Anniversary Update is not dramatically different from the initial release, but adds polish as well as some useful new features to the operating system. That said, Microsoft has not eliminated the sense that Windows has two personalities, UWP and desktop, leading to both cosmetic and functionality issues at times. The updated Defender is an example – it looks like a desktop application, but hit Settings and UWP-style settings open, with a completely different look and feel.
Microsoft has stepped back from Windows 10 smartphones, removing a key rationale for the UWP. It has also reduced the security inherent in the Windows Runtime developed for Windows 8, allowing its sandbox to be breached by Project Centennial, and stating that a much larger subset of the Windows API will be available in UWP. Windows Tablets have also been undermined by Intel's retreat from its low-power Atom chips. What then is the point of UWP? There are certainly manageability advantages, and a successful Windows App Store is another potential benefit, but it has become a strange platform that can only be explained by its history.
Despite these issues, Windows is moving forward and the Anniversary Update demonstrates real progress from the initial release of Windows 10. The nature of Windows-as-a-service, of course, is that most Windows 10 users will eventually have to upgrade whether or not they wish to. Fortunately, in this case it is no bad thing. ®