The dirty half dozen
Analysis On-premises IT is facing decimation by six public cloud enemies: Amazon, Azure, Google, OpenStack, Oracle and SoftLayer, who are on course to have the majority of customers' IT spend by 2018.
An Internet retailer, started up as an online book store, and a website search facility have kickstarted an IT phenomenon which could utterly destroy the on-premises data center business. As far as the entire on-premises IT supplier industry is concerned, Amazon and Google, accompanied by Microsoft Azure, are Public Enemies 1, 2 and 3.
IDC forecasts that public IT cloud services spending will reach more than $127bn in 2018, accounting for more than half of worldwide software, server, and storage spending growth. The CAGR growth from $56.6bn in 2014 to $127bn in 2018 will be 22.8 per cent, about six times the growth rate of the overall IT market.
In other words Amazon, Azure and Google, plus some smaller fish, will siphon off $127bn from the on-premises IT suppliers, up from the $56.6bn they sucked off in 2014. The on-premises IT supply industry is now half the size in revenue terms it would have been if the public cloud did not exist.
Is it any wonder that incumbent legacy compute and storage suppliers are recording declining revenues and taking part in acquisitions and consolidations to strengthen their fight for sizeable portions of the shrinking on-premises IT pot?
Why should that public cloud growth rate abate? Ask yourself why the public cloud should not consume two thirds of all IT spend by 2022? And even more by 2025. If this trend continues, there will be panic in compute and storage suppliers' boardrooms and executive suites, not to mention the networking suppliers as well.
IDC expects software as a service (SaaS) will dominate public IT cloud services spending, accounting for 70 per cent of 2014 cloud services spend. This is largely because most customer demand is at the application level.
The second largest public IT cloud services category will be infrastructure as a service (IaaS), with cloud storage having a 31 per cent CAGR over the period. Platform as a service (PaaS) and cloud storage services will be the fastest growing categories, driven by developer cloud services adoption and big data-driven applications, respectively.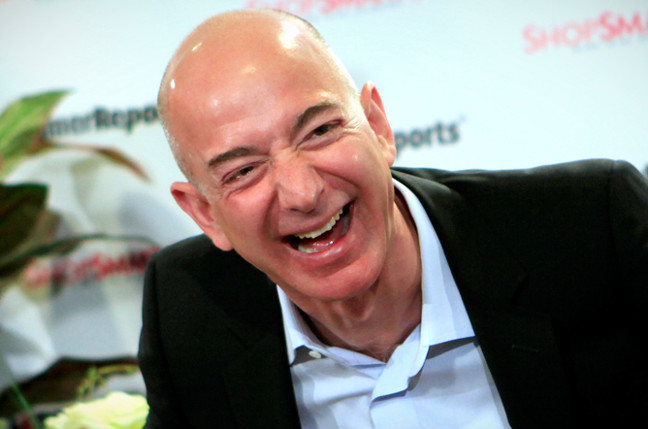 Amazon boss Jeff Bezos, laughing all the way to the on-premises IT graveyard
A slowly tightening noose can be seen encircling the throats of on-premises IT suppliers, with IBM (SoftLayer) and Oracle the only ones left among them that are becoming public cloud suppliers, now that HP (Helion) has chucked in the public cloud towel, leaving only an assortment of micro-niche public cloud backup suppliers like Backblaze, Carbonite and Datto behind.
Here is a timeline for Amazon's noose-tightening progression:
1994 – Amazon founded as Internet-based book retailer.
2002 – Amazon Web Services (AWS) launched to offer programmatic access to its computing infrastructure.
2006 – Amazon Simple Storage Service (S3) launched to store data as objects.
2006 – Amazon Elastic Compute Cloud (EC2) launched for users to run applications on Amazon's compute infrastructure.
2008 – Amazon Elastic Block Store (EBS) announced, providing storage in AWS for EC2 instances.
2008 – SimpleDB introduced, giving AWS users a database they could access.
2012 – Glacier launched as a low-cost, slow-retrieval file-store for archiving and backup.
2013 – Redshift data warehouse storage service announced.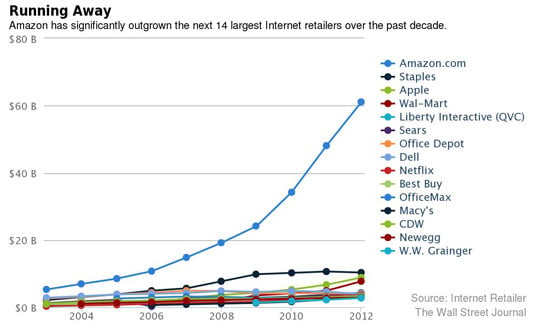 Amazon's early Internet retail growth drives its infrastructure build-out
On-premises supplier denial
Only IBM, Microsoft and Oracle have seen the business-killing threat from Amazon and Google and reacted strategically. HP had a half-hearted try with Helion but gave up, possibly unable to afford the necessary funding. Dell has no public cloud play, nor does EMC really. It can be argued that all hybrid cloud providers are in denial, simultaneously validating public cloud suppliers and providing on-ramps to their facilities; tactically smart, strategically obtuse.
American capitalism has bred a majority of publicly owned IT supplying businesses singularly unable to recognize and respond to disruptive innovation, with the exception in this case of IBM, Microsoft and Oracle. You can say what you like about Windows 10 and the Windows phone fiasco, but in the public cloud case Microsoft "gets it" and sees Redmond-killing twins in the shape of Amazon and Google.
It saw that it had to react or die, and has reacted so well that Azure is now public enemy number three for on-premises IT suppliers.
Any virgin storage business starting up now and looking for fame and fortune in on-premises IT should be taken to one side by potential backers and told the new facts of storage life; it's a shrinking jungle out there and existing storage animals are going to get hungry and desperate, and you want to compete with them for the dwindling scraps of food? Get real.
Most smaller suppliers are walking tightropes stretched between costs and revenues with little margin for mistakes. Startup belt-tightening has begun already this year – Actifio, Atlantis, Coho Data, Data Gravity, Panasas, Tegile. Spun-off and privately owned Veritas is starting its new life with declining revenues.
Legacy incumbent supplier tactics
EMC and Dell are seeking solace together. EMC is also eating its own dog food, cannibalizing its own legacy disk array base with XtremIO, SW-defined storage offerings, and the coming DSSD flash array. It knows, it really, really knows, it has to get a bigger piece of the on-premises IT pie to survive, and the doorway to that is Dell.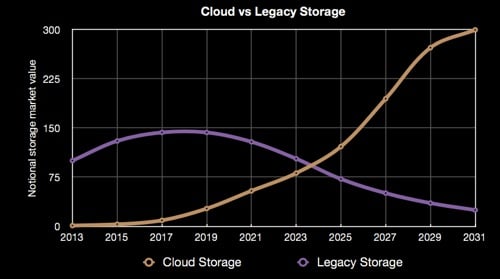 Example chart modelling on-premises vs public cloud storage growth
As we read it, both Dell and EMC see that the enterprise on-premises IT business is going to shrink, and they are going to grow by taking business from every other compute, storage and networking supplier in it, meaning IBM, Fujitsu, Imation, HDS, HP, Huawei, Lenovo, Kaminario, NetApp, Nimble, Nutanix, Simplivity, Tegile, X-IO and everyone else left on the block.
It's the old, old business school prescription; get big, get niched, or get in trouble and get, or be forced, out.
DataDirect is a great niche play. X-IO is not.
If you're big and can't get bigger, then you shrink. If you're small and can't get niched, then the door marked Exit is the one for you. We saw that with Seagate's EVault cloud backup service, sold for a pittance to Carbonite.
Barracuda is in trouble. Violin is struggling. QLogic is stalled. Quantum is running hard to not-quite stand still.
Of course it's possible to make good money, great money, if you have a product offer that kills everybody else; think Veeam. Early-stage startups punting radically better products are also shining examples of growth – Cohesity, Infinidat, Nutanix, Simplity, Tintri and others – but these are the exception, and the non-profitable exception, rather than the rule.
How long can they burn cash without a path to profitability? One year? Eighteen or 24 months? And then?
The rise of activist investors, tearing the guts out of distressed IT companies, forcing change on them that existing management doesn't want to make or is incapable of making, is another symptom of on-premises IT supply trouble: witness Citrix, Emulex, Imation, Riverbed and others.
IBM is quietly letting its storage hardware business decline quarter after quarter after quarter. NetApp buys SolidFire but doesn't see a material increase in its revenues coming from the flash array supplier acquisition; it being a hold-the-fort-type exercise. Analysts, and this writer, suggest NetApp needs to get into hyper-converged infrastructure systems, but that is an on-premises strategy and not a response to the bigger threat from the public cloud.
Public cloud data center
We hear a lot now about the all-flash data center and the death of spinning disk for storing performance data, with some non-performance data going to the cloud. But alongside this flash storage excitement, this galaxy of flash and 3D Xpoint stars, there is a black hole, from which no on-premises light emerges – the public cloud data center.
Azure and AWS cloud service revenue comparison, showing Azure catching up
What if virtually all data center compute and storage migrates to the cloud, to public cloud data centers, leaving a rump of old mainframe apps and antediluvian unreconstructed green screen and client:server apps that no-one can be bothered to, or knows how to, stick inside virtual machines, bring into the modern era, and make them cloud-capable?
IBM SoftLayer could be a care home for mainframes in the cloud, giving backwards-looking customers their regular batch processing fix.
An existential threat
It's hard not to understate the existential threat facing the on-premises IT supply industry. The public cloud is on course to, or already is, taking half the overall IT customer spend. DC sees it passing half by 2018.
We can see it taking two thirds by 2022-2025, and then going on to reach 80 per cent by 2030. At that point it will be game over, except for suppliers of components to hyperscale cloud service suppliers and systems to end-users.
Who can assert that such a scenario is fantastical, unrealistic, stupid even? Where is the evidence?
Unless on-premises IT suppliers come up with real and sustainable advantages over public cloud IT service suppliers that outweigh the disadvantages of on-premises IT complexity and cost, then they face a bleak, bleak future, one that has a large amount of non-viability in it.
So far not one single mainstream IT supplier has managed that trick. Indeed, three have thrown in the towel, and said: "If we can't beat them, we'll join them," meaning IBM, Microsoft and Oracle.
The long-term strategic choices for on-premises IT suppliers are stark and simple; beat the public cloud service suppliers; join them; sell to the vanishingly small on-premises rump left behind, or find some other business. So far the public cloud enemies are winning. ®