You hadn't forgotten about Datrium, right?
Diane Greene's storage startup Datrium is making its initial DVX product available, saying it is the first server-powered storage system which is not a hyper-converged appliance or virtual SAN.
What does that mean? The big problem with dual-controller storage arrays is that their performance goes down as the number of hosts accessing them goes up. This issue is exacerbated by a fixed network pipe to the arrays, meaning bandwidth runs out at a certain point. And insult is added to injury by having to pay high prices for any flash that goes into the array, even though it is typically made from commodity-based SSDs.
The Datrium founders come from having experience with Data Domain and its deduplication, and VMware with its server virtualization.
Their idea is to disaggregate a storage array in two ways. Firstly, its controller software sits on multi-core accessing servers running Vmware's ESX. Secondly, put fast-access flash-held data into the accessing server's own direct-attached flash in either SSD or PCIe card form.
We end up with the DVX Hypervisor running array controller software across up to 32 accessing servers (hosts), each with its own local read cache for its own, local VMs and the applications inside them. These hosts access a 2U DVX D12x4 Netshelf appliance durably holding the written data in 12 x 4TB, 7,200rpm nearline disk drives.
Netshelf D12x4
Inside the Netshelf are two high-availability controllers and mirrored NVRAM. It is more than a JBOD because of the two controllers, the NVRAM and operating software working on proprietary API access from the accessing server hosts. This appliance has no single point of failure. If a host or hosts fail, there is no need for a data rebuild.
There is a 10GbitE link between the server hosts and the Netshelf box.
The end-to-end host and Netshelf software is called DiESL and it supports 2 to 10 cores, with its default usage being 20 per cent of the available cores.
The host software provides in-line deduplication and compression plus data services such as RAID, vDisk clones and VM-centric management, via a vCenter plug-in. This server software is stateless. It also runs on the ESXi kernel and not inside it. DVX Hypervisor operations and reads are local to the host the software is running on.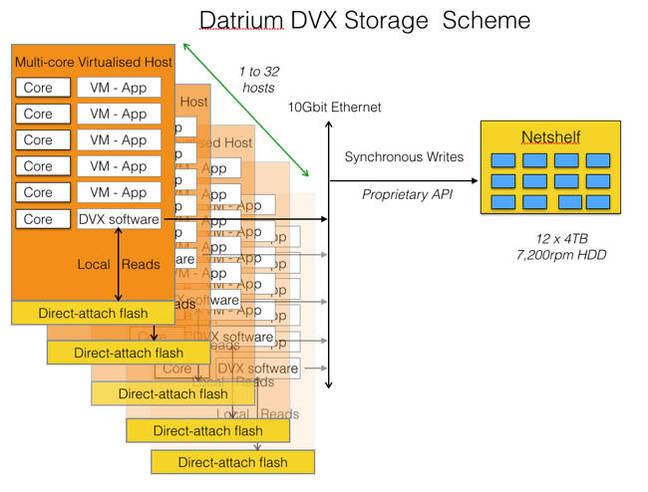 The accessing host servers can have 800GB to 8TB of raw PCIe or SATA flash capacity.
The prime advantage of Datrium's scheme is that storage performance and capacity are decoupled and can progress separately. Every time a new host is added, it provides read access to its own cached data and sends writes to the Netshelf. There can be up to 32 hosts and so read access is not penalized by having to be mediated through a dual-controller set-up, and nor is it hampered by inter-host traffic looking for data to be read that is not on the local host.
There can only be a single Netshelf, for now. Datrium has a general intention of being able to add more Netshelves at some time in the future. It points out that, with the inline data reduction, the 48TB raw capacity, which is 30TB usable, becomes 60 – 180TB in effective capacity.

Rear view of Netshelf D12x4
NFS
Accessing applications see an NFS share, but that is only what the DVX Hypervisor SW presents to VMs in the hosts. The protocol between the Hypervisor host software and the Netshelf appliance is a proprietary API.
All management can be done in a VM-aware way, with no need to configure and manage LUNs or SAN zoning. All vDisks are managed independently. Datrium asserts that it offers VVOL-like functionality with its v5.5 and v6.0 vSphere support, and full VVOL support is coming.
Suggested applications include VM consolidation, VDI and test and development. These can take advantage of what it calls its massive server flash capacity for all "in-use" data.
Performance
Datrium says that DVX can perform faster than a shared all-flash array, and is cheaper and faster than dual-controller storage arrays.
A host's storage performance, with a Haswell 2-socket server, is 30,000 IOPS using 32KB IOs, and 32 hosts will deliver 960,000 IOPS, about a million in broad terms. Performance increases linearly as you add hosts.
If you want to increase performance then upgrade a server, for example, by buying SSDs, cheaply, from Amazon, to increase storage performance for applications running inside it. You could get more and faster cores or, alternatively, vMotion the app to a higher-spec server. In this instance the original server's cache is used for storage reads until the destination server's cache is "warm."
To increase performance generally add more servers.
The Netshelf bandwidth is said to be 800MB/sec, similar to a 12Gbit/s SAS shelf.
Some beta testers have said that DVX performance is phenomenal, and allows VDI to be offered alongside other storage-using applications.
Competition
Dual-controller storage arrays don't scale performance linearly and are expensive to upgrade, according to Datrium, as well as being generally unable to scale performance and capacity separately. Ones that don't support VVOLs or are not VM-aware are difficult for VM admins to manage.
Turning to hyper-converged infrastructure appliances (HCIAs), Datrium views them as having several advantages but lacking per-node (host) capacity. CEO Brian Biles says: "Blade servers typically don't have enough bays for capacity." They also don't observe the blade philosophy of being stateless.
The company asserts that, when a Hyper-converged server is down, data fault tolerance is weakened, and the data may require rebuild or migration; not so with DVX.
Also, with HCIAs you can't generally add performance without adding capacity, and vice versa, meaning you are paying for unwanted and wasted resource.
Lastly, Datrium makes the point that there is cross-talk between the nodes in an HCIA setup, because writes directly affect neighbor servers.
Datrium suggests that its system performs much better than a 100TB external storage array. And it's cheaper, with suggested server flash cost in the less-than-30 cents/GB area, and DVX plus Netshelf providing capacity at $1/GB, similar to a nearline disk shelf in storage arrays. These will be effective capacity pricing, after data reduction.
One beta tester, Joshua Rabe, a system architect at North Bend Medical Centers, said; "When I ran a head-to-head comparison, the Datrium system performed critical tasks in a quarter of the time compared to Nimble. During maintenance we saw a 5-10X saving, where tasks that used to take 10-20 minutes on the current SAN now take less than 2 minutes to complete."
Datrium history
2012 – founded in the Fall by:

Brian Biles – CEO – ex-Data Domain
Hugo Patterson – CTO – ex-Data Domain and EMC fellow
Sazzala Reddy – ex-EMC distinguished engineer
Ganesh Venkitachalam – ex-VMware principal engineer
Boris Weissman – ex-VMware principal engineer

2012 – A-round funding
2013 – first staff hires
2013 – B-round funding
2015 – DVX product beta test
2016 – DVX general availability
Total funding stands at $55 million and comes from individual investors; VMware cofounder and ex-CEO Diane Greene, Mendel Rosenblum, Edouard Bugnion, Frank Slootman (ex-Data Domain CEO) and Kai Li, plus two VCs; NEA and Lightspeed Venture Partners.
Pricing and availability
DVX is available now from Datrium resellers in the USA for $125,000 list, which includes a 48TB (raw) Netshelf D12x4 appliance, and unlimited licenses for DVX Hypervisor software on vSphere hosts. Servers and SSDs must be purchased separately. International sales will start in the second half of 2016. ®