Follow the money – or, at least, our projections
Analysis Let's fly up to 20,000 feet and survey the storage landscape from there, and then stay at that height until 2030. What will we see?
Our starting view is utterly basic and pretty reasonable. Most of the storage equipment is based on disk and most of it is on-premises. Some of the data is being stored in flash and some of the equipment is in public cloud data centres. There are around seven large systems companies involved in storage one way or another: Cisco, Dell-EMC, HDS, HP, IBM, NetApp and Oracle, plus about a hundred smaller suppliers and startups.
We know there are many things happening in the on-premises storage market as the dominating legacy disk-based SAN and NAS, or block and file, arrays give way to multiple alternative storage strategies; flash and hybrid flash and disk, object storage for multi-PB file stores, Hadoop for Big Data, converged and hyper-converged for pursuers of simplicity, virtual SANs ditto, scale-out designs of various sorts, silo-melding software-only storage products, unified block and file, and object storage using commodity hardware, and so on.
We know legacy storage SAN and NAS array sales are falling in the face of this onslaught. Will there be a new storage paradigm as dominant as the SAN and NAS duopoly of a few years ago?
We think not. The toothpaste is out of that particular tube.
A bigger question by far is, what will happen to the proportion of enterprise IT that is in the cloud? Will it grow or will it be a steady state play? We think it will grow.
So the the questions are, by how much and over what period?
Public cloud futures
Are public clouds like water and power utilities or banks and airlines? How will our trio of giants – Amazon, Azure and Google – develop in either case?
If they are utilities then they will become dominant, freezing out competition from on-premises IT with lower prices fed by massive economies of scale. New entrants to their market will be dissuaded by astronomical costs of entry. The starting table stakes are already beyond most IT suppliers already.
If they follow the business model of banks and airlines, then there will be regional and national powerhouses with several tiers of smaller players below them. There will be substantially more competition and new entrants will be able to buy stakes at the table. So which is it? Utilities, or banks and airlines?
No one knows. It's happening in slow motion before our eyes and no one can be certain of the end game, or how long it will take to arrive.
The public cloud is like global IT warming; climate change, with quasi-religious adherents on each side of the debate. Are you a public cloud denier? What a silly-sounding question. But there are real questions for IT supplier and customer strategists to answer and the most fundamental and important one is, are public clouds utilities and destined for global IT domination? Are we seeing the big switch that's been forecast by IT futurologists?
Let's suppose that the proportion of business IT going to the cloud continues to rise. What then?
On-premises IT shrinks.
Scenario prediction
Our chart shows this scenario: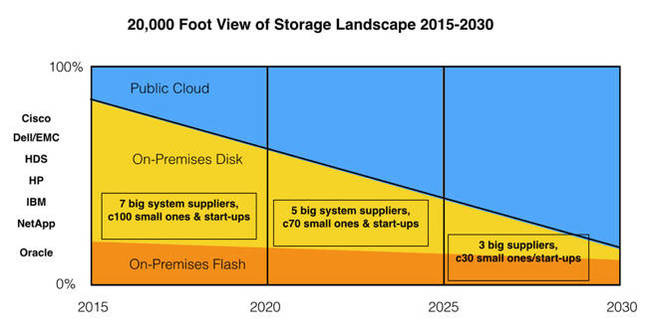 What our scenario predicts is that the two groups of seven large suppliers and 100 or so smaller suppliers will be fighting over business in a diminishing pool of on-premises opportunities. Inevitably, we think the numbers will shrink in a game of musical IT chairs with chairs (on-premises sales opportunities) going away, leaving a surplus of suppliers.
The chart shows this with our seven suppliers reduced to five in the 2020-2025 period, and the 100 or so smaller fry cut back to 70. There will be supplier consolidation and exits. It will be like the 1980-2015 tape market writ much, much larger; business blood on the streets.
We also show the flash storage proportion of the on-premises IT business growing, thinking that much capacity storage will stay on disk and much of that will move to the cloud.
All on-premises IT suppliers will take a view of this and decide whether to stay in the on-premises IT business as a general supplier or to retreat into a defensible niche, such as developing a rounded analytics stack for a vertical market.
The general storage system suppliers are headed for a bruising battle from which there will be casualties. What's happening to Imation is a precursor of that. Suppliers can bulk up to get better in their niche, with HGST and SanDisk's acquisitions if flash assets examples of that. IBM buying Cleversafe is another.
But the huge, huge question in our minds is whether any current storage or IT system on-premises supplier will go into the public cloud business. IBM has its SoftLayer, Oracle its cloud, HP its hesitant Helion, and VMware its vCloud Air.
El Reg storage desk's take is that any large storage supplier, or on-premises IT supplier generally, should and must go into the public cloud business. We think that public cloud suppliers are nearer to banks and airlines than utilities, and this is intuition, gut feel; we have no better intelligence than anyone else.
We believe that phase 1 of Dell's business was PCs, with phase 2 being servers and the enterprise, and the EMC acquisition crowning that. Our thinking is that Dell should double down on VMware's vCloud Air business and, using Pivotal and Virtustream assets, focus on building a great public cloud business as its Phase 3.
Follow the puck
In ice hockey-speak, follow the puck and go where it's going.
If our scenario is correct, business customers for IT will increasingly use the public cloud and will also increasing use converged and hyper-converged systems and software-only/commodity hardware storage. There will be business to be had in building hybrid clouds but these are essentially umbrellas, helping to keep the public cloud rain from your head while a tidal wave is coming against which umbrellas are no defence.
You need a wet suit and buoyancy aid, and the best buoyancy aid is building your own public cloud business.
Hitachi can do that with its multi-faceted Internet-of-Things, analytics software (think Pentaho), sensing systems, HDS storage and compute systems.
Cisco is somewhat isolated, having enterprise network and server expertise, but little or no upper stack software (no virtualisation) and gone through self-destruction with its Invicta flash array storage. It needs to buy into virtualisation, analytics and storage, and quickly - but this is El Reg storage desk making the tentative prediction, rather than Gartner or any other analyst group/research house.
Who else seems vulnerable?
HPE, having sloughed off printers and PCs, will find itself in the same place as it was before, and still need a galvanising growth strategy. The Machine isn't ready for prime time. Memristors are a moving fantasy feast. You need, we think, to push Helion – and whoever thought up that name! – like crazy. That's the future. Be a public cloud supplier or build a storm shelter, because you're reentering the public cloud tornado alley, and these whirling critters are going to suck up the data your storage stores and the apps your compute computes and your network gear transmits.
NetApp, the main stand-alone storage supplier, has its great FlexPod partnership with Cisco, and shares with Cisco a self-destructing implosion; of its ground-up design FlashRay all-flash array. Something will possibly emerge from the ashes. Generally it seems to us NetApp is staying in its comfort zone and appears to have gone into a period of innovation and quiet.
Look at this set of press releases from its Insight event in Las Vegas last week:

Press releases from NetApp around its Insight event.
Notice anything? There is an an almost complete lack of anything substantially new. We had a product performance guarantee for its all-flash AFF8000 and EF540 arrays, a few Data Fabric starter packs and that was generally it.
There are many intelligent people in NetApp, and their product people must be working on good stuff, you would think. Yet new CEO George Kurian, having steadied the ship after the unceremonious and troubling departure of the previous CEO, Tom Georgens, has yet, publicly, to set out any new direction for NetApp.
It's as if the founders, like Dave Hitz and James Lau, are still doing the navigating. NetApp's strategy seems to be to sell its way out of trouble with the existing CDOT/FAS, E-Series and EF-Series kit, StorageGRID and AltaVault.
Look around. IBM walked away from OEM'ing NetAp kit. Symantec is splitting, as is HP. Dell went private and is now buying EMC. All-flash, hybrid flash/disk, hyper-converged and software-only storage startups are taking myriad small chunks of your customer base away and growing. Storage is getting closer to servers and we fear your stand-alone, external storage array game is not sufficient to stem the flow of business away from Sunnyvale.
You surely can't grow, NetApp, just by selling CDOT to your 7-mode customers.
Lenovo and Huawei, bankrolled by great home territory revenues in China and also telecommunications in Huawei's case, are emerging threats. Lenovo will surely do more in storage now that its EMC reselling deal is threatened by Dell's EMC acquisition. Come on NetApp. We can all see the jaws of a vice closing in on you. You're a great, great company. Don't just fade away by staying in your comfort zone.
Back at 20,000 feet
The EMC-Dell deal is a recognition of several things:
The glory days of on-premises legacy SAN and NAS arrays are over; going away, dying,
HW commoditisation is killing proprietary HW business,
Storage is embracing flash in a big way and getting closer to servers,
Customers want converged and hyper-converged stacks,
Scale-out is growing in importance,
The public cloud is unstoppable.
If our scenario is correct, the current on-premises storage business is facing a period of prolonged decline. Welcome to the first day of the rest of your life. ®