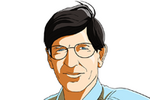 Chris Mellor covers storage and allied technology areas for
The Register
. After experience working for DEC, Unisys and SCO, he became an IT journalist writing for a variety of print publications. He edited the UK's first storage print magazine and then moved into the online world writing for IDG's Techworld, then started up the Blocks & Files blog, which was bought by El Reg.
He has written many sportscar buying guides, a few mountaineering guides and drives a car that's faster than he is.
EMC highlights the problems all face
Comment The days of the massive standalone storage company are coming to a close, as the public cloud and myriad storage startups drive cumulatively fatal wounds deep into the heart of the one-supplier-does-all-your-storage business model.
The all-you-need, best-of-breed storage supplier days are ending as enterprises realize they can get better or cheaper or simpler or more integrated storage, or several of these attributes, by revolutionizing their on-premises storage and moving some or all of it to the public cloud.
All mainstream storage suppliers are affected though, not just the stand-alone ones.
Traditional, on-premises storage costs and over-consumption of limited enterprise IT resources are being seen as unbearable yet fixable problems, with the fixes tearing the heart out of traditional, mainstream, on-premises enterprise IT suppliers' businesses.
The idea of EMC merging with HP or Dell or selling its VNX line to Dell is only the latest manifestation of this.
A problem for these suppliers is that many changes are going on at once, some short-term and some long-term or secular. The biggest secular change is the rise of the public cloud with three giants emerging: Amazon, Azure (Microsoft), and Google. Each is reporting growing customer usage of their clouds for compute and for storage.
There are vertical application clouds as well, such as Salesforce.com and, much lower down the scale, ambitious file sharers like Dropbox and Box.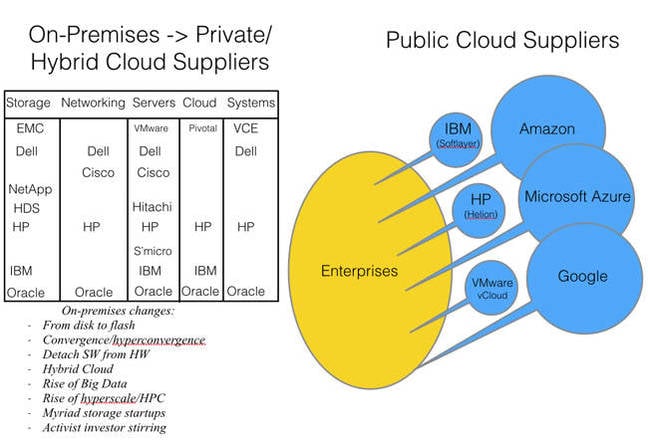 Snapshot overview of on-premises and off-premises IT supplier situation
Some of this public cloud-use is cloud-bursting – the temporary use of the public cloud for one-off, short-term needs – but the rest is pretty permanent. Most Salesforce.com customers intend to carry on using it and no longer have on-premises IT resources for their CRM-type applications.
That is the simple public cloud threat; on-premises IT is hollowed out, leaving desktop, laptop, and hand-held endpoints behind, accessing remote, in-cloud IT resources. Off-premises IT is not supplied by mainstream, on-premises IT suppliers. But this is extreme and will take years to come to pass, if it does, with on-premises IT being a multi-billion dollar market for decades yet.
In the on-premises storage area, there are many many changes too, some of them totally focused on-premises, such as the move to all-flash arrays, a trend to detach storage software from hardware, newer hybrid arrays with much better software, and converged and hyper-converged server hardware and software/storage/networking systems.
But these replace legacy products in what is looking like a slowly growing pool – the on-premises IT market. As the myriad storage startups grow, they will eventually face the same problem as the mainstream suppliers are facing now: the business system they pitched for last year has either gone to the public cloud or to a newer start-up technology and the opportunity has vanished.
Once the startups have collectively taken all the business they can from the existing vendors, and exist in a state of stable competition with them and their uprated product (think EMC and XtremIO, for example), then they could be playing public cloud musical chairs.
The chairs are business applications, and each time the music stops another application has gone to the cloud and there are fewer chairs (sales opportunities) for the suppliers, so someone has to leave the game.
For suppliers, the judgements they have to make include asking which changes coming are most severe for me? How fast are they coming? What is the impact on my business?
Dell, IBM, HP, EMC, what next for them?
Back to Dell. It found that negotiating this Grand Canyon of rapids was too horrendous as a public company, and went private.
IBM looked into this, didn't like what it saw – particularly low-margin hardware-commoditization – and has sold off business after business in pursuit of safe and secure high-margin businesses: networking, PCs, and its x86 servers. It has a public cloud business, SoftLayer, which could be its salvation.
Symantec is splitting into two. HP is splitting in two as well. The enterprise part will face exactly the same set of problems as every other mainstream on-premises IT supplier, though. Should it try to amass more dominoes in the on-premises IT supply game to gain scale, technology, and integration opportunities, and should it venture into the public cloud itself?
These are really the only two questions that matter. For EMC it has been the most aggressive in pursuing new on-premises IT opportunities, but it, like NetApp, is so large that the changes to leaner, less profitable storage systems – like moving primary data storage from VMAX and VNX trad' arrays to XtremIO – are damaging its profit margins.
Unlike VMware, which is finely poised like a surfer riding the massive server virtualization wave, EMC has a great mass of legacy baggage trailing its various new product surfboards. This baggage creates drag and means investors are uncertain about it and devalue it.
Activist investors see an arbitrage-like opportunity, in which the sum they can see by adding the bits of EMC together – if latent value was realized by selling bits off or combining them with other pieces – is greater than the value of EMC itself.
This is the same tension exploited by activist investors in Citrix, Emulex, Imation, Riverbed, and others. Generally speaking, few activist investors are rebuffed. So EMC is really on the rack here, and needs to change to get Elliott off its back.
Perhaps though, the thing it wants to pull off – selling newer, lower-margin products into a pool of on-premises IT opportunities against myriad startup competitors, while building up its public cloud business – is going to have such a negative effect on its revenues that it will take years before growth soars and its share value goes up relative to its peers. So much so that investors listen to Elliott and the Federation is split up against management's will.
EMC's current problems and its responses to them will highlight how the mainstream suppliers generally will face up to the hurricane of technology trends facing them. There's a sense here that EMC is facing its end-game, with Tucci's time being over and his power and influence leaking away. Despite his Federation fort-building, competitors and the cloud have plunged their weapons deep into EMC through the gaps in the walls. It's bleeding and hurting. Corporate sawbones Elliott recommends amputation and selling the limb. Which way will EMC jump? ®