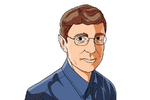 Lack of innovation and weak Windows 10 apps will hold back upgrades
Analysis Intel launched its 6th Generation "Skylake" Core processors at IFA in Berlin last week, and is desperate for you to upgrade your PC. But has the Intel and Microsoft alliance done enough to drive upgrades and new sales?
First, a quick recap on what Intel launched. The company announced 48 6th gen Core processors. The line-up is confusing but the gist of it is as follows.
Intel is retaining the Core i3, i5, and i7 brands indicating "good, better, best" according to general manager Kirk Skaugen, who spoke at IFA. The Pentium brand also continues as a budget option.
The processors are also distinguished by their series. The new range offers:
Five 4.5w Core Y series for small screen 2-in-1 PCs.
Fourteen Core-U series at 15w or 28w, for 2-in-1 PCs and the thinnest laptops.
Seven 45w Core-H series for laptops, including one unlocked (can be overclocked), for mainstream laptops.
Twenty Core-S series at 91w, 65w or 35w, for desktops, mini-PCs or gaming PCs.
Two 45w Xeon H series processors for mobile workstations – the first mobile Xeon.
As you would expect, the Skylake series improves both performance and power efficiency. Intel claims up to 60 per cent better compute performance from a Core i5, and up to 60 per cent lower power consumption for an H-series CPU.
Intel's new 500 series graphics have hardware support for decoding H.265 4K video and here the claim is for up to 40 per cent better graphics.
Not all prices are announced, but they range from $623 for a quad-core Xeon E3-1535M v5, to $64 for a dual-core Pentium S series G4400T.
As part of its IFA push, Intel was keen to talk down the value of old PCs. "There are over 500 million computers in use today that are four to five years old or older. They are slow to wake, their batteries don't last long, and they can't take advantage of all the new experiences available today," said the press release.
Intel has worked with Microsoft to optimize Windows 10 for Skylake and vice versa, said Skaugen. The real-world benefit, aside from thinner devices with longer battery life, is shown in features like resume from sleep in less than half a second, and built-in game recording so you can show off achievements to friends. Another key feature is Windows Hello, authentication through face recognition, and Intel showed the system successfully differentiating between identical twins.
So far so good; but will improved processors and Windows 10 revive the PC market, which declined 9.5 per cent in the second quarter of 2015, according to figures from Gartner?
At IFA Microsoft had its own stand – unlike 2014 where it held a separate press event in Berlin – and the company's OEM VP Nick Parker gave a keynote on Windows 10. In addition, key OEMs including Acer, Asus, Lenovo and Toshiba were present to show their new ranges.
Toshiba, for example, was showing the Satellite Radius 12, a rather lovely 12.5" notebook/tablet that has 360⁰ flip, 4k display on some models (3840 x 2160, 362ppi), RealSense camera for Windows Hello support, 10 finger touch, 6th gen Intel Core processors up to Core i7, 2 USB 3.0 and 1 USB 3.1 Type-C port (10 Gbps data transfer), up to 512GB SSD, 8GB RAM and of course Windows 10. Pricing was not available but rumoured to start from around $900.
Another example is the Lenovo Mix 700, which echoes Microsoft's Surface with its kickstand and detachable keyboard. This 12" device has a display up to 2160x1440, RealSense camera for Hello, and up to a 6th Gen Core m7 processor.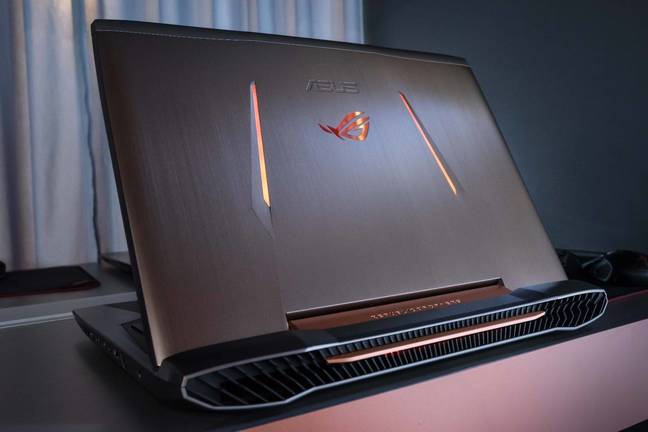 Asus ROG G752 gaming laptop
Asus showed off its 17.3" ROG G752 gaming laptop, with 6th Gen Intel Core i7 CPU, DDR4 RAM, an option for 4K 3840x2160 display, USB-C / Thunderbolt 3.0 port, and NVIDIA GTX 900M series graphics.
Innovation?
Intel's Skaugen is correct, a new PC is quicker, smaller and more efficient than one purchased a few years ago. The harder question, though, is: do the improvements yield benefits that customers care about sufficiently to drive replacement purchases? One of the problems is that new editions of Windows no longer require new hardware, other than for some specific features such as Windows Hello or DirectX 12. Windows 8 and 10 work fine on most hardware that runs Windows 7, unless you are unlucky with drivers for your particular model.
Another problem is that many PCs are used for undemanding tasks. According to Intel, there are a billion PCs in use that are over 3 years old, but for users running Office, browsing the web and watching videos those PCs still work fine.
There are certain categories where the PC remains buoyant. Gaming is one, and Skaugen told us that despite the popularity of consoles, 1.2 billion gamers use PCs, out of 1.8 billion total. Gamers always benefit from refreshed hardware. The same is true for business users who stress their hardware, such as those working in CAD (Computer Aided Design) or multimedia editing. The hybrid laptop/tablet category is also growing; understandably, bearing in mind the huge improvements for tablet users made in Windows 8.
Two-in-one devices have grown over 90 per cent over the last year, according to Parker's keynote.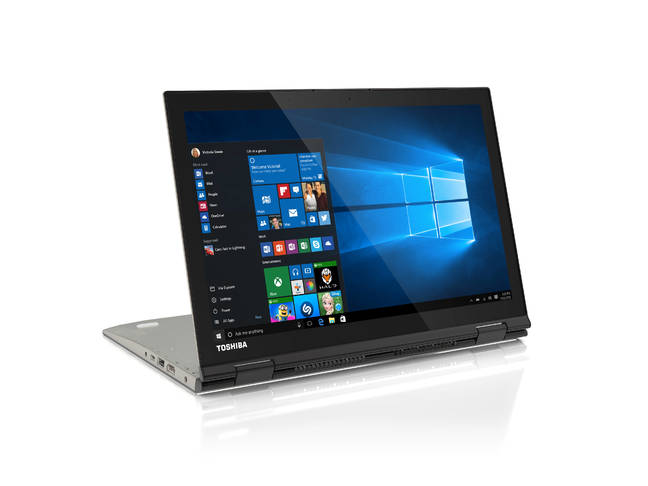 Toshiba's Radius 12 hybrid laptop/tablet
Despite the above, for many users it is hard to make a strong argument for a PC upgrade. The problem for Intel and Microsoft is that PCs are not where innovation is happening. Microsoft's 2012 Surface device was innovative in the way it made sense of being both a PC and a tablet, and you can see the impact of that effort today in products such as Lenovo's Mix or Apple's iPad Pro, but that was three years ago.
There are new features, of course. At Intel's press event, Skaugen highlighted areas including improved wireless display connections, magnetic resonance wireless charging promised in a year or so, fast multi-purpose Thunderbolt 3.0 connections, and 3D scanning using Intel's RealSense technology that could enable you to scan yourself and your friends and insert them into a game.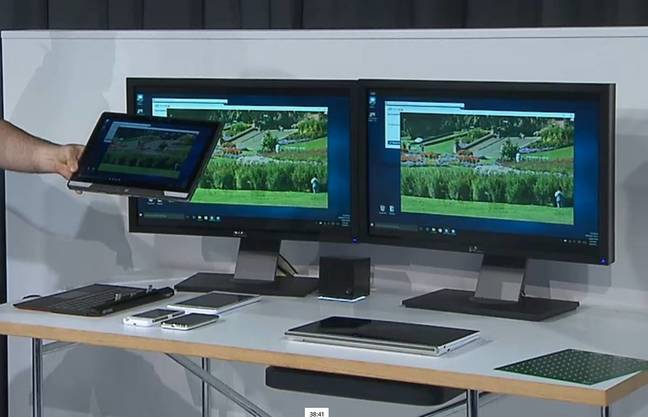 Intel shows wireless connection to dual displays
Nice technical advances; but it was apparent at IFA that innovation, as in new ways to use computers, is more centred on smart devices – call it Internet of Things, if you like – and that vendors are still choosing to focus on iOS and Android for the apps that accompany them, because of the small market share of Windows Phone.
Although Windows hybrid devices are no longer a rarity, they are used primarily like laptops, partly because Windows 10 is less good than Android or iOS as a tablet OS, and partly thanks to lack of compelling tablet-style apps, whether Store apps or Windows 10 Universal Windows Platform apps. Customers looking primarily for a tablet are unlikely to choose a Windows device.
Intel has done what it does and cranked out new processors that enable faster, smaller and more capable PCs. That is great, and PCs are not going away, but revival of the PC market needs more than that. In particular, Microsoft and its partners need to win back the attention of app developers for Windows 10, and despite its considerable efforts (though undermined by the Windows Phone pullback) there is little evidence that this is happening. ®