Hot new Gen-5 products leaves older Gen-4 10000 series out in the cold
HP has replaced its 7000 series 3PAR StoreServ array with a gen-5 ASIC-based StoreServ 8000, starting at $19,000. It's also added a top-end 20800 starter config, a lower-cost 20000 all-flash product, and enhanced its StoreServ OS.
The new all-flash array (AFA) products will increase the competitive heat on IBM, EMC, Pure Storage and other AFA suppliers.
There are now three StoreServ product families in the 3PAR line: the 8000, 10000 and recently introduced 20000. These are generally hybrid flash/disk arrays but with 8450, 20450 and 20850 AFA variants.
All products have hardware acceleration from an ASIC, with the 8000 and 20000s using the latest gen-5 Thin Express ASIC.
In the 8000 family, there are 8200, 8400 and 8440 hybrid disk and flash models alongside the 8450 AFA. There is a low $19,479 starting price for the entry-level 8200. These 8000 products are said to have twice the 7000 series' workload performance. HP said the 8000 products have an up-to 20GB/sec read bandwidth.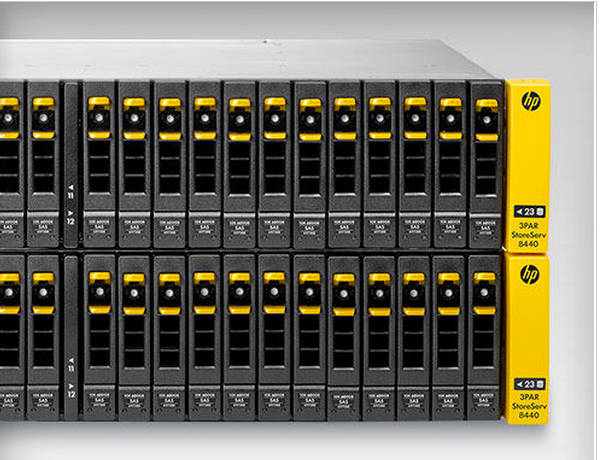 HP 3PAR StoreServ 8440 detail
A QuickSpecs document tells us that the 8000 has either a 2-controller 2U base module or a 4-controller 4U one and provides capacity, port and controller type information: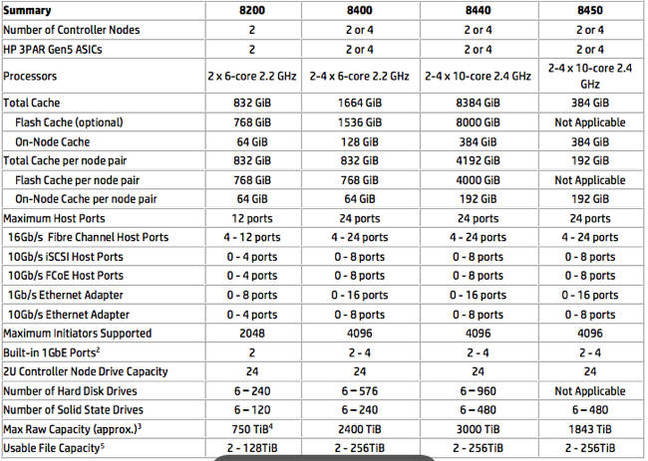 HP 3PAR StoreServ 8000 QuickSpecs table
MiBs, GiBs and TiBs are based on 1,024 bytes and not 1,000, which are used by HP in MB, GB and TB numbers. The available SSD capacities are 480GB and 1.92TB MLC, and 480GB, 1.92TB and 3.84TB cMLC. We think the three cMLC drives could be Samsung's PM1633 SSDs, which use Samsung 3D TLC NAND chips – also used by Dell.
Disk drive capacities are:
300GB and 600GB 15K SAS
600, 1200 and 1800GB 10K SAS
2TB, 5TB and 6TB 7.2K nearline SAS
StoreServ 20000
The 20000 QuickSpecs doc tells us there are three models in the family; 20450 AFA, 20800 hybrid flash/disk and the 20850 AFA, with the 20800 and 20850 being newly announced.
20800 All-Flash Starter Kit starts at $99,000 to lower the entry cost. The 20450 slots in under the 20850 AFA.
The number of controllers range from two to eight and the 20450 scales up to 6PB and 1.8 million IOPS, compared with the 20850's 3.2 million IOPS. Here is the 20000 range QuickSpecs table: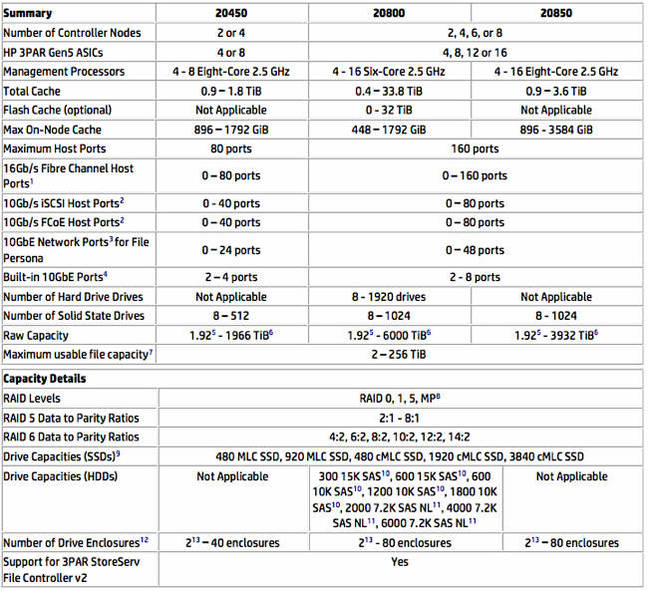 HP 3PAR StoreServ 2000 QuickSpecs table
Both the StoreServ 8000 and 20000 flash arrays are certified for SAP HANA Tailored Data Center Integration (TDI).
StoreServ 10000
The StoreServ 10000 is now the oldest member of the 3PAR family and uses an older Gen-4 ASIC. There is no all-flash configuration of this product, such as a 10450. According to its QuickSpecs, the 8400's 2400TiB raw capacity exceeds the 10400 model's 4.84-1600TiB range and the 8440's 3000TiB almost matches the 10800's 4.84-3200TiB range maximum.
With the 8000 series using the newer Gen-5 ASIC and doubling 7000 series' performance, this leaves us wondering how much of a future the 10000 series product has. Before June this year, the StoreServ family comprised the 7000 and 10000 products.
Now we have the Gen-5 ASIC refresh, as we might call it, with the 8000 and 20000 forming a natural pair, so to speak, and the 10000 looking, well, old hat.
3PAR OS enhancements
The big news here is adding a latency quality of service (QoS) target:
Priority Optimisation lets admins specify latency goals down to 0.5 milliseconds to ensure consistent service levels in multi-tenant environments
3PAR StoreServ powered by StoreOnce Recovery Manager Central for VMware (RMC-V)"delivers 17x faster VM protection by taking application-consistent snapshots on the HP 3PAR StoreServ array, then automatically copying changed blocks directly to any HP StoreOnce appliance"
RMC-V gets vSphere 6.0 VVOLs support plus more granular recovery of individual VMs and files
SmartSAN for StoreServ "uses Express Provisioning technology to orchestrate SAN (Fibre Channel) fabric zoning autonomically, reducing the number of steps required to provision a SAN by 80 per cent"
Other StoreServ enhancements reduce iSCSI latency and add support for iSCSI VLAN tagging. These new iSCSI features lower "total storage networking infrastructure acquisition costs by $25,000 or more"
The File Persona software has been enhanced to support larger unstructured data applications. Get a datasheet here.
Pricing and availability
The StoreServ 8000s are available and orderable worldwide. US street pricing starts at $19,479 (HP 3PAR StoreServ 8200, 6 480GB cMLC SSD drives, base operating system).
The 20800 All-Flash Starter Kit with 2 controllers, 8 x 480GB cMLC SSD drives and three years of Proactive Care 24x7 support is available worldwide, orderable September 2015 with US street pricing starting at $99,995.
The 20450 All-Flash Arrays are available worldwide, orderable immediately with US street pricing starting from $85,167.
Priority Optimisation is available worldwide as part of the 3PAR Data Optimisation Suite, starting at $1,210.
Smart SAN 1.0 is available worldwide, licensed on a per-system basis, starting at $200 for HP 3PAR StoreServ 7000 and 8000 models.
RMC-V 1.2 will be available worldwide in October 2015 and is licensed per-array, starting at US $2,500. ®