Losses still increasing, however
Nimble Storage had another successful quarter in terms of revenue, beating its own estimates: the figure of $80.1m in its second fiscal 2016 quarter was 49 per cent higher than a year ago, and 12 per cent more than the previous quarter.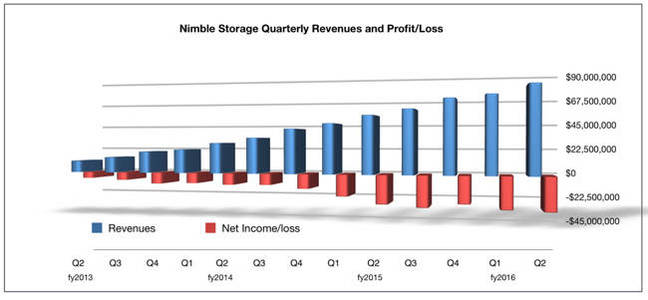 Nimble generated losses of $30.1m, 15 per cent worse than the $26.1m loss reported a year ago, and a smidge worse than the first fiscal 2016 quarter's $29m.
There's no sign of a profit yet and no evidence that losses are reducing, although as a percentage of revenue they are on a downward trend.
The company sells its hybrid flash/disk array and CASL software, branded as its Adaptive Flash Platform, as a better and more cost-efficient networked storage array than mainstream array vendors, such as Dell, EMC, HDS, HP, IBM, NetApp and Oracle (Axiom).
Its revenues are growing faster than its rivals' and investors are happy enough, as the share price history chart from Yahoo! shows below.
Yes, the share price has dropped substantially from its post-IPO peak, but it's been in a $20-$31 band since May 2014 and is currently at $23.83.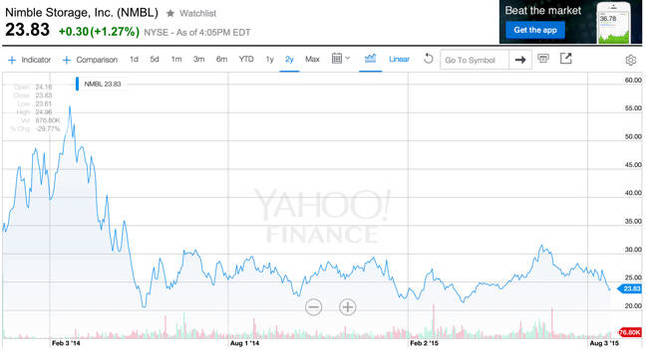 Can its revenue growth carry on? CEO Suresh Vasudevan thinks so. He stated: "As the storage industry continues to experience disruption from architectural shifts, our core belief that only the Adaptive Flash Platform can consolidate and dynamically optimise every enterprise application running across the data centre remains our guiding principle. The second quarter provided clear evidence of our continuing momentum. We added 690 new customers, a new quarterly record." So there.
We're doing great, and one day, we'll make a profit!
CFO Anup Singh pointed out healthy signs of improving financial performance: "Our industry-leading gross margins reached another record high at 67.8 per cent. We continued to drive improvement in our operating leverage, as operating margins improved by 11 percentage points compared with second quarter, full-year 2015, while generating record cash flow from operations, which was 19 per cent of revenue this quarter."
It was five per cent a year ago.
The addition of more profitable Fibre Channel (FC) networking to Nimble's original iSCSI is working well.
Stifel Nicolaus MD Aaron Rakers wrote that there were: "110 FC customers in F2Q16 with 74 being net-new Nimble customers. We estimate Nimble has added about 208 net-new customers since launch [of] FC support in late-C2014... FC accounted for 17 per cent of bookings in F2Q16 vs 16 per cent in F1Q16."
Rakers also noted: "Nimble reported a record number of plus-$100k deals in F2Q16."
Foreign exchange movements affected things – revenue would have been $82.8m, representing a 54 per cent jump on the year, if those movements had not happened.
Rakers said Nimble had a 1.13 per cent market share in C2Q15, up from 0.67 per cent a year ago. He's charted this and thinks it can go higher, helped by the Fibre Channel networking support: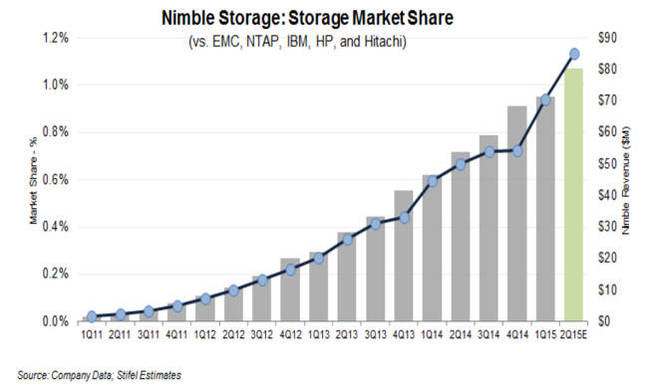 He said Nimble has 6,211 cumulative customers, and: "Nimble believes it will continue to add between 500-700 new customers per quarter going forward."
There is no sign that Nimble's growth is being retarded by anything the mainstream array vendors are doing to meet its competitive threat.
On the contrary, its traditional array revenues are trending down as Nimble's revenues trend up, as do those of fellow hybrid array suppliers Tegile and Tintri.
With all-flash array, hyperconverged infrastructure appliance and software-only storage vendors also taking revenue from the mainstream array vendors, the scene is set for continuing competitive disruption.
Nimble expects revenues to be between $86m and $88m next quarter, which would be 47 per cent growth on the annual compare at the $87m mid-point. ®