IDF15 It's party time at Intel. The mixtape is in the deck. The beers are chilling in tub. The chip giant has 99 per cent of the data-center market.
Its profits in a single quarter can slip a few per cent, and still stand at $2.7bn. AMD is still AMD. What has Intel got to worry about? OK, mobiles, PCs, laptops, and tablets are already passed out under the table, but those are just minor setbacks. Tiny catastrophes.
With all that cash money in the bank, why stop at a house party? Why not throw a huge party with thousands of people invited paying to attend? Hold it in San Francisco, the party town. Party Intel.
A party with light-up balloon drones hovering above. Riddles and tricks involving magic bracelets that unlock things but cannot be stolen. Dancing mechanical spiders. A special guest star from TV. Kids leaping over the stage on BMX bikes, performing stunts to a gasping crowd. A robot delivers a diet coke to a multimillionaire. A circus of technology that I am not making up.
This year's Intel Developer Forum in California kicked off on Tuesday, and the keynote was about fun and making things and making money and spending money and fun. "We're gonna have fun," Chipzilla's CEO Brian Krzanich repeated. Nothing like mandatory fun.
In other rooms at the Moscone West conference center – rooms deprived of throbbing disco music – Intel's engineering brains revealed the secrets of the new Skylake CPU and GPU architectures. More on that on El Reg later. First, this is all the fun you missed.
Krzanich made robot spiders dance on stage by moving his hands to demonstrate, well, we're not sure. The guy runs a multibillion-dollar company. What do you expect.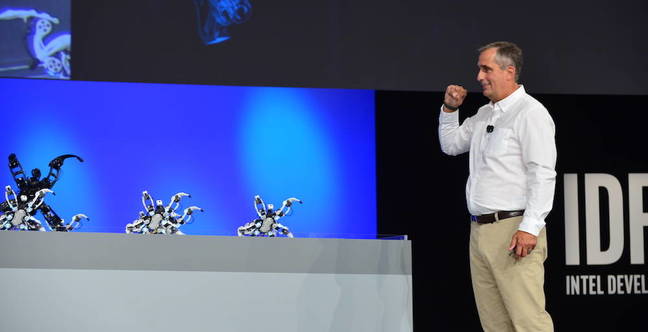 It was actually to show off spiderbots powered by Intel's Edison hardware, and a motion-sensing wrist-wearable that had a Curie sensor module in it. Curie is not available generally yet. Intel will also release two software development kits for wearables by the end of the year: Time IQ will help programmers write apps that follow a person's daily routine, and Identity IQ can be used to establish the identity of someone.
That space-age faster-than-flash, larger-than-RAM 3D memory Intel and Micron announced will be branded as Optane SSDs, and eventually be made available as DIMMs to plug into motherboards.
Last month, Chipzilla and its bestie Micron revealed their 3D XPoint memory that is bit-addressable, non-volatile, almost as fast as normal RAM, has better endurance than flash, and large capacities. Now we know it'll be branded as Optane solid-state drives next year – with DIMM sticks coming for servers. Check out our sister site The Platform for more details.
Intel is experimenting with bracelets that wirelessly unlock PCs when worn near them, and lock them when they're moved away.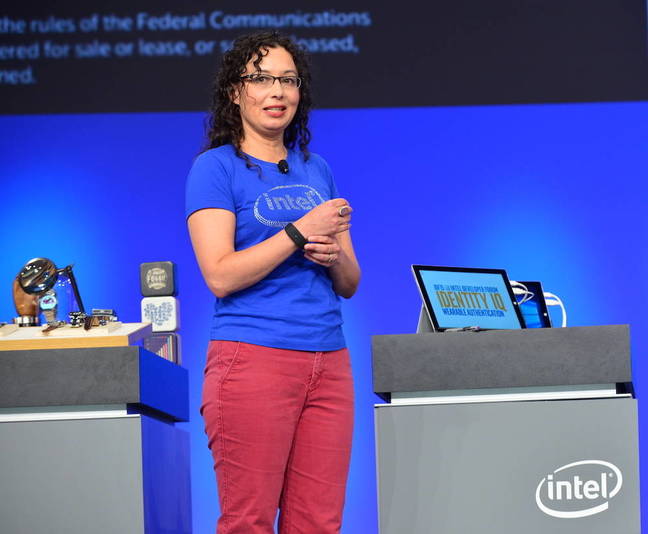 You put on the bracelet and buckle it. You authenticate and pair it over the air with your PC by typing in your password on the system and logging in. When you move away, the PC locks the screen. When you return, it detects the bracelet, and unlocks the screen. If someone takes it off your wrist, it will unbuckle and delete its authentication token. If someone chops your arm off, who cares about the PC? This gizmo is still in the lab.
Finally – robot butlers for all!
Krzanich made a robot fetch him a bottle of diet cola which is bad for you but tastes so good, and the point is: hotel room-service staff are doomed.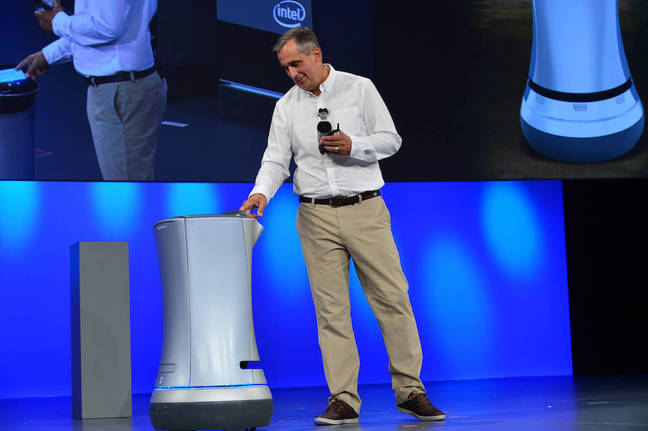 These robot butlers are supposed to go around conferences, conventions and hotels delivering stuff that people order or request. This particular droid is powered by Intel's Realsense, which is a bunch of algorithms that give computers depth perception. Sensors and cameras can be linked to the technology to work out where things are around them. Google's Project Tango will, it was announced, use Realsense in smartphones to scan the surrounding area and produce a 3D model of it. Tango is only available to developers right now.
The Robot Operating System (ROS) will also support Realsense, as will Linux, Scratch, OS X, Windows, Unity, and other platforms. Razer is working on a Realsense-powered camera for streaming gamers, which will pick out just the player's face and body so it can be superimposed over their Twitch stream, for example. The aforementioned spiders also had Realsense tech in them.
Guys on BMX bikes fitted with sensors did stunts all over the stage to show that sensors work and the Internet of Things is fun and will make you lots of money as a developer.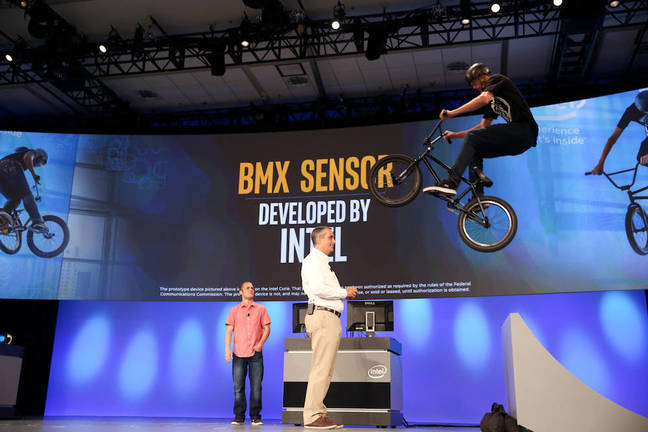 Intel has licensed its Enhanced Privacy ID (EPID) tech to Microchip and Atmel.
It could have been called Enhanced Privacy ID Check (EPIC) but no, Intel had to go with EPID – its system for identifying and authenticating devices and Internet-of-Things gateways using cryptographic keys. The design is published as an ISO standard. Microchip and Atmel have licensed the tech to put into their own silicon. EPID can do things like prove a gadget is what it says it is, or belongs to a group. If you use your smartphone to instruct your boiler to warm the house, the mobile's app and the boiler can use EPID to authenticate themselves. If you have an EPID chip in your car, it can use the technology to authenticate the approaching traffic lights and know to slow if a red light is showing.
A British dude responsible for TV's cultural highlights The Apprentice, The Voice, and Are You Smarter Than a 5th Grader appeared on stage to say he has been working with Intel on a new reality TV show called America's Greatest Makers that will give away $1m to whoever comes up with the best gadget, gizmo or Internet-of-Things thing.
You can watch Krzanich's keynote for yourself here. ®