There will be tears – but it is worth upgrading
Review Take a deep breath. This is it, the big one: Microsoft has released Windows 10, which will make everything good again after Windows 8.
Windows 10 is distinctive for several reasons. First, it introduces the "Windows as a service" concept, in which most users will automatically receive incremental updates with both feature and security patches. Second, it is a free upgrade for most existing users of Windows 7 or 8.1. Third, it is a multi-device operating system that runs on PCs, tablets, phones, HoloLens-augmented reality headsets, and miniature computer boards like Raspberry Pi.
These various editions are unified by an application runtime called the Universal Windows Platform (UWP), which enables developers to code apps once and have them run on all the above devices as well as Xbox One. Different display sizes are catered for by a mechanism called the Adaptive UI, where the user interface adapts itself automatically to the size and orientation of the screen. UWP apps are deployed through the Windows Store, now unified across phone and PC, and users can buy an app once and run in on a variety of devices.
The recap
Windows 10 is not Microsoft's first attempt to create an operating system that runs well on tablets as well as PCs. Earlier efforts include the 2002 Tablet PC, based on Windows XP and adding pen support, handwriting recognition, and voice input. In November 2001, then-CEO Bill Gates said that "I'm already using a Tablet as my everyday computer... within five years I predict it will be the most popular form of PC sold in America." Tablets were indeed a success, but not until April 2010 when Apple released the iPad. Pens are an expensive nuisance for most users, and traditional Windows applications are ill-suited to control with touch.
Windows 7 had support for touch input built in, but Microsoft saw that it could not compete with the iPad without radical changes. Windows 8 introduced a touch-friendly environment (known as Metro) and a new Windows Store that enabled users to install and remove applications with iPad-like simplicity. Under the covers, an application platform called the Windows Runtime isolated apps from each other and from the operating system, improving security and preventing the install of one app from breaking another.
These were good things; but the changes and the way they were introduced went down badly with users, who disliked the jarring effect of jumping between Metro and desktop Windows and missed the Windows 7 Start menu. The problem was compounded by a lack of worthwhile apps to install. Many users, including most businesses, stuck with Windows 7.
The new deal
The Windows 10 team discarded the Metro environment but retained the Windows Runtime and Store. The new concept is that all apps run on the desktop, though there is an optional "Tablet mode" in which apps run either full screen or in a two-to-view split view, making the desktop invisible. The Windows Store is therefore now on the desktop, and Microsoft CEO Satya Nadella has stated that winning greater visibility for the Store is a core goal.
The company is making a huge push for Windows 10, driving upgrades from Windows 7 or 8.1 through Windows update for eligible users. Users who accept the invitation to "Get Windows 10" will be prompted to initiate an in-place upgrade. It is a high risk strategy, partly because in-place upgrades are more error-prone than clean installs, and partly because Windows 10 is so new, but reflects Microsoft's determination to shift its user base rapidly.
Back to the Start
Windows 10 always boots into the desktop, though in Tablet mode you will not see it. Coming from the desktop in Windows 7 or 8, here is what you will notice:
The Start menu is different. It is neither the Windows 7 Start menu restored, nor the Windows 8 Start screen reworked, but something new. What you get is a left-hand column showing recently and frequently used applications, recently opened files, settings, selected folders, power button, and an all-apps list. This list is partially hierarchical, but collapses entries so that there are no sub-folders. For example, on Windows 7 you get a Start menu folder for Visual Studio, then below that a folder for Visual Studio Tools. In Windows 10, the Visual Studio Tools folder disappears and its contents are merged into the parent folder.
The All Apps menu works, but is harder to navigate than in Windows 7. What you are meant to do is to type into Cortana or Search (depending on whether Cortana is enabled). Normally, the app you want is at the top of the results, but by default, search includes web results as well as local results. This is easily disabled in settings, but only if Cortana is also disabled. It is a clever way for Microsoft to boost Bing usage, but inevitably there will be some puzzled users hitting web sites when trying to run applications or find settings. Given the complexity of navigating Windows though, basing Start menu navigation on search is not a bad idea. You can also type Run, or press Windows+R, to get the Run dialog for those who know exactly what to type – for example, rstrui for System Restore.
You can also pin apps to a panel that appears to the right of All Apps, where they become Live Tiles. Opinions vary, but the Live Tiles gimmick has never worked well in Windows; it is a little better on Windows Phone. You can disable an individual Live Tile if you want. Pinning does work well though, as a way of organizing the apps you use most. You can drag them around and form named groups as you would expect.
This is where the compromises in Windows 10 show. The Start menu is neither as quick and easy as in Windows 7, nor as perfect for touch as in Windows 8, but bridges the two. Get the search habit though and it works.
The Taskbar, app switching, and multiple desktops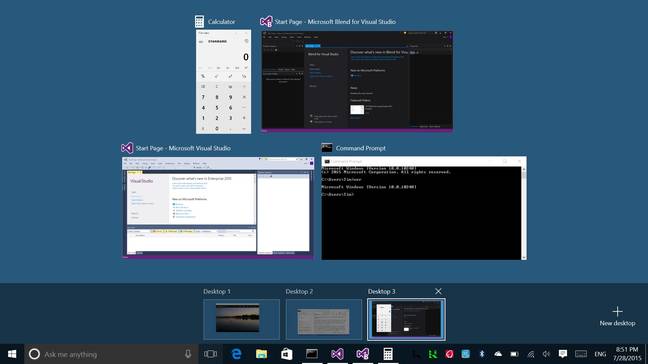 Task switching and multiple desktops
The Windows 10 taskbar has been reworked. You will notice that transparency has gone, and that a large Cortana or Search section appears on the left (this can be removed if you prefer). There is also a new task switcher button, which lets you select from running applications. It also shows a New desktop button, allowing you to create one or more virtual desktops in order to organize your work. By default, both the taskbar and alt-tab show only the applications on the current desktop, though this can be changed in settings. Fortunately, the task switcher also shows all running desktops, so it is not difficult to find a running application. If you close a desktop, any apps on it move to another one.
Actions and notifications
A slide-out panel in Windows 10 shows actions and notifications. Actions are shortcuts to common settings such as Airplane mode, Bluetooth on/off, Wi-Fi, Tablet mode, and VPN. You can customize which actions appear here. Notifications appear above the actions, and can come from Windows or other applications. If the PC is locked, they also show on the lock screen by default, but this can be disabled.
This panel is initially confusing for Windows 8 users, because it occupies the space where the Charms menu used to appear, including the power off button. The tables have turned; now it is Windows 8 users that have to learn new ways to do familiar things.
Tablet Mode
Windows 10 Tablet mode can be selected manually, or set to engage automatically if you flip or detach the screen on a hybrid device. It is also the default on an actual tablet. We looked at Windows on a small tablet in some detail here. Forcing apps to full screen is just right on a small tablet, but not necessarily what you want on a large screen such as the HP Spectre x360 (on which I am typing this review). The mode is not critical to touch control, since this is more a matter of application design.
Windows as a service
This release of Windows is the beginning of "Windows as a service," according to Microsoft. This means that Microsoft wants to manage your operating system, updating it with both new features and security patches as it sees fit, in the same way that Google updates Chromebooks. There may or may not be a Windows 11, but the company has said that once a PC is licensed for Windows 10, future updates will be free for the lifetime of the device. It does not mean that Windows is now a subscription service.
How much control you have over updates depends on what version of Windows you have, and whether it is in a managed business environment. Users of Windows Home agree to get updates automatically, but can choose between automatic or manual restarts when needed. There is also an option for peer-to-peer update delivery, either restricted to the local network or from any PC (the default).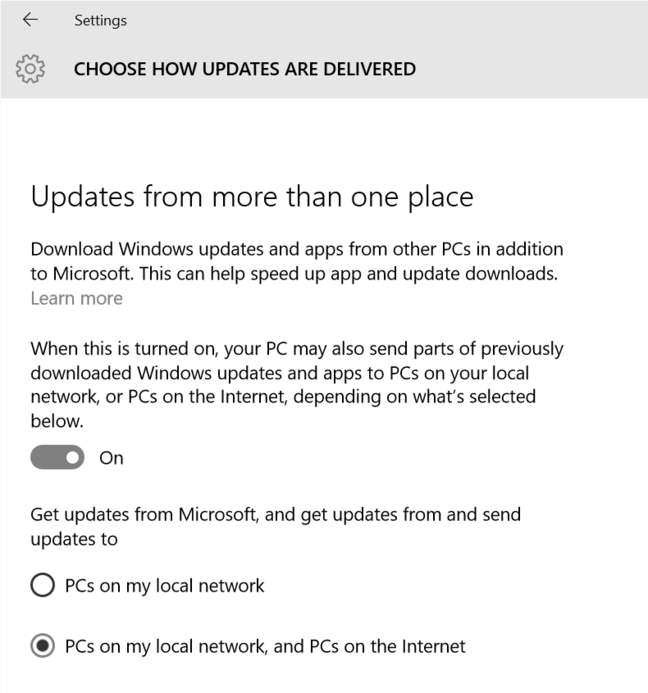 Peer to peer updates by default in Windows 10
Windows updates can still be managed in a business environment using tools like WSUS (Windows Server Update Services), for users of the Professional or Enterprise editions. That said, Microsoft will not support every possible variant of Windows 10, as it changes over time, but only versions from the last so many months – said to be 8 months. After that time, you can restrict updates, but might not get security patches.
The solution for update-averse businesses is to opt for the Enterprise edition and to select a special version called Long Term Servicing Branch. These editions are feature-frozen for an extended period, receiving only security patches.
Overall it is a reasonable compromise between the desire to remain secure and up to date on the one hand, and the wish to keep control over your PC and to avoid breaking applications on the other.
All about the apps
Windows 10 has discarded the dual personality of Windows 8, but still has two distinct types of application. UWP apps may now look similar to classic desktop apps, but there are big differences under the covers. Even if you are not a developer, it is worth reading about the app lifecycle, which explains how UWP apps can be suspended or terminated by Windows. When they crash, they typically exit silently, which can be confusing, though this is in line with Microsoft's guidelines. Most UWP apps are single instance, including Microsoft's Office Mobile where multiple instances would be useful, though multi-instance apps are possible (Calculator is one). Users will discover that UWP apps are not quite like desktop apps.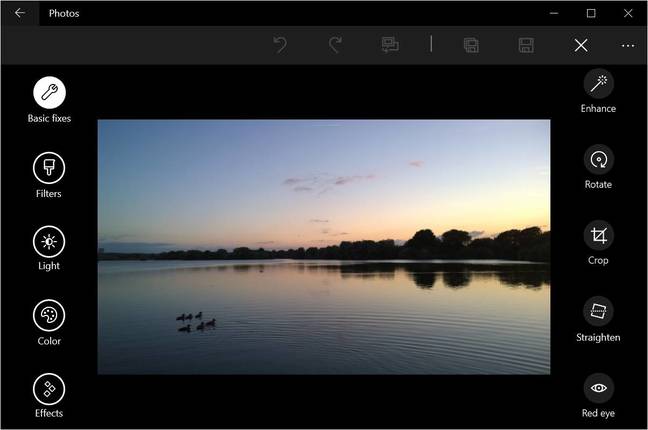 The Windows 10 Photos app
A key difference between Windows 8 and 10 is the effort Microsoft has made with its own apps. Groove Music (formerly Xbox Music) adds FLAC support as well as the ability to stream personal music files stored on OneDrive, Microsoft's cloud storage. Photos also does a good job of hooking into OneDrive, and includes basic editing and enhancement features, or you can use it for slide shows perhaps in combination with wireless projection to a large display, also built into Windows 10. Mail and Calendar are improved over the Windows 8 equivalents, and the ability to run in a window makes them more usable. Maps has acquired features familiar to Windows Phone users, such as the ability to download maps for use offline.
There is still an issue with UWP apps tending to be stupidly big and bold on occasion – Calculator, for example – but at least touch usability is there. Microsoft has had the sense to leave well alone with some accessories, including Notepad, Paint, and Character Map.
Office Mobile, substantially the same suite of apps (Word, Excel, and PowerPoint) as found on iOS and Android, offers an impressive subset of features when compared to full desktop Office, together with a design that works for touch as well as mouse/keyboard. Another app worth checking out is Fresh Paint, which simulates physical painting through a variety of brushes and effects.
This first-party effort is important, since it will help persuade users that the Windows Store is worth investigating. This in turn may convince developers that if they build apps for Windows 10, they will find a market. Microsoft desperately needs this to happen in order to revive the Window ecosystem, especially in the consumer market. It is not surprising then that Cortana/Search includes Store results, giving users a one-tap link to install a discovered app.
The Store itself is in a better state than at the launch of Windows 8, but that is faint praise. The absence of compelling apps remains obvious. Whether or not Microsoft can get over this hump is a key Windows 10 question; at this stage all we can say is that it is broadly going the right way about it (at last).
Could the Windows Store become the main way of deploying Windows applications? That is Microsoft's goal, but it needs two things that are not yet available before it can happen. One is the Enterprise Store, a way for businesses to deliver custom applications through the same mechanism. The other is Project Centennial, which puts desktop applications in a virtual wrapper for Store delivery.
Edge Browser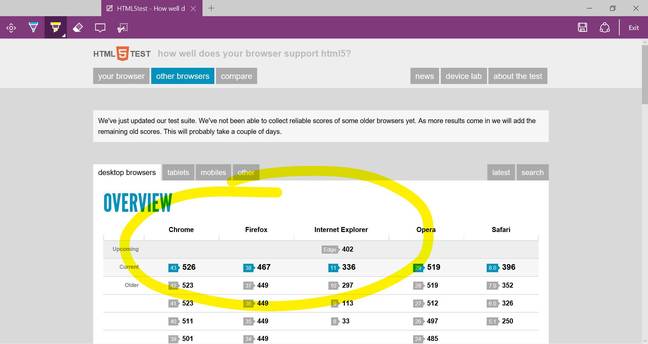 The Edge browser
Exclusive to Windows 10 is the Edge browser, a reworked Internet Explorer (IE) with a new user interface and legacy baggage removed. Edge is faster and more standards-compliant than IE has ever been, and beats Chrome and Firefox on some benchmarks, though it remains behind on HTML5 standards. This site, for example, scores 402 for Edge versus 336 for IE11, 467 for Firefox, and 526 for Chrome. Microsoft is promising a fast upgrade cycle for Edge and may catch up. The Edge user interface is both clean and designed for touch, and it is worth a try for Windows 10 users.
A unique Edge feature is the ability to annotate web pages with ink or typed notes. Once annotated, you can save the page either to the OneNote notes application, or to a reading list, or as an image for sharing. This could be useful for research notes, though it is hardly a killer feature.
Windows 8 confused users by offering two versions of IE, one for Metro and one for desktop. Windows 10 also has two browsers, though for better reasons. Edge lacks extensibility or plug-in support, and some sites work in IE11 but not in Edge. There is therefore an Open in Internet Explorer option in Edge, which Microsoft itself recommends for parts of its Office 365 site.
DirectX 12
Included in Windows 10 is DirectX 12, Microsoft's latest API for hardware-accelerated graphics. Microsoft claims around a 20% performance increase, which means higher-quality rendering and increased frames per second (FPS), thanks to more efficient use of the graphics processing unit (GPU) and lower-level hardware access.
Cortana
Cortana is Microsoft's digital personal assistant, featured first in Windows Phone and now coming to PCs in Windows 10. Cortana is not available in the UK, other than by setting your PC to US English. When enabled, Cortana replaces the Search panel. Cortana requires "speech, inking, and typing personalization" to be enabled, as well as location services, which means that all your input will be analyzed as personalization data for Cortana to chew on. Some data is sent to Microsoft as explained here. You can get more fine-grained control over what is sent to Microsoft by disabling Cortana; that is the trade-off.
When enabled, Cortana will endeavor to deliver reminders and recommendations according to settings that you can customize in the "Notebook," which represents the data Cortana stores and how it is used. For example, you can set whether or not Cortana shows news stories in her panel, and whether they are local, general headlines, or personal interests.
Cortana is also a voice input agent. You can create appointments, start applications, or perform web searches, for example. Developers can also extend Cortana for their own applications.
Privacy-conscious users will disable Cortana, while others will find her fun to demo but of little real use. It makes better sense on a small tablet or phone than on a desktop PC. There is potential here though, both as an assistive technology and for reminders and notifications. Still, with Google Now and Apple Siri also vying for your attention, how many digital assistants does one person need?
Xbox Live Streaming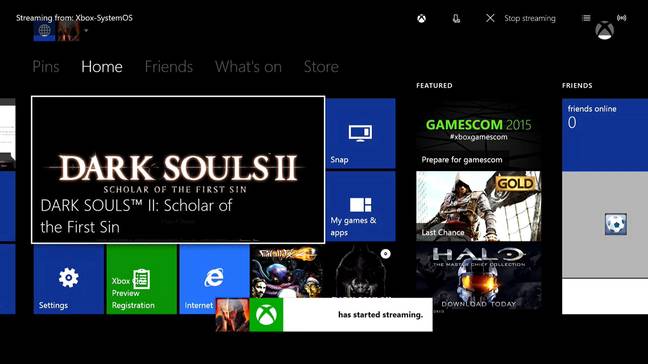 Xbox Live Streaming to Windows 10
The Xbox app delivered with Windows 10 supports Xbox Live Streaming, letting you connect to an Xbox One console and play games on your PC. A wired connection is recommended, but streaming also worked well over wireless in our tests. You also need a wired Xbox controller plugged into the PC; I used a 360 controller. If your console is set to instant-on, you can turn it on remotely. What you get is a remote session on the console, allowing you to navigate the dashboard and play games as if you were using it locally. Xbox Live features work as you would expect. Xbox Streaming is a great feature, allowing you to play games when the TV in the living room is in use, for example, or want to try playing close up to the screen on your desk or laptop.
Another Windows 10 feature is cross-device gaming, where a player on a PC plays alongside or against a player on a console. This has been demonstrated by Microsoft using the forthcoming Fable Legends, due later this year.
Ugly things
Windows 10 could be better. OneDrive integration is a problem. Windows 8 introduced an elegant system called placeholders, showing the entire contents of your OneDrive in Explorer but only downloading files on demand. Microsoft decided it was confusing and did not always play well with applications, so now you have to select which folders you want to sync, and others are invisible. In mitigation, apps like Office Mobile and Photos can still see what is in OneDrive, even if they are not synced locally. Combine this with confusion over OneDrive for Business – Office 365 storage – and the poor OneDrive for Business client (a new one is in preparation), and you have one feature in Windows 10 that is not yet ready.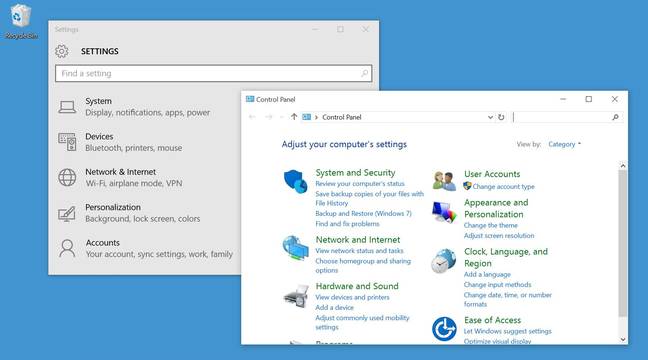 Which settings? Inconsistency of design in Windows 10
Another annoyance is inconsistency of design. Some parts of Windows are in the modern style, like the new Settings app, others are in desktop style, and even within the desktop there is plenty of variation, with some ribbon menus, some text menus, and some dialogs that look hardly touched since Windows 3.1 days. Where to find settings is another issue. Search for Touchpad in Settings and you can set a click delay, but most touchpad settings are in the old control panel. On this laptop there is a Synaptics settings app complete with illustrations from Windows 7.
Windows 10 lets you log in with Azure Active Directory, as used in Office 365, but you still need a Microsoft account for some features, so progress here is incomplete.
What about stability? Windows 10 has made remarkable progress. Build 10240 appears to be the release build, but patches since its release a fortnight ago have fixed a number of issues. On a modern PC like the Spectre x360 it now seems in good shape, though I noticed some minor anomalies. In general you can expect more problems with UWP apps than with desktop applications.
The in-place upgrade to which Microsoft is steering millions of users is risky. The upgrade is designed to offer a way back if it goes wrong, but wise users will also take their own backup before proceeding.
The last chance for Windows?
Windows will trundle on forever as a legacy operating system, running countless existing business applications, but it cannot progress to become an attractive target for app developers unless Microsoft can persuade users that it is time to move on from Windows 7. Windows 8 failed in that task, and Windows 10 is perhaps Microsoft's last chance to pull its operating system from the legacy hole it is in.
This release has been rushed, and there will be anguish in the coming weeks over bugs and failed upgrades, but Microsoft has made great strides in the days leading up to release and its quality now looks reasonable.
Although they are optional, this release does push users strongly towards a Microsoft account, OneDrive, and Office 365, and Cortana will not appeal to the privacy-conscious. It is also important to understand the implications of Windows as a service – if continuous incremental upgrades do not appeal, stay away. Note too that neither the new Start menu nor the revamped taskbar are unequivocally better than their Windows 7 equivalents. There are compromises involved in creating a hybrid operating system.
Despite the compromises, this operating system is more coherent than Windows 8, more familiar to Windows 7 users, and you can point to solid reasons for upgrading. Examples would be DirectX 12 and Xbox Live Streaming for gamers, Office Mobile and multiple desktops for productivity, Azure AD log-in for Office 365 users (it is not done yet but it is progress), and high-quality built-in apps for consumers.
Immediate upgrade is for the brave, but Windows 10 is a worthwhile release for both business and consumers. ®