Wake up and smell the declining revenues
Customer resistance to complex Clustered ONTAP migrations caused a slowdown in hardware sales at NetApp, with revenues clearly shrinking.
Fiscal 2015 fourth-quarter revenues declined 6.6 per cent year-on-year from $1.65bn to $1.54bn. Net income was $135m, down from $197m (32 per cent).
The full-year revenues told the same story: $6.12bn, down 3.2 per cent from last year's $6.33bn. This is a business where growth has stopped and whose revenue-generating engine is slowing down.
CEO and chairman Tom Georgens put his best CEO foot forward in prepared remarks, admitting fault, yet finding good things to say: "We are not satisfied with our fourth quarter results and are taking concrete action to transition NetApp for the next phase of growth."
Good things included sales of all-flash FAS products growing 260 per cent and clustered ONTAP node shipments rising 163 per cent. Sure, that's impressive — bits inside your business are growing fast but, overall, it's declining, as it has now done for two fiscal years.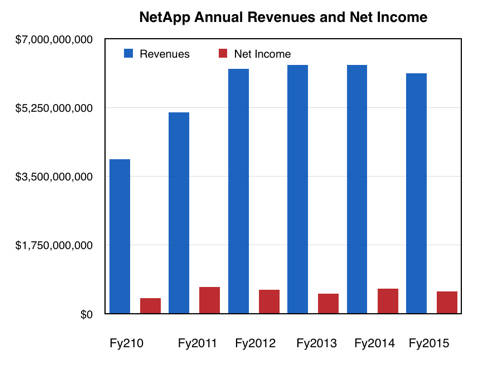 What was this attributed to by NetApp's leadership? In the earnings call Georgens said it was the cloud wot done it: "The IT industry is undergoing a radical shift as customers re-balance their IT investments to take advantage of the cloud. IT organisations will deploy a mix of on-premises and cloud-based resources, which has slowed the growth rate of the storage market."
There's nothing here about the rise of competition from startups in the all-flash array, hybrid array and hyper-converged system areas. Is NetApp in denial about this?
Georgens said: "We see some customer consideration of alternative cloud-based models, but we do not see as much risk from on-premise alternatives. It is unlikely that customers will adopt competitive technologies that have fewer features and require even more complex migrations when compared with clustered ONTAP."
Also this: "The radical transition is the cloud, and the cloud dwarfs the impact of any of those other technologies." Sounds like denial?
William Blair, analyst Jason Ader thinks so: "The company still seems to be in relative denial about the core causes for its struggles and looks to have set the bar way too high for fiscal second-half revenue and margins ... We expect NetApp's downward spiral to continue and would avoid the stock."
Georgens did admit that NetApp "underestimated the disruption that the transition to clustered ONTAP has had on our direct and indirect pipeline [and] the disruption has been most acutely felt in our Americas commercial geography due to the heavy concentration of large enterprise customers in the US."
Basically, Clustered ONTAP has been a disruptive upgrade: "To fully realise the benefits of this technology, customers have to update existing storage management processes and migrate their data."
"Since most of the upgrades occur in conjunction with hardware refreshes, we have seen delays in new hardware purchases until planning for process changes and downtime windows can be completed."
He said Clustered ONTAP upgrade sales efforts have "adversely impacted our ability to acquire new footprints and new customers [but] the inhibitors to upgrade have now been mitigated with the generally available release of clustered ONTAP 8.3".
Cost has been taken out, with CFO Nick Noviello saying there had been "a reduction of our global workforce by approximately four per cent." That confirms the 512 number we had heard.
Georgens said NetApp's growth strategy centres on ONTAP: "Clustered ONTAP is the foundation of a Data Fabric, our vision for the future of data management, which enables enterprises to realise the value of the cloud as a seamless extension of their on-premises environment. This vision is resonating well with customers and underpins our confidence." Not well enough Tom, hey?
Clustered ONTAP adoption key to revenue growth
So Georgens sees Clustered ONTAP adoption as the key to revenue growth, with an investment in training and migration services for both direct and channel engagements "to unlock the tech refreshes that are waiting for clustered ONTAP upgrades".
The company will also boost its direct sales capacity and invest in the channel to get new customers and improve its migration ability. The strategy is twofold; Clustered ONTAP and the Data Fabric idea of ONTAP users having a seamless private/public cloud storage resource.

Revenue trend line added
The outlook? Net revenue is expected to be in the range of $1.275bn to $1.375bn, an 11 per cent decline at the mid-point and a GAAP loss per share in the range of $0.11 to $0.06 — so the revenue engine slows again and income/share turns into loss/share. Oops Tom, that's a crossed border investors will not like.
NetApp doesn't see revenue improvements in the second half of fiscal 2016 but does see itself improving things such as free cash flow and costs.
In Ader's view: "We see this [outlook] guidance as blindly ambitious at best and irresponsible at worst." Wow, he really has it in for NetApp management.
The company has put virtually all its eggs in the Clustered ONTAP basket and has mostly no other offering to sell them, for the E-Series and StorageGRID revenues aren't seen as rising fast enough to offset the ONTAP slowdown.
The only way is ONTAP and that's that, with Georgens saying: "Simply put, ONTAP on-premise is the story and the nut that we need to crack in the near-term."
A question is will the newer AFAs, hybrids and hyper-converged system startups grow their sales at NetAp's expense? Georgens' company thinks not; the startups disagree, seeing NetApp floundering. While they grow revenues and NetApp's decline, it looks like they may have the best of the argument. ®