Feeling good about yourself in the cloud IBM? Oh, dear...
IBM is at it again. Earlier this year IBM claimed to be the world's largest cloud provider, trumpeting a $7bn cloud run rate. By conflating a variety of definitions of "cloud" (including, ironically, hardware), IBM hoped to earn itself a place on the cloud computing podium.
It didn't work.
And so, despite Amazon and Microsoft announcing tangible financial results that show the exact opposite, IBM is now flogging a Microsoft-sponsored 451 Research survey (PDF) which purports to show IBM "as the company most likely to win cloud business".
While that might make the folks in Armonk feel better about themselves, there are a number of reasons to be suspicious of the results.
IBM can be forgiven for dressing itself up in survey results that make it look good. That's marketing, right?
But even IBM (18 per cent of respondents declared it the "most likely to win cloud business" from them) must be wondering how it can score higher than AWS (6 per cent) and Microsoft (11 per cent), the two market share leaders. Nearly two years ago, Gartner analyst Lydia Leong found AWS to have five times the utilised compute capacity of the next 14 competitors combined.
IBM was one of those 14, which means its utilised cloud is tiny compared to AWS.
More recently Leong told me that AWS' market share lead has grown, not shrunk, in the past two years. Does that mean IBM's share is even punier than before?
Not if you accept 451 Research's survey results. Of course, if you click on the Bitly survey results link provided by IBM, the data it claims from the survey doesn't actually show up on any of the slides. I went through the deck several times, and can't find the numbers IBM cites.
The numbers that do show up, however, are even more outrageous, though not surprising: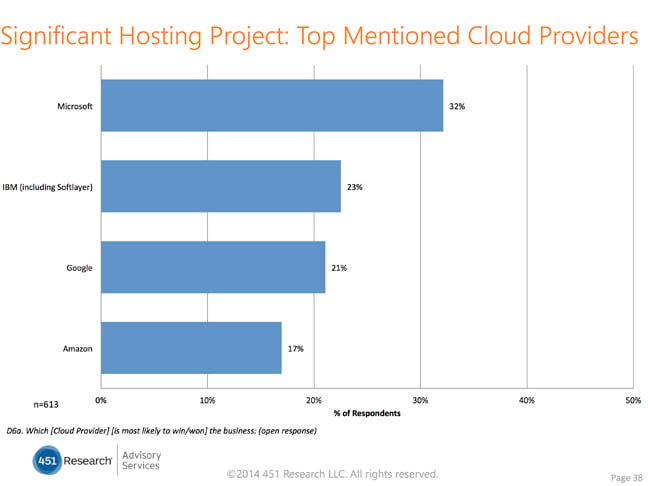 I say "not surprising" because the first thing to know about the survey is that these are Windows users. At least, that's my takeaway from seeing the companies Windows Server 2003 migration plans listed at the end of the deck.
Given that Microsoft sponsored the survey, presumably of Windows users (the survey offers no insight into the methodology), it would be shocking indeed if Microsoft didn't rank as the top cloud, and that IBM (a Microsoft service partner) didn't rank second. Much of the adoption on AWS is Linux, just as most cloud applications run Linux.
But this isn't the only demographic problem with the survey.
It depends on who you ask
One of the truisms of cloud adoption, and particularly public cloud adoption, has been that it's partly a way for the enterprise to get stuff done without involving IT. Yet the 451 Research survey is almost entirely comprised of IT operations respondents (76 per cent), rather than line of business/application development (17 per cent) professionals.
These are the people who built their careers on IBM and Microsoft. It would be baffling if they didn't list these vendors as their preferred cloud providers, though that hasn't stopped the rest of the organisation from routing billions of dollars round them and into Amazon's bank account.
$5bn by Amazon CEO Jeff Bezos' last count, and accelerating fast.
The irony is that IBM tries to dismiss AWS as "low end," claiming its customers care about its higher-value services. According to IBM: "If you look at the kinds of cloud deals IBM is signing, you'll see how the cloud market is starting to split between low-end commoditised cloud offerings and players, and higher-value, higher-profit cloud opportunities."
Presumably IBM doesn't mean organisations like the CIA, which awarded AWS a $600m deal (over IBM, a long-time CIA and government vendor) because, as Bill Oliver writes: "The CIA wanted a replica of a state-of-the-art, existing, and scalable public cloud, installed on government premises that a vendor would manage. And only AWS had that product available."
That doesn't sound like a commodity play.
In fact, according to the survey, those companies that opted to go for someone other than the market leader (AWS) did so because they're cheap (42 per cent) and stuck (38 per cent):
Ouch.
(Oh, and we'll overlook the reality that AWS profits are essentially identical to IBM's and better than those of EMC, NetApp and others. This is no low-end commodity business.)
Wrong audience picks the wrong vendors
Finally, the survey respondents actually indicate they're not very interested in public cloud, which – again – isn't surprising given their IT leanings.
When asked about the most significant deployment targets for the next year, just 15 per cent point to the public cloud. A beefier 28 per cent of those surveyed prefer dedicated servers and a whopping 57 per cent look to hosted private clouds for their cloud services.
This is great for IBM, whose strength is in the private cloud, given its roots in old-school data centres. But it's yet another indication that this is exactly the wrong crowd to ask to pick a winner in the cloud market.
Among the general market, it's very, very clear that Amazon and Microsoft own the cloud. Synergy Research puts some numbers to it, but they only serve to underscore common sense: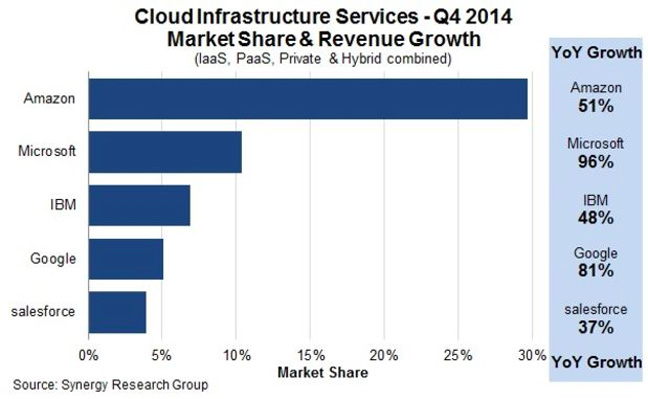 So it's a two-horse race, however you quantify it (and The Register's Gavin Clarke makes a valiant effort to do just that). Those horses are Amazon and Microsoft. IBM is growing slower than Amazon, and on a much smaller base.
That's not a recipe for the kind of cloud leadership IBM needs to rejuvenate its flagging sales. ®