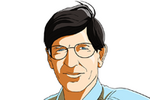 Chris Mellor covers storage and allied technology areas for
The Register
. After experience working for DEC, Unisys and SCO, he became an IT journalist writing for a variety of print publications. He edited the UK's first storage print magazine and then moved into the online world writing for IDG's Techworld, then started up the Blocks & Files blog, which was bought by El Reg.
He has written many sportscar buying guides, a few mountaineering guides and drives a car that's faster than he is.
Looking at the possibilities
Comment Does an EMC-HP merger make more sense now than last year when the two titans' inability to agree on a price put a stop to the idea?
HP could join the EMC Federation as a servers-and-networking business, and stand alongside EMC II (EMC Information Infrastructure, aka storage), VMware (virtual server software), and Pivotal (big-data analytics software). Seen in that light, HP is a great fit as the federation cannot be a comprehensive data center supplier presently – it is missing servers and networking.
HP would also bring its Enterprise Services arm, which complements what the federation offers, plus HP Labs, which is working on memristors and The Machine – HP's computer-of-the-future project. And EMC's security biz RSA could have potential with HP accounts.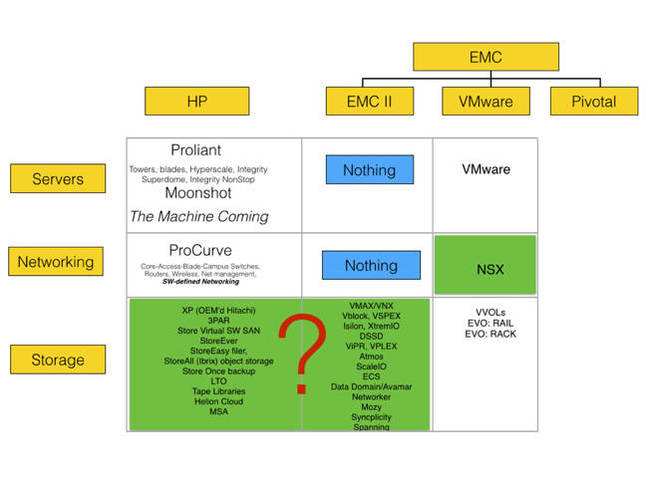 Broad brush view of fits and overlaps in potential EMC-HP Merger.
Roadblock clearance
A big problem is HP Storage, and what do about that given EMC's array empire. HP Storage head, and ex-3PAR CEO, David Scott has retired, and ex-EMC exec David Donatelli is leaving HP to join Oracle, which removes two potential internal obstacles to a merger on HP's side.
EMC has also effectively bought out Cisco's interest in VCE – that's the business building Vblocks, which are converged systems using VMware software, EMC storage, and Cisco servers and networking. This leaves a nice gap for HP to squeeze into. The shift from Cisco happened a week after the previous EMC-HP talks emerged in public.
A merger will probably receive enthusiastic backing from Elliot Management, the activist investor pushing for EMC to raise its shareholder value. EMC is under pressure from Elliot to sell off VMware.
Price
With HP splitting itself into HP Enterprise, and a PCs and printers business called HP Inc, HP CEO Meg Whitman will become boss of HP Enterprise. Its valuation will be less than that of the current HP, which today stands at $59.92bn. EMC is capped at $59.2bn.
We could crudely see HP Enterprise being worth half of the current HP; roughly $15bn. That ought to make valuation less of a problem in any merger talks.
Remaining roadblocks
There are two remaining problem areas; storage and software-defined networking. Both of these feature product overlaps. In storage, we charted some of the product overlaps back in October:
EMC and HP storage and some other product overlaps
If HP agreed that EMC storage took primacy, and that the overlapping product line problem would be resolved by migrating HP customers to EMC products over time, then this becomes a manageable problem.
Where there is a partial or no overlap, then HP gear, such as the tape libraries and Helion cloud, could simply stay on as separate products and integrate with relevant EMC kit over time. This would seem to be a workable framework if EMC and HP execs support it and make it happen.
In the software-defined networking area, VMware's technology could take primacy, adopting any valuable HP software-defined networking functionality.
Who would go where, and what will be paired with hot topics like HP's Autonomy?
Organizationally, HP Storage could be assigned to EMC II. Vertica could go to Pivotal. Enterprise Services could become the overall EMC Services arm and remain in a Meg Whitman-run HP business that becomes part of the EMC federation. Documentum and allied products could be assigned to HP's Autonomy unit, thus freeing David Goulden, EMC II CEO, of what he might view as a boat anchor.
Helion, HP's cloud business, could remain in HP.
The troublesome and historically unsatisfactory HP board could simply be paid off, with Meg Whitman joining EMC's board and her big thing, the division of HP into two businesses, being nicely rounded off.
Elliott Management would, hopefully, see its shares rise in value, sell them off for cash, and move on to the next target. EMC's board would probably break into song if Paul Singer's crew vacated the premises.
Potential goodness
From a sales point of view, bringing EMC products to HP customers, and HP products to EMC customers, ought to give both sales forces advantages, resulting in a bigger share of customer IT spend. This includes direct sales and channel partners.
There would be opportunities for substantial rationalization, job losses, and cost savings, in back-office functions, sales, and engineering, with millions of dollars of costs being taken out.
An HP-EMC combination would enable EMC to compete on an equal or more than equal footing with Dell and IBM. Both EMC and HP would be better positioned to compete with the looming giant that is Hitachi. That company has the ability to combine HDS storage with Hitachi's overall infrastructure equipment business to form a giant Internet of Things (IoT) data-generating and analyzing colossus.
In fact, we could go further and say that, with the IoT trend and its potential growth, the days of the overall standalone IT supplier are coming to an end, but that may be too fanciful a thought.
HP and EMC would stop competing with each other. With HP networking coming to EMC, competition with Cisco for networking spend would start to become possible. Customers could get a truly converged offering from HP-EMC, encompassing services, servers, networking, storage, security, virtual servers, cloud, and analytics software.
This would be a broader product offering than Dell's, and rival if not surpass IBM's, lacking only the niche mainframe business.
We asked HP about merger talks with EMC. A spokesperson said: "As a matter of company policy, HP does not comment on rumor and speculation."
We also asked EMC II's Jeremy Burton, president of products and marketing, and he said he had no comment either, other than a slight laugh.
An EMC-HP merger makes sense on the back of El Reg's envelope; lots of sense, in fact. That doesn't matter a bean, though. It has to make sense to the CEOs, execs, and senior beancounters in EMC and HP's headquarters. ®