Affordable fondleslabs, mobes 'n' wearables for the masses
Pics In an earlier article on The Register, Acer revealed its PC plans – but also in evidence at its recent press launch in New York last week was the company's belief that there is still plenty of room in certain market segments for tablets.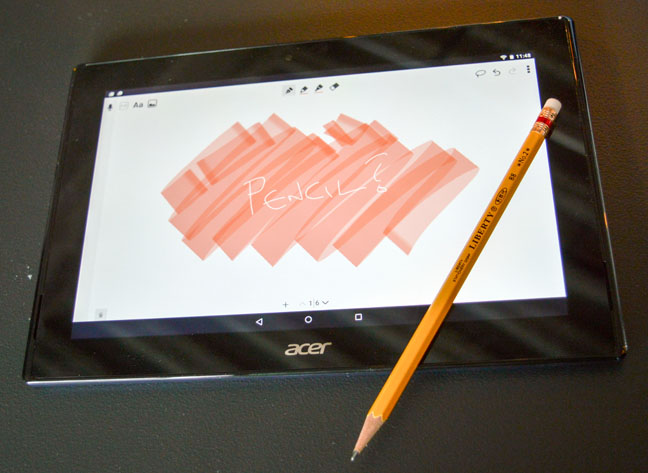 Acer's Iconia One 8: why buy a fancy stylus when you can use the 2mm tip of an everyday pencil?
The Iconia One 8 – an 8in 1280x800-pixel domestic tablet available in 10 colours – runs Android 5.0 Lollipop on an Intel Atom quad-core. It has front (0.3mp) and back (5mp) cameras and a claimed battery life of 8.5 hours of constant usage.
Fine. What is interesting about the Iconia One 8 is the fine-point sensitivity layer built into the screen that lets you use an ordinary pencil as an alternative to expensive Bluetooth-based styluses, or indeed Acer's own Accurate stylus.
Decisions, decisions: should you invest in a dedicated electronic pen or pick up any old blunt pencil that happens to be lying around?
The Iconia One 8 is priced at €179 / $149 for immediate release in Europe, while North Americans will have to wait until July.
Supposedly, this easy writing comes into its own with the 10in alternative, the Iconia One 10 for Education. This model sports a 1920x1200-pixel screen, 2GB RAM and 32/64GB storage options.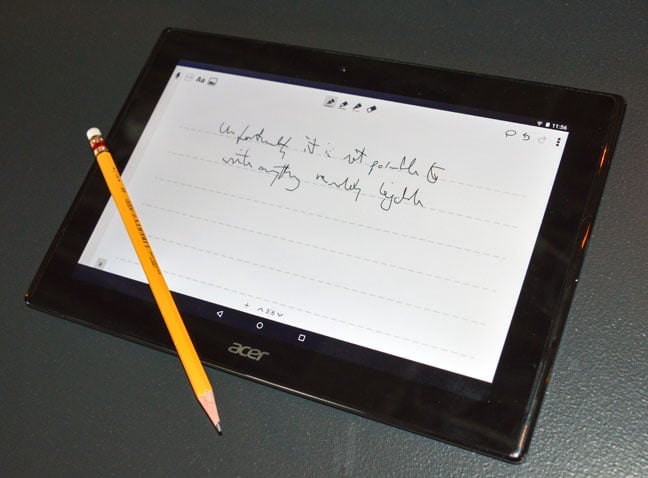 Acer's Iconia One 10: not exactly a speed-writing demon
Acer reckons it could be a winner, but real-world experience of rolling out tablets in schools – in Britain at least – has generally been unfortunate. And for all the clever bit about using a pencil, the performance is slow and we can't imagine taking live notes in class this way.
The Iconia Tab 10 should be released in May, costing from €299 / $299.
Introducing the bands
Acer wants some of the action in wearable tech and so announced a series of wristbands – but they are not watches. Jumping on the health wearables bandwagon, the plain-looking Liquid Leap Fit provides a 1in display on the front and gold-plated sensors on the back for keeping track of your heart rate. This ties in to Acer's smartphone app to build a custom stress index and lots of terrifying charts and graphs to help you worry about your health even more.
A fashion-centric version, known as Liquid Leap Curve, will also be made available, supporting interchangeable bands. None of the wearable devices were being demonstrated but we could admire them through their plastic presentation case. No release date was given.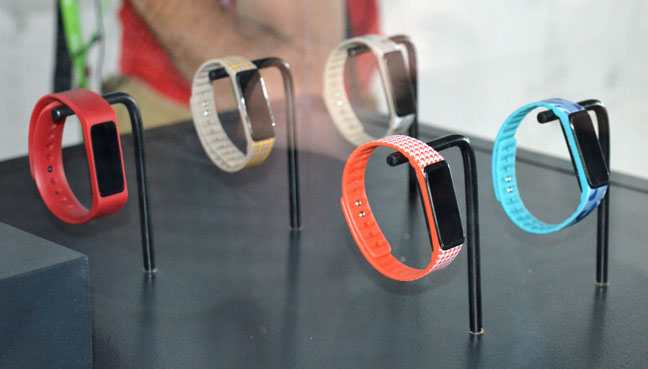 Liquid Leap digital wristbands: more Swatch, less Apple Watch by the look of them
Completing Acer's massive one-day, all-product announcement was a declaration that the company would be trying to stake more ground in the smartphone market with its Liquid line, at least in the US. There will be two new models for business, combining the features of the product Acer launched last year. The aim is to target the business sector rather than risk slim profit margins on throwaway consumer handsets, focusing on features such as longer battery life.
Only the current line of Liquid smartphones were on demonstration, but the keynote hinted at a new 5.5in-screen model, as well one for international travellers that will apparently support three SIM cards. It was announced that the existing Liquid M220 will be sold in Microsoft Stores in the US only from June, costing $79.99.
Acer launched a couple of business projectors, the U5320W and P5515, the former being designed for producing big images in meeting rooms with limited throw distances (€1,199, reaching Europe in June), the latter a more standard 1080p conference projector (€999, June).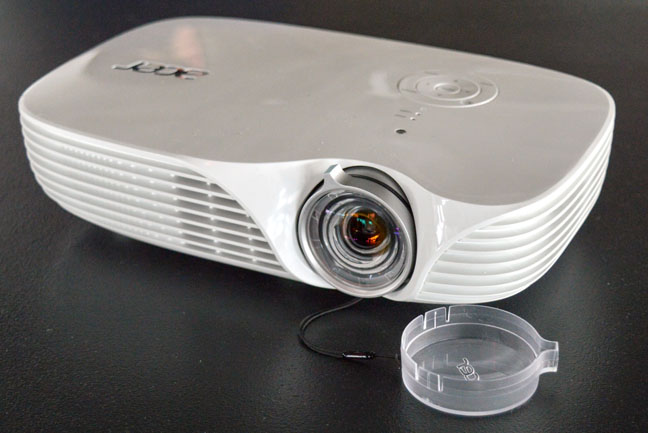 The K138ST portable projector will stream audio wirelessly to Bluetooth speakers, keeping your mini home cinema set-up relatively cable-free
Also on show was an intriguing little WXGA portable projector called the K138ST. Despite its size, it has VGA and HDMI ports, and audio in and out, plus wireless audio streaming if you have Bluetooth speakers. It's not the smallest portable projector we've seen, but it would look nice on a coffee table at home.
As ever, much of Acer's "launch" event involved showing what was coming up in the near future rather than putting products on shelves now. There is certainly plenty in the pipeline but to really see how they fare, we could do with testing them out over the next month or two, eh, Acer? ®