Acer's Jason Chen will give you Win10 for free
Pics Acer CEO Jason Chen this week tore through the company's international product launch presentation – on the 68th floor of New York's 4 World Trade Center – like a rock star on speed from start to finish. He even donned sunglasses at one point and there seemed every chance that he might not take them off.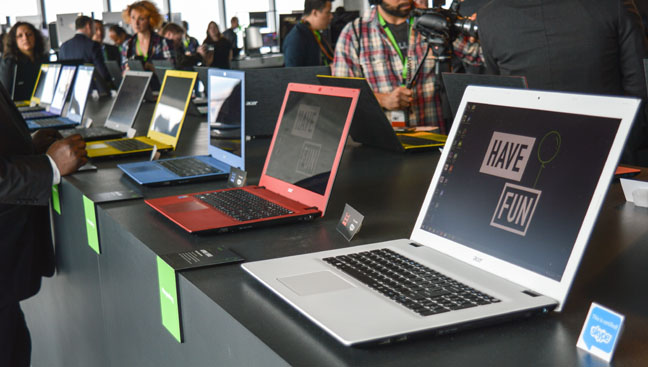 Technicolour tech: A selection of Acer E series laptops
Acer is back in black. Chen turned the company around within his first year since taking the helm, and he doesn't do false modesty. Nor is he interested in scientific vanity projects, unproven tech or unfamiliar markets. Chen is interested only in stuff that he feels sure he can sell.
His influence was clear from the lack of surprises in the launch line-up. New notebooks, check. New tablets, check. The promise of new kit for gamers, check. More projectors, improved home NAS boxes, the inevitable wearable tech (not quite ready, natch')... check, check, check.
The products do look different, though, as a result of user experience boffins getting more involved in the industrial design, but more on that later. The company has even grown bored waiting for a lucrative Internet of Things (IoT) market to evolve and so has written its own open cloud platform for IoT developers.
More surprising was the vehemence of Acer's commitment to Windows 10 on all platforms – even for its tiny smartphone portfolio, which is all set for a bigger push in North America this year. Not only does the company plan to put Windows 10 on its machines before anyone else, Chen said if you buy a Windows 8.1 notebook now, he'll give you a free upgrade to 10 later.
This is despite Acer having produced the top-selling Chromebook of last year, effectively tripling its Chromebook business. But Chen was adamant: if necessary, he said, "we will be the last man standing in the PC industry".
The keynote over, the world's tech press and "influential bloggers" were finally let loose upon Acer's refreshed product lines for 2015. The Reg was there and this is what we found...
Acer's refreshed line of mainstream notebooks come in a bewildering variety of models. Business users might want to start with the Aspire V15, a stylishly corporate-looking MacBookalike. It comes with the appropriate bells and whistles of a bigger budget: 5th gen Intel Core, NVIDIA GeForce 940M graphics, 16GB RAM, 2TB hard disk and backlit keyboard. There is also a 1TB "SSD hybrid" option.
The Aspire V15 will start at €699 / $599, arriving in Europe in July, followed by North America in August.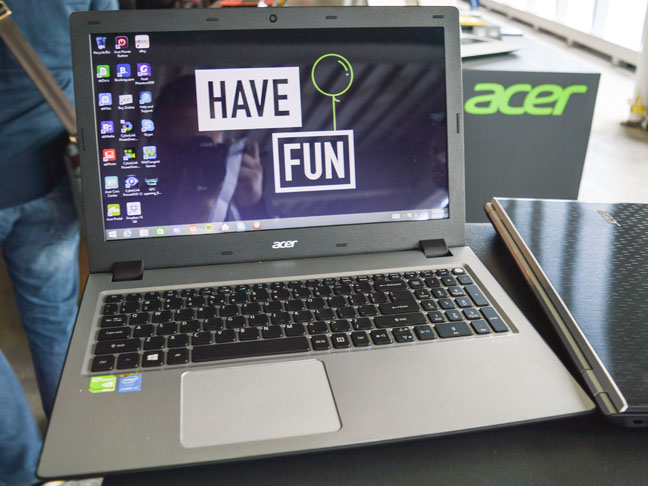 Acer Aspire V15: Absolutely nothing at all like a MacBook Pro – to the right the tasteful, not flashy, subtle, glinting textured effect is achieved with nano-imprint lithography
While it shouldn't really matter, the outer finish of its aluminium case is striking. The effect is the result of nano-imprint lithography and is part of Acer's latest drive to "texturise" the cases of its portable and handheld products. More examples of texturising can be seen in the latest Aspire E Series and ES notebooks.
Fabric conditioner
The E Series will be available in multiple screen sizes – 14in, 15.6in and 17.3in – and a choice of case colours, including black, white, blue, red and yellow. Chen's reasoning is that plenty of people want a notebook that's powerful enough for work but feels right for home use too. The Skype certification is part of this strategy.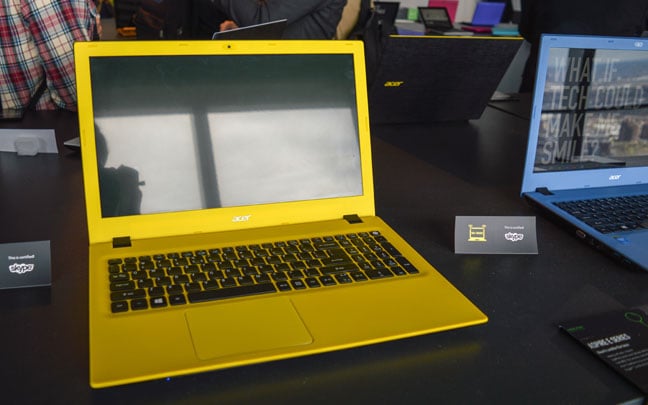 Lots of colours to choose from with the Aspire E Series line – including this banana yellow, which someone somewhere must want
The cheaper ES line is also available in several colours, but with a charcoal grey display bezel. It's an entry-level notebook running on Pentium or Celeron processors, available in five screen sizes from 11.6in to 17.3in, maxing out at 8GB RAM and 1TB hard disk. An internal DVD-RW drive is an option.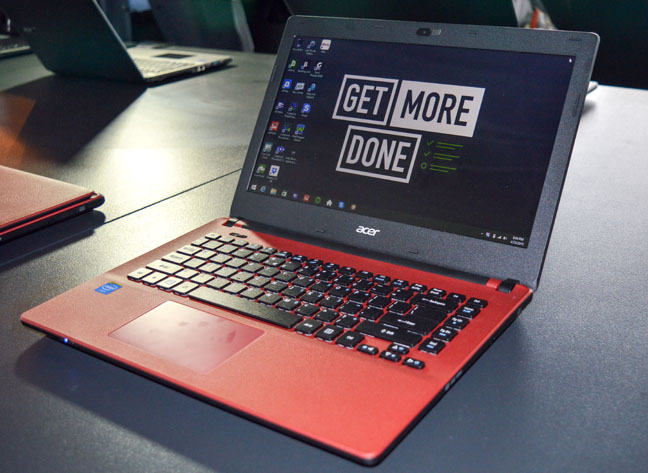 Aspire ES: Where else are you going to find a decent laptop for around £200?
There's a reason why the textured case finish looks as detailed as real textile: it's based on a 3D scan of genuine fabric. It doesn't make the notebook any less slippery in greasy mitts, however.
Acer's president of corporate business planning and operations, Tiffany Huang, told The Reg that the intention behind giving these products a tactile feel is to encourage owners to feel comfortable with them, subliminally perhaps, as everyday household items.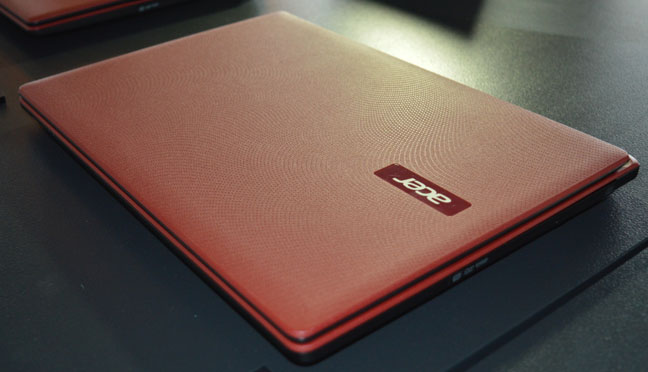 Aspire ES, also available in various colours. Acer reckons that coloured cases are a big selling point at this end of the market
Whether this is a genuine phenomenon or just pop psychology is a case for argument. In Acer's favour, at least the company is thinking about how people use portable and handheld devices as lifestyle objects.
The Aspire E Series will cost from €349 / $379, reaching Europe in May and North America in July. The Aspire ES Series is set to start from €249 / $229, available in Europe in June and North America in July.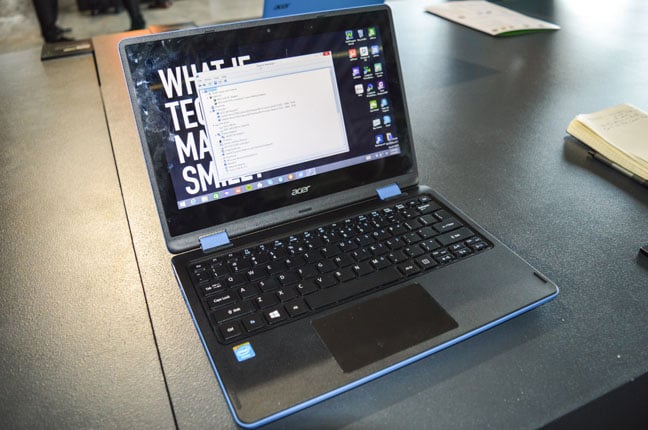 Perfectly formed: The 11.6in Aspire R11 is a diddy little notebook for domestic gadabouts
With the Aspire R11, Acer has launched its smallest 'convertible' notebook, featuring an 11.6in touch display that can be hinged backwards all the way to 360 degrees so that it rests behind the keyboard, tablet PC-style. The hinge is smooth in action but keeps its position stiffly, so it's perfectly usable in fold-back and 'tent' positions for watching videos.
Packing a PC into such a small format produces an illusion that it's quite heavy, and there are some niggles, such as the three-second wait for the screen image to turn upside down when positioning it tent-style.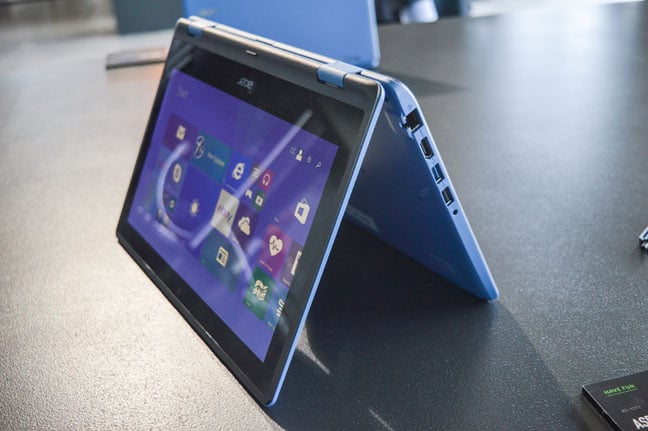 Bent over backwards: The Aspire R11's hinge allows the screen to fold back by up to 360 degrees
We also found it all too easy to switch the notebook off by mistake when picking it up, due to the location and sensitivity of the power button on the right-hand edge.
The variation in screen visibility is a challenge for a notebook that prides itself on its 360-degree hinge. It looks fine from straight on, but tilting it a little forward or back all but destroys the image.

Direct action: The Aspire R11's display is just fine from dead-on but the optimum vertical viewing angle is tight – click for a larger image
The Aspire R11 will cost from €349 / $249, reaching European stores in June and North America the following month.
No less fun to use are the two new Aspire Switch 10 models and the Switch 11. All three are compact "2-in-1" Windows 8.1 notebooks, whose screens can be separated from the keyboard and used as Windows 10.1in and 11.6in tablets respectively. The entry-level Switch 10E has a 1280x800-pixel display, the Switch 10 has 1920x1200.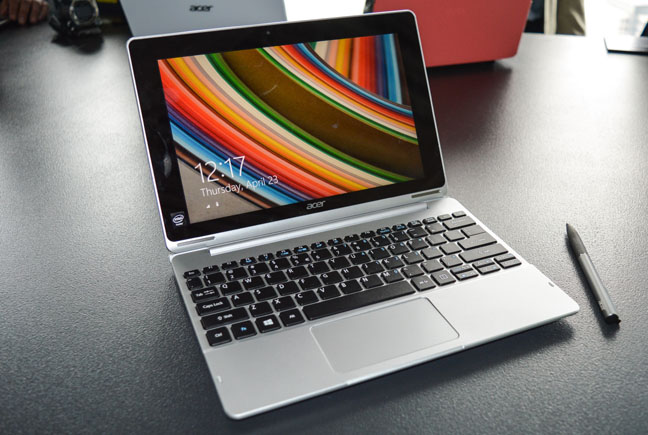 The Aspire Switch 10 makes a cute touchscreen ultra-portable, but its detachable tablet screen makes it top-heavy
The problem with the Switch, as with all 2-in-1s, is that the keyboard is just a keyboard while the computer is packed entirely into the tablet screen. This makes the 600g screen as heavy as the rest of the unit, so folding it back beyond a certain angle will cause the notebook to topple over – unless you hold it down with your palms as you type, or course.
We also found the strong new Snap Hinge 2 connecting the tablet to the keyboard, with its "guiding plane", sliding internal magnets and satisfying click, was not as simple to reconnect as expected. Even Intel's head of user experience, Genevieve Bell, fumbled this during the earlier keynote, causing everyone to cringe with embarrassment as she handed the two separate parts back to Jason Chen to click back together, saying she needed a man to help.
The Aspire Switch 10 will start at €449 / $399, hitting European shops in June and North America in August. The Switch 10E comes out a month earlier in both territories, priced from €299 / $279.
Game play
The last of Acer's new notebooks was the ruggedised Chromebook CB3-531 with a 15.6in display, 16GB storage and Intel Celeron dual-core N2830 processor, all weighing around 2kg. Turning its back on the industry trend to sacrifice hardware connectivity for form factor, this Chromebook still comes with USB 2 and USB 3 ports, an HDMI socket and SD card slot. The product will cost a thoroughly reasonable €249 / $199, in Europe from June and North America in July.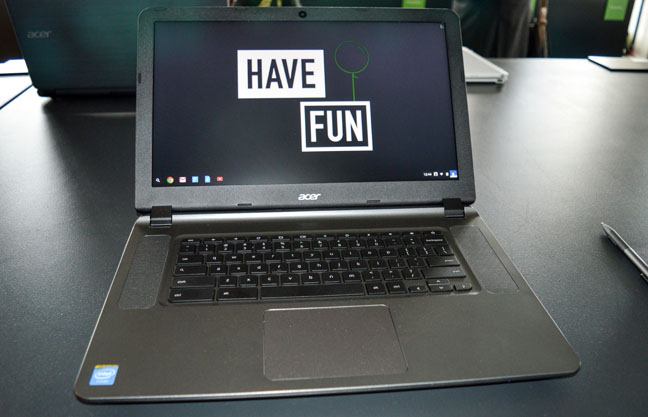 Acer's Chromebook CB3-531 aims for a corporate look and is built with reinforced corners to protect it from occasional mishaps
In fact, Acer has made a conscious decision to keep the faith with hardware ports. It remains company policy to keep providing 10/100/1000 Ethernet ports on all its business Windows notebooks, we note.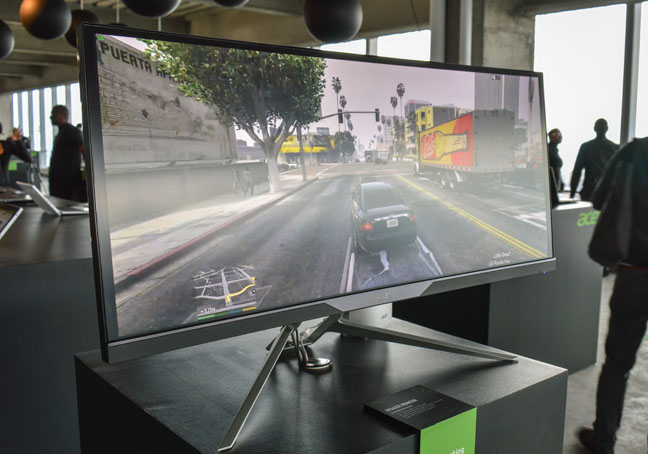 Take the next bend: The XR341CKA gaming monitor has a curved screen (so you can sit even closer)
For the gaming sector, Acer presented a new 34in 21:9 ultra wide monitor offering 3440x1440-pixel resolution, memorably named the XR341CKA. Its unique feature is being curved on the horizontal axis in a concave fashion, supposedly giving a more immersive experience for the serious gamer. It will cost a not-inconsiderable €1,399 / $1,299, reaching European shores in August and North America in September.
Also on show were Acer's other gaming displays, including the IPS-based XB270HU, which came out earlier this year. To our eyes, it looked as sharp as a scalpel while running full-res animated sequences.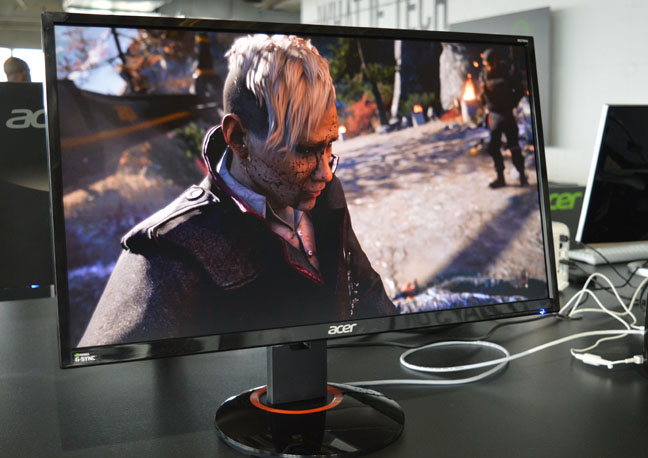 The XB270HU produces cracking live-motion images in extraordinary detail
For other gaming hardware, however, Acer was restricted to promises. There will be a new Predator gaming "desktop" PC – albeit one so large and hideous that you'll definitely want to keep it on the floor – but not until Q3 this year. A similarly huge and ghastly looking Predator notebook, a preproduction model of which was flashed briefly during the keynote but not put on demonstration, should arrive in Q4. It is, as we were told many times, "awesome", although much of the bulk of this gaming notebook looked as if it might be the cooling system.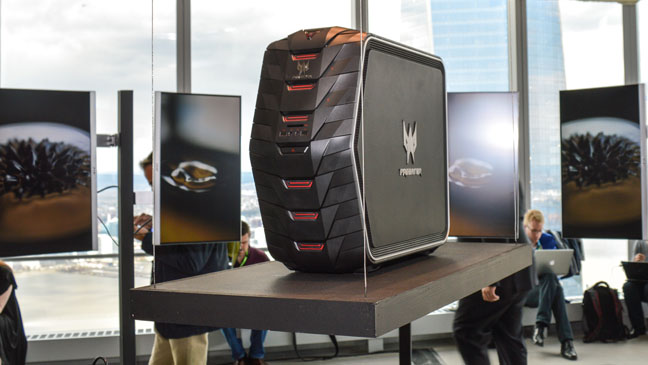 Looking like Maximilian from The Black Hole, the promised Predator desktop gaming PC could have done a lot worse by looking like Old Bob
PIC: [predator-desktop.jpg] CAPTION: Looking like Maximilian from The Black Hole, the promised Predator desktop gaming PC could have done a lot worse by looking like Old Bob
Yet another tease flashed from the stage was a Predator gaming tablet, built to include four speakers and provide haptic feedback. No price was given, nor any idea of what games might be available to take best advantage of whatever a Predator gaming tablet does better than other tablets. It should become available in Q3.
The company's shiny little Revo One could easily be mistaken for a NAS drive but is a fully fledged PC with two 2.5-inch drive bays. It has been given a software upgrade to support its emerging cloud platform, Acer Open C+C 3.0.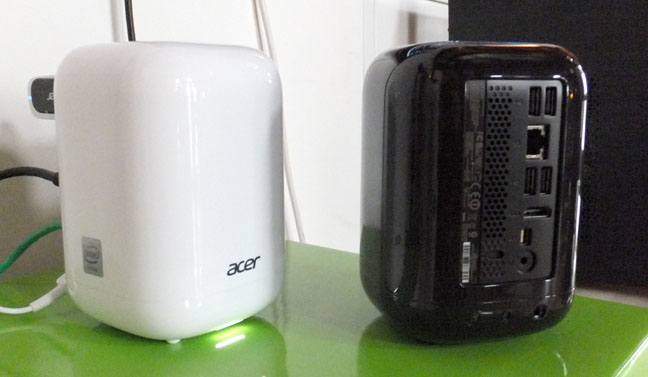 Acer's Revo One has an Intel Celeron CPU with Core i-series models to follow
According to Acer, the whole IoT market was going nowhere fast other than in the minds of futurists, so it released this platform to encourage more developers to get involved in something Acer calls BYOC: Build Your Own Cloud. So far, Intel, MediaTek, RealTek and several others are looking at putting it into chipsets for IoT devices.
Still at the planning stage is a device called abTouchPhone, a prototype of which was sealed in a plastic box to stop us from touching it or phoning with it. Acer reckons there could be a demand for a desktop office (or even domestic) phone with a large touch-screen display and video conferencing support. In the past, many have tried this kind of thing – even Amstrad – but all have failed. Perhaps Acer will come to market at the right time. We wish them luck.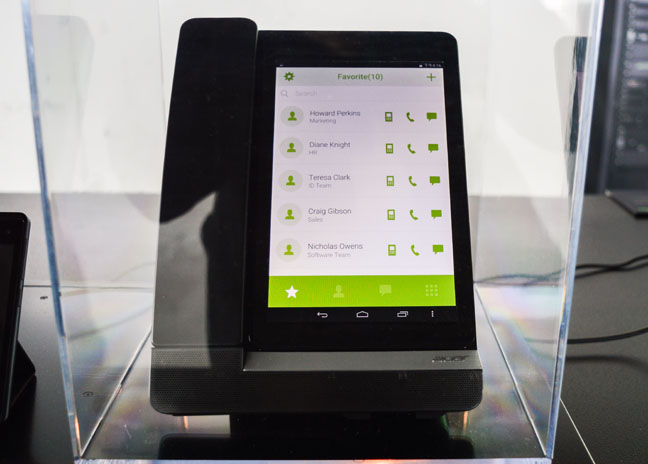 Still at prototype stage, the abTouchPhone was on demonstration in hands-off mode
Needless to say, Acer also has a portfolio of tablets, mobile and wearable devices and more on these shortly. ®