Taking 'aggressive measures to regain excellence'. Better hurry
Comment SanDisk said its Q1 numbers were going to be bad, and bad they were, with revenue and profits drops due to an embedded component material screw-up and execs not seeing where the market was going. Job cuts are coming.
What's happened is that SanDisk fell short in the enterprise market, mis-read trends, and then discovered it needed a better product qualification and validation process too. These weaknesses have badly affected its results.
First quarter 2015 revenue was $1.33bn, 12 per cent down on a year ago and a whopping 23 per cent ($410m) down on the previous quarter.
Retail revenue was down 15 per cent sequentially and down 13 per cent year-over-year. Commercial sales revenue was down 27 per cent sequentially and down 11 per cent year-over-year.
It scraped a profit of $39m, just 2.9 per cent of its revenues, compared with $269m a year ago, and $202m in the previous quarter. Red hot rivets must have been spitting around the exec suite when the CFO presented these numbers.
We're told the net income figure included a $61m impairment charge for a cancelled R&D project from the Fusion-io acquisition and $41m of restructuring and other charges.
SanDisk CEO (and president) Sanjay Mehrotra said: "We are disappointed with our financial and operational performance and are quickly taking aggressive measures to regain the excellence in execution that we have delivered in the past. Our top priorities for 2015 are to strengthen our product roadmap and rebuild our momentum across the business."
You betcha, Sanjay. Heads are gonna to be cut. Exec reporting lines are going to change.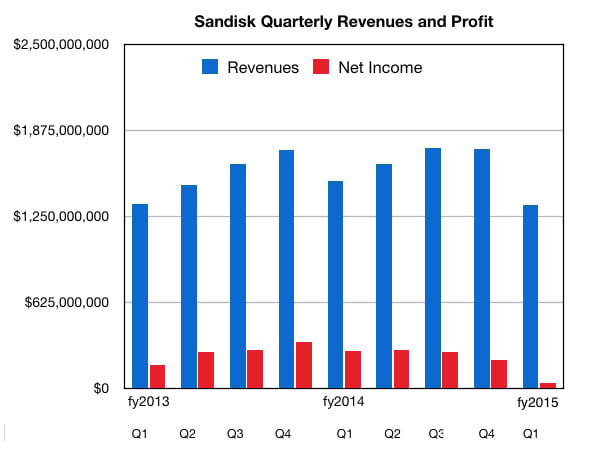 Sandisk's incline and fall
More came out in the earnings call, with Mehrotra reiterating disappointment: "Our financial performance over the past two quarters has been unacceptable to us as a management team."
So what are the big issues?
Mehrotra pointed to four problems:
Product issues, including qualification delays impacting embedded and enterprise sales
Reduced 2015 opportunity in the enterprise market due to rapid market shifts
Weaker-than-anticipated pricing
Supply challenges
Looks like SanDisk simply mis-read the enterprise flash market.
The product qualification issue refers to one customer and an embedded component for a client SSD application. It was due to "an issue related to a material used in our product assembly at the very last stage of our customer's qualification process".
There's a fix "but it requires our internal validation and customer re-qualification before production shipments can begin. The delay in sales of this embedded component was the single largest contributor to our Q1 revenue shortfall and will also impact our second quarter and 2015 results".
The reduced enterprise market opportunity comes from two things. First, there's the worse prospects for 6Gbit/s and 12Gbit/s SAS flash product and sales estimates have been cut. The fix? Well, SanDisk is "advancing our 12Gbit/s SAS product roadmap with 15 nanometer NAND and a new higher performance controller, and we expect to sample this product towards the end of this year."
The SAS products use 19nm NAND at present. The newer SAS SSDs won't bring in revenues until 2016, though.
Another client SSD problem was mentioned by CFO Judy Bruner with "the phasing out of our client SSD program with a large customer". That is thought to be Apple, with Samsung taking the business away from SanDisk.
PCIe and SATA Market movements
The second issue is a reduced-opportunity whammy "due to market shifts in PCIe and SATA". PCIe looks bad: "Our Q1 results as well as 2015 revenue estimates for our Fusion-io PCIe solutions are significantly below our original plan".
That's happening because "a substantial portion of the PCIe TAM (total addressable market) is moving to lower cost solutions using enterprise SATA SSDs".
SATA SSDs have gotten fast enough to make PCIe flash look expensive for the performance it delivers. SanDisk was the PCIe market leader but has a lowly share in the enterprise SATA SSD market. NVMe with its standard drivers should expand the PCIe market, it thinks, and it will introduce NVMe products in 2016.
This is late; HGST introduced an NVMe card this week the Ultrastar SN100.
SanDisk aims to use its own (lower-cost) NAND, using 1Y geometry (c15nm), in new Fusion-io ioMemory PCIe cards later this month, and hopes the PCIe market will grow again in 2016.
Yesterday HP announced it was using newly-developed NVMe PCIE cards with M2 format SSDs from Samsung; Sammy is more sure-footed in the flash market than Sandy.
SanDisk also screwed up in the enterprise SATA SSD market, where the sweet spot is shifting to 2TB, and where it has no product. The hapless CEO said: "We expect our two terabyte enterprise SATA product to be ready for production later this year [and obviously] the current lack of this offering will also impact our enterprise SATA sales this year."
It never rains but it pours, eh Sanjay?
Again, SanDisk is trying to catch up with a market running away from it: "We are working to improve our market position and broaden our portfolio with multiple new 15 nanometer product offerings launching later in the year."
Moreover, a billion-dollar target in enterprise sales has been abandoned.
To add to its blackened mood SanDisk saw "softer-than-expected pricing conditions in some parts of our business in Q1, including in global retail sales and in client SSDs" and it saw fast price decline in the private label products area, with over-supply suggested.
Now, another biggy — supply challenges. "Due to our supply constraints, we were unable to meet the timing of delivery required to fulfill all of the demand for a large hyper-scale customer in enterprise SATA", and so it sold less product to that customer.
Management changes and job cuts
These multiple enterprise flash issues might cast uncertainty on the job security of the people in charge, such as John Scaramuzzo, who heads up SanDisk's Enterprise Storage Solutions division.
Of course, he might point out that if the foundries can't produce the NAND products his market requires, then it's not his fault if the reps can't sell the stuff.
In fact, SanDisk is already restructuring its organisation. "We are combining all of our enterprise solutions teams, including our InfiniFlash system solutions and software, under a unified enterprise group led by Sumit Sadana, our Chief Strategy Officer."
Hence, "John Scaramuzzo and Ravi Swaminathan, VP Systems and Software Solutions, will report to Sumit."
Drew Henry, head of the Mobile Solutions Group, gets promoted to look after a combined mobile and client SSD group.
A chief technology officer, Kevin Conley, who previously led the client SSD solutions group, has been appointed and he "will improve our ability to both predict technology trends and tailor our roadmap and investments to meet customer needs".
In engineering, SanDisk is "strengthening product development, validation and qualification processes", and is also reducing the number of platforms and product architectures it supports as it converges product roadmaps.
There will be a five per cent cut in its non-factory headcount in the current 2015 quarter plus other expense-cutting actions.
Analyst cuts to the chase
Analyst questions in the earnings call jumped right in to an underlying issue — with its share price depressed by these results is SanDisk an acquisition target? Mark Delaney of Goldman Sachs asked Mehrotra: "Do you think the NAND industry would benefit from consolidation?"
Mehrotra declined to speculate, offering views on high market growth, and saying: "Of course in 2015, as we have discussed, we have faltered some in our execution ... as we have been focused on growing and integrating our markets, integrating our various acquisitions. There have been some market shifts as well, but we remain very committed to continue to drive the growth opportunities ahead for our business."
The reason SanDisk is being thought of as a potential acquisition target is that Mehrotra has run the business badly. It's as simple as that.
Making a lot of acquisitions to enter the enterprise market over the past couple of years has paid off, but also brought problems in terms of having too many product architectures, firmware code bases, roadmaps etc, which have to be converged.
Looking ahead - comment
SanDisk expects second-quarter revenue to show an annual decline, partly due to the faster-than-anticipated ending of client SSD shipments to that large customer.
Enterprise SATA and SAS SSD revenues will also decline. Second-quarter revenue should be in the $1.15bn-$1.25bn area; it was $1.63bn a year ago. Will it be able to make a profit on this reduced revenue?
Third- and fourth-quarter revenues are also expected to show year-on-year declines, making for an all-in-all miserable 2015.
The screw-ups in product qualification, client SSD sales, and enterprise market mis-steps have been disastrous.
SanDisk is basically hoping to stabilise its business this year and return to growth in 2016, when its 48-layer 3D NAND product should help boost revenues.
If it doesn't succeed then even exec reporting line changes may not be enough. ®