Roll up, roll up, get your exclusive market insights
Beginning this month, The Channel and martinwolf M&A Advisors are forming an editorial partnership to feature martinwolf's commentary and analysis concerning the challenges and opportunities facing the IT industry. The organisation, exclusively focused on the IT industry, has completed more than 130 transactions and sold seven divisions of Fortune 500 companies across 19 different countries.
Every quarter, martinwolf produces the MW IT Index, an analysis report on the state of the global IT Industry. This report contains a series of market-value-weighted indexes that together form composite representative samplings of enterprise values for the IT Services & BPO, IT Supply Chain Services, Software, and SaaS space, as well as specialised comparisons of the IT Services industry in China and India.
Q1 2015 - the broad view
The first quarter of 2015 conveyed a mixed but optimistic forecast for the coming year, with indications of some headwinds in the quarters to come but clear signs of trends we expect to continue to be dominant.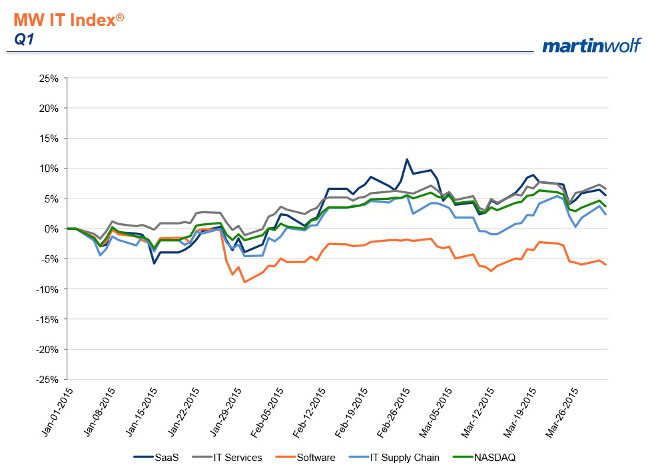 Martinwolf IT Index Q1
While the keyword for the previous quarter was uncertainty — both in terms of the global economic condition and broad variance in individual Index performance — this quarter has been more stable. Consumer prices in the Eurozone saw a fourth consecutive month of declines, but the continent is seeing breaks in the clouds.
Thanks to low oil prices and the European Central Bank's strong stimulus actions, there are clues that the cyclical recovery (while still slow) may be having an impact. Unemployment figures fell slightly to the lowest rate since May 2012, and the overall Eurozone economy is expanding at its fastest since May 2011.
This is good news to global IT companies, as western countries are both major consumers and exporters of computer and technology services. According to Hoovers research, the European Union nations combined constitute the largest exporter of computer and technology services, with a market share of approximately 50 per cent. This also directly relates to US IT companies because the global nature of the sector means companies with US headquarters often have substantial foreign revenues.
On that note, a major recent trend that has affected IT companies has been the ascendancy of the US Dollar, especially against the Euro. This trend effectively lowers the revenue from global sales, and has been referenced in the earnings reports of Oracle and other major companies as a factor dragging down performance numbers.
Q1 was also marked by a significant M&A scene, with Thomson Reuters reporting that while only 31 companies went public, global M&A activity was nearly 23.3 per cent richer than the previous year — driven primarily by healthcare and real estate.
Looking forward, expect this to be a year of steady growth for most sectors of the IT industry, taking advantage of spending increases forecast by some analysts to reach $681bn (up 4.8 per cent from last year and growing at a CAGR of 4.5 per cent through 2018).
Expect the familiar pattern of hardware seeing the lowest growth while services lead — particularly high value services like SMAC (social, mobile, analytics, cloud). For more information, let's evaluate each of the Indexes.
IT Services and BPO
IT Services and BPO was the highest performing category of our Index, driven largely by continued strong news regarding the US economy, the US being the largest country-level technology market. Leading the grouping were major staffing companies such as Insperity, Inc. and ManpowerGroup Inc., who grew as US payroll employment steadily increased.
Lower performing stocks in our index were those unable to guarantee strong growth in 2015, such as Computer Task Group and Unisys Corporation, who additionally faced strong headwinds due to the strong US Dollar. Yet for IT services companies looking to create strong value in 2015, it's not enough to keep offerings static and hope that the rising tide of the economy will float your boat.
Instead, what we've been seeing across the IT Services industry is a broad push for higher-valued services — particularly those that are vertically focused or in the SMAC grouping. The result is that major IT Services leaders like IT Outsourcing giant Cognizant are acquiring speciality healthcare businesses like TriZetto, and broad professional services firms like Accenture seek to acquire analytics capabilities through acquisitions like recent purchase of Agilex.
IT Supply Chain
The IT Supply Chain space continues to be the scene of some of the highest-profile consolidations that we've experienced, perhaps most visibly with Staples' Feb 4 announcement that it was acquiring competitor Office Depot for an implied enterprise value of $6.7bn, following last year's acquisition of OfficeMax by Office Depot. Twenty years ago, a proposed $4bn merger between Staples and Office Depot was blocked on anticompetitive grounds. Since then the space has seen encroachment from all sides, particularly from online retailers like Amazon and broader retailers like Costco and Wal-Mart.
The market disruption that threatens Staples' and Office Depot's future is the same one faced by companies in the VAR channel as cloud and utility computing change the economics and dynamics of traditional computer hardware and software resale. We've commented in the past about the increasingly prominent role of private equity in these transformations, for example in the cases of CompuCom and Accuvant.
The IT Supply Chain Index closes the quarter up slightly, at 2.4 per cent (compared with the NASDAQ's 3.7 per cent growth). It was led by strong performances by solution providers ePlus, Insight, PC Connection and Arrow, while low value-add distributors like Tech Data and Ingram Micro closed the quarter with negative share price growth.
To counter the commoditization of much of the supply chain, companies are also using M&A to acquire new capabilities or focus on new customer bases. For some, that has meant the US federal government space, as seen in Arrow's March acquisition of immixGroup and Millstein & Co.'s take-private of DLT Solutions. For others, it has meant boosting vendor networks and scale, as in PCM Inc.'s acquisition of much of En Pointe Technologies.
Software and SaaS
With each quarter, the differences between traditional software companies and SaaS companies continues to decrease — and given the discrepancy in performance between the two in this quarter's MW IT Index, it's obvious why. Traditional software companies ended the quarter as the lowest performing component of the MW IT Index, down six per cent, while the MW SaaS index was up 5.5 per cent.
Software's underperformance had a lot to do with the currency issues, as major companies like Oracle and Microsoft get up to three quarters of their revenue overseas. Yet another major challenge facing large enterprise software providers is a decline in the number of PC purchases, which has resulted in a decline in revenue from preinstalled operating systems.
As a result, software companies are emphasising the growth of their cloud and subscription revenues, which while still amounting to a smaller proportion of earnings have the potential to drastically transform the traditional software revenue model.
It's obvious why they're doing this. SaaS companies command significantly higher valuation multiples, and while volatile have consistently been substantially faster growing than their more mature traditional counterparts. They also have the advantage of being positioned to capitalize on today's major trends—cloud and SaaS companies are traditionally built on a SaaS model. Our firm just returned from the Microsoft Convergence conference in Atlanta, where we met with several partners and software vendors in the Microsoft Dynamics ecosystem. All of the companies we spoke with were either "cloud-enabled" or headed that way, and everyone expected Microsoft to continue to leverage its cloud infrastructure for an increasing number of services. In 2015, expect the cloud to be at the center of all enterprise software discussions, and for traditional divisions between software and SaaS to disappear fast.
India and China: Sitting on the periphery, but for how long?
Our India and China Index graphs are by now a familiar sight. Chinese stock market performance continues to grow, while the more modest Indian and Chinese IT Services markets look like they belong on a different graph altogether. It's March 11's dramatic rise that takes the MW IT Index (China Edition) from strong to stratospheric.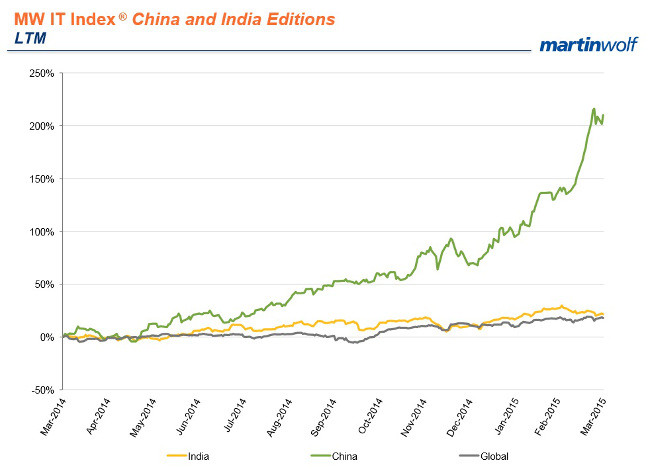 Martinwolf IT Index India China
Thanks to China's major stimulus policies and its central bank lowering interest rates, it has been an eventful quarter for the Shanghai Composite Index, where many of the stocks on the MW IT Index (China Edition) are traded. Despite the country's economy showing signs of a slowdown, IT stock prices have gone up significantly — the China Edition of the Index is up more than 100 per cent. Many IT leaders are optimistic that they may actually benefit if a slowdown forces the Chinese government to invest in modernizing technology and infrastructure.
This year also sees a major opportunity for Indian IT Services companies, who should use this time to move up the value chain beyond their current offerings. Capability and cost gaps are fast closing with major global competitors like IBM and Accenture—in order to compete, Indian firms need to undergo significant, transformational M&As to solidify their advantage. Remaining ahead will require identifying specific industry opportunities and filling those niches. And this requires significant commitment—one cannot achieve vertical or horizontal superiority through a series of small acquisitions.
One area of potential value growth where we've seen strong interest is in digital strategy. Any successful digital practice has three key components: a clearly articulated overall strategy, polished customer experience management capability and a strong technological foundation. Thanks to their experience in the IT space, Indian firms already possess this strong foundation. But thanks to cultural differences and a need for polished front-end capabilities, top Indian firms have traditionally lacked in digital strategy, design and delivery.
Ensuring continued success in an industry as dynamic and fast-moving as IT will not come cheap, but is more important now than ever before as clients increasingly demand multichannel offerings beyond the traditional web-based or brick-and-mortar firms. The right acquisition strategy today will pay dividends not just for 2015, but for the future to come. ®