Pet carriers not wanted for whitebox stampede
Think servers, you think Hewlett-Packard – the world's number-one by market share.
HP makes $3bn a quarter on such machines; by virtue of owning Compaq, HP claims it made the industry's first PC server, the SystemPro in November 1989.
Aside from some claims on software and cloud, HP's history is as original equipment maker (OEM).
Yet, HP has introduced a new server line untouched by this OEM's own manufacturing plants and that bears the HP crest: the HP Cloudline rack servers.
Cloudline is built by Foxconn, the Taiwanese contract manufacturer better known for stuffing iPads, iPhones, Kindles, Playstations and Xboxes into the eager hands of the world's consumers. HP announced the Foxconn hook up in April 2014.
Meg Whitman's firm denies it's outsourced Cloudline design and manufacture to Foxconn, but it effectively has. HP brings its understanding of "customer requirements" to the Foxconn relationship, it tells us. So what exactly is going on?
Part of the answer lies in what's been delivered: server sleds for memory and storage rich apps – the CL 7300, 7100 and 2200 – and two 1U, 2P servers for memory and storage-rich applications that deliver "efficient, front-end web performance".
Efficiency is the key, not grace and HP draws the distinction between Cloudline and its flagship server line, ProLiant.
Cloudline has had the ProLiant features stripped out. Gone are Smart Array controllers, OneView, the HP ROM and BIOS and there's no hot-pluggable backplane.
Cloudline will work with other makers' systems – firmware from, say, Seagate or Hitachi on storage – rather than trying to get you to use the HP glue.
What you are getting is interchangeability: Cloudline has been build in accordance with the Facebook's Open Compute Project – for a system to use "industry standard" interfaces.
But the good thing about that old HP stack was that while you were tied into HP's management software or BIOS, you were reasonably guaranteed things would work.
Accepting failures
Times, though, they are a changin', and there's a growing meme in data centers that failure is acceptable and you can't obtain 100 per cent perfect uptime on everything.
You accept failures as statistically normal things. It therefore follows, you can't built a data center of tens of thousands of machines using the same, best-in-class kit.
It's also starting to follow that you allocate different hardware to different workloads: it's something that's starting to be referred to in the data center world as "pets and cattle" and you define the feature set of your servers to match your mindset.
With pets, you care what happens so you want the best server performance guarantees and resilience. With cattle, if things fail it's not a big deal. The former might see you run traffic on HP ProLiants, the latter on Cloudlines.
Think this is just the latest vendor buzz phrase?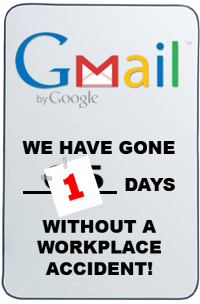 The next time Gmail isn't responding for you, you know why
Google, not an HP server customer but running ten of thousands of servers, is thinking this way.
In a forthcoming paper, Google will describe it's calculated a 2,000-machine service such as Gmail will suffer more than 10 machine crashes in one day.
Causes of the outages at Google? One per cent are DRAM errors, between two and 10 per cent are disk failures, machines crash less than twice a year and upgrading the OS causes outages between two to six times a year.
However, operating at the scale of Google, Mountain View has determined these numbers are more than just OK – they are fact of life.
James Wilkes, principle software engineer for technical infrastructure at Google, speaking at QCon 2015 last week, called this "normal" and "not a problem".
That's why HP is extracting the cream of the ProLiant's features on Cloudline. "In world of hundreds of thousands of servers a small number of server fails doesn't impact their environment," HP Cloudline group manager Dave Peterson told The Reg.
Cloudline is being thrown by HP at potential cloud service providers running multi-tenant systems, not your regular ProLiant user in the enterprise.
"ProLiant is great, but these folks are saying ProLiant is more than the need, Peterson said.
Back to Foxconn
Yes, HP is the world's server king, but growth isn't taking place where HP rules – in that enterprise, where budgets are right and pressure is on moving to cloud.
Growth is in the web tier – service providers. Alas for HP, the fastest growth in this field isn't taking place in California or event Texas, home to rival Dell, but in Asia.
The Asia-based white-box suppliers are undercutting HP and other on price and on features and delivering boxes that just work.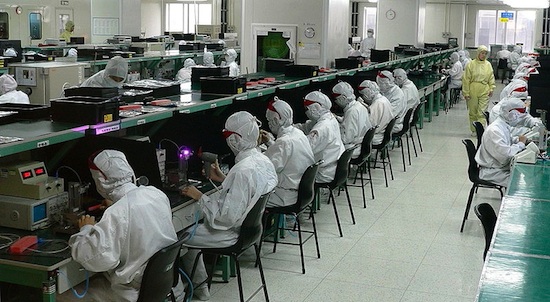 HP is saving money by using Foxconn, essentially by not bothering to spend the time building in things such as OpenView, and using the Asian company's design and manufacturing facilities. Credit: Steve Jurvetson from Menlo Park, USA
Huawei and Inspur Electronics, for example, are tiny by comparison, but are forecast to grow at 81 per cent and 34 per cent by numbers of units sold by Gartner.
HP has fallen 14 per cent and Dell is more or less static on 1.3 per cent in unit shipment growth.
That said, x86 servers were one of the only two growth businesses for HP during its first quarter, announced in February.
Worse for OEM giants like HP, the service providers are holding the cards on what they buy – from Google taking no-name Intel servers to Facebook's Open Compute.
Foxconn is HP's weapon in this war.
HP is saving money on engineering and build by using Foxconn. One way is by not bothering to spend the time and effort building in things like OpenView.
The other is in using Foxconn's design and manufacturing. More than half of costs of building a server are tied up in memory, hardware and network controllers. HP is relying on Foxconn to source and install processors, memory and SSD that come a commodity prices.
"We can save a significant portion on hardware costs, on things like sheet metal," Peterson said.
HP hasn't said what it will charge for the Cloudline (that's due on 30 March) but whatever the tab, HP will expect not just to hold the line against an Asian server-room incursion but, with quarterly earnings down 4.1 per cent, a fatter business, too. ®