Rival Seagate being outsold by Milligan's Mob
+Comment Western Digital sold 61 million drives in its latest quarter, 2.1 million less than a year ago, but made $30m more profit, and it out-shipped and out-earned rival Seagate – CEO Steve Milligan's men must have ear-to-ear grins on their faces.
The company's revenues, including its WD and HGST operations, for Q2 in its fiscal 2015 (ended 2 January) were $3.89bn, just a teeny, tiny bit less than the year-ago quarter's $3.97bn. However, profits were $460m, slightly higher than the $430m recorded 12 months ago.
All in all, there's not a lot of change and a less-than-hoped-for PC sales number caused a decline in disk drive units shipped (61 million compared with 63.1 million a year ago, and 64.7 million a quarter ago).
Where's all that Big Data that's supposed to be flooding in? Not on the desktop, that's for sure.
Stifel Nicolaus MD Aaron Rakers analysed Western Digital's numbers and thought PC-related disk drive revenues were "down 11 per cent over the year", while "non-PC related HDD revenue (excluding SSDs + implied other) grew approximately 4 per cent year on year, according to our model".
It's expected that OC disk revenues will continue to decline as SSD take-up on the desktop increases.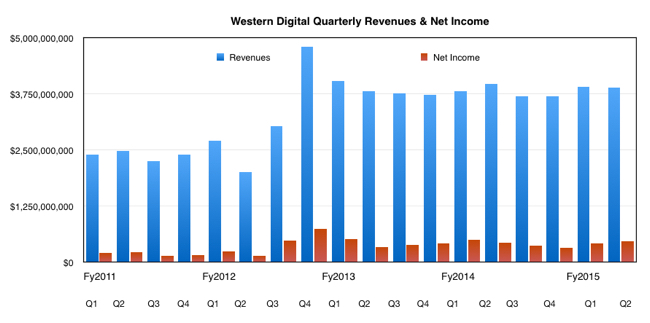 Dull stuff, move along please
Looking at Seagate and Western Digital revenues and drive shipments side by side in a couple of charts shows Milligan's mob doing better than Steve Luczo's Seagate, as the graphics below illustrate: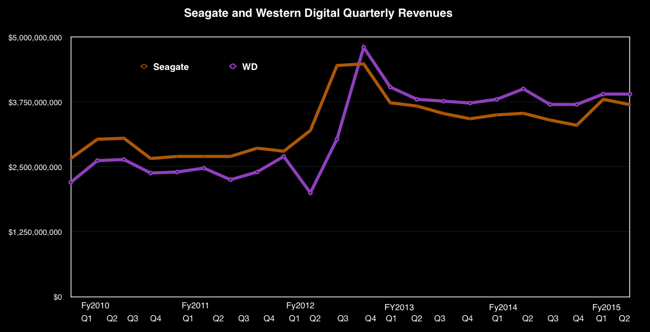 Quarterly revenues pretty much in lockstep with Western Digital doing slightly better than Seagate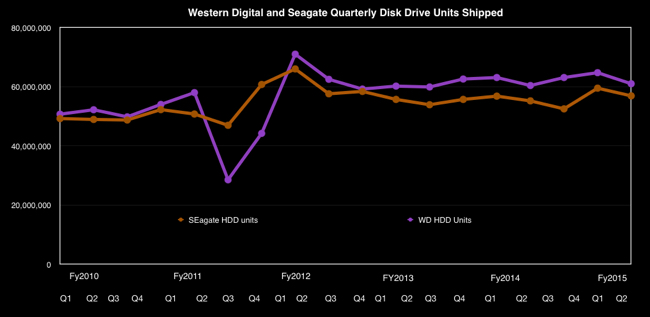 Western Digital is widening the gap between itself and Seagate
Western Digital sold many more enterprise SSDs this quarter, as revenues of $187m compared with the previous quarter's $156m show. That business is growing nicely enough and Milligan expected that to continue in the earnings call: "We expect revenue growth from our flash platforms business to outpace that of the industry".
MOFCOM get a move on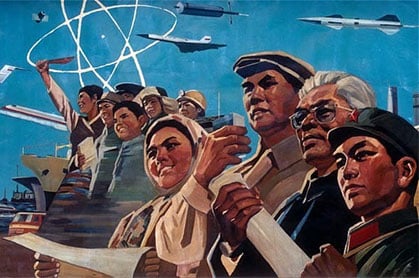 No info on any MOFCOM ruling just yet, says Milligan
The industry is growing at 40 per cent, according to Milligan, and so WD should exceed that. Milligan also said the flash roadmap was good and customers sampling new products liked them.
Meanwhile, MOFCOM, the Chinese trade regulatory body, is continuing its glacial progress in reviewing the integration of WD and HGST's operations, with Milligan commenting that: "I can't provide any update as to timing, as to when MOFCOM will provide any sort of ruling. But we are working with it in a constructive fashion and will continue to do so."
+Comment
MOFCOM appears to have Western Digital over a barrel.
El Reg storage desk thinks these MOFCOM people are an irritating and frustrating barrier to making WD and HGST more efficient.
WD also gave Seagate $700m-plus in an arbitration award but, due to the accounting magic of accruals, it hasn't affected its profits this quarter. ®