They said Java, MySQL and Solaris were all doomed
Oracle-Sun anniversary Back in 2010, critics worried that Sun Microsystems' software portfolio would wither on the vine once Oracle got its hands on it. Five years on and the worst fears have proven baseless, yet former Sun diehards have had plenty to be disappointed about since Larry Ellison & Co gobbled the former server heavyweight.
Although Sun was founded in 1982 as a maker of Unix workstations, in its later years it had assembled a rich collection of software, ranging from servers and middleware to databases, virtualization platforms, high-performance computing (HPC) tools, and even the OpenOffice.org productivity suite.
Sun was also fairly innovative as commercial software firms went. By the 2000s it had become one of the largest corporate contributors to open source projects in the world. It had also adopted a unique business model, where customers paid monthly subscription fees based on headcount in exchange for unlimited access to everything in Sun's software portfolio. Unfortunately, however, this strategy wasn't earning it much revenue.
Oracle, on the other hand, is a very different kind of company from the Sun of yesteryear, one concerned foremost with the bottom line, rather than lofty notions of "community" and "sharing." And while many of Sun's software products have lingered on, post-gobble, others have been cast by the wayside in pursuit of profit, with Oracle focusing mainly on Sun's "crown jewels": Java, MySQL, and Solaris.
Former Sun customers, employees, and partners have met these changes with varying degrees of concern, outrage, and acceptance. They may all have good points.
Whose Java is it anyway?
James Gosling, the so-called Father of Java, didn't last long at Oracle following the buyout. He spent a few months as Big Red's chief technology officer for client software before leaving in April 2010. A 26-year veteran of Sun, Gosling would later describe Oracle as "an extremely unpleasant environment" to work in, and many others in the Java community have similarly chafed under the change in leadership.
While the Java Community Process (JCP) is technically open, Oracle has followed Sun's lead in taking the foremost governance role over the Java specs – and if anything, it has gripped the reins even tighter. That quickly led to dissention in the ranks, which culminated in the Apache Software Foundation quitting the JCP Executive Committee in December 2010 following clashes with Oracle over licensing issues.
In an open letter to the Java community, the ASF declared that the JCP under Oracle's control "is not an open specification process" and that the Java specifications are "proprietary technology that must be licensed directly from the spec lead [Oracle] under whatever terms the spec lead chooses."
"The commercial concerns of a single entity, Oracle, will continue to seriously interfere with and bias the transparent governance of the ecosystem," the ASF said, adding that independent, open-source implementations of Java were impossible under Oracle's licensing terms.
To be fair, the ASF had raised similar complaints when Sun was in charge of Java. But Sun was generally thought of as a friendlier company than Oracle, and certainly a less litigious one. If Sun disagreed with you today, there was always hope that you could convince it to see things your way tomorrow.
Less so with Oracle, which has guarded its Java intellectual property jealously. Since 2011 it has pressed forward with a multibillion-dollar lawsuit against Google, claiming the online giant's Android smartphone OS violates both patents and copyrights related to Java. And while past court decisions have swung more in Google's favor, neither side has given up yet, with the case now possibly headed to the US Supreme Court.
Slow boat to a modern Java
But what of the Java platform itself? Work on the Java Development Kit (JDK) and the language itself has mostly continued apace following the merger. Unfortunately, in Java Land that means the process of adding new features and pruning outdated specs remains as slow and arduous as ever.
Only two major version releases of the Java Standard Edition have emerged since Oracle bought Sun: Jave SE 7 in 2011 and Java SE 8 in 2014. Prior to Java SE 7, a new major version of the platform shipped every one to two years.
Similarly, just one version of Java Enterprise Edition has shipped post-merger, in the form of Java EE 7. And at its current rate of development, Java EE 8 isn't expected to arrive until sometime in late 2016.
Not that these delays can be laid solely at Oracle's feet. Although the database giant has butted heads with some former Java partners, the JCP accepts plenty of input from other prominent players. IBM, in particular, has taken an active role in guiding Java development.
What's more, the changes planned for Java since Oracle took charge have been among the most ambitious in the platform's history. Initiatives such as Project Jigsaw and Project Lambda represent major additions to the language designed to update the Java platform to meet the expectations of a modern audience.
Yet in many ways the Java community seems to have bitten off more than it can chew. One of chief platform architect Mark Reinhold's first actions as an Oracle employee was to propose a "Plan B" that outlined more modest goals for Java 7 than had earlier been planned. He would similarly scale back the objectives for Java 8 in 2012.
Further complicating matters was the seemingly endless parade of critical zero-day security vulnerabilities that plagued Java throughout 2012 and 2013. The bug bonanza grew so severe at one point that Oracle was forced to rethink its typical, thrice-annual Critical Patch Update schedule when customers threatened to uninstall Java en masse. But fixing bugs has its price, and the change in priorities led to still more delays for Java 8.
Not that these travails have done much to diminish customer loyalty, particularly among the enterprise set. Not for nothing is Java called "the new Cobol," and companies that have already invested heavily in the tech are likely to keep spending.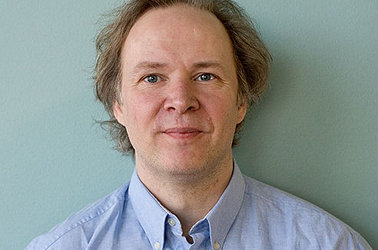 My my my MySQL Maria
My, my, my, Maria
Longtime MySQL users, on the other hand, seem less willing to swear fealty to Oracle – particularly now that there's a legitimate fork of the open source database, in the form of MariaDB.
MySQL co-creator Monty Widenius – who left Sun just before the Oracle acquisition closed – never had much faith that Oracle would honor its commitments to maintain MySQL as open source software. And sure enough, Big Red has done its best to capitalize on the code by releasing certain modules as proprietary software available only to customers of the "enterprise edition," not to mention upping the price of support.
Little wonder that many of the major Linux distributions have dropped MySQL from their default installation images in favor of MariaDB, including Arch Linux, Fedora, OpenSuse, Red Hat, and Slackware. (Others, including Ubuntu, have stuck with MySQL as the default.)
Still other customers are switching not because of some sort of open source puritanism but wariness of Oracle – as evidenced by the fact that MariaDB offers its own subscription-based enterprise version of its MySQL fork. These customers don't mind paying for their open-source database, but an Oracle support contract isn't their bag.
For its part, Oracle doesn't see MariaDB as much of a threat commercially. Just as many customers will happily license Oracle Unbreakable Linux instead of Red Hat, the companies that purchased commercial licenses of MySQL when it was a Sun product – or when it was a standalone company – seem largely content to deal with Oracle now.
"I think where we're seeing [MariaDB] are customers that work purely on the open source version of MySQL," Oracle MySQL engeineering veep Tomas Ulin told The Reg in 2013. "In terms of meeting them in terms of actual, paying customers, I've not heard of any there."
Oracle has also continued to improve performance and add new features to MySQL, contrary to what its critics had feared. Notably, recent releases have add NoSQL-like query capabilities and added a JSON data type to make MySQL more competitive with newer, unstructured databases.
"If you look at what we've achieved over the last five years, in terms of product releases, product functionality, and product quality, I think the last few years of MySQL have been by far the most productive in its entire life," Oracle chief corporate architect Edward Screven said at last year's OpenWorld.
Putting the OS out to pasture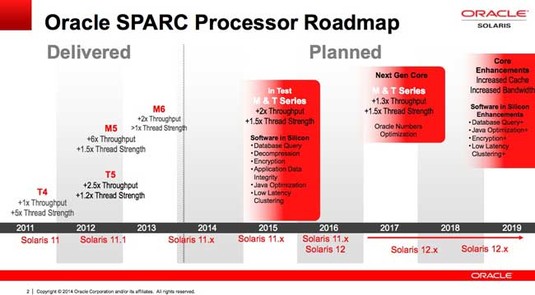 Unfortunately, the same can hardly be said for Solaris. Once the shining star of Sun's software portfolio, Solaris' luster began fading as Linux grew in prominence in the early 2000s and it has only continued to dim under Oracle's control.
It only took a few months after the Sun gobble closed for Oracle to pull the plug on OpenSolaris, the community-driven open source version of the OS. Unsurprisingly, the entire OpenSolaris Governing Board resigned, effectively handing back complete control over Solaris to Oracle.
Since then, Solaris development has lumbered on at a steady but molasses-like pace. Solaris 11 reached general availability in November 2011. Since then, there have been two more releases. The most recent, Solaris 11.2, shipped in July 2014.
As with MariaDB, there have been forks. The Illumos Foundation now oversees both its eponymous Solaris offshoot and OpenIndiana, the latter being essentially a continuation of the OpenSolaris effort. But these projects, although sponsored by a number of prominent storage and cloud computing companies, have gathered only a limited audience.
Perhaps most telling is that Oracle has shipped many of its high-end "engineered systems" running Linux, rather than Solaris. It has even gone as far as to port DTrace – arguably one of Solaris' more coveted features – to the Unbreakable Linux kernel.
None of this is to say Oracle plans to mothball Solaris completely. But there's little incentive for Big Red to market Solaris as a major differentiator for enterprise workloads when the other major commercial Unix vendors have already lost the fight to Linux years ago.
Rather, expect Linux to look more like Solaris as the years roll on and for the Solaris brand itself to be mentioned ever less frequently.
Five years before Larry's mast
So were the naysayers right? Has Oracle's purchase of Sun resulted in the dismantling of a once-great software portfolio? The answer, it seems, is a mixed bag.
If you were a fan of some of Sun's more obscure software offerings, or those that duplicated Oracle's own products, your answer will likely be a resounding "yes, it's all over." Take, for example, Oracle Virtual Desktop Infrastructure, along with its corresponding Virtual Desktop Client and Sun Ray terminals, which reached the end of their support life earlier this year.
If you were hoping Oracle would carry on down Sun's path of open sourcing its entire software portfolio in hopes that subscription support revenues would be enough to fund continuous development, the writing on that score is clearly on the wall, too – although you were probably a little naïve to begin with.
If, on the other hand, you just want to see important IT building blocks like Java, MySQL, and (to a lesser extent) Solaris continue to exist, then you seemingly have little reason to worry. Oracle has invested heavily in each of these technologies and shows every sign of continuing to do so.
After all, Java, in particular, is as important to Oracle as it is to any other Java development shop. All of Oracle's Fusion applications are built using it. The one worry is whether the former Sun software technologies progress so slowly under Oracle's oversight that they start to seem as dinosaurs compared to newer alternatives – the true Cobols of the modern age. But there's still hope that this won't happen.
The trade-off, of course, is that you'll never again be a Sun customer. Those days are long gone. And negotiating Oracle licensing terms can be a bitter pill for anyone to swallow, particularly if they're new to the game. The real question is, are you up to it? ®