Customer departure didn't help either
+Comment The expansion of SanDisk's business nearly stopped in its latest quarter, with revenue growth stalled and profits down as it lost a major customer, experienced troubles in its supply chain and the ULLtraDIMM injunction took hold. Just a temporary setback guys, nothing to see here, move along folks.
The consumer and enterprise flash product shipper made just $202m net profit in the fourth quarter of 2014; it was $263m in the third quarter and a chunky $338m a year ago.
Revenues of $1.74bn were less than the third quarter's $1.75bn, one per cent down, and just a tiny bit ahead of the year-ago quarter's $1.73bn.
The full 2014 year revenue was $6.63bn, ahead of 2013's $6.17bn, the fourth quarter slump not being that bad, while full-year net income was $1.29bn, compared with $1bn in 2013.
What went wrong? It should have been a $1.83bn quarter based on previous trends. Where did that $90m of expected revenue go?
CEO and prez Sanjay Mehrotra attributed it to chip supply problems in the announcement release: "We are disappointed with our fourth quarter results, which were impacted primarily by supply constraints. We believe that NAND flash industry fundamentals are healthy, and we expect our financial results to improve as we move through 2015."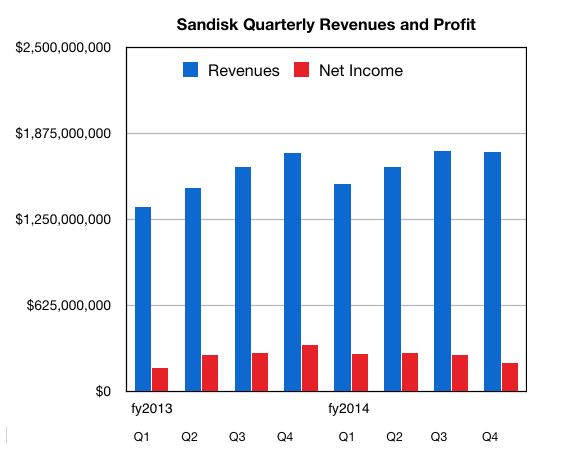 Chart showing SanDisk's 2014 Q4 revenue slump
He elaborated in prepared remarks for the earnings call: "Our inventory levels were extremely lean exiting the third quarter and were anticipated to become even leaner throughout the fourth quarter. We overestimated our ability to service our customers' demand variability with our low levels of inventory, creating supply shortfalls in certain products."
Problems in the supply chain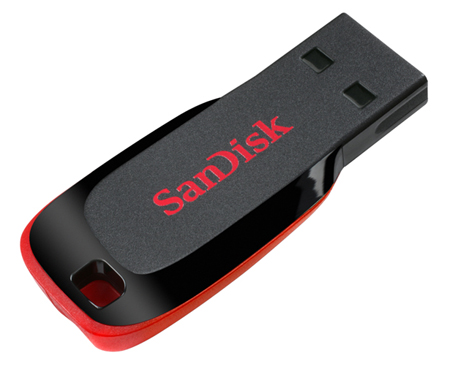 Judy Bruner, SanDisk's CFO, said: "Our Enterprise SSD revenue grew strongly, while our client SSD revenue was down modestly primarily due to seasonality and anticipated supply constraints"
There was also "unplanned maintenance activities in our Yokkaichi fab operations, as well as lower yield on certain memory die, which led to unexpected reductions in production output," Mehrotra said.
The effects were felt "most notably in our retail and (embedded) iNAND product lines. Within retail, the late timing of supply availability resulted in lost sales opportunities. Within iNAND, demand for our previous generation products fell more rapidly than forecast by our customers, while we had limited ability to service demand for our newer products due to supply constraints".
Natch SanDisk is working to fix things: "One of our top operational priorities for 2015 is to rebuild our inventory levels, which we expect to be restored to normal levels by mid-year."
According to Bruner, "We exited 2014 at about eight weeks of inventory ... I have said in the past that we need to be at least to 10 weeks. In fact the right range I believe is 10 to 12 weeks."
So why did the SanDiskers shrink their inventory? Were they trying to run too lean a supply chain?
At least the enterprise flash business did well, as "turning to enterprise SSDs, revenue grew on both a sequential and a year-over-year basis during the fourth quarter ... and we ... expect that our enterprise solutions revenue will achieve $1bn in 2015", said Mehrotra.
Client SSDs also did well, up to a point, as along came another problem, with the company reporting that a "major customer has decided to move away from our client SSD solution starting in Q1".
"Our retail revenue was down two per cent sequentially and down 18 per cent year-over-year," said Bruner, and "our Enterprise SSD revenue grew strongly, while our Client SSD revenue was down modestly primarily due to seasonality and anticipated supply constraints".
This will affect client SSD sales throughout 2015 but Mehrotra said "we anticipate that our client SSD revenue will grow again starting in 2016".
Impact of the Netlist-Diablo case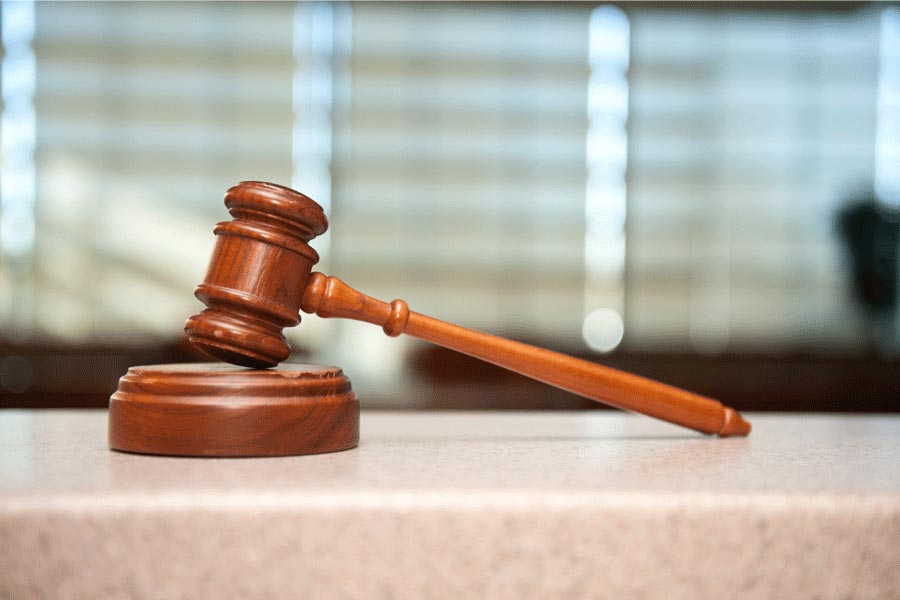 CFO Judy Bruner remarked: "We took inventory for our ULLtraDIMM product, which has become the subject of a court injunction stemming from litigation to which we are not a party."
Bruner said there was an effect from the Netlist-Diablo court case and the ULLtraDIMM ship injunction."We took inventory reserves related to a faster-than-expected decline in demand for certain end-of-life OEM products, as well as for our ULLtraDIMM product, which has become the subject of a court injunction stemming from litigation to which we are not a party."
This, plus a lower mix of high-margin retail products and higher memory costs "contributed to the sequential decline in gross margin and the miss from our forecast", said Bruner.
Mehrotra said there was a continuing impact "in 2015 [and] our revenue will be challenged in the first half of the year". More good news there then.
+Comment
So Happy New Year, SanDisk: what a killer quarter – supply chain issues, then losing a major account... Just to top things off, your ULLTraDIMM tech supply partner Diablo is caught up in an injunction, catching you in the flames.
The earnings call Q&A session was fun. Mehrotra refused to identify the lost client SSD customer.
Mehrotra must have been spitting red hot rivets. No CEO likes delivering such news. Samsung and Micron must have had big smiles on their faces and Netlist a gaping wide grin.
The company announced a dividend and share buy-back programme to keep investors happy. Mehrotra said all this "is really nothing but a temporary setback. SanDisk had setbacks in the past that and always emerged even stronger. I am confident that we shall do the same again this time." ®