Back to the future with jolly useful tool
Review BlackBerry has looked into the abyss and seen ... a vintage BlackBerry staring back. Two years on from a catastrophic "modernisation", BlackBerry has finally made a modern BlackBerry that people who used and liked a classic QWERTY keyboard BlackBerry will feel right at home with. Which accounts for the name. Natch.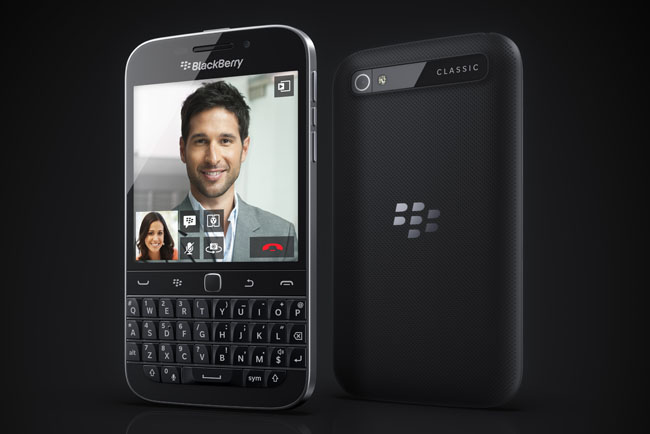 Design classic? BlackBerry revisits former glories
This, it must be stressed, is not a "classic Blackberry" - it doesn't require a special SIM, doesn't support BIS push email, and it uses the latest version of the new BB10 operating system. But because BlackBerry has restored the classic controls of an optical trackpad and four dedicated function keys, your hands need never move. Or put another way, you won't be juggling it like a hot potato.
For the most part, the Classic delivers on the promise of making a modern BlackBerry a lot easier to use. It's quite strange - "hey, you mean the Phone app has its own button?" - and really for the most part thoroughly agreeable.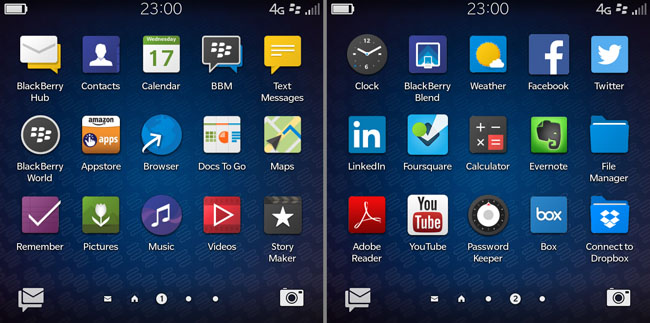 Home sweet home
Your main problem, if you're interested in buying one for yourself, will be finding one. It exists for quite unsentimental reasons: as a "secure end point" for BlackBerry's range of business services, such as secure voice and mail, VPN and meetings. Which is the slickest meetings software I've seen, by the way, but something only currently feasible through a corporate server.
(While in time you may be able to obtain BlackBerry's add-on services as a civilian - what's called "multi tenant hosting" will allow operators to offer civvy street consumer versions of these services - but not yet.)
Which leaves you to get a SIM free version from BlackBerry itself or Amazon, or scour Carphone Warehouse. None of these three has it yet.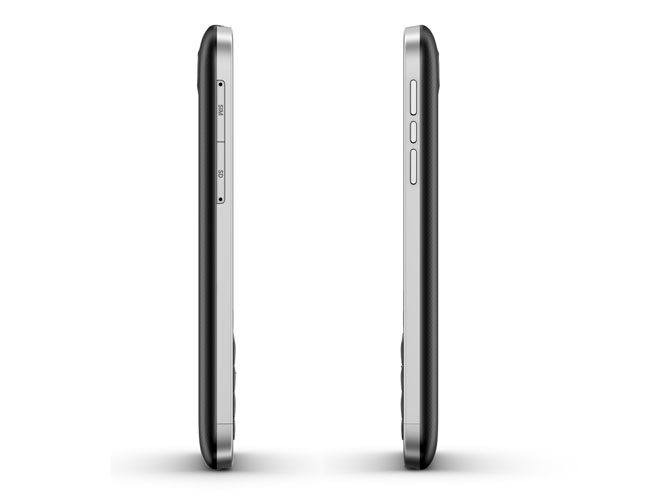 No slim Jim
Why get a Classic? It's quite slanderous to suggest that it's nostalgia. For not everybody needs a bling smartphone. Some people yearn for a deterministic or thoroughly predictable device that does one or two things well, and a vintage BlackBerry does that.
When over 1 billion phones get sold a year, surely 10 million want something that fits the bill? This device attempts to recreate the predictably and reliability of an old BlackBerry, but with an excellent modern browser, and modern apps.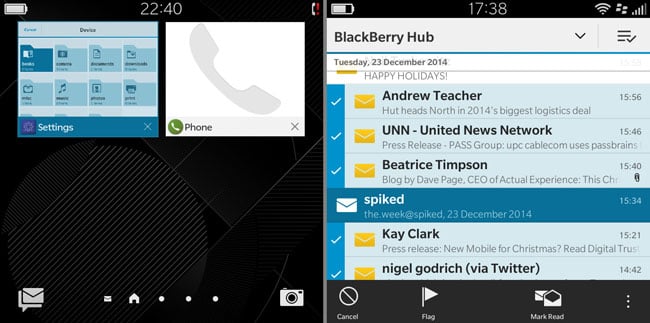 Active frames task switcher (left), rapid selection/deselection of items using the touchpad and keyboard (right)
Overall I found it works, with one or two considerations.
It isn't cheap, since BlackBerry is the only game in town for QWERTY keyboard phones. If you've been lovingly holding on to a battered Bold or Curve, the size of the Classic might surprise you. While it retains the familiar shape, it's much larger, and heavier too - although this is well distributed. I didn't find it uncomfortable, but then even a "Compact" - like this 4.6-inch one - feels small to me now.
Accommodating Android
Other factors to consider: the battery isn't user replaceable, a decision which is hard to fathom, as the Classic has the dimensions to house a beefier replaceable battery. And it doesn't have the zip of the BlackBerry Passport (see the Reg review of the Passport here): it uses the same two-year-old, dual-core 1.5GHz Qualcomm Snapdragon processor as the Q10, reviewed here.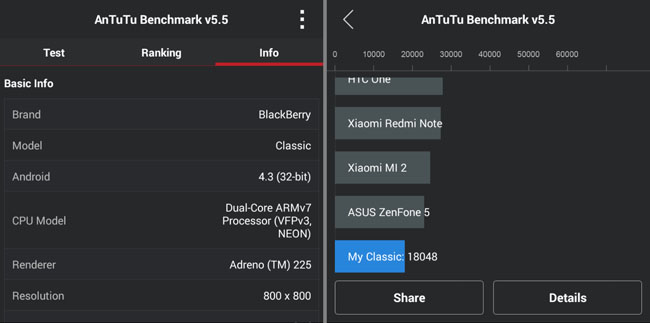 The Android benchmark app AnTuTu running on the Classic
Most of the time speed isn't a factor, as BlackBerry has optimised the 10.3.1 system to run Android apps much faster, and it uses less power than 10.2 too. But occasionally I found the messaging hub looking completely empty and had to wait 3-4 seconds for the messages to show - this with over 4GB email.
While Android apps run fast and seamlessly on the Passport, but a little more sluggishly on the Classic. But if anything slows you down on the Classic, it's going to be BlackBerry's own animations, which I wish could be pared back or (in the case of reading messages sequentially) removed altogether.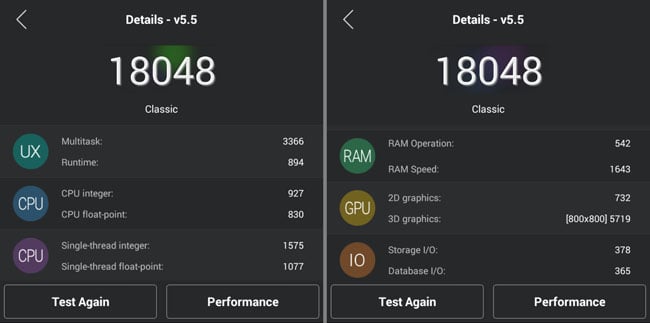 AnTuTu benchmark score isn't a high achiever, but it does the job
However, it's full of nice surprises if you're an old BlackBerry user.
The keyboard is the nicest BlackBerry has ever made. It's quite excellent at calls. Shortcuts have been restored, so you can call a custom contact or launch an app from the home screen. That nice satisfying blue bar appears when you thumb up to the top of the display - from there, you can pull down and activate the Settings shortcuts.
BlackBerry uses the same old trick as before to resolve ambiguity - if it detects that you're swiping over the trackpad quickly, it shifts the focus to the controls, away from the document itself. Very occasionally, you need to reach the bottom row of the screen to do something, such as filter the Hub view by category (for example, just the SMS messages).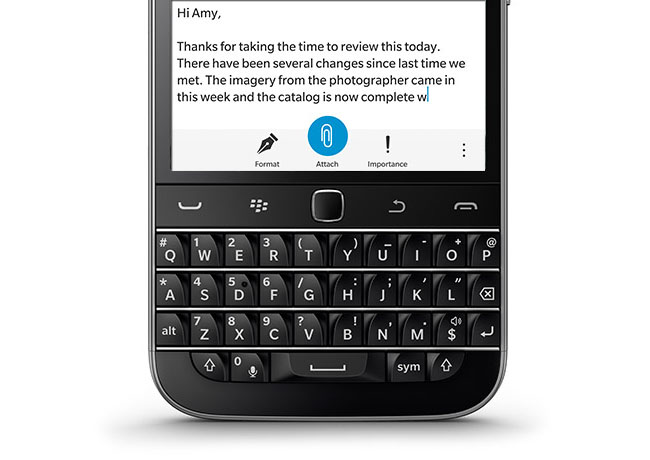 The shock of the old new...
A huge amount of work has gone into making the Classic more deterministic. And to my surprise, the Trackpad works pretty well in many Android apps I tried - you can ignore the dire warning it gives you that you might have to touch the touchscreen after installing an Android app.
In fact, the dedicated Back key works more logically in Android apps than it does (sometimes) in the native apps. Hit Back in the excellent web browser, and you get the multitasking menu - which is a little counter intuitive.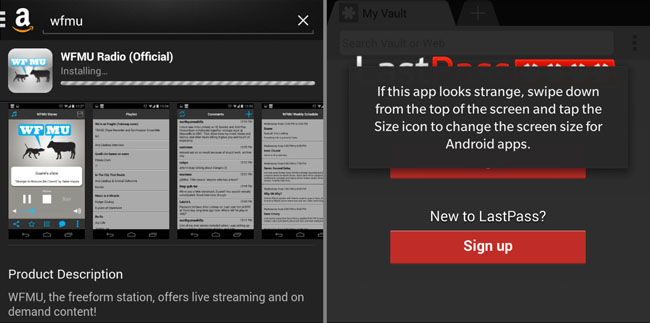 Android app installation and the swipe warning
Android performance in 10.3.1 is excellent, and integrates well with the system. It's good enough for me to opt for the Android version of Evernote over the "native" version, so I can save clippings from the "Share" menu in BB10 apps, and choose which notebooks to sync. (The "native" version doesn't support either).
Hybrid handset
To be picky, it should (for a business device) support 400 million potential Exchange users a bit better: it doesn't support Exchange's Contact groups, it doesn't support Task or Note categories, and even wipes out the notes field under individual Tasks. Tish. That's the only key area where it falls down.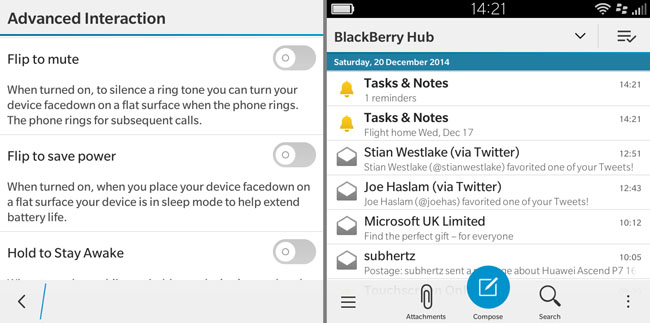 Advanced interactions and Android integration in the Hub
This latest version of BB10, 10.3.1, is a major upgrade, and has features not found in the shipping Passport. It finally gets a Power Saver mode, and notification Profiles. "Advanced Interactions" means you can activate this by turning it face down.
Overall, it's an excellent system, although the Hub is becoming quite fussy. After viewing an email I don't necessarily need to see Flag or Move or Delete (you can choose two from three). The Android and iOS way of a sideswipe on a message is still quicker and less obtrusive. But hands up who's missed easy selection of text and list items in the modern, all touch world? There are tools and some tools, for some jobs, are simply better than others.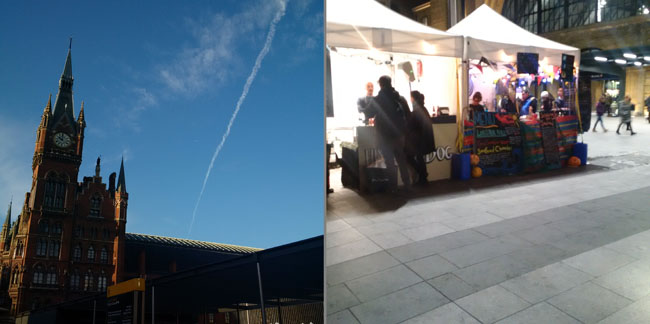 8Mp camera is OK in daylight but not so happy in challening light conditions
The Classic is let down by the Camera, which is slow to focus and poor in anything other than bright light. Which is a pity, but hardly a deal breaker for many. And what's a BlackBerry if it doesn't have a disappointing camera?
The hybrid takes a little getting used to, too. I wished the Trackpad was bigger. And there was a simpler way of unlocking the device (you soon learn not to swipe up over the trackpad itself, as it seems to confuse it - and you. A little tweaking here would be welcome. You can unlock the device by pressing U-> Enter, thus avoiding having to touch the touchscreen.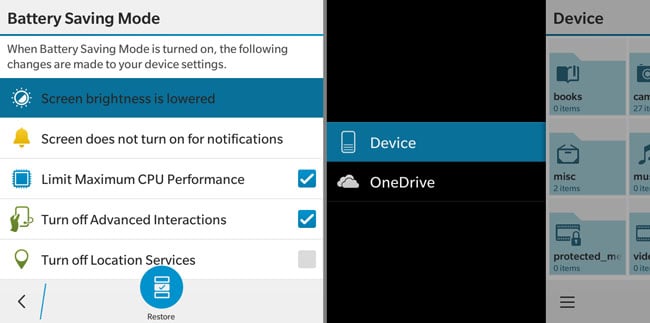 Power saving functions and cloud integration
In addition to the Hub pause, the other delay I encountered - also a little frustrating - was activating the keyboard search, which is a traditional and quite natural way to interact. In the old BBOS versions 6 and 7, and BB 10.2 excelled - but in 10.3.1 it's accompanied by a rich voice search, Assistant. Once you turn this off, though, searching from the keyboard gets back to its old snappy responsiveness.
My No.1 user request would be retaining the old-style Search history; it's inexplicably been cut. And No.2: let us choose a bold, easier-to-read font for the Hub. Some us have "Classic" eyeballs that are wearing out a bit...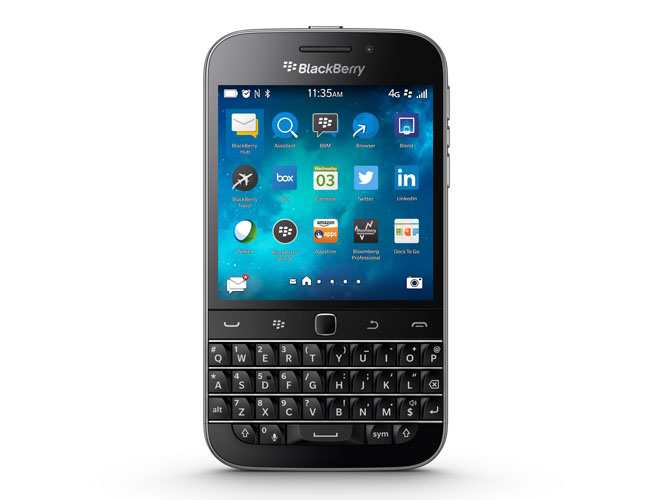 Classic values: A price worth paying?
The battery needs a few days to settle down - it indexes everything it can for impressively rapid retrieval - once it does, it comfortably lasts a full day. Before it's done its indexing, don't panic.
As a bonus, you can connect your BlackBerry to your Mac, PC or Tablet and access mail, texts and BBM from that device, even if your BlackBerry is out of reach.
The Reg Verdict
Ruthlessly aimed at persuading enterprises to upgrade their thousands of Bold users, the BlackBerry Classic is a powerful tool in its own right. It also adds a welcome bit of diversity to the market. ®