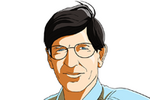 Chris Mellor covers storage and allied technology areas for
The Register
. After experience working for DEC, Unisys and SCO, he became an IT journalist writing for a variety of print publications. He edited the UK's first storage print magazine and then moved into the online world writing for IDG's Techworld, then started up the Blocks & Files blog, which was bought by El Reg.
He has written many sportscar buying guides, a few mountaineering guides and drives a car that's faster than he is.
Partnering up with XtremIO rival
Comment Not content with partnering with IBM and its storage to sell its UCS servers, Cisco is now doing a Flexpod-style dance with EMC's arch flash array enemy Pure Storage.
These recent shocks to the VCE alliance between EMC and Cisco must surely have contributed to Cisco's tactical withdrawal and EMC's taking of VCE in-house. Joe Tucci and John Chambers might well get on together but finding out Cisco is allying with Pure Storage and thus directly supporting the XtremIO array's main competitor looks like a great big step too far.
Pure and Cisco have dreamed up FlashStack converged infrastructure (CI). This is a combination of combine Pure's 400 Series arrays, Cisco UCS Blade Servers, Nexus switches, VMware vSphere 5 and Horizon 6, defined by reference architectures, with deployment and sizing guidelines for two scenarios; virtual servers and virtual desktop infrastructure.
The combined turnkey product, which is pre-validated and tested, is delivered by FlashStack Authorised Support Partners (ASPs) within Pure's Storage Partner Program and features 24x7/365 single-call support "delivered through Pure Storage FlashStack Authorized Support" including both Level 1 and Level 2 support.
ASPs include Datalink in the USA, Proact in the UK, and Southern Cross in Australia.
A FlashStack CI for virtual desktops can scale to 3,000 VDI instances in one rack. There can be up to 2,000 desktops with Pure's FA-405 array and 3,000 with its FA-420.
The FlashStack CI for Virtual Servers can provision more than a 1,000 virtual machines in minutes, we're told. Both these FlashStack CIs feature sub-millisecond response times. Pure_Storage_400_Series
Pure Storage 400-series array
There are three virtual server configurations:
Entry - up to 8 blades and 40TB Compute-intensive - up to 40 blades and 125TB Storage-intensive - up to 32 blades and 210T
Pure will expand its FlashStack CI systems, and their global availability, with additional reference architectures, technology configurations, and FlashStack ASPs in 2015.
Here's a tail-end thought: Cisco has its own Invicta all-flash array. Why is is it supporting sales of a direct competitor to that array, Pure Storage's 400-series product, and not pushing its own technology?
Get more info here. ®