Service providers jumping into bed with Far East ODMs... here's the impact
The disruptive influence of the largest service providers ignoring mainstream suppliers when buying disk storage has been highlighted for the first time in stats from IDC - big brands should sit up and take note.
The IDC tracker* reports on worldwide total disk storage and external storage array sales, and in Q3 included shipments from ODM to hyperscale data centres operated by cloudy businesses and web-app peddlers.
Total disk storage sales revenue was $8.75bn, up 5.1 per cent from a year ago, which is good news.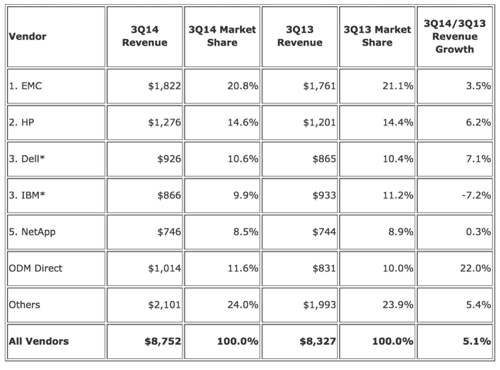 IDC Q3 2014 total disk storage sales worldwide in $millions.
Ranked suppliers were led by EMC with revenue of $1.82bn, 3.5 per cent higher than a year ago, and representing a 20.8 per cent revenue share, down from 21.1 per cent a year ago. EMC's revenue growth under-performed the market as a whole.
Second place overall went to the ODMs with revenues of £1.01bn, a 22 per cent growth in revenue over the year, and 11.6 per cent of the market.
The second ranked standalone brand was HP with $1.3bn revenues, up 6.2 per cent on the year, and representing a 14.6 per cent market share, up from 14.4 per cent a year ago. All the work spent on improving its storage products is paying off big-time, as it outgrows the market and EMC.
The now privately-owned Dell was in third place with revenues growing 7.1 per cent to $926m, more than HP and also EMC, and a tribute to its product development work.
A year ago IBM would have been the third-ranked vendor, but its revenues fell 7.2 per cent to $866m, giving it fourth place. Not so Big Blue is failing to keep up with modern storage technologies and its ageing product set has less and less appeal to customers.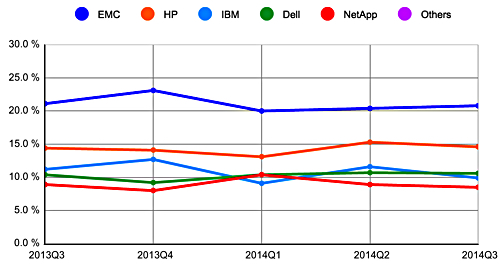 IDC's chart of the top five vendors in world-wide total disk storage sales, Q3, 2014.
Fifth-placed NetApp also did badly, with revenues of $746m up just 0.3 per cent on the year, under-performing the market as a whole. Hitachi and Oracle are lumped in with the 'Others' category which took 24 per cent of the market, amounting to $2.1bn, and grew 5.4 per cent on the year.
External disk storage sales
The rise of ODM sales to hyperscalers and the increase in server-attached storage have both affected external disk array sales. Revenues in this section of the market grew just 0.9 per cent, to $5.8bn.
EMC led with its $1.82bn, representing a 31.4 per cent share, and a 3.5 per cent growth rate.
NetApp was number two with $746m, a 12.9 per cent share, and a 0.3 per cent growth rate.
IBM and HP were both given third place by IDC, IBM's $591m showing a 9.9 per cent fall in the year, and HP's $561m a 2.7 per cent rise.
Hitachi and Dell are in joint fourth place, Hitachi revenues having fallen 9.4 per cent to $432m, and Dell's rising 2.9 per cent to $426m. The Others category grew 6.2 per cent to $1.23bn.
Here's a chart showing the sequential quarterly trends: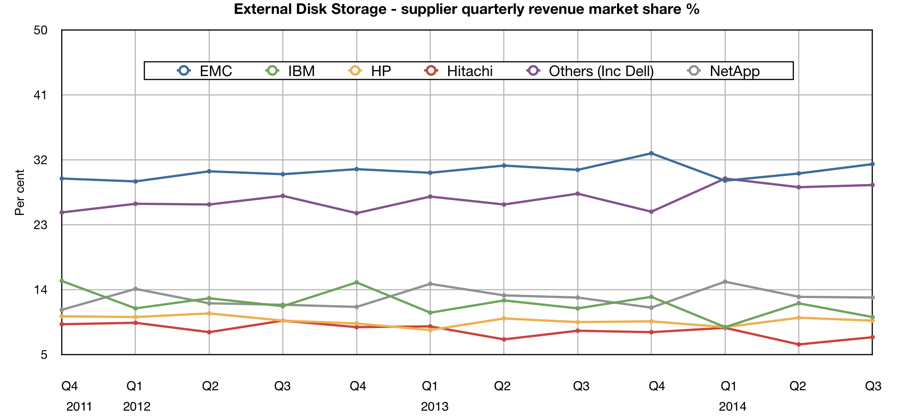 IDC quarterly external disk sales numbers. Click chart for a larger version.
We can see EMC has done best of all in the last three quarters.
The overall message from this tracker is that hyperscale buyers and server-attached storage sales are both going to limit the prospects for external disk array sales, and that's without the influence of all-flash arrays which are not seen in this IDC report.
That is a trio of market forces exerting downwards pressure on disk array sales.
Dare we say it but the golden age of storage array sales may be coming to a close. ®