CEO DeNuccio: Concerto will have their ears
Violin has recorded rising revenues and lessening losses for its third quarter as the new CEO gets the flash array company barking louder in the data centre flash array dogfight.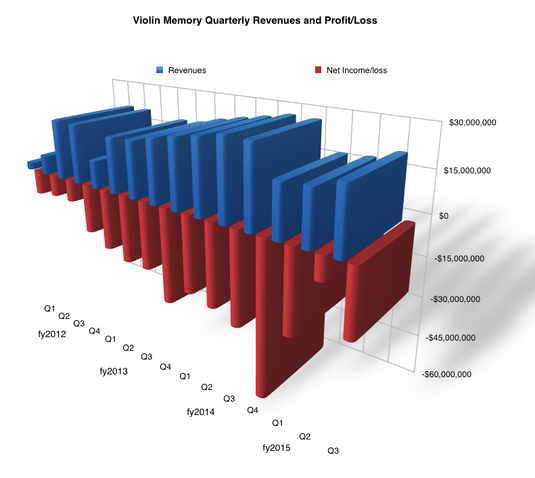 Kevin DeNuccio took hold of the CEO reins at Violin in February and the company has just reported results for its third fiscal 2015 quarter. They look promising.
The basic numbers relate to revenues, and profit/loss. Revenue was $21.7m, 27 per cent up on the previous quarter, but 23 per cent lower than the year ago third quarter (at $28.3m).
That was when the previous CEO caused Violin, viewed as a plane in level flight, to stall and plunge to earth. DeNuccio subsequently took over after Don Basile was ejected, stabilised the aircraft, wrestling with the controls, and ascending again.
The just-reported net loss was $23.5m, which sounds poor but is a hell of a lot better than the $34.1m recorded a year ago. Yes, it's far deeper than the -$8.4m reported three months ago but it's the annual comparison that matters here, not the sequential quarterly one.
The $8.4m figure flattered the company, as it would have been -$25.8m without adding a gain of $17.4m raised from selling its PCIe flash card business. On that (organic) basis the the sequential net loss comparison would have been better too.
DeNuccio's prepared statement said: "We're now growing at a 40-50 per cent annualised rate while beginning to build a backlog that should further improve our performance." Customers can be more confident about Violin's balance sheet strength and its technology as it moves its primary storage from disk arrays to flash arrays.
"With more than six months of restructuring and refocusing of our business behind us, we delivered sequential revenue growth for a second straight quarter ... [and] our bookings also grew at more than twice the rate of revenue growth, marking a second consecutive quarter of double digit expansion," he said.
"Revenue has started to accelerate in our second half as the market opportunity continues to heat up and our position to capitalise on it has greatly improved over the last couple of quarters," he said.
He also added that Violin's market was changing, "from its large niche as a performance-centric solution for applications towards the broader much larger opportunity for general purpose enterprise storage that supports multiple and mix workload, and which makes up the bulk of data centre storage purchases".
Notwithstanding this, he claimed "we remained the category leader in this high performance all-flash array market".
Roadmap to profitability
As for growth: "We believe this market transition will continue to accelerate rapidly with many customers adopting flash for primary storage over the next 12 to 18 months", as data centres move to 2-tier storage, flash for the hot data, and cheap-and-deep disk storage for the rest.
The product roadmap is promising, though few details were released. "We have more technology on the way that we believe will allow Violin to become a category leader," he added.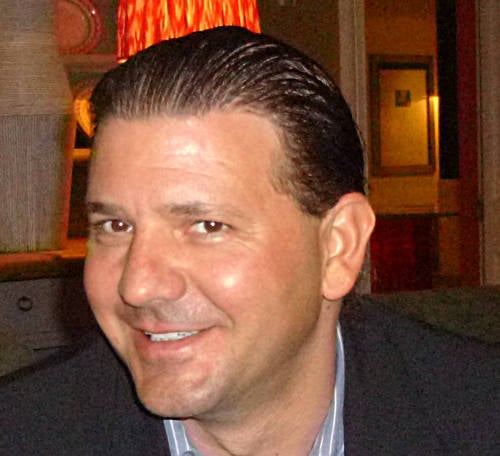 Former CEO Don Basile was relieved of his duties at the end of last year
We expect Concerto to further differentiate us from our competitors both large and small as we tightly integrate all of its functionality into our array solutions.

By combining all of the high level data services, data protection and data reduction technology, including both deduplication and compression into a single core array operating system, we will be able to control and optimise all layers of the storage stack from within a single architecture.

The singular approach will allow us to seamlessly innovate from the lowest level silicon layers to the highest level command and control layer that enable enterprise class data services and connectivity.
"All of this functionality will be at the users' control, feature by feature, app by app and one by one."
Violin is adding a net 10-15 sales heads, and CFO Cory Sindelar said: "We've already added half of that number in November."
DeNuccio said competition from other suppliers was very strong, and the "competitive landscape is as aggressive as I've ever seen it, as the market heated up and it is clear that you got [a] $16bn industry within a window of a tipping point that's going to move to all-flash for primary storage."
The outlook for the fourth quarter is for revenue between $23m to $25m – not a dramatic rise. With the Q4 loss a year ago being -$56.5m on revenues of $28.8m, much attention will be focussed on the coming quarter's likely net loss (or profit). We estimate profitability will come in Violin's fiscal 2017. DeNuccio is saying break-even cash flow would come in four to six quarters, possibly four if revenue steps up higher.
Violin is in a flash race. Can it build its sales and marketing infrastructure quickly enough, and develop it technology and products fast enough to capitalise on the data centre flash storage transition without being overtaken by Dell, EMC, HDS, HP, IBM, NetApp, Pure Storage and SolidFire?
They all want to kill Violin and DeNuccio wants to be the top flash array dog. Let the dogfight begin. ®