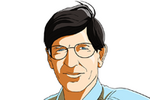 Chris Mellor covers storage and allied technology areas for
The Register
. After experience working for DEC, Unisys and SCO, he became an IT journalist writing for a variety of print publications. He edited the UK's first storage print magazine and then moved into the online world writing for IDG's Techworld, then started up the Blocks & Files blog, which was bought by El Reg.
He has written many sportscar buying guides, a few mountaineering guides and drives a car that's faster than he is.
Declining revenues becoming a common theme
+Comment NetApp's second-quarter revenue number have confirmed its recent overall decline, with the storage and data management company trying to recover from several recent quarters of revenue falls.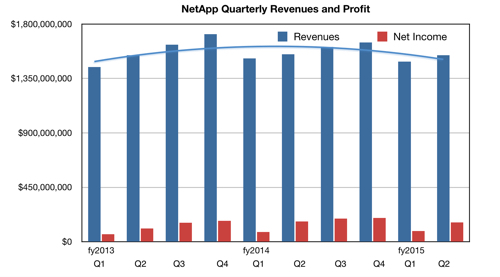 NetApp revenues to Q2 full year 2015 with polynomial trend line showing decline
A curve showing a long period of growth topped out in full year 2012, went flat the next year, and has turned down in full year 2014, continuing in the first two full year 2015 quarters.
We can put this in a longer-term context by showing a quarterly revenues chart starting from the third quarter of fiscal 2010.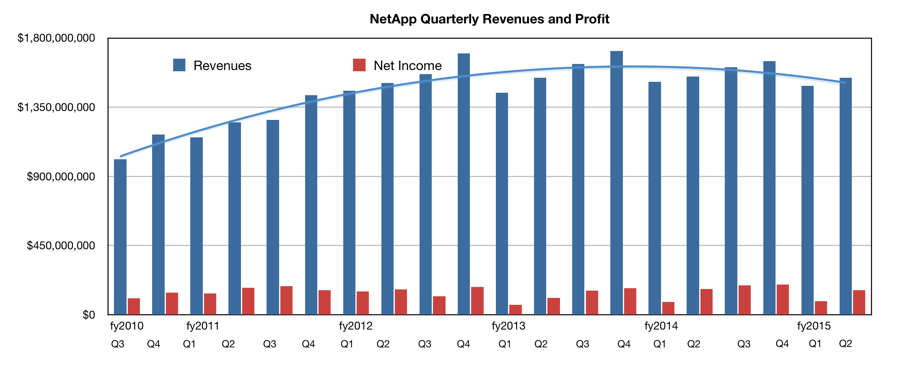 NetApp's quarterly revenues since Q3, full year 2010. Click to enlarge the chart.
Let's cover the Q2 numbers, then discuss why NetApp is declining, and what might be done to arrest that slump. Revenues of $1.54bn were reported for the quarter, 0.5 per cent down on a year ago, but showing the seasonal uplift from the preceding quarter's $1.49bn.
Profits were $160m, compared with $167m a year ago, 4 per cent lower. However, they were almost double the preceding quarter's $88m.
The outlook for next quarter is for revenues in the range of $1.56-$1.66bn, or $1.61bn at the mid-point, representing zero growth from the year-ago quarter's $1.61bn.
Aaron Rakers, the MD of analyst house Stifel Nicolaus, noted strong points in the results. "Total systems shipped increased 6 per cent year-on-year, during the October quarter, with strength in E-Series branded and its all-Flash solutions," he said.
Specifically:
Entry-level FAS2xxx shipments were down nine per cent year-on-year
Mid-range shipments (inclusive of the company's new FAS8020/40/60 solutions) were up five per cent
High-End (including the company's new FAS8080 EX) shipments were noted as up 3 per cent
FlexPod was up a substantial 50 per cent
However, when other revenue streams were added into these numbers, the results were much less impressive.
"We remain cautious on NetApp's mid- to long-term prospects as competition in the storage market has been heating up," said William Blair analyst Jason Ader, adding that "overall demand for traditional SAN/NAS disk-based systems is being disrupted by emerging trends such as the cloud, flash, hyper-converged systems, software-defined storage, and white box solutions."
"We also believe that the increased adoption of data reduction technologies is muting on-premise enterprise storage capacity needs and/or pressuring price per gigabyte," he added.
As lots of people have noticed, he commented that newer players, such as Nimble Storage, Nutanix and Pure, are succeeding against NetApp due to cost and performance advantages. Moreover, they're hiring NetApp sales reps to target NetApp accounts more effectively.
NetApp's FlashRay (all-flash array) is late to market, limited to a single controller and not that well integrated to the ONTAP mothership, giving competing all-flash arrays an advantage.
The OEM side of NetApp's business is in bad shape with IBM preferring to sell its own systems and Teradata growth slowing.
Comment: What the Vulture sees
The Vulture sees NetApp having no effective riposte to server-side SAN architectures such as VMware's VSAN and EVO: RAIL, and the hyper-converged server/storage/networking products from Nutanix, Simplivity and also Maxta and Gridstore.
Every server-side SAN is a physical SAN array sale lost. NetApp's mainstream array competitors are getting into this area:
EMC with EVO: RAIL and EVO: RACK in development
Dell OEM'ming Nutanix
Cisco in deal with Simplivity
HP's StoreVirtual 200-HC product
Lenovo and Fujitsu are bound to do EVO:RAIL-type products – they sell more servers that way.
Our take here is that NetApp needs to get into the server-side SAN market as fast as possible. It is behind its competitors and losing deals, indeed being cut out of deals because it has no viable server-side SAN product.
So come on then, buy Nutanix (and toss a bomb into the Dell OEM deal) or buy Simplivity and strengthen the relationship with Cisco. If there's a bidding war with Cisco, so be it. Outbid Cisco and be the first to link a server-side SAN/hyper-converged system to a networked array. Think hyper-converged ONTAP.
Why?
NetApp may not be able to grow its ONTAP customer base against the concerted attacks by all-flash array vendors and startups; hybrid array startups; better-than-Engenio HPC/big data/scale-out arrays like that of DDN; cheap software-based arrays from VMware and its cohorts; Nexenta and the like; as well as the siren calls of the public cloud sucking up data from enterprise data centres.
Its ONTAP mothership faces attacks on multiple fronts – just as Dell, EMC, HDS, HP and IBM do – because the one-size-fits-all SAN/filer array product model is no longer fit for purpose. They're doing something about it, but NetApp isn't.
The likelihood with telling someone who is in denial is that they won't listen. Well, NetApp, darn well listen.
You've had several quarters of revenue decline and the changes you're seeing in the market are structural, not, repeat not, cyclical. It's innovator's dilemma time, write large and on multiple fronts. What you gonna do? Deny it's happening? Retreat into the mothership?
Go on, your competitors will just love that approach. Carry on being deaf and blind as long as you like (they'll say), while all doing something different from you.
Sure, you have to safeguard mothership ONTAP revenues, but that doesn't include failing to adopt new tech when needed.
Wake up. Smell the coffee.
Buy in to the server-side SAN product space and start developing an alternative growth path to the networked array now. ®