Software – THAT's what'll sell it
Review We've been running the new Google-mungous big Nexus 6 smartphone and Android 5.0 through our hands-on real-world testing – and here are the results.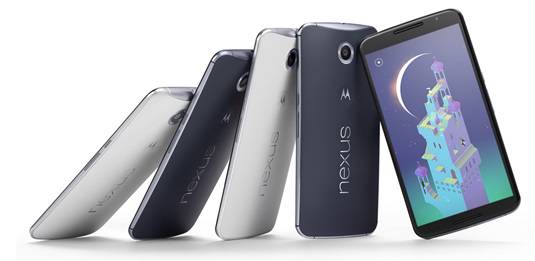 The Nexus range is Google's attempt to show the world exactly what an Android phone should be. As we've seen with past models, that usually means a stripped-down handset that's almost as good as the best in the market but without the crapware that usually comes with an operator or network-subsidized handset.
The Nexus 6 is also the Chocolate Factory's first move into the phablet market. Apple made the jump late as well, and it's not hard to see why. The larger screen sizes are more expensive to manufacture, tougher on battery life, and are physically a long way from what many players in the market are used to.
Google has gone for a slightly more "premium-priced" smartphone with this model, but upped the specs so that you're getting a system that – when you take both the hardware and operating software into account – can hold its own with many commercial models.
Ten years ago, mobile phones were one of the few things where men boasted to each other about having something smaller than their mates. Now phablet sales are exploding and bigger is seen as better, but from a technological standpoint that's seldom the most efficient route.
Cards on the table: this hack isn't a fan of phablets. They're usually bulky, power hungry, and a pain in the arse to carry. The Nexus 6 has some of these faults, but also has some ameliorating factors, not least of which is the latest Android build, version 5, AKA Lollipop.
Slim but curvy where it counts
The Nexus 6 is the product of Motorola's design team and it shows. The first impression of the handset is that some lab boffin pumped a Moto X full of growth hormones and the design owes much to Motorola's recent stylistic choices.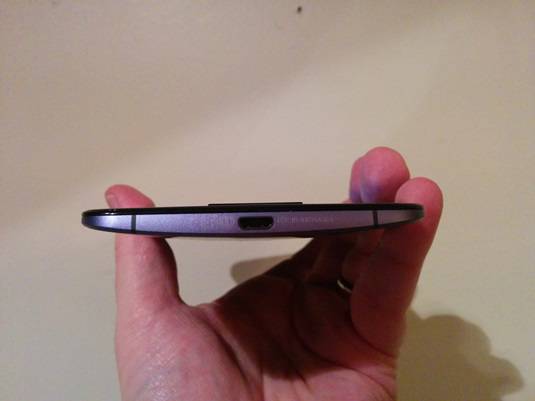 Curvy in the right places
As a handset the Nexus 6 is big and curvy, with the device measuring 159.3mm (6.27 inches) tall and 83.0mm (3.15 inches) wide, with a back that bulges 10.1mm (0.39 inches) at its thickest point but only 3.8mm (0.14 inches) at the tips of the device. Motorola has done very well in squeezing thin bezels on the handset, particularly laterally, but it's still a big phone in comparison with the competition, albeit with a massive screen area.
At 184 grams (6.49 ounces) the handset is heavier than the Samsung Note 4 and the iPhone 6 Plus but the slim edges make it feel lighter than it is. However, the aluminum frame and plastic body shell feels quite slippery in the hand and with something this heavy a grippier feel would have been reassuring.
Rather oddly the volume rocker is in the middle of the handset on the right hand side, with the power button only slightly above it – much further down than with the Moto X. The new design takes a bit of getting used to and the button positioning makes the Nexus 6 harder to use one-handed, since you can only hold one half the phone to adjust them.
If you're going to spend $649 for the 32GB unlocked version, or $699 for the 64GB version, then a few extra bucks on a shock-resistant case might be worth it to protect the Corning Gorilla Glass 3 screen from damage. A test from three feet onto carpet left the phone unscathed, but trying that over a hard surface could be very damaging and, if the Nexus 5 is anything to go by, the screen will be difficult to replace.
That 5.96-inch AMOLED screen is, however, excellent if unscathed. At 1440 x 2560 this is a proper viewing platform and with 493 ppi the resolution is hard to beat. Colors are bright and clear, and the 32-bit ARM-compatible quad-core 2.7GHz Qualcomm Snapdragon 805 processor, the Adreno 420 GPU, and 3GB of RAM make this phone more than proficient at handling almost all kinds of use.
Using the AnTuTu benchmark the Nexus 6 scored a very impressive 49,382, and that's without memory optimization. The Qualcomm processor did run a little warm after a series of tests, but not uncomfortably so.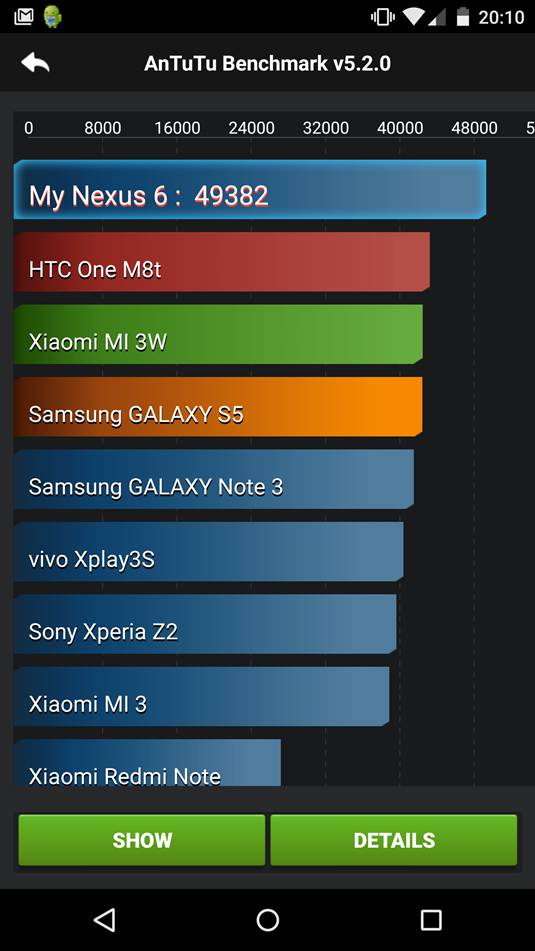 GPS, 802.11ac, Bluetooth, but no microSD card slots
Besides the screen, the front fascia holds a two megapixel camera for videoconferencing and dual speakers, top and bottom. On the back is a centrally mounted 13 megapixel camera that's recessed slightly into the body - a much better solution that the Nexus 5's raised camera that felt like it was made for scratches - and a Nexus and Motorola logo. A micro-USB port is in the base of the unit with a 3.5mm headphone port and nanoSIM port on top.
Internally there are all the usual bells and whistles: GPS, 2x2 802.11ac, Bluetooth 4.1, accelerometer, near-field communications hardware, and a wireless recharging module using the Qi standard. Just what you'd expect for a phone at this price point with no real surprises, and Google is still insisting on eschewing microSD card slots – and many Reg readers and this reviewer feel their lack.
However, the battery packs a whopping 3220 mAh, and it's this (along with the software to run it) that makes the Nexus 6 really shine. The battery is annoyingly non-removable, but the Nexus gives true full-day use, and can last considerably longer for the canny user. The new build of Android makes a lot of difference in this regard, but more on that later.
To help with this the power charger, Google shipped out with the review handsets can power up the phone for hours of extra use in 15 minutes, and give you a full charge in about 100 more. We got around three days standby battery out of the Nexus 6 and a full day of normal use with ergs to spare.
In terms of general hardiness, the Nexus 6 feels more solid than its iPhone counterpart but not as hardy as a Samsung or HTC. It survived extensive jostling in rucksacks and coin-ridden pockets with nary a scratch and not too many greasy fingerprint marks.
As phablets go there's nothing here that screams "must have" from a hardware perspective, but it is significantly cheaper than its competitors. However, the Nexus isn't really about hardware, but a chance to show off software too.
My girl Lollipop
The Nexus 6 is the showcase machine for the fifth major version of Android, codenamed Lollipop.
On release date, or shortly afterwards, other Nexus and Motorola handsets will be upgradable to Lollipop but the Nexus 6 is designed to run the new operating system to its limits. Based on early usability testing the latest build is a significant improvement in a lot of areas, but not all.
The biggest weakness comes when you turn the Nexus 6 on. We moaned about the Nexus 5 taking over 20 seconds to boot, but with this model booting up the phone from cold took an average of 31 seconds to get into gear, and that's on factory reset level. Load it up with apps and the boot time takes considerably longer.
But once you're got the Nexus 6 going then the device is very easy to configure if you have a Google account. Settings, apps, and passwords are all easy to transfer, although it takes time and bandwidth, so make sure the Wi-Fi is connected before beginning unless you want a hefty bill from your network provider.
Google has made much of its new Material interface design but the response from this reviewer is a decided "Meh" - sure, the icons look slightly better but there's little there to excite the user in terms of pure look and feel – although the smoothness of the screen movements is much better than the last Android build and it remains to be seen what developers can do with the Nexus 6's quad-core processor and GPU.
That said, screen response times are noticeably faster in Lollipop and a lot of that is down to a new virtual machine called ART, which replaces Dalvik. Google claims a 2X performance boost with the new engine and it appears to have paid dividends in terms of graphics performance.
The first thing you notice about the new build is that the icons at the base of the screen have changed, becoming more geometric and reminiscent of a games controller. The Home button is now round, the left-hand back button is an equilateral triangle on its side, and the applications viewer is a square.
It's in the latter button that users will see the most change. Instead of displaying running apps in as 2D screenshots, Lollipop presents them as a 3D rolodex that can be flipped though at will. It's a good looking design, and the only quibble would be the kill button in the top right of each app is too small, so it's easier just to swipe them to the right of the screen to get rid of apps.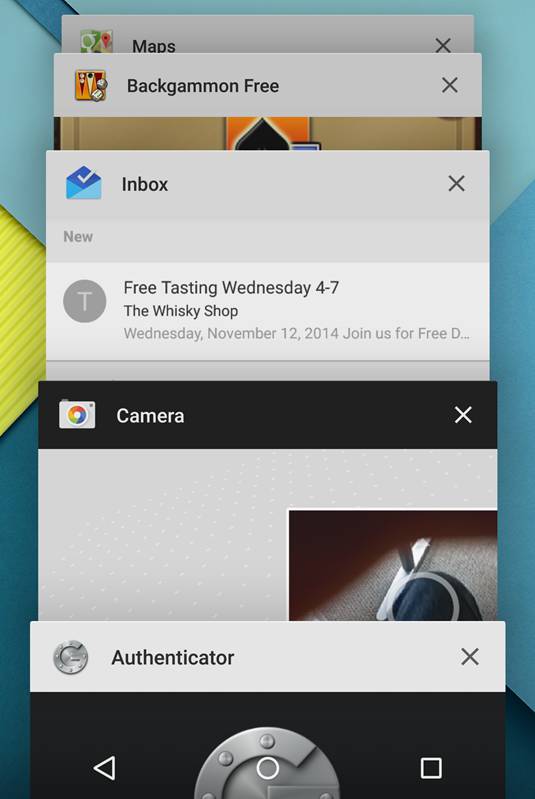 RAW images at last
The other big usability change comes in the notification screen. This will show easily clickable links to whatever is happening with applications when you're not using the phone – think Windows Phone tiles in linear form. Thankfully this data stream can be managed so only important apps get to display, but it takes some time to sort out.
Gmail has also had an extensive overhaul so that it looks prettier, although it's arguable if the change shows more information or less. Users of Google's new Inbox app will see where the design is going, and expect the two to be merged in the medium term.
Despite the changes this is still easy to use for existing Android users and other applications have been refined, rather than altered. The voice recognition system seems to be much better, and Maps certainly benefits from the bigger screen and faster processor.
In terms of camera functionality Google has made some serious advances in its image management software, and Lollipop users does at last give access to RAW files. Windows has been the pioneer in this regard, and Apple the laggard, but Android's shift will be welcomed by many smartphone snappers.
But the biggest improvement in the new Android build is without a doubt battery life. Cutting down on battery use has been a key goal of the new build and Google started Project Volta to see where power could be saved.
The results are impressive. Battery life is pretty good for a Nexus and there are much better tools for both monitoring consumption and a battery saving mode that can really extend the lifetime of operations - perhaps not on a par with Samsung in the latter capability, but pretty close.
On the security side you'll need to lock down the handset pretty quickly, and encryption is easy to activate, much to the fury of some law enforcement officials. Lollipop also allows you to turn on the phone in the presence of a trusted device, such as a smartwatch.
Overall, the new build of Android is undoubtedly Google's best to date and will reward those people who use a Chocolate Factory persona. There's nothing killer to woo over huge numbers of customers but existing users will love it and Apple or Windows Phone users could well be tempted.
The Reg verdict
As a phablet the Nexus 6 holds up reasonably well. It's not as advanced in hardware terms as most of the competition, and is larger and heavier, albeit with a very large screen size. But it's also significantly cheaper than rivals too, and it does "good enough" very well.
Design-wise it hides its flaws well, looking a lot thinner than it is, although it lacks the panache of a Sir Jony design and some of the features you'd find in a Lumia or Samsung. It also lacks a microSD port and a removable battery, although the fast charging capabilities of the Nexus 6 are a major plus point.
But, if you're used to Android, Lollipop is a really big step up and it's going to be interesting to see how that impacts the rest of the Android market. Nexus units aren't designed to be big sellers, more show horses, but Motorola (now newly sold to Lenovo) will get a big advantage in being first to the new operating system.
The gut check for any reviewer: would you spend your own money on the product? In the Nexus 6's case, possibly. The app choice is much better than Windows Phone or a BlackBerry passport, and the handset is much cheaper - and seemingly more sturdy - than an iPhone 6 Plus.
Samsung and HTC have interesting models, but there's something appealing about a smartphone running the latest hardware that has been built to optimize a particular operating system, as Apple users are well aware. So possibly, but not certainly. ®