'Blah, blah, blah', as Uncle Fester once said
Future Decoded Once upon a time, around every November, Steve Ballmer visited the UK on an official, annual state visit.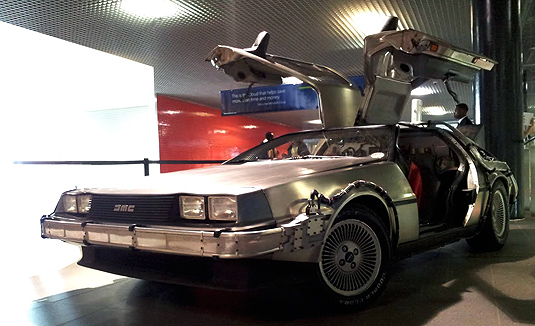 Microsoft parked a giant metaphor DeLorean at the entrance to its Future Decoded conference in London
Microsoft's ex-CEO took time out from meeting customers to meet selected national press or trades to whom he'd say controversial or strategic things for "the message" to be picked up and percolate.
Now it's Satya Nadella's job to press palms with the UK masses in November.
When he spoke at Microsoft's Future Decoded event in East London on Monday, it seemed this would be the annual message delivery – only this time the platform was literally a stage.
Microsoft's Future Decoded would see Nadella provide an "insight" into Microsoft's "journey" and... You knew where this was going.
Nadella surrounded himself with a circle of "visionaries" to chew on "the future": Jeremy Paxman, Dame Stella Remington, Sir Martin Sorrell, Sir Bob Geldof...
Nadella has been Microsoft's helmsman since February 2014, when he first started talking about the contradictory strategy of "mobile first, cloud first".
Nearly a year in, there's no update or advance on the message. No detail... nothing extra.
The message is...
During a softball so-called Q&A, there was the by-now familiar talk of productivity, digital lifestyle and consumer work experiences.
"Blah, blah, blah," (to quote a former Microsoft CEO).
This might have been moderately acceptable had little happened at Microsoft in the last nine months.
A LOT has happened during Nadella's reign and in the months leading up to it. We've seen the arrival of Office on competing, non-Windows mobile platforms. We've seen the purchase of mega game factory Minecraft. And everyone has noted the strangely dwindling market for Surface and Windows Phone.
It was as if the last nine months had happened to another CEO's company.
I left from Nadella's convivial message session with a headache, not because I had a head crammed full of thoughts, but because I'd been subject to an hour-and-a-half of the same word over and over again: "productivity."
It was like I'd been beaten up by an assailant wielding a pillow. This wouldn't be a problem, except for two issues.
The first problem revealed itself during the achingly predictable Q&A, when Nadella made a shocking admission – that productivity is boring.
"Productivity as a single word doesn't have that emotional appeal, but look behind what one does - it's the empowerment one needs to have, the freedom one needs to have," he said.
Of course he didn't say "boring", he said "emotional appeal", but he meant boring – in the same way things like iPhone, Facebook, Oculus Rift, Apple app store, Google search and Glass have "emotional appeal" and aren't "boring".
OK, Satya, we'll bite. Boring – but tell us how Microsoft can make them emotionally appealing?
There was something about software and tools, platform and developers, Windows Azure and Office 365 and a bit about startups being the lifeblood of the economy. That was it.
You can't stop the chain reaction of a scripted Q&A and so it was in London on Monday that Nadella's Q&A relentlessly ground to its inevitable end.
Walking away, it wasn't just me or the rest of the press who were left scratching their heads about what had just been said.
Delegates appeared confused, too.
One partner confirmed my suspicion in their own words: Nadella had been boring. Where was the excitement and inspiration? And that's the real problem. He'd given the masses nothing to hold on to, no reason "why" they should pick Microsoft.
Why is this important?
Come back, Uncle Fester – all is forgiven
The genius of Ballmer was he was a general who knew how to rally the troops – a Patton who shot from the hip. Like him or hate him, everyone – employees, partners, enemies – knew where they stood and why.
That excitement is vital because Microsoft has to let customers and partners know what it stands for and why they should buy into Microsoft.
That's needed now more than ever, because in every segment that matters to "the future", Microsoft is late. Microsoft has failed to define the future in any of these segments and it has suffered because it now needs to catch up.
The foray into cloud – that was led by Amazon. Software as a service – Salesforce. Devices – Apple and Google. Online collaboration – Google with Docs.
Microsoft did give us Windows 8, but...
Microsoft's new CEO
Nadella's leadership is very different to that of Ballmer: the new CEO styles himself as a pragmatist. A former server guy, he's bringing that team's pragmatism to Microsoft corporate face and breaking with tradition: Office is no longer only just for Windows.
But in setting Office free of Windows, what does Microsoft get in return? Yes, more users and their data, but what if the customers eschew Office? Why should customers pay to use Office or Office 365 when they get Google Docs for nothing? Where the customers go, the SIs follow – and without customers, what is there to integrate and customise? Why should they take on the expense of creating a market when the trend is going against it?
None of this was explained on Monday. There was no rallying call.
Nadella is now so encompassing and strategic, he's forgotten to say why Microsoft matters. And that matters because, as in nature, competitors abhor a vacuum.
Our partner friend reckoned Nadella's done no harm to the Microsoft business since February 2014. His fine words have made no difference to the boots on the ground.
In fact, Microsoft under Nadella is making it easier to do business with customers who want more than just the single Microsoft stack. There's plenty of existing business there to mine – old Windows shops migrating servers and going to Windows Azure, ripping out PBXs for Lync or going to, shock, Windows 8.
What Microsoft is doing in the cloud is what it has done in the past: selling the same old collaboration and productivity ideas, concepts and technologies it has been doing for 30-odd years. Only now, the enemies are Google, Salesforce and others – not just IBM with Lotus Notes.
In many ways, it's "back to the future" for Microsoft, which could explain why it parked a DeLorean at the entrance to Future Decoded. It said more and without words than what Nadella or the others did.
Fittingly, it was the DeLorean that got most of the attention from delegates, who fought each other off to snap selfies with the car.
The question for Microsoft is how it will re-package what it is already selling in this highly diversified competitive environment while - at the same time - giving away the family silver, items like Office.
After nearly a year in charge, it's time for Nadella to update his message and channel his inner Ballmer. ®