Cupertino computer in value for money shocker
Review It's kind of ironic really, that the most expensive, over-the-top version of the iMac ever released should actually turn out to be pretty good value for money.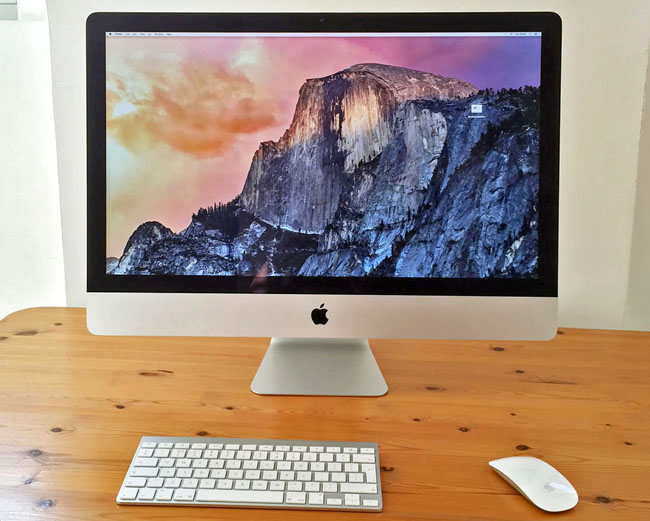 Costs on a par with a 5K monitor: Apple's iMac with 5K Retina display
The so-called "entry level" iMac launched a few months ago may start at (what is for Apple) a relatively affordable £899, but it barely offers the performance of a budget laptop. In contrast, the new iMac with Retina 5K Display starts at a pocket-punishing £1,999, but it provides stronger performance than any previous iMac model – along with a display that none of its Windows rivals can currently match in an all-in-one package.
Indeed, the 5K Retina display is the big draw here and boasts an eye-popping resolution of no less than 5120 x 2880 pixels. That's a total of 14.7 million pixels, equivalent to four times the resolution of the previous 27-inch iMac models and way beyond the 8.3 million pixels of a 4K display.
Apple will happily regale you with the technical details of the Retina Display's design, such as the custom TCON – time controller – that it developed to keep all those pixels in sync, and the "compensation film" that ensures consistent contrast across the entire display. The bottom line, though, is that the 5K Retina display really is superb.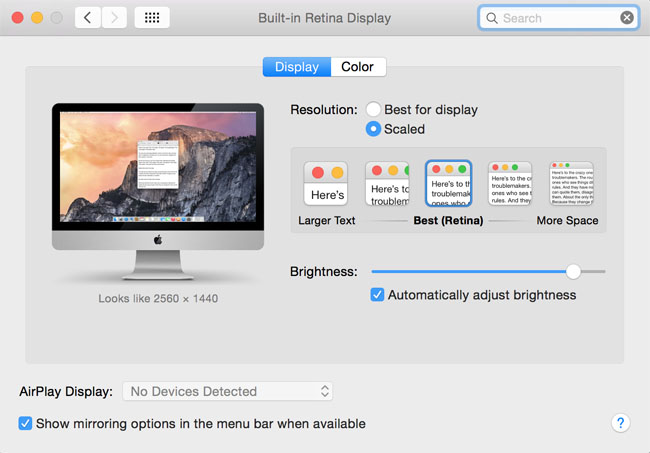 Scaling options: examples make it easy to work out the best viewing choice
My office iMac is one of the standard 27-inch models with 2560 x 1440 resolution, and the difference between the two was immediately and visibly obvious. The image on the 5K iMac is brighter and sharper, with richer colours and excellent contrast. The simple photography that I need to do for reviews such as this really doesn't require a 5K display, but I'll miss it when it goes back to our friendly dealer and I return to working on my older iMac.
Like the Retina-equipped MacBook Pro, the 5K iMac provides a number of "looks like" scaling options for the screen that adjust the size of text and graphics to mimic lower resolution displays. By default, this is set to "look like" 2560x1440 – the same as my office iMac – so I found it perfectly comfortable to work with.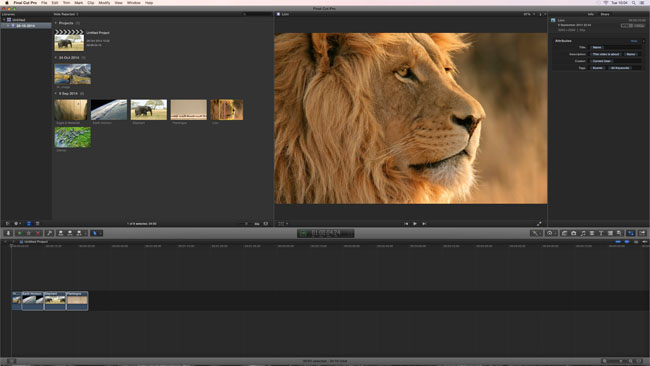 Screen real estate on Final Cut Pro X – click for a larger image
Applications such as the Final Cut Pro video editor didn't force me to squint in order to view toolbars and menus properly. And, of course, the logic behind the 5K display is that it allows you to view 4K video at full-size while still leaving an extra 1K chunk of pixels for the toolbars and controls of Final Cut Pro and other high-end editing tools.
Missed the target
But Apple giveth, and Apple taketh away. Obviously aware that a 5K display at this price will be tempting for many professional users, Apple has disabled the target-display mode that would have allowed you to plug a Mac Pro – or even the new Mac Mini – into the iMac's display in order to save money on buying an expensive 4K display.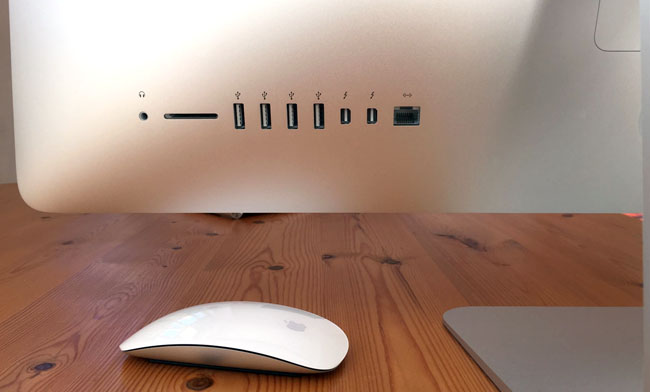 Two Thunderbolt 2 ports but no option for target display mode
Pricing comparisons are a bit tricky as the iMac's 5K display is currently unmatched by any of Apple's PC rivals. The 5K display recently announced by Dell is expected to sell for around $2,500 (approx £1,800 inc VAT) when it ships at the end of this year. But that price is for the display alone, so Apple could dangle an old ZX Spectrum off the back of the Retina Display and still boast about its value for money.
Fortunately, the 5K iMac offers considerably more performance than a ZX Spectrum. Prices start at £1,999 for a model with an Intel 3.5GHz quad-core i5-4690 CPU with 8GB of RAM and a 1TB Fusion drive – Apple's term for its hybrid HDD/SSD combo.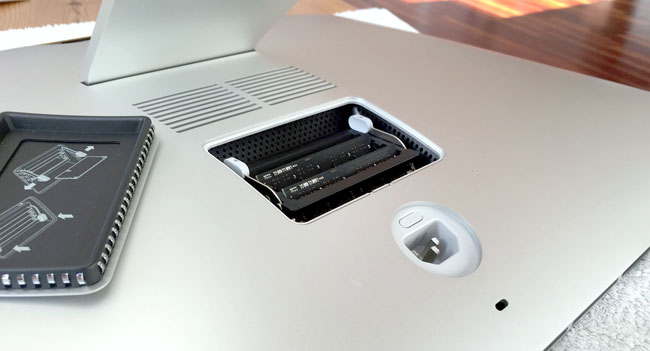 The 27-inch iMacs have always had a back panel cover for memory upgrades
That processor speed is only slightly faster than the 3.2GHz of the non-Retina iMac that is still on sale for £1,499, and a quick spin with GeekBench confirmed that its raw processor performance is only about 10 per cent higher. However, the Fusion drive and the inclusion of a Radeon R9 M290X graphics card give it a real performance boost in other areas.
The conventional hard drive used by the non-Retina version of the iMac could only manage read and write speeds of around 180MB/s when running the BlackMagic disk test. However, the Fusion drive of the 5K iMac was able to manage a read speed of 710MB/s and write speed of 315MB/s.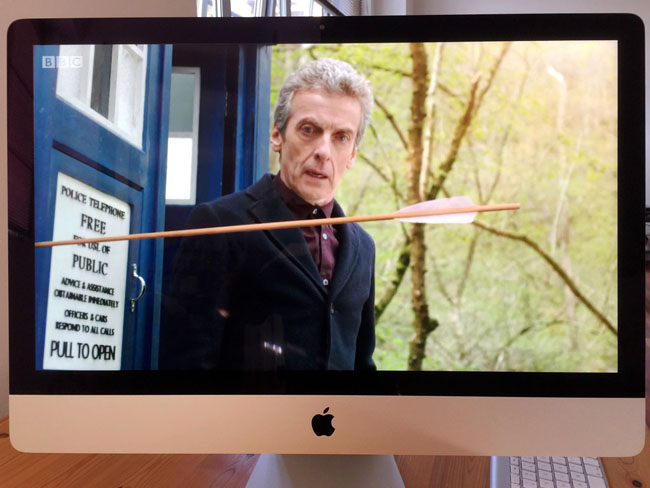 Impressive picture and ready for 4K Netflix too
Graphics performance is considerably stronger too. When running the Mac-native version of Batman: Arkham City, the 5K iMac was able to hit 55fps even at 2560 x 1440 resolution with all graphics options on their highest settings.
By contrast, the non-Retina iMac could only manage 31fps, which makes the 5K iMac around 77 per cent faster on 3D graphics performance. The Mac Pro that we reviewed earlier this year managed 67fps on the same test, but that costs £2,499 without a monitor, so the 5K iMac certainly provides a better all-round combination of price and performance.
Viewing Windows
For Apple Boot Camp aficionados, we also installed Windows 7 and fired up the PCMark 7 and 8 benchtests. The former test wasn't impressed by the Fusion drive, producing a distinctly mid-range score of 3,500 points. However, the PCMark 8 Creative Suite focuses more on video and graphics work, where the Radeon graphics card helped it to achieve a very respectable score of 5195.
The Boot Camp installation was painless, and the only oddity we noticed when running Windows 7 on the iMac was that the Windows display was limited to 4K resolution of 3840 x 2160. Discussions on Apple's support forums suggest that this is a limitation of AMD's video drivers, but we doubt that Apple will be losing any sleep over that.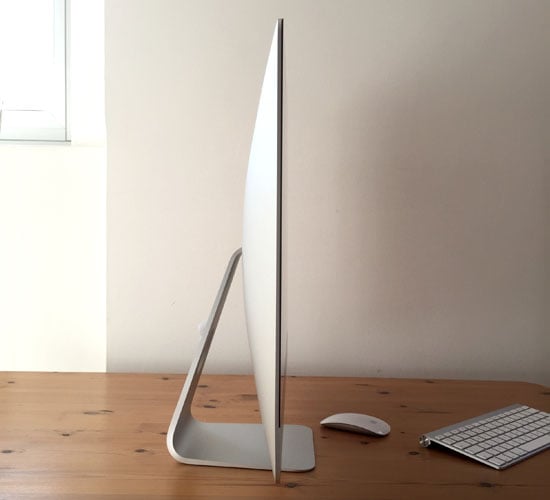 Still the same curves
The 5K iMac doesn't offer the same range of configurations and upgrade options as previous models, but you can upgrade the £1,999 base model to an Intel quad-core 4GHz Core i7-4790 processor for a further £200, while a Radeon R9 M295X also adds another £200.
Unlike other recent Apple updates, the 27-inch iMac models do still allow you to upgrade the memory yourself, so you can avoid expensive Apple Store upgrades such as £160 for an extra 8GB of memory. The intrepid souls at iFixit were able to dismantle the entire unit in order to reach the Fusion drive, but that's most definitely not a task for the faint-hearted.
Less nerve-wracking but more expensive, the Apple Store will allow you to increase the Fusion drive to 3TB for £120, or swap the standard 1TB Fusion drive for 256GB of Flash storage. It turns out that that option doesn't cost anything extra. Sure, it will give a boost to overall performance, but if you're planning on keeping the Mac for a while, 256GB will soon feel rather small for multimedia projects.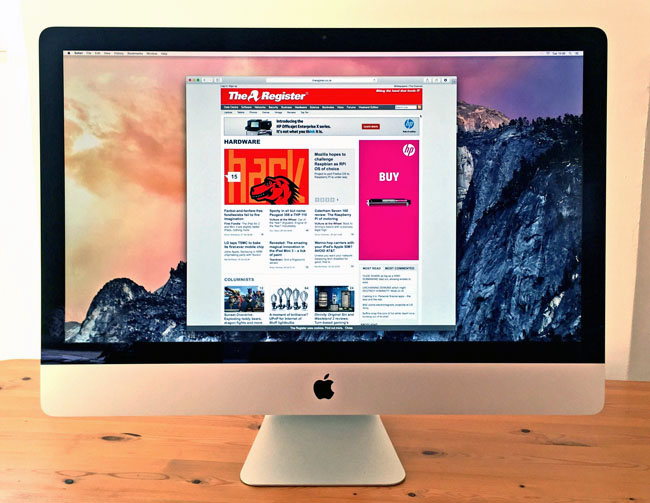 Plenty of screen real estate for web browsing and more
Lest we forget, the 5K iMac now includes two Thunderbolt 2.0 ports, so you can add high-speed Thunderbolt drives for maximum performance but for a price, or simply use one of the four USB 3.0 ports to add cheaper storage options.
The Reg Verdict
It's certainly not the home computer that it used to be, but the iMac with Retina 5K Display will have designers, photographers and video-editors chomping at the bit. Most of them won't actually need the 5K display and will be able to work perfectly well with the non-Retina iMac models that are still on sale.
However, an all-in-one machine that offers a 5K display and high-end graphics workstation for £2K is a mouth-watering temptation. And, just for once, your accounts department won't be able to point at a cheaper PC alternative. ®
Thanks to Jigsaw24 for the loan of the iMac 5K Retina display.