CEO: Scale-out hyper-converged systems? Pah!
Comment Flash will replace all enterprise tier 1 storage, and shared arrays will prevail over server-side SANs, while network latency remains a solvable computer science problem, argues Violin Memory CEO Kevin DeNuccio.
The market and technology shocks waves of cloud, virtualisation and flash are coming Violin's way, with the all-flash data centre now a real prospect with 3D NAND technology opening the way to cheap-and-deep storage moving from disk to flash as well as tier 1 storage.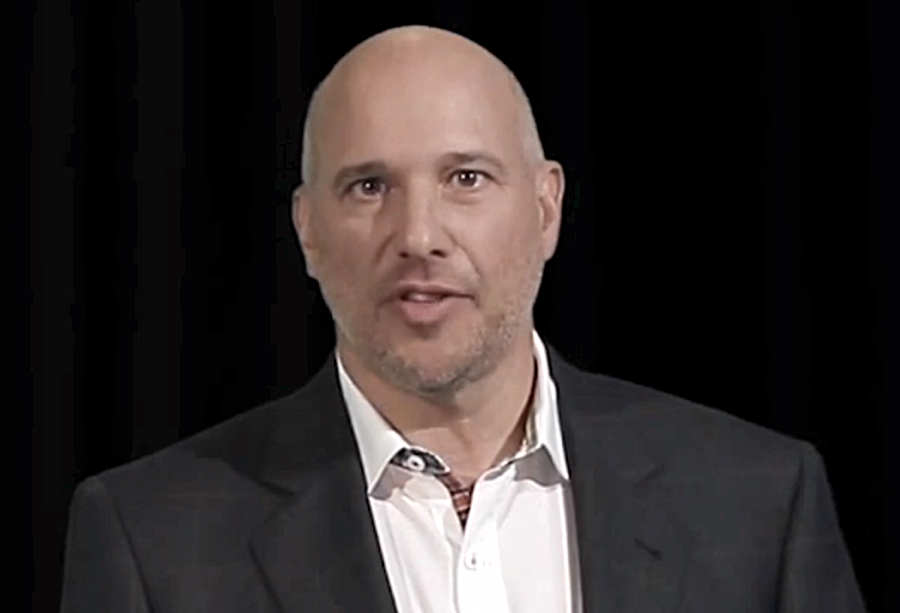 Violin Memory CEO Kevin DeNuccio
He's now nine months into the role of CEO, and estimates the business has returned to growth and that its VIMM technology base gives it a significant advantage over the SSD-based all-flash array players, both start-ups and mainstream vendors.
Growth renewed
The designer and manufacturer of computer data storage products, founded in 2005, will announce its third-quarter results next month. The second quarter exhibited nine per cent quarter-on-quarter growth and Violin then expected a 10 per cent on quarter growth rate for the third quarter.
"I think the growth rate is accelerating," said DeNuccio. "We'll be conservative and methodical" as we grow, looking to build an order backlog.
DeNuccio estimates a 40-50 per cent annual growth rate is sustainable. The cash burn rate was $40m/quarter when he joined; it's now $15m.
Violin pulled in an additional $120m funding via a convertible note three weeks ago. With the $80m in the bank at the end of the second quarter, it now has three years cash available, assuming the current cash burn rate remains. "We do not need any more cash to get to profitability," DeNuccio claims.
Shared or server-side SAN
The growing prominence of server-side SAN and scale-out hyper-converged system ideas does not constitute a real threat to Violin, claims DeNuccio, who estimates internode comms and scalability will be problem areas. Shared arrays have a network latency problem but that's a solvable issue by computer science, he argues, and not just a case of using faster interconnects such as InfiniBand or an external PCIe fabric.
"I actually think shared infrastructure will win," states DeNuccio. Servers, storage and networking each have different development cycles that are not in phase, so the hyper-converged suppliers will be behind the curve in one or two of these areas.
It's good to have faith, but some people would like a little more basis for belief than computer science optimism.
We can be sure that the majority of enterprises with multi-tier, multi-platform data centres will not easily move via rip-and-replace to a single hyper-converged system architecture. That would require a leap of faith.
However, they may well move to having a single flash storage system for all their tier 1 storage if it supports multiple workloads with consistently fast and dependable service at less than tier 1 disk array cost – VMAX out, Violin in.
DeNuccio believes Violin can do this because it's VIMM technology hardware base and software will provide the multi-app support needed. Always-on dedupe flash arrays won't be able to that, wasting their cycles in trying to dedupe un-compressible workloads such as databases. Being able to have dedupe and compression switched on where appropriate and switched off where not will be advantageous, argues DeNuccio.
Three dimensionality
Layering planar NAND cells will add capacity to NAND dies by making them thicker, by building (as it were) a block of apartments instead of single story buildings with the same footprint. This can be done with existing MLC flash, the two-bits-per-cell stuff, which is inherently faster and has a much longer working life. Also, with so much (3D) space to play about in, theoretically, you can use an older, and larger cell geometry and get even longer endurance while still increasing chip capacity.
DeNuccio says that Violin has expanded from having a point product to having a full set of flash products providing a tier 1 storage alternative. "Ultimately, we can see a move by the market to all-flash," he says, arguing most visionaries are only seeing the potential for flash as a tier 1 storage medium with disk providing the chap and deep bulk storage.
"3D will make the difference ... [there] will be an enormous difference in cost [and] it could change the players." He sees three main operators for flash as Samsung, SanDisk and Toshiba. Not Micron, although it "has a lot of DRAM equipment it could transfer to NAND".
Violin will benefit from 3D NAND: "[With] products in the first half of next year ... we'll distance ourselves dramatically from anyone else using SSDs [and] the next-generation system will be a leap forward in hardware architecture."
He argues SSDs are over-provisioned by 50 per cent and Violin can do much better than that with its VIMM technology. "We have visibility into the entire NAND stack. SSD users don't." Both all-flash array suppliers and server-side suppliers using SSDs will be at a technology disadvantage because of this.
Waves of change
DeNuccio thinks tier 1 storage's move to all-flash will happen very fast, with "an enormous effect on existing vendors".
DeNuccio also talks of waves of change hitting the industry, with "EMC in play. HP splitting up, [and] cloud, virtualisation, and flash are all happening at the same time. It's very disruptive".
He predicts business IT use will bifurcate, with SME users going to the public cloud and larger enterprises using private clouds — bursting to the public cloud where necessary and then reverting to their private clouds when the burst need us over.
It makes us think that the old question — what storage startup can emerge from the pack to become a platform company, as NetApp did many years ago — is no longer relevant. It's the wrong question.
Unlike NetApp, which grew into a full disk storage protocol and architecture company – NAS, iSCSI, SAN FC, single and clustered arrays – the storage world Violin is growing into is not disk-based any more. The storage game rules have changed and software can add the pieces Violin (and other flash array startups) need without them building head-to-head products to compete with the mainstream vendors' legacy product set.
Can Violin ride the change waves and emerge back on top? It's too early to tell, but the company is in goodish financial shape, re-energised in product development and better organised in its channel operations. ®