No, silly... he was the fall guy for years of Finnish folly
Review Stephen Elop's decision to bet the farm on Windows Phone makes him the world's worst CEO, according to a new book published this week.
Operation Elop by Pekka Nykänen and Merina Salminen interviews former Nokia staff and arrives at its judgement based on the decline in Nokia's market value from 2010 to 2013: from €29.5bn to €11bn.
When Elop took the reins, in Q4 2010, Nokia still had a market share of 28.2 per cent in phone sales, shipping 117 million units to Samsung's 71 million and Apple's 13.4 million. At the time, Nokia's mobile OS of choice, Symbian, enjoyed 36.6 per cent of the smartphone market – making it the largest platform – and Apple's iOS just 16.7 per cent.
Granted, Nokia's share was declining – but that decline was to accelerate sharply. The market was buying a new, more capable kind of phone from Apple and Android licensees like Samsung. Pent-up demand for these devices, with which Nokia apparently could not compete, was about to explode. Wind forward four years, and the smartphone market is now around 300 million devices per quarter, almost 3x the volume.
Did Nokia overestimate its own hype?
But how fair is it to blame Elop for Nokia's years of neglect? Elop inherited a dysfunctional bureaucracy, warring factions, and a product team that took 18 months to develop a mediocre device. Nokia executives tended to overestimate its formidable brand and distribution power. And its own technological advantages in battery power and call quality were about to become much less important in the new era. Whoever took the CEO's seat in September 2010 needed to address these challenges – whatever decisions he or she would take.
Nokia employed over 16,000 people in phone R&D when Elop took the helm. One in three dollars spent in global phone R&D was being spent by Nokia, which devoted more resources to it than Apple devoted to all its products. Yet the Finnish firm still couldn't produce a competitive device.
Elop concluded Nokia's own software factory was beyond repair, and by choosing Window Phone, effectively outsourced the lot to Microsoft. (He maintained some platform development in-house: the low-cost Series 40 featurephone platform, and for a while, a Unix for midrange phones, until this too was eventually scrapped).
"Plan B is to make sure Plan A is very successful," Elop told reporters in June 2011.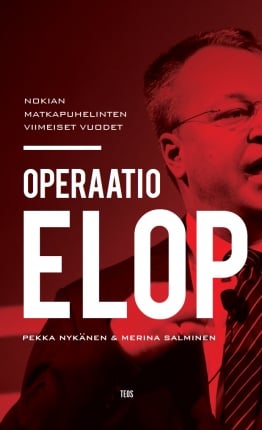 Operation Elop debunks the weird conspiracy theory that Elop had been brought in to sell the company back to Microsoft cheaply. This "Trojan Horse" theory is popular with with Finns and old Nokia devotees as they place the blame for Nokia's fate outside the company, on outsiders, not on the company its culture and organisation, which they feel are blameless.
The book also asserts that he was sold a pup: Nokia didn't realise you couldn't make conventional phones using Windows Phone. This assertion is almost as mad as the Trojan Horse conspiracy. Neither is plausible. Nokia had originally wanted to license its future platform, Meego, to all comers, but nobody was interested – so it would have had to plough a lone furrow, as BlackBerry has had to with BB10. And with similar consequences.
A more rounded explanation comes from David Wood's epic history of the phone wars, reviewed here.
We're standing on a burning platform
Wood pays tribute to Elop for introducing urgency to a catatonic organisation. His "Burning platforms" speech and strategy focused the company on survival. It was a reasonable bet that Nokia needed big alliances to help restore its fortunes, and Microsoft had deep pockets.
What is more plausible is Wood's observation that Elop and Nokia had over-estimated the maturity of Windows Phone, and the speed at which Microsoft would have feature parity with Android. Google's Android developers simply stepped on the pedal, and in a cloud of black smoke, accelerated into the distance.
"Even a cursory examination reveals a set of important ways in which Windows Phone 7 was uncompetitive as compared to Symbian… limited support for languages such as Chinese; options for 'operator customisation' were few and far between; [and] hardware requirements were higher, implying more expensive devices," Wood notes.
When Elop burned his platforms, Symbian sales went off a cliff: leaving Nokia nothing compelling to offer for two years. And it couldn't simply pull Windows Phone out of a hat like a conjurer's rabbit, to fill the gap.
Then came another nasty surprise for Nokia: Microsoft was in the midst of moving Windows Phone from the thrown-together Zune-in-a-phone origins of WP7, based on Windows CE and Silverlight, to an NT kernel that could use multicore chips and native code. This meant a long delay. It also meant that Nokia's first few phones on Windows Phone 7, such as the Lumia 900, wouldn't be forward-compatible with a platform update issued just six months later. Apple, meanwhile, was upgrading three-year-old phones to its latest OS. Microsoft must share some blame for this – along with Elop, who should have done some contingency planning.
Nokia had to wait until early 2013 until it had a full range of competitive products in the market – the Lumia 520 turned out to be a hit – but by then the board had decided to throw in the towel and find a buyer. Without Elop's knowledge, it approached Microsoft and with contract renewal looming, told them it couldn't guarantee Nokia would stay the Windows course.
Nokia gave up on the Elop experiment before it could judge whether it had borne fruit. Faced with losing the OEM that represented 90 per cent of Windows Phone sales, Microsoft rather reluctantly stepped in.
Nadella's Microsoft today shows little sign that it is glad it purchased the crown jewels of the former phone king – and lots of evidence that it had rather not. As for conspiracy theories: perhaps it's time Finnish pundits accept that Nokia's fate lies not with backroom conspiracies or alien abductions, but with years of comfortable mismanagement. I think most do, but that version doesn't sell very well. ®