Nice hardware, shame about the use case
Review Microsoft's Surface Pro 3.0 tablet sees its UK release on 28 August. But why is the Surface fondleslab called Surface?
Microsoft hijacked the name from one of its own existing products, the niche tabletop display now called PixelSense, but a remark by vice president Panos Panay at the October 2012 launch of the first Surface tablet shows why the team liked the name.
"We talk about it as a stage for Windows 8," he said. "To work with the hardware and software teams together, to pull out everything that Windows is bringing to the surface of Surface."
In other words, Surface was designed to show off Windows 8, which back then meant TIFKAM (The Interface Formerly Known As Metro), Windows Store apps, and multi-tasking with a split screen.
"The 10.6-inch screen is the perfect expression of Windows," said Panay.
Customers did not buy it though: neither Surface RT, which was the subject of a $900m write-down in July 2013, nor Windows 8 in general. At least not if they could help it. Look for a business laptop today, and "Windows 7 preloaded" is the constant refrain. Further, the dismal selection of apps in the Windows Store means that even those who do have Windows 8 tend to use it in desktop mode most of the time.
Fast-forward to May 2014 and the press event for Surface Pro 3.0. "This is the tablet that can replace your laptop," says Panay, explaining that the larger 12-inch screen is necessary for a device on which you can do all your work. There is a new focus on desktop applications. Whereas the competitive target of the original Surface was Apple's iPad, Surface 3 is aimed at the MacBook Air.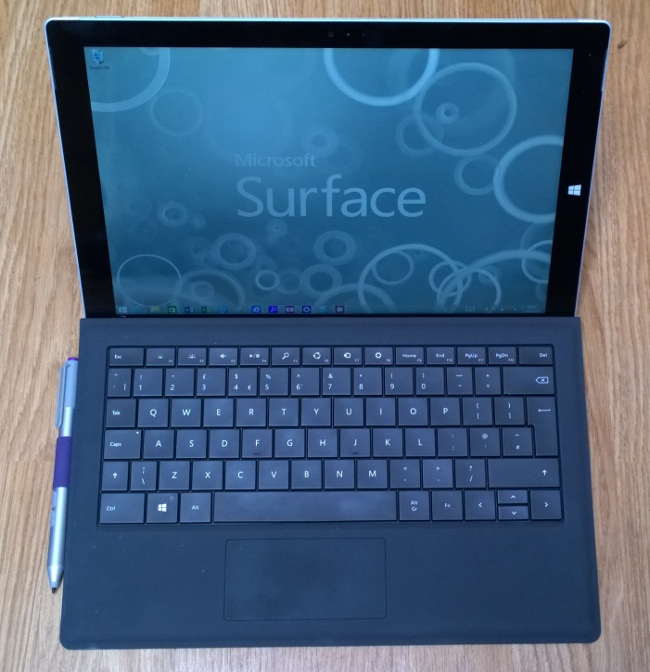 Surface Pro 3: here it is, then
It is a radical change of direction, but more in tune with what Windows users want: a light, portable device that runs everything that runs on the desktop.
What you get is a large but thin and light tablet in configurations varying from Intel Core i3 with 4GB RAM and 64GB SSD, to Core i7 with 8GB RAM and 512GB. The device I reviewed ahead of the official UK launch had a Core i5 with 4GB RAM and 128GB SSD, second from bottom in the range, price £849 including VAT ($999 in the US).
Performance was good but that 128GB SSD is too small for comfort; for many users, the i5 with 8GB RAM and 256GB SSD makes better sense, at £1109.00 inc ($1,299 for US customers).
Can I kick it? Yes you can
The pen comes as standard, but most users will also want a keyboard cover (£109.99 inc) which is the Surface's most distinctive feature. The keyboard is a backlit Type Cover, which means it has real keys; there is no Touch Cover on offer in the new size. The cover attaches magnetically and folds up to protect the screen, or back to enable tablet use without detaching it completely.
New in this version is an improved track pad, after the dire effort in Type Cover 2. This one is pretty good, responsive, accurate, and with handy two-finger scroll. One grumble: there is no way to disable tap-to-click, which is a nightmare for anyone suffering from slightly trembling hands.
The new keyboard also folds up against the bottom edge of the screen to form a stronger, more stable bond when you use the Surface on your lap. This also means that the keyboard slopes down towards you when used on the desk. It is a thoughtful feature, but with a couple of drawbacks. When folded up like this, the keyboard flexes slightly as you type, because it is thin and there is empty air below: not so good. It is also hard to use touch on the taskbar with the keyboard hinge in the way. Your choice, except that the magnet is strong enough that it tends to fold up automatically and it takes conscious effort to use the old flat position.
Surface Pro 3.0 introduces a fold-out kickstand that remains firm at almost any angle. This is a significant advantage, letting you get the most comfortable screen angle whether at a desk or on your lap.
The Windows key on Surface Pro 3 has moved to the right hand of the screen, possibly to accommodate the fold-up keyboard. A snag with this arrangement is that you are more likely to hit the home button by accident. If you use the tablet in portrait mode, which makes more sense now that the screen ratio is 3:2 rather than 16:9, the position of the Windows key is just right.
The display itself is 2160 x 1440 with 10-point multi-touch, driven by Intel HD Graphics 4400 (or HD Graphics 5000 in the i7 models). There is a mini DisplayPort which can drive an external 4K display alongside the internal display, or two additional 2K displays (2 additional HD displays if you have an i3 model).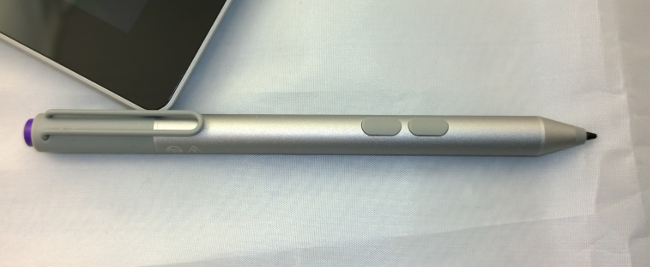 The Surface pen is a thing of beauty, until you lose it
Graphics on the Surface 3 are sharp but with a few caveats. First, it is a glossy screen, which means you get reflections. Second (and related), the display is poor in outside light. Third, scaling is a problem with some applications, if they are not dpi-aware (which means using Microsoft's API for scaling nicely on high density displays). Many are not; for example, the latest Adobe Photoshop requires an "experimental" setting to make it dpi-aware.
Even the original Surface Pro 1 was a Core i5, but Intel's Haswell architecture along with other tweaks has transformed performance and battery life. Microsoft claims a nine-hour battery life, though I achieved a bit less. Battery consumption in standby is much improved, though note that if you install Hyper-V, Microsoft's hypervisor, you lose the benefit of Connected Standby, the Windows 8 fast-resume feature. Hyper-V is installed with Visual Studio, so developers take note.
What if you fancy scribbling on the thing?
Despite nods towards touch support in applications like Office 2013, desktop Windows will never be fun to use with touch alone. This issue is the reason for the clever keyboard covers in Surface, and a factor behind the bundling of a pen, a smart aluminium affair with three buttons, one on the top and two on the side (right-click and erase).
If pen computing is your thing, the Surface Pro 3.0 is superb. This model introduces an N-trig active capacitive stylus for the first time (which means your old Surface 2.0 pen will not work): a powered pen with 256 pressure levels and a couple of party tricks. These include the click-the-top button, which wakes your Surface from sleep and opens Office OneNote (desktop or Metro version, you choose) ready for inking. Palm rejection means that you can write naturally without triggering touch events.
For certain applications, design apps like Adobe Illustrator or Photoshop, OneNote, or certain field applications, Surface Pro 3.0 with pen is ideal. A surveyor, for example, could take snaps of a site or property with the built-in camera, insert them into OneNote, and make hand-written notes alongside.
Pen computing is niche though, and despite the excellence of the hardware, Microsoft did not think hard enough about where to park the pen when not in use. It attached magnetically to the power input, but not firmly enough, so it will drop off and get lost. Alternatively, you can stick a pen loop to the keyboard, which is ugly but more effective, provided you always have your keyboard attached.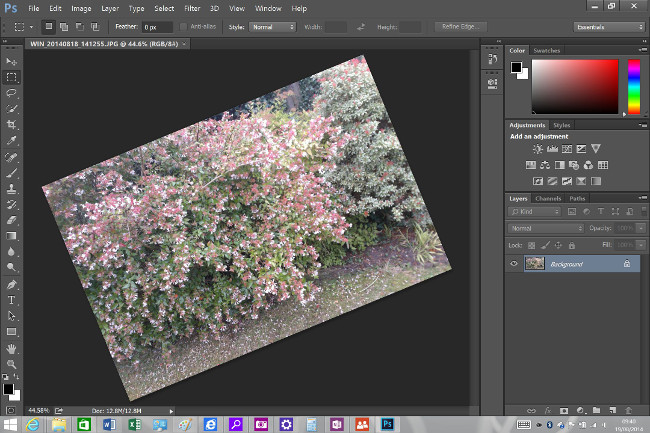 Photoshop works well, once you enable experimental support for high-density displays and touch gestures
What about the tablet aspect? One idea is that users will no longer be tempted to travel with a separate tablet alongside their laptop. Maybe, but app availability remains a problem, as well as the complexity of a PC versus the pick-up-and-go appeal of an iPad or Android tablet. Further, despite its impressive lightness (800g without the keyboard, or just over 1kg with), the larger display can be awkward in places where an iPad is handy, such as when flying economy.
Two cameras give you 5MP 1080p capture front and rear and are much better than earlier versions, making this a decent device for Skype calls or quick snaps when out and about, if swinging about with a 12-inch screen does not put you off. The speakers are noticeably better than on the Surface 2 range.
A complication is performance throttling when the CPU is under heavy load; it is a balance between heat, power consumption and performance but means that a desktop i7 is better for heavy-duty processing.
It is a shame that Microsoft could only squeeze a single USB 3.0 port onto Surface Pro 3.0. More ports requires a portable hub, or use of the optional dock accessory - 3 x USB 3.0 ports, 2 x USB 2.0 ports, Gigabit Ethernet and a Headset jack, for £164.99 inc ($199.99 in the US store).
Surface is Microsoft's opportunity to show how smoothly Windows can run given Apple-like control of both hardware and software. Experience with earlier models has been disappointing in this respect, with problems like the keyboard becoming unresponsive, or the Wi-Fi driver crashing. The review unit has been generally good, though I have seen Word restart after a keyboard disconnect, and Internet Explorer go into a CPU-consuming spin for no apparent reason.
Most of the time though, Surface Pro 3 has been fast and pleasant to use, with only the occasional hiss to remind you that the CPU has a fan.
Is it worth it?
Should you get a Surface Pro 3? It does plenty of things right, with a lovely high-definition display (though I wish it were less glossy), fast performance, and remarkable lightness and portability. The keyboard is not as good as on most laptops, but it is good enough, and if you want to run full Windows everywhere Surface is an obvious choice, expensive but not out of line with most Ultrabooks – and remember, no crapware with this. Those who love pen input should look no further.
The case against is that Surface Pro 3 is too expensive for the mass market, over-sized for a tablet, and the pen a nuisance made necessary by the unsuitability of Windows for touch.
The original Surface was a brave but (so far) failed attempt to reinvent Windows for a new kind of computing. Surface Pro 3, by contrast, is a high-end laptop replacement for those who like or need to run Windows applications. The hardware is delightful, with just a few annoyances, but leaves open the question of just what Microsoft can do to counter competition from Apple and Android. ®