Brit colo firm bailed out by new firm with connections to old
Exclusive Brit data hosting biz Alphadex has been rescued from administration and bought up by a new firm, though there seems to be some confusion over just which firm is its white knight.
Alphadex, which went into administration after British Gas issued a winding up petition for unpaid bills last month, said in an announcement on its website on 24 April that it had been acquired – by iRack Networks Ltd.
But according to sources and documents seen by The Reg, administrator Cowgill Holloway told creditors and customers that the company had been bought by iRack Ltd, not iRack Networks Ltd.
After Alphadex was alerted to the discrepancy by The Reg, the announcement on its website changed to read iRack Ltd, and the company number has also been removed. However, you can see the original statement in a screen grab below.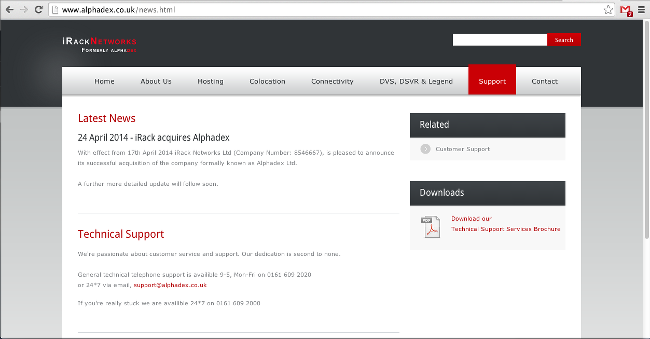 Click to embiggen
According to Companies House filings, Alphadex's original director was Jabir Abadi and the firm was incorporated at an address in Preston in Lancashire, UK. Abadi stopped being director of the firm in October 2012 and the company's address was changed to one in Manchester's Media City in February 2013. The address was changed back to the one in Preston in April this year, on the same day the acquisition was announced.
Up until the end of last week, iRack Networks Ltd was directed by both Jabir Abadi and Dale Eric John O'Brien, and was incorporated at the Preston address. Following inquiries by The Reg last week, these details have changed. Abadi has left his directorship at the company and the registered office has been changed from the Preston address to an address on Victoria Street in Manchester.
Meanwhile, iRack Ltd, the new owner of Alphadex according to the updated statement and the administrator, is registered at the same Victoria Street address and is directed by the same Dale Eric John O'Brien.
A third company, Blue Capital, was the qualifying floating charge holder for Alphadex – in other words, the creditor that holds the security on more intangible elements of the business such as debts, stocks and small pieces of furniture (anything that cannot be a fixed charge).
The qualifying floating charge holder can appoint administrators for a firm in trouble; thus Blue Capital put Cowgill Holloway on the case for Alphadex. According to Companies House, Blue Capital is also incorporated at the Preston address and its director is Jabir Abadi.
In a press release, administrator Cowgill Holloway said that Alphadex had run into cash flow problems after losing contracts following cyber attacks in late 2013 and earlier this year, as well as reaching the end of a major client's contract in February last year. Cowgill said that new owner iRack was intending to "invest heavily" in updating software, hardware, network and infrastructure at the colocation firm to ensure it could withstand a hack in the future.
'Directors are perfectly entitled to set up a new company and that company can then bid for the business'
"Alphadex is a fundamentally sound business with an excellent product range, but a recent sustained cyber-attack on the company servers and issues ultimately beyond its control meant a number of key customers were unfortunately lost, hitting the company disproportionately hard," Jason Elliott, partner at Cowgill Holloway Business Recovery, said.
"After a short period of marketing we were able to generate several expressions of interest and three firm offers which ultimately resulted in a successful sale of the business.
"Due to the sector in which it operates, continuity of service is of paramount importance and by ensuring that there was no disruption during the marketing period we were able to maintain goodwill and preserve the value to any prospective purchasers. We were particularly pleased that we were able to save all 21 jobs."
Denise Fawcett, specialist insolvency partner at Pitmans law firm in London, said that it is not unusual for the management team of a company to buy a business back out of administration.
"Directors are perfectly entitled to set up a new company and that company can then bid for the business," she explained, adding that it was up to the administrator to assess all bids and ensure creditors were getting the best available deal.
She said that the process could be used to help directors out of a sticky situation, but that reputable administrators would not be swayed by what a director wants if it was not in the best interest of creditors.
When it comes to former directors, issues can arise when they've resigned their post but remain behind the scenes, pulling the strings as a "shadow director". Being a shadow director is not in itself illegal, according to HMRC's Insolvency Manual, unless the director has been disqualified from running a company.
"But the existence of a shadow director is a risk indicator. It raises the suspicion that the shadow director is attempting to conceal something by managing the company but not being listed as one of its directors," the manual says.
"For many purposes shadow directors are subject to the same rules and risk of personal liability as registered directors. The problem is proving that someone is a shadow director," Fawcett pointed out.
Administrators are also obliged to give the creditors the full facts about the sale of a company in administration, according to insolvency practitioners' rules, including whether the buyer is connected to the old firm. Cowgill Holloway told creditors that iRack Ltd was an "unrelated third party". ®