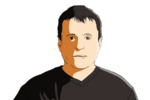 Storagebod is better known as Martin Glassborow, an IT geek who has been playing around with computers for over 30 years; who at the age of 4 having been left alone in a university computer room proceeded to re-IPL the mainframe. He has been breaking IT infrastructure ever since. A career which has taken in banking, shipping, petrochemicals, seismic and many other industries, Martin is currently adrift in a sea of media working on building one of the largest digital media archives in Europe.
I hate to say I told you so, but...
Storagebod Your mileage may vary somewhat but 2014 is already beginning to get interesting from a storage point of view. And it appears to have little to do with technology or perhaps too little technology.
Perhaps the innovation has stopped? Or perhaps we're finally beginning to see the impact of Google/Amazon and Azure on the Enterprise market. Pricing models seem to be being thrown out of the window as the big vendors try to work out how to defend themselves against the big cloud players.
Historically high margins are being sacrificed in order to maintain footprint and vendors are competing against themselves internally. Commodity plays are competing with existing product sets; white-box implementations, once something that they all liked to avoid and FUD, are seriously on the agenda*.
It won't be a complete free-for-all, but expect to start seeing server-platforms certified as target platforms for all but the highest value storage. Engineering objections are being worked around as hardware teams transition to software development teams – those who won't or can't make the move will become marginalised.
Last year I saw lip service being paid to this trend, now I'm beginning to see this happening. This change in focus in long overdue.
If you work in the large enterprise, it seems that you can have it your way...
And yet I still see a place for the hardware vendor. I see a place for the vendor that has market-leading support and the engineering smarts that ensure that support does not cost a fortune to provide or procure.
Such a firm will reduce call volumes and on-site visits but still ensure that the call is handled and dealt with by intelligent people who understand the product inside out. This is becoming more and more of a differentiator for me; I don't want okay support, I want great support.
The move to commoditisation is finally beginning... but I wonder if we are going to need new support models to at least maintain and hopefully improve the support we get today. ®
* (Storagebod predicted this shift here on The Reg back in June last year. – Sub Ed).