Nadella. It's about time. He's been Satya for 22 years
If Satya Nadella is the answer, what was the question?
Let's begin by saying money was not the problem that needed solving: on that, the world's largest software company is printing cash.
In January Microsoft announced yet another record quarter, this time thanks in huge part to Xbox sales over Christmas and its server software.
Microsoft measures its quarters by the tens of billions of dollars, with $60bn of its annual $77bn coming from three units - Windows, Server & Tools and Office.
Microsoft holds its own against the supposed competition of Google, Apple, Facebook and Amazon, and only tiny Apple makes more – albeit much, much more.
But it's these companies that have the mind share currently lacked by Microsoft, which bestrode the 1980s and 1990s like a colossus.
The reason former CEO Steve Ballmer's seat is being occupied by somebody else today is because Redmond's chair-flinging former boss failed to anticipate market-changing shifts that allowed Google, Apple, Facebook and Amazon to be mentioned in the same breath as Microsoft.
It's this failure and his slow start that has not only put Microsoft behind, but also started a debate about how the baton of innovation has passed from Microsoft to the tech companies of Silicon Valley.
The question, therefore, is: can Microsoft's third CEO help the firm reclaim its place among the technology innovators?
That is Nadella's primary mission, I'd argue, and that is why he got the job. Nadella first and foremost is seen as a technologist – a maker and a coder.
Another factor that landed Nadella the position is that he's a safe bet. Forget all the talk of Ford's CEO Alan Mulally. Ford's man would have brought in his own plan and his own people who would not have had the sensitivity for the "Microsoft Way" or what it had achieved. It would be like the England national football team hiring a foreigner as manager. Ahem...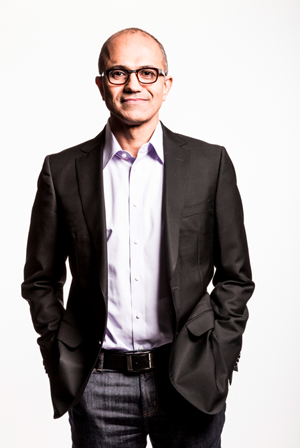 Satya Nadella: new face of Microsoft
Microsoft's culture has always been insular – outsiders don't tend to stick around long because they don't "get" Windows.
To a company steeped in co-founder Bill Gates' past, Windows and the PC were always the question. Tablets and Office on Android did not compute, and the cloud had to be a secondary and supporting player to Windows-powered PCs.
Nadella has been with Microsoft for 22 years and the company already has in place what it believes is its turn-around plan. Mulally is a turn-around man who would have brought his own ideas from the outside on how to do things.
Of all the candidates whom we were endlessly assured were in the running, Nadella was probably empirically the best pick for Microsoft.
It was Nadella whom The Reg put on its list of 14 possible CEO candidates in August 2013, just after the news of Ballmer's surprise resignation.
Nadella is a techie, and I don't mean a Windows programming guru or whiz kid: he has the experience in an area Microsoft needs to crack – the web.
Before Nadella was named head of Server and Tools in February 2011, he'd been vice president of engineering in the loss-making Online Business.
It was Nadella who developed and rolled out many of the updates to Bing Search and Ads that are so familiar today - things like neatly ordered search returns for weather and travel. The updates made search a more ordered experience and eliminated "results hairballs".
I met Nadella at this time, as he was experimenting with different features on a six-month basis in what he called "flights". Today Bing has 18 per cent of the search market.
Despite being a "safe bet", Nadella is a relative outsider at Microsoft.
Nadella hasn't been involved in either the core Windows business unit or the Office franchise, so he has not been tainted by the Microsoft culture of "Windows and Office first".
Windows and Office – along with Server and Tools, of course – are two of Microsoft's most successful businesses. They made $19bn and $24bn respectively in the last year.
But with the traditional PC sector downsizing and productivity apps going online, it has become clear to Microsoft's stewards – those on the board behind Ballmer's resignation – that Microsoft needed to capitalise more on web and mobile.
When Nadella came to Microsoft from Sun Microsystems 22 years ago, the grunt work of establishing Windows on the PC and Office was done. His area has been new markets outside the safe core of Windows on the PC and Office, where Microsoft has had to fight for its position.
His background includes a stint as vice president of Microsoft's Business division, where he led Dynamics CRM and ERP. Here, he had to fight for ground against Sage, Oracle and SAP. As chief of Server and Tools, he ran a business that is the most pragmatic of all Microsoft's operations: it partners with open-sourcers and with the apps' competition rather than losing server or virtualisation sales.
In Nadella, Microsoft has a chief exec who is technical, pragmatic and competitive - attributes Microsoft has come to need in a complicated age of geek billionaires.
His credentials have clearly satisfied Microsoft's stewards after the departure of Ballmer. Combined with this fresh start offer to re-invigorate Microsoft's reputation, his bona fides could help overcoming that problem of dropping the baton on innovation.
If Nadella is an answer to Microsoft's problem of the need for a technical chief and a person experienced in winning new markets, what is next?
In an email to Microsoft employees this week, Nadella highlighted the obvious - mobile and web. "As technology evolves and we evolve with and ahead of it. Our job is to ensure that Microsoft thrives in a mobile and cloud-first world," he said here.
But what can we expect from Nadella?
In many ways, there's nothing for him to actually do because the big shifts that have been shaking up IT – the move to mobile and to cloud, which have already handsomely paid off for the likes Google and Apple – have been underway for years.
Microsoft has already taken steps to remedy its position, albeit late in the day.
The company has been re-organised under Ballmer's One Microsoft programme, supposedly to break down product silos and create more innovation. That happened last summer. Ballmer, too, has paved the way on devices, which are supposed to be Microsoft's future, by buying Nokia.
Under Ballmer, the foundation was laid on tablets with Windows 8 and Surface, which are now works in progress, while the long-term plan to combine Windows 8 and Windows Mobile is underway. Windows Azure and Office 365 were already in place and - we're told by Microsoft - scooping up customers.
If, as it has been reported, Nadella really is happy with Ballmer's One Microsoft structure, then his role is all about execution and making sure that the trains run on time.
And even if Nadella isn't happy with the structure, he will have a tough time changing it: "One Microsoft" architect Ballmer is on the board.
That means everything Nadella does now is about execution, not innovation. That makes Nadella's story as CEO one of sales and expanded market share.
Here's where the Nadella story becomes thicker.
Microsoft tells us it's a consumer products company and it's a diversified operation. Fair enough, but its CEO is an enterprise man all the way - Dynamics and Server and Tools. Dynamics was ERP and CRM and Server and Tools home to SQL Server, Exchange Server, Visual Studio and Windows Azure among others.
Not just business software, for his sake
Server and Tools made Microsoft $20bn in its last fiscal year - the second largest earner after the business division, which includes Dynamics. Windows was third.
While Nadella featured in The Reg's list of 14 possible candidates for CEO he came with a big caveat: lack of experience running a business the size of Microsoft.
Server and Tools was his first big ship and he ran that for just three years. It was Bob Muglia who did the heavy lifting on Server and Tools - handing Nadella a $15bn business in 2011 when he left following a disagreement with Ballmer over cloud.
If Microsoft wanted a rounded, blue chip CEO like a Mulally, it didn't get one in Nadella. What it does have is a gifted product-unit chief with a strong background in business software.
What this means is that Nadella as CEO is not the end of this story; rather, it's the opening of a new chapter. Microsoft's positioning of itself as either a consumer and enterprise company, or a company that straddles both, has yet to become clear.
The players in this battle go beyond Nadella and are already in place.
Those individuals are new chairman John W Thompson, incoming board member Mason Morfit, executive vice president of operating systems Terry Myerson, former Nokia CEO and incoming head of devices Stephen Elop and Ballmer - who remain on the Microsoft board... not to leave out Bill Gates.
Let's take them individually.
Of all the movers, it is Thompson who has really come out on top and who emerged as the power behind the throne of the CEO at Microsoft.
Hitherto just a board member, it was Thompson who - if we're to believe the reports - persuaded Ballmer that was time to step down last year. Thompson then led the recruitment panel to find a replacement with Gates, and not only helped pick the new CEO but also ousted Gates as chairman and taken his role.
What power can a Microsoft chairman wield if they are motived? Chairman Gates swung the board to behind Ballmer's purchase of loss-making VoIP telco Skype.
Now Gates is gone, and - supposedly - his influence over the board with his baggage and blinkers of a Windows-PC-centric world consigned to the past.
Thompson, as the man who helped pick Nadella, will plays a crucial role as in keeping the board inline and both protecting and mentoring his man.
Ballmer has done the heavy lifting on One Microsoft. He even bought a phone company. And contrary to what you will read, "innovation" won't come from Nadella - that's no longer his job. It should flow through that new structure.
Ballmer's presence is important, too. He, too, will likely be called on to continue mentoring Nadella and ensuring no part of the overall business is neglected. Thompson once headed up antivirus company Symantec and also ran the sales and marketing on software at IBM. Nadella might be a CEO with a technology background, but a CEO needs to be business captain first.
Their role will be doubly important because the battle over "what is" Microsoft is not finished just because there's a new CEO. Joining the board is Mason Morfit from investor ValueAct. Morfit believes Microsoft should break fidelity with Office only on Windows and it should embrace new operating systems and devices. Also, that Microsoft should get out of the consumer market by dumping Xbox.
Ballmer and Thompson believe Microsoft must retain its presence in consumer.
He'll also, it seems, be the voice in Nadella's ear on the consumer stuff.
There are another group of managers. who will be important under Nadella Myerson will be Nadella's go-to man on the innovation mission, given he has control over Windows on clients and mobile phones. It will be Myerson who realises the merger of Windows 8 and Windows Phone not the CEO.
The remaining question will be the relevance or lack thereof of Elop.
Once reported as in the running for Microsoft CEO, Elop will now - as planned - head the devices team running Surface, Windows Phone and Xbox.
These are strategically vital divisions in Microsoft's play for cloud and consumer - too important, I'd say, to be handed to Elop.
Three years after becoming Nokia's CEO, his company announced net sales for the phone business down 29 per cent for the fourth quarter to €2.63bn ($3.6bn) net phone sales for the full year were down 29 per cent, to €10.74bn ($14.71bn).
It's hard to see what Elop can do other than damage Microsoft's hopes in devices. The question is how long he stays and under what circumstances he leaves.
Microsoft has a CEO with a technology background: an "outsider" within Microsoft and an enterprise IT guy who has been running a diversified enterprise and consumer operation.
Ballmer has done the heavy lifting on One Microsoft. He even bought a phone company. And contrary to what you will read, "innovation" won't come from Nadella - that's no longer his job. It should flow through that new structure.
It is Nadella's job to grow the business and expand into devices and cloud to offset Microsoft's reliance on two of the three engines - Office and Windows client
In doing that, he must blast through some gnarly philosophical problems that a person who'd risen up the ranks through the core business would have struggled with.
Those questions include: whether to decouple Office from Windows and allow it on iOS, Android or even Linux. Should other products like SQL Server also be de-coupled from Windows and allowed to run on Linux - driving so many cloud servers?
Does he yield to Morfit and dump Xbox to satisfy the moneymen? And what if he resists them? Will that mean pitchforks and burning torches again? What of Bing?
For all the billions poured in and partnership with Yahoo!, Bing still has less than a fifth of the world's search traffic and it's hardly nibbled Google's market share while the online business is a regular loss maker. How does Bing grow and stop losing money?
if he dumps Xbox or Bing, what will be the cost to current and potential revenue and to Microsoft's prestige?
Mobile is a wicked mistress to tame. Sure, Ballmer handed Nadella a mobile business to put Windows Phones in the market, but things aren't going well.
Nokia just reported slumping quarterly and yearly sales in phones as Elop's big bet on Windows Phone has struggled and Android and Samsung dominate.
Now, just as Microsoft is about to absorb tens of thousands of Nokia staff the market that Microsoft and Nokia should really be devoting their attention too looks like it's shifting again and fragmenting further. First it was smartphones, then tablets, then small-screen tabs, now bog standard phones/tabs you make calls from, called phablets.
Nadella on Tuesday quoted Oscar Wilde to illustrate what he believes is next for Microsoft: "We need to believe in the impossible and remove the improbable."
I prefer to paraphrase the great WWII leader Brit Prime Minister Winston Churchill's words after the second battle of El Alamein that turned back the seemingly unstoppable Axis advance.
Nadella's appointment as CEO is not the end of Microsoft's challenges - it is not even the beginning of the end. But it is possibly end of the beginning now that Ballmer is gone. ®