We look in the rear view mirror before racing down the road ahead
Flash had a fantastic year in 2013 with an enormous number of developments.
It was a year of generally positive flash transitions, with cell geometry shrinking, all-flash arrays springing up, flash companies being bought, flash companies crashing back to earth after inflated IPOs or just crashing, and happiness spraying out like sunshine from three hybrid flash/disk array suppliers.
Trying to keep up with all this and fit it into a big picture was like trying to sip delicately from the water coming over Niagara Falls.
Still, some things became apparent from under the drowning flood of product and technology flash news. There began to be a general acceptance that access to I/O intensive random data was best done using flash rather than disk and that all-flash arrays definitely had a role as the best container for networked storage of hot, random data. Disk was as good as flash for streaming data and also much cheaper on a $/GB basis. So-so disk arrays were best for nearline, cool and possibly cold data, and also for large files with streaming access.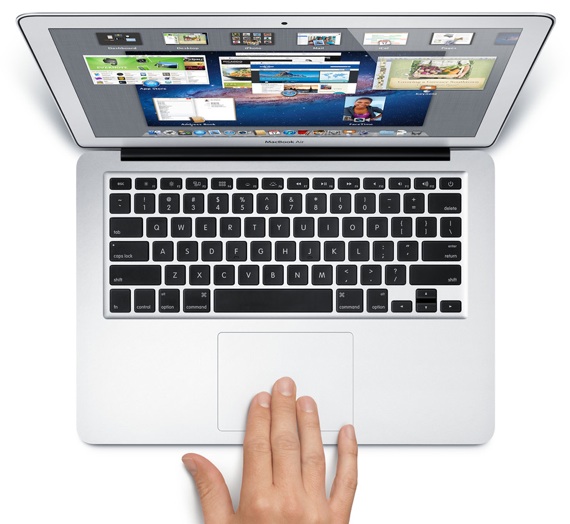 Flash all the way with the Jobs' Mob's Macbook Air
The consensus view was that fast thin and light notebooks needed flash for the best performance, as did tablets. But thin and hybrid 2.5-inch flash+disk drives could be used, manufacturers started suggesting, in both tablet and ultralite form factors to provide flash speed for hot data and cheaper disk capacity for the relatively bulk cool data.
We'll look at the business side of things in a later article, but right now let's take a look at developments in flash technology.
Not a lot of TLC
We didn't see triple-level cell (TLC) NAND push into enterprise applications in 2013, TLC flash being slow and having a ridiculously short write endurance level. Also flash foundries prefer to make single and multi-level cell (SLC and MLC) on their foundry production lines because these command higher volumes and deliver a better return on manufacturing investment. TLC flash remains relegated to thumb drives, camera flash cards and the like.
There was the beginning of a transition towards 1X (19nm-10nm) flash cell geometries from the 2X (29nm - 20nm) technology. Toshiba for example is building 19nm kit now. As a reminder the smaller the geometry the more NAND flash chips can be cut from a wafer, thus lowering the cost/GB. However the shift is not even across the industry; Micron is transitioning to 20nm now with a 16nm process starting production samples this year.
Building up to 3D NAND
One thing that didn't happen was the emergence of any non-volatile technology to take over from flash. It's generally agreed that flash technology may be unable to develop usable enterprise flash storage with acceptable endurance down at 15nm and below. Phase Change Memory and varieties of Resistive RAM, such as HP's Memristor, are still future tech, with 3D NAND taking up the capacity slack by cramming more flash layers onto a flash chip with connecting tunnels (through Silicon Vias or TSVs) linking the layers to a base logic layer.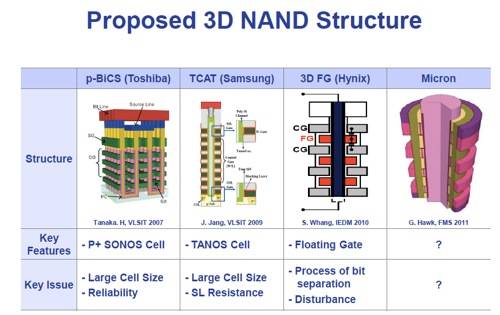 3D NAND schematic diagram. Click picture for larger version.
Micron expects to commence 3D NAND production sample shipments before mid-2014, perhaps as early as by April. But volume production won't take place until 2015. Samsung heavily publicised its 3D_VNAND technology but production doesn't actually look to start production this year and it's not an orderable product.
Jim Handy of Objective analysis produced a fine series of 3D NAND papers on his Memory Guy web site, discussing the technology and manufacturers' plans.
SSDs catch on
SSDs steadily developed in the year but, really, the action was elsewhere, with SSDs being a maturing technology with, for example, NAND density increases enabling matching more product/pricing variations to market niches, and faster 12Gbit/s SAS interface products being introduced.
Still, there were a few highlights:
sTec brought out a 2TB SAS SSD in January, the s840,
Micron pushed out a number of SSDs in the year, such as updating its P400M SATA product with a 6Gbit/s SAS interface,
HGST intro'd 12Gbit/s SAS interface SDDs (SSD100MR) in April,

HGST SSD1000MR

Plextor announced it would make a TLC SSD at CES in January and dropped the idea in June. RIP TLC.
SMART announced a 2TB SSD in May
Seagate announced a set of three SSDs in May, two 6 Gbit/s SATA and one 12Gbit/s SAS
Samsung announced a 1.6TB SSD with a 3GB/sec bandwidth rating.
It's all incremental improvement with nothing that dramatic to make you sit up and take notice. SSDs have become dull.
Hybrids slip into disk drive market
There was a steady iteration of hybrid flash-disk drive technology products, using a small slug of flash cache - less than 24GB typically - and firmware to detect hot files and put them on the flash.
For example Seagate intro'd a Desktop SSHD with 2TB of disk capacity and an 8GB flash cache in March, its 3rd generation of hybrid drives, and rebranded its Momentus XT hybrid drives as Laptop SSHDs. It announced an enterprise hybrid, a 10K 2.5-inch drive with 16GB of flash in June, with IBM using it in some of its servers.
But revolution was coming. WD sub HGST talked up Apple Fusion-style separate SSD and disk drives in June. And in December WD announced its Black2 Dual Drive with a single casing enclosing a 1TB hard disk and a 120GB SSD.
Surprisingly the two devices are presented as two logically separate storage resources and not as a single pool. It remains to be seen if any other disk drive supplier will pick up this technology idea.
Server flash DIMMs
There was one other big flash technology development in the year; SMART Storage announced it had stuffed flash chips into a memory DIMM-type module, using Diablo Technologies IP, and so arrived at flash on a server's memory bus with access latency below that of PCIe flash.
Thus, cheap flash could be used as a part of the overall server memory system, functioning as storage memory. It would enable working set data to be held and accessed in memory - NAND flash - that was cheaper than DRAM and faster to access than PCIe flash, networked flash arrays and, slowest of all, network disk drive arrays. It all looks promising.
The technology began to be publicised in April. SanDisk bought SMART in July, and then Canadian memory access technology supplier Netlist sued SMART and Diablo for allegedly stealing its DIMM technology to produce the Flash DIMM ULLtraDIMM product.
The lawsuit caused documentation to be revealed which said IBM was building an X-Series servers that would use the ULLtraDIMM product. Other server supplier adoptions may be halted while the lawsuit plays out.
PCIe multiplication
The number of PCIE flash card suppliers multiplied as everyone and their brother tried to get in on the server app flash acceleration game, In March we listed EMC, Fusion-io, IBM-TMS, Intel, Micron, LSI, OCZ, Samsung, Seagate-Virident, sTec, SanDisk, and Violin Memory. There has to be a shakeout. Some of the highlight news items in the year were:-
sTec introduced a 2TB s1120 PCI flash card in January,
HGST intro'd 12Gbit/s SAS interface SDDs in April,

HGST SSD1000MR

In April Fusion-io said its PCIe flash card technology could go to 9.6 million write IOPS; an amazing number.
Violin Memory introduced its Velocity PCIe flash cards in June.
Virident announced 4.8TB FlashMAX flash cards in September.
It was all pretty much "speeds and feeds" development but, overall, there were no real, blow your socks off, PCIe flash hardware advances.
Caching software announcements came but, effectively, only Fusion-io and Virident had software making PCIe flash usable as storage memory and, to our knowledge, no server vendor adopted that as a standard offering.
Overall PCIe flash card technology, like SSD technology had a fairly ordinary year, apart from two substantial developments that could rock the flash boat:
WD's Black2 hybrid flash disk drive,
SMART Storage's Flash DIMM.
Both of these are, so far, isolated technology developments and we'll have to see if they get wide appeal. Otherwise flash tech matured without dramatic fireworks.
But flash suppliers' business issues were far from ordinary with acquisitions galore and some suppliers stretched to breaking point by a market that raced away from them.
We'll get on to this meaty NAND news in part 2. ®