Hellawell on being 'tight' - and his part in Thatcher's downfall
Feature The much-lauded CEO of software reseller Softcat has carved out a high-flying career selling tech - but paradoxically Martin Hellawell can't explain how a computer computes nor the inner workings of a mainframe.
Still wet behind the ears and straight out of uni in 1988, Hellawell made an inauspicious entry into the world of technology via Miles 33, a Bracknell-based supplier of specialist publishing software.
"I had to spend the first three months doing a technical job there to learn all about the products which was a nightmare," says Hellawell. "I'm not a real techie which is one of my regrets in life because technology is fascinating."
There was a support element to the contract and the company thought it was sensible to send in its newbie - a marketing manager who doubled up as a sales dogsbody - to get some on-the-job experience, overseeing the typesetting at night for three months. Nice.
"I was trying to learn the commands at a dumb terminal - so was pressing 'move file', 'copy file' and then got to the 'stop' command - so I tried that and all of a sudden literally 250 printers were asking, 'What's happening?" he tells The Channel.
"I'd taken the central system down while they were printing the order book for Parliament, so Margaret Thatcher couldn't proceed as planned. The following day there was a question from MP Tony Banks asking her to explain the problems they'd had at the printing press - which was me."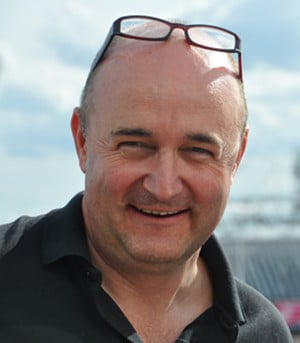 Martin Hellawell
In an industry known for its right wing leanings, Hellawell was an embarrassment to Thatcherism, but amazingly his employer didn't fire its tech-light recruit.
"They kept me well away from the technical side after that; they didn't sack me and I'm amazed they didn't," he says.
Of course, the fumble wasn't a political statement by the Newcastle-born lad - raised in Worcestershire - though Hellawell admits he is something of a closet socialist.
"I was brought up as a leftie - against private education, against private health, against religion, archetypical left-wing family. But I'm in a business world where a lot of right-wing politics prevail and make sense.
"I've voted for all three parties in the last 15 years and oscillate. If you ask people around here they'd probably say I am a bit of a socialist, and there is that side to me."
Hellawell attributes this to his parents, both academics - his father was a Dean of Faculty at the University of Central England and his mother was a teacher.
"I wanted to do something different from my family's humanities type professions. I had a lot of pressure, because I was relatively bright at school, and I was a good citizen - I was head boy. My school wanted me to do Oxbridge, but I said no I didn't want to do that because I wanted to do a degree in business. They were outraged."
After getting two As and a B at A-level - Economics, French and German - he was en route to the University of Lancaster to take a degree in marketing, which back then was not offered by every uni in the land.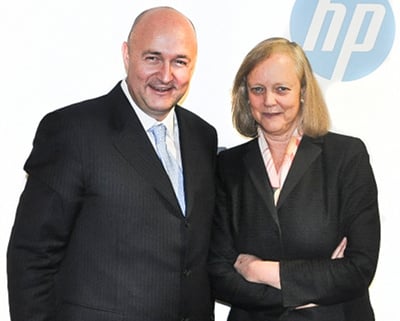 Hellawell with Hewlett-Packard president and CEO Meg Whitman
He exited with a 2:1 and set about looking for a burgeoning industry but claims filthy lucre wasn't the motivating factor - unusual for a sales chap.
"I don't think it was the money," says Hellawell, "I always like working with people, seeing things grow, develop."
Hellawell must have some interest in money because he admits being reluctant to part with it.
"I am so tight, I am really tight, I like value. A lot of my mates weren't from a poor background but weren't rich kids either so I never had that taste for money. It wasn't that important.
"Open my wallet and you'll find a McDonalds card. [This attitude] has represented me generally well in the business world because I do look at every cost," he says proudly.
The interest in IT stemmed from seeing people like Bill Gates, who isn't much older than Hellawell, reach the top of the tech industry at a relatively early age.
"I looked at some of my mates who were in the professions and it seemed like you had to be 50 before could be considered to be a manager - [but you] can move quickly in the IT industry," he claims.
So three months after his inglorious start at the printing press, the company used Hellawell's talents for the French language and packed him off to Paris to help set up an operation with the help of a more senior native.
It didn't work out for the local bod but it did for the Brit, so at 23 Hellawell was asked to run the business.
"It was only tiny, six or seven people," he recalls, "but it was a great experience, living abroad, managing foreign people. I ran the company for three years but then the Mac came and all the printing presses moved to that.
"The software I was selling cost roughly £120,000 a pop and wasn't as good as the Mac which was £2,000 so I thought 'This isn't going to last' and decided to move."
At the same time (1991), more and more enterprises were buying PCs and an established reseller Computacenter (CC) was setting up a joint venture in Paris: the International Computer Group.
The business was the lovechild of CC, German reseller Compunet and French outfit Random. Hellawell went in as marketing manager in a small team of 30 people.
The idea in the short term was to help serve each firm's customers with offices in the UK, France or Germany.
The outfit was run by Gareth Cadwallader, who went on to to run the services business of Digital, and other colleagues included Mike Tobin - now CEO at UK data centre provider Telecity.
Long term the plan was for the three businesses to merge and float but two years after launch, the French partner Random went under. CC and Compunet then stepped in and bought it for one franc.
Hellawell was made deputy of Random at the age of 25. "It was the Wild West - people didn't know if they had a job, if the company was still going. Some offices were operating some weren't, there were leases right left and centre and we had to plateau that business to build it back up again.
"That was the hardest time I've ever had. I worked 24 hours a day. For 2 months I was IT manager, then logistics director and every time somebody left of any importance I had to fill that role," he says.
He was also dispatched to other offices across France to tell staff if their role was to be made redundant.
"I was on the train, I'd go into office, tell them 'Sorry haven't got job for you', then go to the lock smith, it was all that sort of stuff. I was only a little boy, I couldn't do it now but I was so naive at the time," says the channel man.
The reaction from staff? "Yes, pretty hostile," he says.
The French JV between CC and Compunet pushed ahead and stabilised with Hellawell as deputy chairman. But one of CC's founders felt he'd spotted some talent and brought Hellawell back to the UK as CC's group marketing director.
He ran the incubation division for new vendor signings, as well as marketing, so he became the corporate development director, reporting to long-serving CEO and later good friend Mike Norris.
But troubles emerged again in CC's joint venture in France and Hellawell was sent to apply some much-needed corporate balm.
The operation had two managing directors and lots of internal politics, says Hellawell, who said there were some "serious problems" that required full-time residency. The young marketing man was then made MD on top of his UK duties.
Three jobs, three country ops, living in two countries...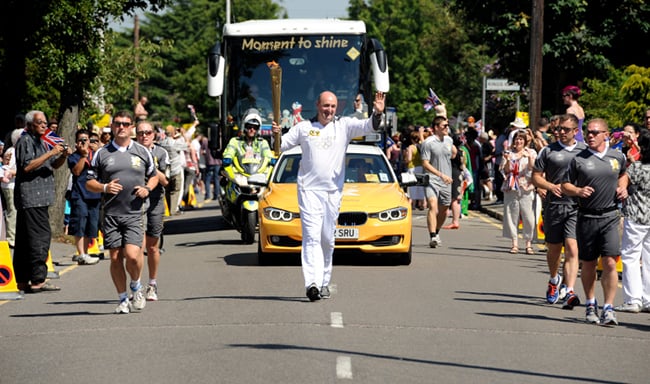 Hellawell carried the Olympic torch through the London Borough of Hillingdon on behalf of Softcat employees on 24 July 2012.
"I thought it would be a six-month project - so [I] commuted from London to Paris for three years and kept the UK job as well. [On top of that] we'd started making acquisitions - we bought a company in Belgium and Germany. So I had [three country operations] reporting to me. It was a busy old time."
Then the first of Hellawell's two daughters arrived, so he returned to the UK to take the COO role at an e-procurement firm that was spun out of CC, called Biomni.
The company built a a rudimentary e-commerce system that allowed customers to ascertain what kit that was in stock, see its price, and then order.
"There was a couple of companies that came to the market back in the days - Ariba and Commerce One - that were worth billions but did exactly what our system had always done," he said.
As a business that was connected to a dotcom biz, Biomni became suddenly more visible to investors, but that high profile didn't survive the dotcom bust.
However Biomni is one of those rare beasts - a dotcom business that is still around today.
By this point Hellawell had spent a dozen years with CC and said he'd thought: "It was time for a change - I wasn't enjoying it as much, it had become a big company by then."
So is it the small business sector that the man found enticing?
"To be honest I think it is - I hate saying it in a way because sooner or later if you are successful you get bigger so it limits my time span in a way.
"But I did struggle at CC when it got big, I found it harder to get things done and I didn't have that same nice family feel about it because I didn't know people in the same way. I think CC coped with the growth as well as any company but you get big and it's harder. It's the bureaucracy."
His exit from the mothership was protracted. He agreed a deal with CC head honcho Norris to stay on board on a short-term contract and was dispatched to seal the acquisition of GE in the UK and France.
Hellawell looks back on his time at CC and Norris with a lot of fondness, "I learned a lot from him and that has continued to help me throughout my career. I was lucky to be part of that business."
New Zealand dreams
By 2002, Hellawell considered following friends that had emigrated to New Zealand but the birth of his son put paid to that idea.
Another friend in Blighty called to say BT was considering a move into the reseller channel and needed to some advice on acquisition targets.
"I didn't take a full-time job but went in as a consultant for a while, the project was [looking at if BT] should become an IT reseller."
BT went on in subsequent years to buy dabs, Basilica and Lynx some years later.
After reaching a professional and personal crossroads Hellawell says he made a "very poor career decision".
"So New Zealand was out of the window and it was 'What should I do'? And that is where I made my career mistake really, driven by a number of things. My boy, who at the time was three, was diagnosed with autism and that was quite a big shock for us."
Hellwawell wanted close interaction with the family - parents and a sibling lived in Birmingham, "so I went and joined SCH Group" - arch rival to CC.
He went on board as European operations director to manage four countries.
"[I] thought I would have more of a family support network up there to help with my son Mathew, and the second driver was that I thought this reselling business is in the blood, it's what I enjoy doing and they've got big European aspirations. My background is in Europe.
"What they were asking for was not competitive with what I'd done at CC, I rationalised that CC had done well by me over the years and I'd done well by them so we were quits and I could go there with a clean conscience. But it wasn't for me, I got there and knew it was a big risk.
"Sir Peter [Rigby, SCH chairman] and I had a deal [that I would] commute for six months from London, [and] if after six months we both felt it was right, then I'd move up to the area."
But the fit wasn't as snug as they'd hoped.
"It just wasn't working for a couple of reasons really - I'd underestimated how much emotion there was in business. I looked at it logically that I'd had a contract with CC and it was finished but when I was at SCH it felt like I was behind enemy lines. It didn't feel comfortable, didn't feel like I should be there, it didn't feel right and I'd probably lost confidence as well at that stage."
The man and SCH parted on mutually good terms. Hellawell says the company looked after him, and it was he who was not able to adjust to life at SCH.
"SCH treated me well but I was a fish out of water and didn't perform there, I was rubbish and unless I'm making a contribution I can't be happy."
Hellawell says he suffers from diffidence which always lurks in the background - quite a contrast to the personable, seemingly confident young man who travelled across France handing out pink slips.
"I've always had a confidence issue, don't know why but I've always had a bit of anxiety. I see it as good and bad really: good that it keeps you on your toes so you never get complacent, and generally I don't come across to people as arrogant. I'm quite shy," he says.
For the first time in his career "I was a bit lost". The BT and SCC experiences had knocked him, and at 39 he was seemingly heading toward a midlife crisis.
"I was a workaholic, but I thought 'I didn't enjoy that, I've checked out from [it] all'. [So I] got into the autism stuff, got involved in different projects and charities, got really involved with my son."
Direct-sale PC business, HP? You don't say....
He started on a consultancy basis at Canalys, to keep the "brain ticking over", advising on vendors' channel strategies - including those of HP when it was mulling over plans to develop a direct-sale PC business in the corporate enterprise, around 2004.
"But consultancy is different to working inside a business and I missed having people around me - [which is when I] got the call from Softcat."
This was more than eight years ago. Softcat had a turnover of £45m, £1m profits and employed 90 staff. Hellawell went to the interview for the MD's role, meeting with eight managers who would report to him.
"When I got a call from the headhunter, I said I'm happy to go along and talk to them but I'm not looking to re-engage, I've checked out of the corporate thing, I'm sort of done."
Softcat is located in Marlow and Hellawell's base was in London - Highgate to be precise, the home and final resting place of socialist icon Karl Marx.
He was offered the job but refused it, so Softcat hatched a plan to get Hellawell on board by other means - a short-term consulting contract.
"It was a bit like the Robert Redford film Brubaker where he goes into the prison as an inmate for three months testing out what it's like and then says 'I'm the new governor'.
"From day one I realised I could definitely work there - there were lots of young guys, it was even younger than now but was a good company, nothing was broken," he adds.
Former chairman Peter Kelly - now non-exec chairman - had stepped back from daily operations and the business "lacked somebody to pull the thing together and give a bit of leadership and direction".
The sales mix was nearly all Microsoft licensing, leaving it incredibly vulnerable to the whims of Redmond and limiting its interaction with customers.
Today Softcat turns over more than £300m and made a £22m profit in its last full fiscal year, employing 500 people.
This is without making a single acquisition, so the firm is rightly envied and admired by rivals. It resells hardware, software and some services.
"It became company strategy that we'd sell everything into our core accounts and then we wanted to win lots and lots of new accounts and that is where the new sales guys came in.
"Last year alone we won 1,440 customers that we had never traded with before, I'm sure we lost some through mergers or had people that bought something from us and didn't like us but its a very small number - between 20 and 40," he claims.
Accreditation, products, ISO? All irrelevant. It's about customer service
He reckons customer service is what sets the resellers apart - "what we, Kelway, BT Engage IT and everyone else does is sell the same products to the same people, we can all argue a toss about who has the better accreditation, building, ISO - it's irrelevant - it's about how passionate you are, what do you do, how much you care.
"When a customer asks for a quote in half an hour, do you get it to them before they want it? Once you've delivered, are you on the phone asking if its all OK, is the customer happy? Anything else we can do? Most businesses not just in IT are appalling at that.
"We think that if you appoint more salespeople you'll sell more stuff, so we employed a lot more people."
Half of the current workers are salespeople and it is has a flourishing graduate recruitment model that many other resellers including mid-market giant Kelway are trying to mimic.
"That is the thing we've done differently, others were trying to stick to the traditional model of nicking someone from a competitor, try to get them to bring their book of accounts over to milk those relationships. But a lot of those guys are transient, and surprise, surprise - 18 months later they are going to the next place, taking some of the accounts with them, are a bit jaded, and don't have the same level of energy anymore."
This grad programme was already up and running when Hellawell joined but he aggressively pushed it, in fact half of the firm's current directors joined this way.
"We accelerated the graduate training programme, increased the volume and ambitions at a time when most of our competitors were battening down the hatches, they got spooked by the recession [in 2008]. We saw it as an opportunity to take market share."
He says momentum is a great thing but it also helps if the boss is insanely competitive, which could be a consequence of lacking confidence - going the extra mile to prove oneself.
"I've always been ridiculously competitive, once I'm in something I want to win and do really well, push myself as far as I can. I've fallen out with mates over the rules of monopoly because I get so intense about it. I am pretty intense. So once I'm in something I want to do the best I can."
Hellawell insists: "You make you own luck, but Sofcat hasn't done anything clever. [We have] managed to keep the momentum going ... we've been riding that wave and at some point something will go wrong and we'll get into that difficult bit where you have to manage expectations going the wrong way. It hasn't happened yet."
Perhaps steering clear of time-consuming complex acquisitions has helped?
"We could have done acquisitions - there are benefits to that in terms of turnover but you make your business a lot more complicated because you've got systems and cultures to integrate and in doing that it's very difficult to focus on core business and keep going. We've tried to resist any temptation of stuff like acquisitions.
"In the seven years I've been here we've put in one indicative offer, early stage offer for one company - can't say who it is but they weren't a big company."
Staff retention is one of the keys, he says, there are high churn rates among the graduates with roughly 65 per cent of them making it past the 12 months. He adds: "But once they get through year one they stay forever."
The scheme is not easy money; grads are at their desks at 8.30am each morning, working into the early evening, before going home to revise in preparation for the next day's examinations.
"It is pressure, real pressure - 80 cold calls a day," he says, "If you are leaving university and you want a job for a few quid before you go travelling don't join Softcat because there are a lot of easier ways."
He says the company tries to make people feel like they are part of the culture, scheduling weekly meetings in the canteen, sharing financial date, handing out sales records and er... providing an ironing service.
"It's a company, not a kibbutz, but there is a lot of employee engagement in the whole thing."
It is testament to Hellawell and Softcat management that they continue to recruit graduates to work in a sector - the channel - which is no longer seen as a growth market and is one that has matured.
Indeed reselling has a bad rep, even the term rankles business owners, as it connotes a middleman not adding anything to the sale but taking a financial cut for passing on a box or a licence.
"It has become less fashionable but I think we do give it a good name," he says, "I am very comfortable with the word reseller and we call ourselves an IT reseller even though many people are trying to move away from that term. There will always be a growing requirement to sell stuff to businesses and public sector and that is what we do.
Cloud? Off-premise IT kit by any name is gold...
In an industry renowned for marketing bluster that always talks up the next big thing, the cloud has been hyped to death. But Hellawell believes it will change the shape of on-premise tech delivery.
"It might be meaningless as a word," he says, "but we are seeing a definite upturn in the amount of customers that want to take IT kit off their premises into a data centre and then connect to it through that data centre. Whether that is 'cloud' or just 'data centre' in a different package I don't know, but that is the shift we are seeing.
"Do I think 35 per cent of what we're selling today will probably be up there in that cloud somewhere? Probably, but I'll be selling it so I don't really care. We are ultimately a salesforce.
"Whether it's on-premise, off-premise, I don't know - I'm not that clever. [I] don't need to be because we'll let the market work that out."
Clearly the man has a passion for the channel.
"I'm very competitive in spirit but I love seeing other companies do well - there are certain people that I know from the past who think it is odd that you talk to your competitors, because they are the enemy - and you are supposed hate them. I've never felt that.
"I'm fascinated to watch companies like Bechtle, Computacenter, Kelway and Trustmarque and how they are developing, and I'm very happy to share notes. I'll take and give mentoring and coaching."
So what's in store for the man and the company?
The plan for Softcat is to hit £365m in fiscal 2013 ending this July and the next milestone is £500m with a business plan to get there within three years.
Today Softcat's business mix is 35 per cent software, the same again on hardware infrastructure and then roughly 15 per cent each on security and services.
It is a top performing partner for most of the vendors it works with, just look at the almost embarrassing haul of trophies in its foyer. So has Hellawell got one eye on the door?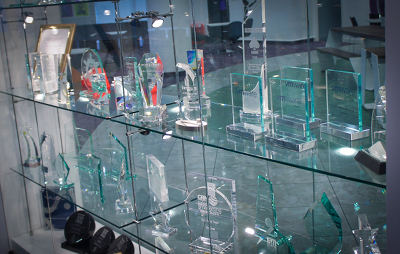 The trophy cupboard at Softcat
"There isn't an exit strategy, you can never say never and ultimately it's a board decision, but personally I'd rather not have any exit," he says.
Hellawell moved upstairs to the CEO's office last autumn, with former CC colleague Colin Brown vacating his services director post at Microsoft to become Softcat's MD.
But hanging up his boots entirely is not something Hellawell considers.
"I have learned in last few years that I need activity and human beings around me, I get a lot of energy off other people and I've seen too many company directors check out too early or do a lifestyle business and and get disenchanted.
"I'm one of those people that dreams about not having stress, I massively suffer from stress, [but] then I'll go and find some [more]. It's almost like a drug to me, I need that energy and activity. It keeps me going." ®