Retail? We've heard of it
Feature It's a well-worn phrase that appearances can be deceptive, but when a flagship business disappears from public view after years on London's premier high street, most people would assume this isn't a sign of progress.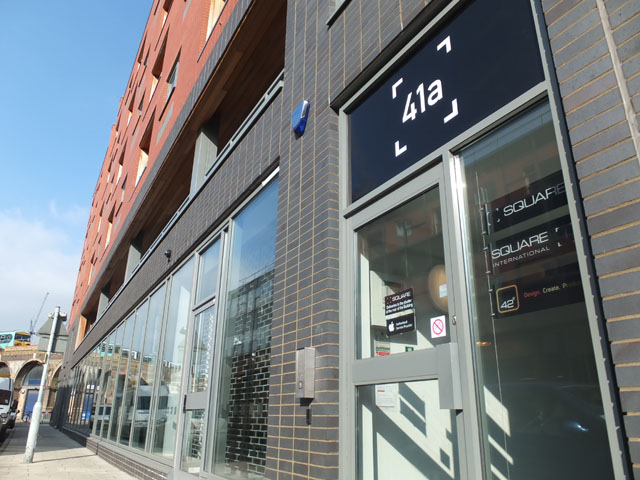 Square Group's new premises brings its three former buildings into one
Yet when talking to Darren King, CEO of Square Group, about the company's exit from New Oxford Street, it's evident that how you measure progress depends on what your goals are and the planning behind them - which means losing a shop can be seen as a "strategic adjustment" rather than a sign of decline.
According to King, the move to the company's brand new premises near London Bridge last year was two-and-a-half years in the planning. It allows all of Square's London operation to exist under one roof with servicing, logistics, marketing and design teams benefiting from improved communication between departments as a result.
OK, so that move seems sensible enough, but as far as UK retail goes, apart from the company's remaining Apple Premium Reseller (APR) outlet at Selfridges and couple of other stores, the shop window most of us will see now is the [squaregroup.co.uk] website. Even King admits that this appearance of work in progress doesn't send out the right message as he explains.
"Square, as you see it on the Square Group website is not what Square is anymore. We're busy working on that whole strategy for the web - it's not just rethink, it's a ground-up approach. In the coming months that will transition over and it will become a lot clearer to our customers that yes, we do have this retail side, but there are other areas that are actually really important parts of what we do."
Those important aspects of the business are showcased on Square's international web site [square-i.net] which gives a very different different impression of the company's activities. The shop window of the redesigned site will integrate these elements and put into perspective Square's involvement with retail.
To make the point, King does the numbers, "Last year's revenue was just a shade over £25m, and the retail component of that is around £6m. So it's less than 25 per cent of our business, which is not what you'd probably think looking at our website."
It's not what you'd think if you recall that Square bought Computer Warehouse and GHC in recent years. Yet Square has always been a B2B player, originally targeting Apple creative industries, with the retail component emerging pretty much as an afterthought due to demand.
Back to business
In difficult trading conditions, companies frequently return to their roots to build on strengths. Not everyone does this though. HMV's approach was diversification into electronics and games as a compensation for losses in its core music sales business. Yet failing to address the stacks of unsold CDs in its stores was a problem that wasn't going to go away on its own. King concedes that focusing on business customers is a return to previous form of sorts but certainly doesn't see it as a retreat.
"There is an element of that at play here, but we tend to be a bit more cutting edge than that, I think. Yes, retail for us isn't core, and unless you're going to scale it big you're not going to make enough money from it: there's not enough margin, rents are too high.
"So [we] fall back to what we're very good at, which is building long-term business relationships with customers. We've also added an education team in the last few years and a hospitality team. Apple inside hospitality didn't exist. We recognised well ahead of market that the growing demand for Apple products was going filter its way though into the hotel market."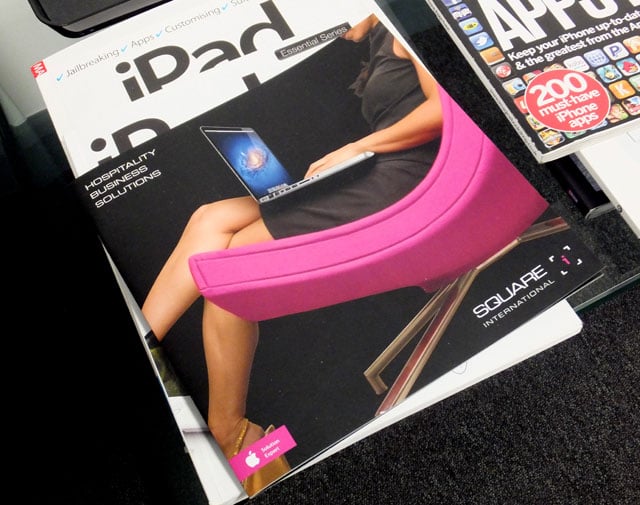 Hospitable climate: Square's brochure outlines its recent business ventures
Hospitality is a new venture, where the company kits out hotels with bespoke Apple-centric products from ensuite iMacs to modified Apple TVs. Unusually for a reseller, Square even has an in-house team of software developers to make all of this happen - which includes room service, VOD, checkout and web access all available to hotel guests on Apple kit.
Global reach
The impact of BYOD has influenced the enterprise sector to become progressively more Apple-friendly too, which in turn is driving a lot of purchasing decisions to facilitiate a level of harmonisation. Over the years Square has established itself in different territories which pays dividends here with initiatives that cut through red tape. King explains how Square can be one-stop shop, global style.
"If you were a Fortune 500 customer with Apple, you'd have to have one contract with a reseller in the UK, one contract with Apple for your volume discount, one in France, one in Germany, one in the US and one in Asia," he says. "The concept we put together recognises that those big companies don't want to do that. By having a contract with us, we help put in place all the major accounts and purchasing agreements with Apple in each of the territories that we operate in.
"And you'd be able to place an order on us for delivery in between those sectors. It wouldn't be grey exporting either, as we're authorised in Singapore, Latin America, US and the UK – which gives us 15 EU member states for Apple. Using those authorisations we can actually build those devices out for you and ship them direct to your offices or employees, all ready to go. And we've had some really good success stories there."
While case studies are approved, King can't name all the clients. But he does highlight Vodafone Global Enterprise ("lots of iPads") and other sectors including pharmaceutical, household goods and banking. He also enthuses about the company's "soup-to-nuts" MDM (mobile device management) and MAM (mobile application management) services. And barely pausing for breath, he remarks on Square's cloud ambitions.
"We're busy formulating our managed services solutions, we're still not quite there yet. The PC market is more advanced with cloud-based services. We've spent quite a bit of time figuring out what services we're going to offer moving forward. It's new to us and you'll see that start to unfold in the next 12 months."
Shopping around
The cloud couldn't be further from the high street. Indeed, King is emphatic that education, enterprise and SME creative business are Square's future and they won't be opening a new store, which, if recent history is anything to go by, seems a sensible move.
King recalls that when the Apple Store opened in Regent Street in November 2004, business initially boomed for Square as those Googling for Apple in London hit upon the New Oxford Street premises. However, it was shortlived and by January revenues were halved and the opening of the Covent Garden Apple store in 2010 ensured the shop's turnover never returned to former glories.
A similar scenario emerged at the High Wycombe store, opened five years ago, which soon found it had new neighbours with Apple opening in Reading and Stormfront in Windsor – all too close for comfort making it tough for the store to perform. With another five years to go on the lease, King hasn't given up on the High Wycombe store but doesn't see much investment going in that area.
As for Derby, the revised Apple Premium Reseller specifications meant that store's ceiling wasn't high enough. So, again, the decision was taken not to invest in an upgrade. No doubt it's frustrating but apparently liberating too. Apparently, removing the APR standing gives more flexibility over what you stock and the display options, as Apple Premium Reseller procedure is to put third-party products away once they've been demonstrated. For instance, you can't leave a Wacom tablet alongside an iMac or some speakers hooked up to a MacBook Pro.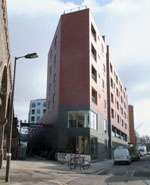 65 staff work in the new office
Retail foibles aside, the rise of the Apple Store and APR partners have increased the popularity of the products and King recognises that other areas of his business have benefited. Indeed, Apple in Enterprise was a novelty until the i-products and MacBook range gathered momentum. So rather than footfall, the company relies on its sales team to generate revenue for sound economic reasons.
"The costs of running a retail business are high – they're locked in. You get long leases, high rent, high services charges, high rates. You have a bad month and it can cost you severely. One of my business team can produce more gross profit in a month than an entire store does. And I'm not locked in either. If a guy's no good, I can move him on or if he is good, invest in him."
Windows opening
And while the online message is work in progress, the company's energies have really been focused on its sales team being active on the ground, running events, visiting clients and performing needs analysis. As a consequence, Square has found itself selling PCs too, as King explains.
"We've always done a bit. Apple pulled Xserve so we had to come up with a replacement - we didn't want to lose that revenue or that support matrix for our customers. So we started training up our team to do Linux and we've got some good relationships with Dell, HP and Lenovo. It's still not core, but we do have Mac customers who will say: 'Can you supply us our PCs as well and support them for us?' There's stuff you'll always pick up as part of good account management, so long as it makes sense and you can support it."
What remains core to Square, is of course Apple. Yet it's not the margins on Macs that pay the wages, it's what the company can hang around those sales. For business it ranges from storage systems, server infrastructure, network switching, disaster recovery and support contracts. And for retail, it's all about what you can make on the accessories.
"Apple isn't secretive about this," says King. "When you look at the business models they give you for retail it's very much about the mix of Apple and third party products, as they know you can make as much on an iPad case as you can on an iPad. But retail's always been a bit like that regarding accessories. We probably buy around £6m of product a year that's non-Apple product and about 25 per cent of our business is non-Apple but connected to Apple."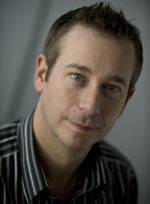 Square Group CEO Darren King
Taking stock
With Square's initiatives taking shape King declared some valuable lessons had been learned along the way. Its international ambitions revealed that opening global locations takes a lot of looking after, so the approach now is to find suitable partners instead to keep costs down. The company is focused on better inventory management too, "We've always had a lot of stock here."
And no more acquisitions for the next couple of years either, to achieve a good fitness level, with an eye on recursive revenue – contracts and the like. The temptation to do too many new things is also being tempered as the focus is on marketing, including an active social media presence with video demos and the like.
It will be interesting to see how the new website encompasses the diverse range of goods and services on offer, but for Square's existing customers, they probably won't even notice, as the relationship works in an entirely different way. As for its retail challenges from the spread of Apple stores, King is very relaxed about the situation and sees the silver lining in this cloud.
"I don't hold it against them, we put our eggs in a good basket when we decided to do Apple. A lot of PC folks have had a tougher time through the recession than we have. We've still seen good growth through the recession, not many PC retailers can say they've seen that." ®