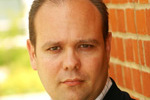 Kevin Bland is Director, Channel and Alliances - Northern Europe at Citrix Systems. He has been with the company in senior channel roles since 1999 and prior to joining Citrix was alliance manager at Compaq UK.
Consumerisation of IT needn't be a problem
With a new wave of low-cost tablets hitting the shelves of retailers globally last Christmas – some starting at as little as £100 – consumers of all ages and professions rushed out to grab their very own before the "sold out" sign appeared.
But as tablet prices decrease, the potential business impact of the consumerisation of IT trend weighs heavily on IT departments - and on channel businesses. After spending Christmas playing with their new tablets or smartphones, the thought of going back to the office and using the standard-issue PC or laptop doesn't bear thinking about for some employees, and quite a few bosses too. But as IT departments look to replicate users' personal experience of technology in the workplace, what will this mean for businesses who sell and distribute enterprise IT gear in 2013? And what will it mean for the security of the corporate customers?
End users are clearly driving the "consumerisation of IT" trend and businesses are finding themselves considering the use of employees' own iPads, Android tablet devices and smartphones.
A recent Vanson Bourne survey on future working practices revealed that by 2020, European office-based workers will use an average of five network-connected devices during their working day. While this might be good news for tech-savvy employees, this could pose a challenge for IT departments struggling to keep control of how and when corporate information is accessed. Rather than condemn the use of personal tablets in the office, businesses can embrace the appetite for flexible working by enlisting the help of the channel to support the Bring-Your-Own-Device (BYOD) trend. As more of these devices enter the workplace, businesses will be faced with challenges that, with the help of the channel, can be easily overcome.
The new differentiator: Security
The biggest challenge IT departments will face as a result of the tablet influx is the employee's perception that personal devices are "plug-and-play" – that they can simply connect to the corporate network over Wi-Fi and are ready to go. Some IT departments will try to block access to the network in the fear that employees will be accessing corporate data in a less than secure manner.
The channel has a central part to play in helping businesses implement a managed BYOD policy - perhaps in incorporating some additional hardware, but almost certainly opening a gap for selling in security software and services. Channel businesses can empower employees to work to the best of their ability, with the best tools available, without the IT department having to relinquishing governance of data, networks and connected devices.
As a strategic advisor with in-depth knowledge, the channel can help businesses to make BYOD a practical reality for the organisation. Managed BYOD solutions not only protect sensitive information from loss and theft, in response to privacy, compliance and risk management standards, but they also reduce costs through self-service provisioning and automated management.
In terms of the data accessed on these devices, the channel also has the opportunity to demonstrate its expertise in supporting business compliance while at the same time helping to implement effective data management strategies. The clearest opportunity for the channel is within the trend towards "follow-me" data solutions that provide IT departments with complete control of employee data, irrespective of the end-user device.
Potential nightmare for biz: Bring Your Own (malware-laden) Apps
Linked to the data and business compliance issue is the concept of BYOA (Bring-Your-Own-Apps). In an employee's personal life, mobile and PC apps are a convenience or useful tool. But in the office, they could be a potential compliance minefield, particularly if the download has not been authorised by the IT department. This BYOD trend threatens to steal control of the corporate network from the hands of IT. Recent research has shown that 91 per cent of European IT decision-makers report employees use their own apps for business use on BYO devices. Forty-four per cent of respondents were also concerned that IT departments were losing control over app procurement within their organisation.
The channel is in a good position to not only help businesses recognise the challenges that BYOD brings, but also tailor and implement solutions specifically for the needs of the enterprise. As part of a managed BYOD solution, the channel can also advise on a variety of workplace productivity applications that not only satisfy the needs of the employee but answer the question of corporate data storage and its security on roaming end-user devices. "Follow-me" data solutions mirror consumer storage solutions and applications in providing access to fully traceable enterprise data - wherever the employee is, whatever the device.
Consumerisation is already well-established in the enterprise and will undoubtedly continue to affect working practices in 2013 and the years to come. BYOD has the potential to transform and simplify business models and encourage productivity, flexibility and efficiency in employees. By embracing the flurry of tablets due to enter the workplace after Christmas and by looking to sell in added-value services and software in advance of the trend, the channel can have a very happy 2013 rather than a post-Christmas headache. ®