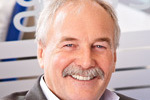 Ian French has worked in IT since 1980 and his CV includes spells with vendors, distributors and resellers. He has worked with several organisations in Japan, Taiwan and Korea as well as US and most of Europe. Having led Ideal Hardware, a storage distributor based in UK, he led a sale to Bell Microproducts and worked as President EMEA for Bell for 4 years before setting up a consultancy business. This has completed channel related projects for vendors and distributors and has assisted in several acquisitions. Ian is a non-executive director for four companies and is chairman of an educational charity.
Maybe it's not just the recession, cloud and direct sales...
Investors and funders may soon need to see a warning on every distributor prospectus or public filing that over revenues are heading in the opposite direction to up.
A slew of recent results from some of the heavyweights show sales have indeed gone south, but after years of near unbroken growth – and given the assumption that top line expansion is the only real measure of success – the question has to be WHY?
Well, of course there are many reasons why revenues can fall, ranging from some simply incompetent senior management, to boards making intelligent, strategic decisions about longer-term objectives; such as exiting low margin activities, technology changes that marginalise "last years hot thing" and all of the challenges of prospering economically in a recession aren't helping too much either.
However, talk in the channel indicates there are more complex issues at hand - which may not only start to worry analysts and investors - that need to be properly understood. Discussion of these issues should be a priority for any boardroom meeting in a channel organisation – and not just in the distribution layer.
The many different flavours of organisations in the IT channel will all have differing objectives and execution capabilities, but there are fundamental changes going on that merit wider debate and one of these is the disappearing revenues from many distributors.
Going on buying sprees – despite revenue doldrums
This is most recently illustrated by Avnet reporting significant losses of EMEA revenues – despite having been on a distributor buying spree (most recently of Bell Micro), which should theoretically have hugely increased reported sales.
Avnet's ongoing buy-ups of likely companies, such as Magirus, suggest this is part of a long-term plan, but you do not have to be a rocket scientist to work out that without these acquired revenues, like-for-like sales saw a steep decline.
Some of my recent conversations with vendors have included the question: "What has happened to old fashioned stuff like organic growth?" The stellar performance of Softcat recently showed that great senior leadership and execution still pays off.
This raises questions about why a large company such as Avnet is experiencing negative growth. They have some very experienced and commercially savvy managers, a balance sheet capable of supporting most developing countries and their vendor line-up reads like the Who's Who of technology.
So why are they losing revenues so quickly? Part of the problem is undoubtedly the challenges of integrating the people and working practices from all their acquired companies. Not having joined up systems and sales teams is clearly not great, but despite these challenges there must be other reasons for this apparent decline.
Looking at reported revenues from other distributors - Ingram Micro and Arrow - it is apparent that this problem is not unique to Avnet and several larger (mostly US) distributors have also reported falling or relatively flat revenues – especially when acquisitions are stripped out.
It is also interesting that despite these challenges other (largely regional) distributors like Westcoast, Asbis, SDG and Micro P all seem to have managed to grow revenues very successfully in the same period. The never-ending enthusiasm for distribution success has even created new start-up distributors announced in the UK in the last 3 months: Commtech UK and Pragma Distribution.
It must also be said that smaller specialists like Hammer and Zycko continue to post strong growth, so there must be other influences. It may be worth noting that most of the local/regional players are managed either by their founders or worker/shareholders and are not run by accountants. Their focus on customers and technology excellence seems therefore to pay off but even for the smaller distributors there are some serious changes happening and it is worth some analysis, especially as the "big 4" global disties will achieve over $130bn revenues this year despite facing a share of challenges.
I think the answer lies partly in the relentless focus on cost control, which dominates strategy for many global distributors; even at the expense of customers and people. The obsessive focus on making KPIs even more challenging and the inevitable reduction of headcount levels has led to the creation of cheaper, telesales centres, where junior sales people are expected to replace more expensive external Account Managers and Business Development execs.
Smaller, more agile, distributors understand that clients need more than order handling. I meet many resellers who are also unhappy with the lower levels of technical skills and support generally available from big distributors currently. This is again an indirect result of attempting to impose cost targets without really analysing cause and effect. Perhaps it is time that some managers realised that it is a good idea, in a very technical industry, to have some real technical resource?
Another huge challenge is the growth of "end user" outsourcing contracts to huge contractors and systems integrators, most of whom do not need to buy through distributors. Indeed they are often being encouraged to buy directly from vendors and publishers.
Despite the (often) cosmetic focus on sales to SMEs and vertical specialists by larger distributors, the fact is that a large percentage of the sales revenues from these distributors have increasingly been to large Telcos, the resellers giants and large system integrators.
This is a double-edged sword, because as these huge customers look to rationalise their purchasing, they are able in the short term to drive hard commercial terms. This may lead to unprofitable contracts for many distributors, balanced by the need to retain the revenues and certainly some larger contracts are actually loss making even before indirect costs are factored in. Undoubtedly, this redefinition of supply chain is not helped by a take it or leave it attitude from some large customers who know they can usually find someone to meet their demands, usually someone who is falling short of their targets.
These big channel customers are also creating painful credit decisions and increasingly create inventory risks due to stocking demands. Write-offs of some distribution inventory - including the issue in the PC market last year - show that stock inefficiency is not limited to the big tin vendors.
Another significant factor is the relentless adoption of annuity sales models, which is most visible in software-as-a-service, and some cloud models. As vendors and publishers drive these changes, distributors are being forced to review all their operations – including their billing capabilities and credit functions.
Adoption of these annuity models and other types of non-capital revenue streams are beginning to affect most companies and the ongoing move from capital sales models, with relatively simple revenue accounting, to more complex models is increasingly important to understand for the industry generally.
Although there are many revenue drivers at play, it might be worth looking at some examples of current distributor revenue impacts.
Software licences not the money-spinners they once were
Software licences have traditionally been a good revenue driver for distributors (and resellers) and although margins might be a bit thin, the quarter end rebates and marketing dollars made it, sort of, OK. Well, this is changing very quickly and while acknowledging the recent announcements from Microsoft, most major publishers are developing new ways to encourage more usage, sales or rental of their products, therefore many of these models will decrease current license revenues. Some publishers are also starting to grab renewals directly wherever possible, while some larger corporates are handing their licence estates (and renewals) to their outsourced partners or are negotiating directly with the publishers. This is becoming an increasing challenge for distribution.
Even hardware sales have been hit
Hardware sales have usually been the backbone of most channel companies, especially larger distributors, and lots of technology refreshes and whizzy products meant that good salespeople could usually find end customers for the latest technological marvels. However, times they are a-changing here as well. Even slick marketing campaigns, (how many of those are there around these days?) cannot force users to place orders. Many companies, who would traditionally have bought through channels, and therefore drive distribution revenues, are now considering a range of options which include outsourcing, hosted models, rental etc.
Sadly for many channel operators, some of these end customers have also discovered that hardware does not explode after three years, but can often keep working rather well for longer! Assumptions on refresh cycles should no longer be relied on too much, with the probable exception of the expected Windows 8 bonanza driving massive theoretical hardware refreshes, and the kitting out of data centres is still good news for competent players but there is really not a lot of must have technology change nearby, especially in a recession where dollars are tight. The exceptions are vertical specialist areas such as Voice and security.
We'll see more of this...
The fact is that distribution revenues will probably continue to erode going forward and there is not much that can be done to change the market. I suspect that we will, therefore, probably see some interesting behaviour including:
Very competitive pricing, especially at quarter ends – probably at the expense of margins, which could be good for resellers.
Ongoing distribution acquisitions, because buying revenue is a lot easier than actually driving organic growth.
More cost cutting because of slowing revenues, which might drive more revenue decline and therefore this could drive more cost cutting.
Senior distribution management merry go rounds, as targets are increasingly not met.
Better deals for resellers, who are increasingly realising that their business is essential to distributors and therefore demands for pricing and terms will often be sympathetically met, as the battle for revenues gets really serious.
What should be done
Superior management and execution capability by some highly motivated distributors will always enable better companies to win business at the expense of their less agile and intelligent competitors, but the fact is that all distributors and wholesalers will have to reinvent themselves and simultaneously invest in their businesses and systems. This will be difficult in an age of austerity and will cost accountant-led companies.
The adage that basic common sense is a really good thing would suggest that distributors (and other channel companies) could think about the following:
Train your people to be better. Good people, either in sales or technical disciplines, are very important and they should be valued and retained.
Invest in real customer understanding and support as this is crucial to business success and order fulfilment is only part of the engagement cycle.
Understand existing and new technologies. Remember that being early adopters of new opportunities and vendors is critical to success.
Make sure your systems actually work and are acceptable to your customers.
Realise that the trick of increasing revenues by acquisition and then getting rid of the expensive people rarely works and unless there is a well-thought-out integration plan, your customers can migrate as fast as the rejected employees!
If acquiring companies, try to get the integration plan right, especially on culture and retention of great skills and knowledge.
These lessons and many more – not even referencing the huge challenges of developing cloud models and electronic delivery capabilities – will be very hard for the distribution giants to understand, and it will be difficult to get the bigger companies to agree to the sort of rapid execution that's needed to drive change. The clock is ticking and Avnet's recent weaknesses serve as a stark lesson to all – that revenues can and will go down sometimes. ®