Disk-flash storage mix biz chief argues his corner
Using flash memory, deduplication and predictable performance the iSCSI array has been reinvented by the founders of LeftHand Networks in the shape of NexGen Storage's n5.
LeftHand Networks was acquired by HP and is now the HP P4000 line. It competes with Dell's EqualLogic iSCSI arrays, and NexGen is squaring up to both of them as well as EMC and NetApp iSCSI storage products.
In these days of SSD-enhanced disk arrays, all-flash arrays and flash memory-enhanced servers, new tiered flash and disk arrays like the n5, the Nimble Storage array and Tintri's T540 product offer flash speed twinned with disk capacity and vastly improved array software to deliver a better price/performance mix.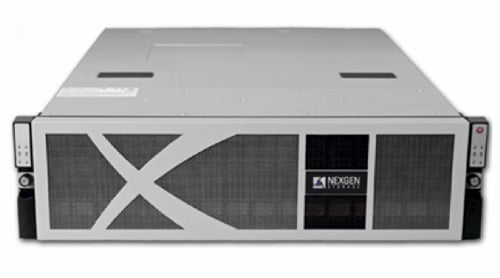 NexGen n5 3U enclosure
The n5 was designed and built knowing that traditional drive arrays using SSDs, all-flash arrays and flash-enhanced servers existed, and the founders believed they could reinvent their iSCSI array mousetrap a second time and catch bigger, fatter and fleeter mice than ever before.
Briefly, the n5 has dual active-active controllers, each with DRAM cache, and running iCOE, the InControl Operating Environment. Behind them is a tier of SSDs, 1.28TB of Fusion-io flash storage, and behind them a tier of SAS disk storage, 32TB to 128TB worth of spindles.
A big point made by NexGen is that SSDs should be connected to the controller by the PCIe bus and not via disk controllers, as is the case with traditional disk drive arrays putting SSDs in hard disk drive slots and so restricting their performance.
Incoming data is deduped in the mirrored DRAM caches, again in the SSD and again on disk in what NexGen calls Phased Data Reduction, with a general 5:1 dedupe ratio, no impact on access performance, and no need for rehydration. Data at the sub-LUN level is dynamically placed in NAND or on disk.
Capacity is thin-provisioned, and there are snapshot and cloning facilities. Performance can be scaled up by adding flash, and capacity by adding disk. A performance level can be set on a per-volume basis with three service levels: mission critical, business critical, and non-critical.
We asked co-founder and CEO John Spiers some questions to find out more about the product and how it compares to others available. His replies have been edited for brevity.
The John Spiers interview
El Reg: How do apps in servers use Nexgen storage resources?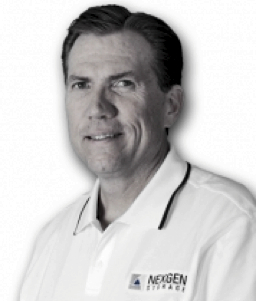 NexGen CEO and co-founder John Spiers
John Spiers: All applications connect to NexGen shared storage resources via iSCSI. NexGen storage allows customers to set performance quality of service (QoS) levels to guarantee application performance from the storage system's perspective along with performance service levels that allow users to prioritize application workload in degraded mode operation.
The data placement algorithms make evict/promote decisions to ensure the most active data stays in solid state while cold data is stored in the disk tier. Most other tiering solutions perform what we call "after the fact" data tiering where blocks are moved during slow periods based on historical workload statistics, whereas NexGen's tiering is more like cruise control in a car, performance is delivered on-the-fly based on instantaneous demand, and tiering can also be scheduled to achieve a higher service level at a predetermined time; e.g.; during a VDI boot storm.
El Reg: How is Nexgen positioned against Nimble Storage?
John Spiers: We don't see Nimble targeting the ability to manage and provision performance, and their system also consumes disk drive slots with solid state drives, which means they are using SSD behind a disk controller that has the issues highlighted above. We've also heard (but not confirmed) that they are using standard off the shelf LZ compression whereas we've designed our own data reduction technology specifically for a primary storage system to ensure no impact on application performance.
It never makes sense to implement solid state in a disk drive chassis behind a storage controller
El Reg: How is Nexgen Storage positioned versus Violin Memory?
John Spiers: We're targeting the mid-range storage market, heterogeneous (virtual and physical servers, multiple OSes) application environments. This requires focusing on driving down $/GB, $/IOP, and footprint all at the same time.
We don't see Violin focused on driving down $/GB and increasing capacity density, they seem to be targeting applications that require extreme performance. That being said, NexGen is compatible with Violin's Solid State arrays that have a PCIe interface, so we view them as a potential partner.
El Reg: How should servers use SSD?
John Spiers: It depends on application need and customer budget.
If the applications don't require storage high availability (HA) outside of the server, and more performance for the application justifies the cost, it makes sense to implement PCIe solid state in the servers. If the applications require storage HA, or the additional performance boost may not justify purchasing solid state for every server, then it makes sense to implement PCIe solid state in a shared storage system.
It never makes sense to implement solid state in a disk drive chassis behind a storage controller, as that implementation imposes bottlenecks on solid state performance which reduces the value. NexGen believes the SAN/NAS (shared storage) approach is more cost effective than the DAS approach for most mid-range storage customers.
Is your storage gear highly available?
El Reg: Should storage arrays manage server SSD as cache? Should they manage it as a tier?
John Spiers: Whether it's managed as a tier or a cache, HA becomes a concern. If the server fails over to another physical server it could cause data inconsistency on the storage because data in a tier or cache is now missing, unless it's a read-only cache.
In order for the storage system to control the server SSD as a tier, you have to introduce software overhead on the server, and then the reliability of the server-storage combination can vary because it may not be designed to work together. Centralizing the solid state resource provides higher utilization, simplified management and lower overall cost. These are the same benefits that drove the storage industry to invent SAN/NAS systems in the first place.
We don't see any reason why this dynamic would change for solid state, the exception being those applications that cannot deal with the additional latency that a network imposes on performance.
El Reg: If Nexgen Storage adds a PCIe interface to accessing servers how will it avoid competing with Fusion-io?
John Spiers: We are partners with Fusion-io. Today they sell Fusion-io DAS and many of their customers ask for "shared Fusion" and that's where we come in. It's a new market for them.
El Reg: How will Nexgen Storage position its products against pure flash array startups such as Pure Storage and SolidFire?
John Spiers: We've designed our system from the ground up to provide the ability to manage and control performance in a shared storage environment. The ability to set QoS and guarantee performance in addition to prioritizing application performance in degraded mode scenarios is critical for success in the midmarket.
In addition, we're selling systems today, and today, disk is less expensive than solid state/flash capacity. NexGen dedupes all tiers, so as long as disk is the lowest $/GB and pure solid state/flash systems don't leverage that cost advantage, we deliver more value with our storage system.
Pure and Solidfire seem to be focused on the highest performance applications for the high-end enterprise and service providers - and they may struggle with I/O bottlenecks from having SSD behind a legacy disk controller as opposed to PCIe based solid state.
* * *
Conclusion
Should we assume that the n5 goes faster than HP's P4000? Until we see some numbers we can't be sure, but the dedupe, flash, and performance features should see the n5 outgunning the P4000, Dell's EqualLogic and the EMC VNX and NetApp FAS arrays in iSCSI form.
There's a glorious competitive battle is warming up in storage as flash, and how you use it, move to centre stage. Once again the mainstream incumbents are facing a rash of startups eager to show they have better, cheaper faster technology than them. NexGen's hat is in the ring and it's ready to force the pace. ®