Developing super-speed SSD – SCSI Express accelerates SSD interface
After knocking SSDs for poor performance, Fusion-io is now building one itself – but throwing out existing speed-limiting SSD interfaces designed for disk drives.
A preview device, running at 95,000-plus IOPS, was shown at HP's Discover event in Vienna last month.
Fusion-io has criticised SSDs for poor performance, saying:
The power of SSDs is compromised when compared to memory acceleration options designed as a memory tier, such as PCIe-based flash memory cards. We are finding that PCIe solutions outperform SSDs by a wide margin
Producing its own SSD would be quite a turnaround, but this is what it appears to be doing.
Nigel Poulton blogged: "The concept box on display at Discover is an early prototype, but was an HP ProLiant server with an early Fusion-io 2.5-inch SSD drive connected to the PCIe bus (I know its not really a bus) via an SFF 8639 backplane connector (PCIe 12Gbps 6 lane). However, this is also do-able over PCIe cable implementations."
Poulton said: "They told me that the Fusion-io drive was literally only four weeks old."
He added: "It was a 2.5-inch hot pluggable drive. On the outside it looks just like any 2.5-inch SAS drive."
A Fusion-io spokesperson said: "The Fusion-io demonstration at HP Discover included a technology preview that integrated ioMemory technology with the emerging SCSI Express standard in an HP ProLiant server. Fusion-io is excited to continue working with others in the industry to evaluate the potential of these technologies."
Abandoning HDD interface paradigm for SSDs
This is not an SSD as we currently know it, a device with an interface designed basically for hard disk drives (HDDs).
Grant Jacobson, Fusion-io's director for HP alliances, wrote in his blog: "Connecting via the PCIe-based SCSI Express standard is consistent with Fusion's cut-through architecture, which reduces latency and increases performance by moving data closer to the server CPU.
"Our HP Discover 2011 demo uses the same ioMemory and VSL technology as the recently announced Fusion ioDrive2 products, demonstrating the possibility of extending Fusion's Virtual Storage Layer (VSL) software capabilities to a new form factor to enable accelerated application performance and enterprise-class reliability. "
VSL "allows file systems, volume managers, and applications to access flash through a common block interface. Similar to page tables in the host virtual memory subsystem, the VSL virtualises flash via 'block tables' and translates block requests to physical ioMemory addresses."
Host systems could use a Fusion-io PCIe flash card (ioDrive) or a Fusion-io SSD in exactly the same way: as a tier of host system memory underneath DRAM, and not as a faster chunk of external storage accessed through an interface designed to an HDD access paradigm.
SCSI Express interface
Fusion-io also explained its view of SCSI Express features and advantages:
An emerging standard, SCSI Express is used for connecting and transferring data between computers and other devices is optimised for PCI Express deployment. Delivering low latency to storage memory devices attached via the PCIe bus, the standard includes a SCSI Command set optimised for solid-state technologies such as Fusion ioMemory.

SCSI Express delivers enterprise attributes and reliability with a Universal Drive Connector that offers utmost flexibility and device interoperability, including SAS, SATA and SCSI Express. The Universal Drive Connector also preserves legacy investments and enables support for emerging storage memory devices.
We might envisage future Fusion-io SCSI Express SSDs to function as expansion units for its main PCIe-connected ioDRive products, giving customers the capability to scale up capacity in 250-500GB increments, or add a slower tier of MLC flash to a primary SLC flash tier.
Speeds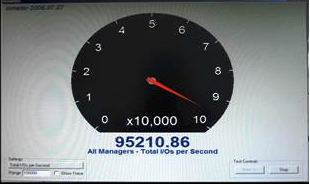 HP DIscover Fusion-io SCSI Express SSD speed
HP social media man Calvin Zito blogged about the demo and his article includes an image showing a single Fusion-io SDD doing 95,210.86 IOPS when hooked up to the ProLiant server via SCSI Express.
What we take away from this is that the Fusion-io SSD is not a quasi-hard disk drive product and its performance in the 100,000 random read IOPS area is significantly better than most existing 2.5-inch SSDs:
Anobit Genesis-S series SAS - 70,000
Corsair Force Series 3 - 85,000
Hitachi GST Ultrastar SSD400M - 56,000
Intel 710 - 38,500
Micron C400 - 75,000
OCZ Octane - 45,000
SMART Modular Technologies' Optimus rather spoils the party, as it promises 100,000 IOPS through its 6Gbit/s SAS interface, with general availability in January next year.
With SCSI Express being five times faster than 6Gbit/s SAS and SATA, we might expect rather more of a differential between today's 2.5-inch SSDs and their 70K IOPS or so average, and the 95K IOPS of the Fusion-io SCSI EXpress SSD preview. A fivefold faster speed would be 350,000 IOPS.
Fusion-io's ioDrive 2 PCIe-connected flash card does exactly that, 350,000 IOPS. Previews are only previews, after all, and not as polished as final product. Poulton said: "They told me that the Fusion-io drive was literally only four weeks old."
Let's suppose Fusion winds down the speed of a possible future SCSI Express ioDrive SSD to, say, 250,000 IOPS, putting in place a speed differential with its mainstream ioDrive products. What does that mean for existing SSD vendors?
The short answer is death.
The longer answer is: get on the SCSI Express or NVMe magic roundabout because you have no other option. By mid-2013, SCSI Express or NVMe-connected SSDs are likely to be much, much faster than today's lumbering slowcoaches. This is a train you cannot afford not to be on. ®