Understanding Australia's internet shopping tax row
Australia's retailers, led by high-profile Harvey Norman chairman Gerry Harvey, have shot themselves in the foot with a campaign demanding that the government apply its 10 per cent Goods and Services Tax to all internet purchases, and not only those over $1,000.
The retailers, concerned that sales in the Christmas period were only a few percent higher than last year – and seeing with envy the strong growth in online retailing – decided on a strategy of running full-page advertisements in print media demanding that the GST exemption be dropped.
The strategy alerted readers of print newspapers – some of which, presumably, are less internet-savvy than online readers – that bargains may be had online, while at the same time infuriating individuals already favouring Internet purchases over visiting bricks-and-mortar stores. It's a pity that the strategy was so misguided, because it pitted the retailers against their own customers, while drawing attention away from aspects of Australia's markets that work against both customers and retailers.
Who sets the prices?
With the Australian dollar at parity with the US dollar, it's become easy for people to compare the prices they pay against those paid in the US and conclude that Aussies are ripped off.
Which we are: in a quick survey of ten different products, The Register identified an "Australia premium" that can be as large as 65 per cent. In only one case – a Brother printer – were we able to find an Australian advertised price that's lower than what's available in the US.
Here's the list of products we price-checked: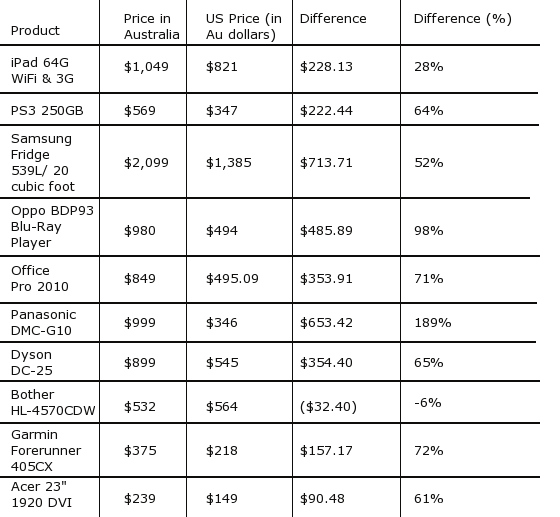 (Wherever possible, prices are the "recommended retail prices" listed on manufacturers' websites. The Brother printer, Garmin Forerunner and Acer screen were priced from the Costco website in America and local retailers in Australia.)
Of all of these products, the only ones to require significant localization are the refrigerator and vacuum cleaner, which need to be built with a 240V supply to suit Australia (and, of course, other markets that use 240V). The iPad needs some localization, since different countries have different mobile networks. Nearly everything other technology product uses an universal supply.
But it's a mistake to ascribe the huge differences to retailer mark-ups. It's far more likely to be a symptom of the small scale of the Australian market. Someone ordering products in the tens of thousands can't demand the same deep discounting as someone ordering millions.
The industry – vendors and their channels – also trot out a variety of self-serving "explanations" for price discrimination between different markets. They will cite relative transport costs, for example, even though it's often cheaper for the individual consumer to transport one unit by regular post from America than to buy something at retail that was (presumably) transported in bulk.
The retailer that has done most to bring price discrimination to the fore is Aldi, which will happily buy branded coffee in Indonesia and ship it to Australia if it gets a cheaper shelf price. The only way such a situation could exist is if the coffee brand were charging different prices in different markets for exactly the same product.
Whether it's simply our lack of bargaining power or something more sinister, it appears to The Register that it's not just Australian consumers who suffer: price gaps probably exist throughout the supply chain.
Exchange rate? What's that got to do with anything?
Over recent months, Australia has experienced a startling appreciation of its currency, compared to the American dollar: around 20 per cent since June 2010. Australian exporters hate it – coal and wheat traded in American dollars fetch fewer Australian dollars than six months ago – while shoppers and travelers love it. Strangely, however, some imports to Australia seem immune to exchange rate fluctuations.
The price of an iPad 64G with Wi-Fi and 3G in June 2010 was $1,049, and it's exactly the same today; the price of Microsoft Office Professional is unmoved at $849; the price of a 250GB PS3 has declined by just $30 (small enough to be attributed to retailer discounting rather than the rising dollar).
Some products – like the iPad – don't suffer the same indignities of competitive retail as others, but the way some retail products defy gravity are hard to explain without asking how much control their vendors hold over retail pricing. How this is achieved without breaching laws against "resale price maintenance" (where suppliers or distributors enforce contracts banning retail discounting below manufacturer-set levels) is another question entirely, but in a brief analysis of 37 actions taken by the ACCC against this practice over more than 10 years, we could only identify one case in which an IT company was the target.
There's much more action in the sports equipment market. Even though it looks more competitive than some IT segments, with lots of suppliers, lots of importers and lots of channels to market, eight of the cases examined by The Reg were against companies manufacturing or distributing sports equipment.
So we're forced to conclude that either the IT industry doesn't enforce resale price maintenance (in which case the immovability of retail pricing has some other source, such as monopoly providers who don't adjust wholesale prices no matter what happens to the currency), or the IT industry manages to write contracts that break the spirit, but not the letter of the law.
The GST distraction
Whatever other factors come into play, it seems clear that Australia's 10 per cent GST is too small to account for the gap between Australian and American prices.
So why have the retailers left out the other factors, which may have gained them sympathy from their customers, and focused instead on trying to extend an unpopular tax?
It boils down to who holds the power. Although consumers believe that Harvey Norman wields awesome power over its suppliers, Australia really is a small market at the edge of the known world, tacked onto the territory of a minor sales rep who has no real incentive to offer discounts. Whether by contract or simply by controlling supply and having insufficient competition, vendors have far greater power over retail prices in Australia than they do in America.
The vendors don't have to care at all. If a consumer chooses America as the source of his or her next laptop, the vendor gets a sale – and gets to sidestep the often inconvenient business of providing warranty support, so it probably protects its margin even at a lower retail price. Vendors, in other words, are happy to screw Australian consumers and retailers by price discriminating in favour of other markets.
Retailers – even large retailers – have decided not to rock that particular boat. Rather than risk their vendor relationships by exposing practices that are probably anti-competitive and certainly work against the interests of Australian consumers, the retailers thought that an attack on government would garner more sympathy, more quickly.
They miscalculated. As a result, consumers are more interested in online shopping than ever before. The oligopoly of Australian retail is finding itself betrayed by the oligopoly of international suppliers.
Perhaps, in reassessing their position, retailers might have to consider how much good they're getting out of their high-profile brand relationships. ®