HP is not only launching two Xeon 7500 servers and three Opteron 6100 servers – as we told you it would - it's also previewing five other machines, which are due during the second half of the year.
Some of these machines – particularly the high-end boxes using Intel's eight-core Xeon 7500 processors, which are the ProLiant DL580 (four-socket) and DL980 (eight-socket) – were expected in March, concurrent with the chip launch, but for reasons that HP did not explain, they were pushed out until June. Most likely, HP needed something interesting and new to talk about at this week's HP Tech Forum customer and partner conference in Las Vegas. But this means that IBM, Dell, NEC, and others hogged all the press about the Xeon 7500 machines they had engineered and got a jump on selling these pricey boxes too.
Dell, knowing that HP was doing a big server launch today with the Xeon 7500 and Opteron 6100 processors, put out a press release to give its x64 rival some shots to the ribs, saying it beat HP to market by three months and has already sold "tens of thousands" of PowerEdge boxes using these two chips. Any way you estimate that, this works out to hundreds of millions of dollars in revenues for Dell, and maybe more than $1bn if the boxes were heavily configured. Those are not small potatoes in this shrunken server racket.
Don't worry. HP will get its share, as it tends to each quarter in the x64 server space. Customers only change their vendors when something goes horribly wrong or when one vendor offers an advantage that the others do not for an extended period of time. We're talking years, not months.
Among the ten new machines launched today, none of them are using Advanced Micro Devices' forthcoming "Lisbon" Opteron 4100 processors, which will come in four-core and six-core variants and which are designed for single-socket and dual-socket servers with low prices and low thermal profiles. Jim Ganthier, vice president of marketing for HP's Industry Standard Servers division, would not comment on what plans HP had – if any – for these x64 chips.
There are three machines using the twelve-core Opteron 6100s being launched today (one rack and two blades), two machines using the Xeon 7500s (both racks). HP is also talking about one double-stuffed blade (which puts two whole two-socket servers on a single half-height blade) that is being updated to use the six-core "Westmere-EP" Xeon 5600s. HP is not divulging the feeds and speeds of the remaining four boxes, but it looks like there will be a mix of Xeon 5600, 6500, and 7500 processors used in these remaining machines.
Let's start with the three new rack servers in the ProLiant G7 generation of HP iron.
First up is the ProLiant DL580 G7, a 4U, four-socket rack server using Intel's top-end Xeon 7500s that is the Belgian draft horse compared to the smaller DL380 workhorse, which is a 2U, two-socket box based on Intel's mainstream Xeon 5600s. HP is supporting six of the seven Xeon 7500 processors in the DL580 – all of them but the six-core, 1.86 GHz Xeon L7545 processor. (Why you ask? I dunno. But you can see all of the feeds and speed of the Xeon 7500s and their HPC brethren, the Xeon 6500s, here in El Reg's coverage of the March launch of these chips).
In terms of application scalability, the only two chips that matter are the 2.26 GHz Xeon X7560, which has eight cores and costs $3,692 each (when bought in 1,000-unit trays), and the 2.66 GHz Xeon X7542, which has six cores and costs $1,980. The Xeon 7500s come in 130 watt, 105 watt, and 95 watt versions, and prices range from a low of $856 for a four-core E7520 to a crazy $3,692 for the fastest eight-core part.
As El Reg previously divulged, the ProLiant DL580 G7 has 64 DDR3 memory slots, which are implemented on eight memory boards (according to the Xeon 7500 design). The memory board provides two-way interleaving on memory for the four processor sockets and using 16 GB DDR3 memory sticks in the memory boards, you can jack the main memory on the DL580 to 1 TB. The machine has one internal solid state disk slot for embedded hypervisors and eight disk drive bays across the top front of the chassis.
The disks can be SATA or SAS disk drives or SSD units, but they have to be 2.5-inch hot plug drives. The DL580's motherboard has five PCI-Express 2.0 slots (two x8 and three x4) and optional mezzanine cards that plug into the mobo to allow up to an additional six slots of various types (PCI-Express 1.0 and 2.0 and PCI-X) to be added to the box. The DL580 G7 server comes with four Gigabit Ethernet ports, but an upgrade module to convert this to dual 10 Gigabit ports is available.
A base DL580 G7 with two four-core 1.86 GHz E7520 processors, 16 GB of memory, the Smart Array P410i/512 MB disk controller, two 1,200-watt power supplies (rated at 94 per cent efficiency), and no disk drives or operating systems will run you $9,249. Plunk four of the eight-core, 2.26 GHz Xeon X7560 processors into it along with 64 GB of memory, now you're talking about $31,849.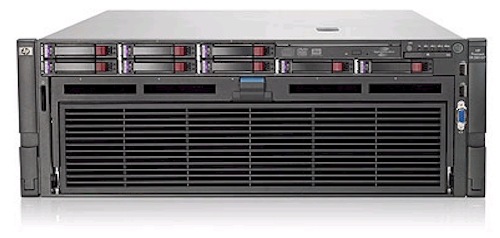 You can't tell the difference between a DL580 G7 and DL585 G7 until you load your code. And maybe not even then.
The DL585 G7 is this DL580 G7's four-socket Opteron cousin from up north in Austin way. (Well, actually German cousin from Dresden, I suppose). The DL585 G7 supports six different SKUs of the twelve-core Opteron 6100s that made their debut in March; AMD has launched ten different "Magny-Cours" processors and it is a bit of a mystery why HP doesn't support them all, but you never find these things out until after the interview, so you can't ask.
HP is letting customers use the 105 watt Opteron 6176 Special Edition (SE) chip, which spins at 2.3 GHz, in the DL585 G7 as well as the Opteron 6164 Highly Efficient (HE) low-voltage part running at 1.7 GHz and rated at 65 watts. The other standard Opteron 6100 parts have 12 cores and run at around 2 GHz, plus or minus a little, and the Opteron 6136 has eight cores running at 2.4 GHz and is rated at 80 watts, like the other standard twelve-core parts.
The DL585 G7 has 48 memory slots, but the memory controller in the Opteron 6100s only allows a four-socket processor to address 512 GB max, so loading it up with 16 GB memory sticks will get you there with only 32 slots being used. If you use 8 GB sticks, then the maximum memory is 384 GB for this box, using all the memory slots.
All of the other peripheral and I/O options on the DL580 G7 are the same on the DL585 G7. A base machine comes with four twelve-core Opteron 6168 processors clocked at 1.9 GHz and 32 GB of main memory. This 48-core machine costs $8,579, less than the 16-core base DL580 G7. A fully loaded Opteron 6100 version of the DL58X platform uses the 2.3 GHz Opteron 6176 SE running at 2.3 GHz with 64 GB of memory for $18,039.
4P tax break
AMD is not kidding when it said it removed the 4P tax with the Magny-Cours chips. It will be very interesting to see two fully-loaded DL58X G7 machines run the same benchmarks so we can reckon relative price/performance on the Xeon 7500 and Opteron 6100 versions of the platform. Right now, AMD is cleaning Intel's clock on pricing and Intel is winning on memory scalability and probably bottom line profit.
The Xeon 7500-based ProLiant DL980 G7 is the new high-end Xeon box for HP, since the Opteron 6100s poop out at four sockets using AMD's chipsets. The machine is exactly what El Reg told you it would be, and that is basically two DL580s doubled up and talking across Intel's "Boxboro" 7500 chipset to make an eight-socket server with 128 memory slots and topping out at 2 TB of main memory. The machine does not have twice the number of peripheral slots and networking ports, however. It has the same base five slots and 11 expanded slots as the DL58X machines above and the same eight disk bays.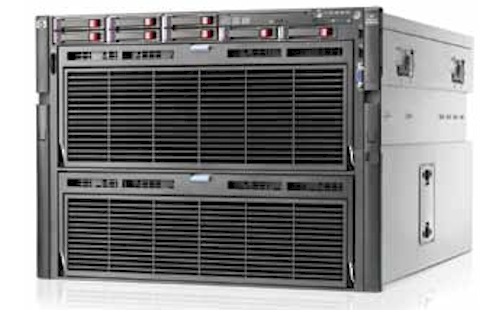 The HP ProLiant DL980 G7: Big iron, by a lot of measures.
HP is only supporting two standard Nehalem-EX processors in the DL980 G7, which is a bit perplexing. That includes the 2.26 GHz, eight-core X7560 and the 1.86 GHz, four-core E7250. HP is also allowing customers to use the 2 GHz, eight-core X6550 and 2 GHz, six-core E6540. These latter 6500-series Xeons are aimed at HPC shops and only two of them can be put into a single system image. Again, you don't find these things out until after the HP executive has departed, so there is no obvious explanation, unless you think it makes sense to have a two-processor supercomputer cluster node with 1 TB or 2 TB of memory.
Unlike the four-socket ProLiant DL58X G7 boxes above, the DL980 G7 is not shipping now and pricing information is not available. It will be available "in the coming months."
According to Ganthier, the roll-out of blade servers this year represents the biggest refresh that HP has done since the BladeSystem c-Class chassis and related ProLiant BL blades first made their debut four years ago. But for all the noise today at HP Tech Forum, there are no Xeon 7500 or 6500 blade servers and the two blade servers that are shipping are based on AMD's Opterons. The remaining blades are given names, a few sentences in press releases. The feeds and speeds are not out for them because they are not shipping until the second half of the year.
The ProLiant BL465c G7 is a two-socket, half-height blade server that uses the Opteron 6100s. Which ones? The data sheet doesn't say. But the information I have seen from other sources says that both eight-core and twelve-core processors will be supported in this blade. The BL465c G7 has sixteen memory slots, supporting up to 256 GB of DDR3 memory using 16 GB sticks. The blade, as you can see from the picture below, has two hot-plug disk bays in which you can slide 2.5-inch SATA, SAS, or SSD units. The blade, like all of the blades announced this year from HP except for the double-stuffed BL2x220c G7 (which has on-board InfiniBand ports) will have a dual-port FlexFabric 10 Gigabit adapter on the blade. The blade also has a Smart Array P410i/1 GB disk controller and two mezzanine-style PCI-Express 2.0 x8 peripheral slots.
With a single Opteron 6128 HE (eight cores, running at 2 GHz), the BL465c G7 with 8 GB of memory and no disk or operating system costs $3,079. With a twelve-core Opteron 6174 (2.2 GHz) and 8 GB of memory, this blade costs $3,929.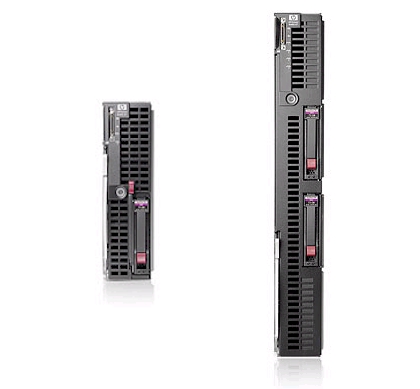 One short two-socket and one tall four-socket ProLiant Opteron 6100 blade server.
The ProLiant BL685c G7 blade server doubles up the Opteron 6100 blade to a four-socket, full height blade with room for 32 DDR3 memory slots and a maximum capacity of 512 GB using 16 GB sticks. (Again, the precise processors supported are not in the spec sheets). The blade has two disk bays and two of the dual-port FlexFabric 10 Gigabit Ethernet controllers. The BL685c G7 has the Smart Array P410i/1 GB disk controller and three mezzanine-style PCI-Express 2.0 x8 peripheral slots.
With four of the 2.4 GHz Opteron 6136 processors (eight cores per socket) and 32 GB of memory, the ProLiant BL685c G7 blade costs $10,268. Jumping up to the twelve-core Opteron 6174s running at 2.2 GHz and boosting memory to 64 GB drives the price up to $14,668.
Generally speaking, HP says that the BL465c and B:685c G7 servers are 30 per cent less costly in their base configurations than the prior Opteron 2400 and 8400 machines they replace. A lot of that price reduction is coming out of AMD's hide – and intentionally, so as the company attempts to make it up in volume in the server racket.
Five more blades in the second half
In addition to these four shipping rack and blade machines and the not-yet-shipping ProLiant DL980 rack box mentioned above, HP talked briefly about five more machines. The BL460c G7 is a kicker to what HP called "the world's best selling blade server" and the BL490c G7 is being billed as "the world's first virtualization blade." HP didn't say much else about these, but it doesn't take a genius to figure out, based on HP's prior products and naming schemes, that these will be half-height two-socket Xeon 5600 servers. What makes the BL490c special built for virtualization, we'll just have to wait and see.
HP doesn't have Xeon 7500-based blade servers in the field, so I am going to guess that the ProLiant BL680c G7 will be a full-height, four-socket blade using these chips from Intel. What HP has said about the BL680c G7 is that it will support 1 TB of memory per server, and that means it cannot be a Xeon 5600 box, which can only address 192 GB across its two sockets. If HP had 64 DDR3 memory slots on the BL680c G7 – which arguably sounds like a lot – that gives you 1 TB of memory capacity using fat 16 GB sticks. To do this would almost certainly require a double-wide blade, or perhaps two skinny blade that snap together as HP is doing with its Integrity BL860c i2 (two sockets), BL870c i2 (four sockets), and BL890c i2 (eight sockets) Itanium 9300-based blades.
There is another blade coming called the BL620c, and it is reasonable to guess that this is a low-end Nehalem-EX blade, perhaps supporting both generic Xeon 7500 processors and the Xeon 6500 HPC variant.
Finally, the BL2x220c is a half-height, double-stuffed two-socket Xeon 5600 server that HP is putting InfiniBand links on instead of its FlexFabric 10 Gigabit Ethernet links. Other details of this machine were not divulged today. ®