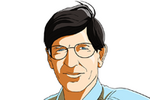 Chris Mellor covers storage and allied technology areas for
The Register
. After experience working for DEC, Unisys and SCO, he became an IT journalist writing for a variety of print publications. He edited the UK's first storage print magazine and then moved into the online world writing for IDG's Techworld, then started up the Blocks & Files blog, which was bought by El Reg.
He has written many sportscar buying guides, a few mountaineering guides and drives a car that's faster than he is.
Plans to move downmarket, away from external storage
Comment In the rosy glow of better quarterly results from HP, one forlorn story of mediocre performance repeated itself. StorageWorks declined 3 per cent and EVA revenues fell 5 per cent year on year.
Shortly after Mark Hurd became HP's CEO in 2005, the StorageWorks division was in a mess, with a history of what we called embarassing financial misses at the time.
In May 2006 HP was 8,300 heads through a 15,300 staff cull and storage performance was healthy, as it was the next quarter. But revenue growth subsequently slowed to a less healthy 3 per cent in February 2007. It was okay for the rest of the year, although storage revenue growth lagged behind server revenue growth.
In September 2008, Gartner was logging HP as losing market share in the external storage market. HP briefly basked in Oracle's affections with its Exadata storage product that month, but got dumped shortly afterwards in favour of Sun.
Then in February 2009, with the recession, things went awry, with double dip revenue falls for printers, servers and PCs. Storage sales weren't as bad as all that though, declining 6.6 per cent year-on-year.
May 2009 saw another lousy quarter for servers and storage, with the StorageWorks division posting a 22 per cent drop in the quarter, to $829m, with midrange EVA disk array sales falling 21 per cent. Storage revenues dropped 21 per cent year-on-year in the next quarter too, then dropped again in the quarter after that.
Gartner had HP positioned near the cross-over line from the leaders square to the visionaries' quarter in its November 2009 mid-range storage magic quadrant.
Now storage has dropped once more, by 3 percent, there being no hike in revenues from David Donatelli getting StorageWorks under his belt at last.
Storage revenues at HP just under-perform, and have done, it appears, quarter after quarter after quarter. The commentary by Hurd and CFO Cathie Lesjak is very revealing. In the latest earnings call, Hurd talked about how he was tackling the storage business:
We have our top guys working on it... we think... there is going to be a pretty strong convergence in the server and storage market. We think there is a move towards more internal storage, away from external storage, which we think strategically really benefits the position we have in the server market. And we had a very strong quarter in the LeftHand product line, very strong. So, there are elements within storage that we actually feel quite good about. As I said, we got pretty strong push strategically on getting this lined up across the entire ESS product line as well as within storage itself.
The P4000 LeftHand iSCSI storage line is doing well, but the rest is not, and HP thinks external storage is going to be less popular in future as direct-attach gets the customer preference.
Cathie Lesjak said HP favours low-end storage: "The linkage in storage basically had a more storage demand in the higher tiers of storage, which also plays very well to our hand, where it's more industry standard, lower cost that really, again, like I said, plays to our hand." (At least I think that's what she said.)
Hurd expanded on this:
If you look at our segments, you got multiple segments. You got the high-end of storage, you got the mid range and then I hate to call up the low-end, but it's the lower tiers and more industry standard part of storage. And what you have for us is really strong growth in the industry standard part of storage. Very mediocre performance in the mid-range that we think we can improve and then not a lot of growth in the high-end. And we think that reflects market trends as well that you got to get, we got to get more of our offering into that industry standard part of the market and have more coverage in relationship to that part of the market.
Note the castigation of EVA performance as "very mediocre", which echoes EVA performance in 2005 when Hurd arrived.
Cathie Lesjak said: "The areas where we are building out coverage is in the storage space. And that is one of the pieces of execution that we're working on." So HP is going to focus more on low-end, industry-standard storage products and expand its sales coverage there - good news for the channel.
HP says there will be server and storage convergence with less need for external storage. Is it beginning a walk away from external storage? It doesn't sound as if it is fired up with revenue growth opportunities in the mid-range EVA market area.
If HP is scaling back its high-end and mid-range external storage efforts in favour of direct-attach and the P2000/P4000 products then this will be much appreciated by Dell, EMC, NetApp and other external storage suppliers. They might ask if HP's refocussing on direct-attach is a consequence of a perceived market shift or a consequence of consistent and strong server sales and weak mid-range external storage sales.
Hurd added this: "The good news for us is it's a big opportunity. The good news is we've got a supply chain leveraging industry standards that are extremely scaled. We believe we now have a better line up than we have had before and we believe we have a team that's capable of helping us build the answer, so we look at it as an opportunity, because we think the markets move it our way and we want to take advantage of it."
Hmm. Five years on from Mark Hurd joining HP and storage is still a disappointing under-performer. It's possible that David Donatelli has a bigger job on his hands than everybody realised. ®