Review Installing a Blu-ray Disc recorder is the latest must-have upgrade for desktops, but because they remain thin on the ground, they maintain a price premium. Given the high storage capacity of the Blu-ray format, write speed is particularly important and we're starting to see drives capable of 8x writing on 25GB and 50GB recordable media. Pioneer's BDR-203BK appears to be waiting for the media to catch up.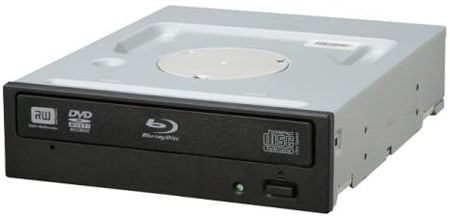 Pioneer's BDR-203BK: capable of 8x write speeds, if you can find the media
The BDR-203BK is the successor to Pioneer's BDR-202 and much of the earlier drive's look and feel is repeated here. This 5.25in internal drive has the same simple front panel, with powered tray, eject button, data LED and a hole for paper-clip-powered, emergency eject. There are also the same Sata data and power connections at the back, as before.
Set up is pretty simple, as long as you have an unused SATA controller. The drive has standard fixings and, given an HDMI-compliant graphics card and display, you can play Blu-ray media out-of-the-box with the supplied software. Well, that's the theory, but we had some problems – more on that later. It's also capable of handling recordable and rewritable DVD and CD discs, offering write speeds, which are competitive with typical mid-range DVD rewriters.
The bundled software is Cyberlink's Blu-ray Disc Suite 6 and this seems to be becoming more popular than the Nero equivalent with Blu-ray drive makers. There's a lot of functionality in Cyberlink's seven different modules, which comprise PowerDVD for movie and video playback, PowerDirector for video authoring, PowerProducer for slideshows, Power2Go from drag and drop burning, InstantBurn for hard drive-style use of optical discs and Disc Advisor, to check a PC's Blu-ray compatibility.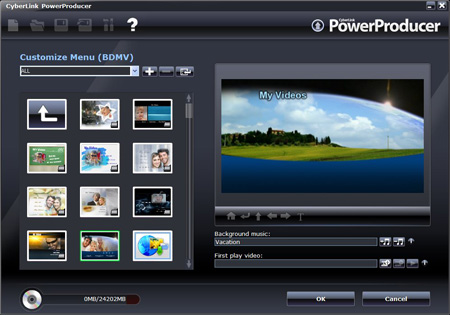 Slideshow anyone? Cyberlink's Disc Suite 6 is a mixed bag of authoring tools
Some of the apps are better equipped than others and, while Power2Go and InstantBurn between them can handle most of your archive storage needs, you'll want something a bit more involved than PowerDirector to make more than basic edits to HD video. Power2Go offers three 'buttons' on the desktop, over which you drag video, audio or data files to add them to a burn list.
PowerDVD 8, normally a good movie player, required a 95MB 'patch' – more like a new version – before being ostensibly ready to go. Even then, once we'd clicked Play to run a Blu-ray movie, the program promptly closed. This was a repeatable problem, even after resetting the test machine with a power down. The copy of the Cyberlink software we used had to be downloaded from the Pioneer site, as the discs weren't ready when the review drives were sent out, but the DVD bundled in retail boxes may well have this problem sorted.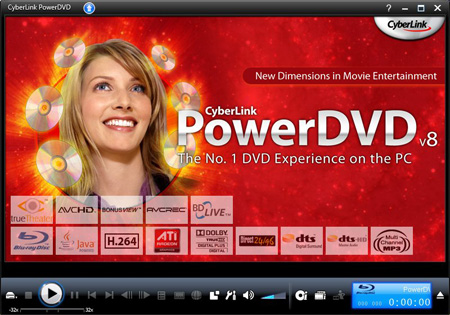 PowerDVD failed to make us smile
As it was, though, we couldn't get PowerDVD 8 to play Blu-ray and had to use WinDVD to check this aspect of the drive's performance. We had no problems playing a Blu-ray copy of Quantum of Solace with the Corel software – other than the film's incoherent plot. There were no noticeable screen artefacts and video and audio output was what HD should be.
Despite there being no official 8x Blu-ray media freely available, Pioneer has tested a number of different brands of 4x discs as being 'overspeed' capable with the BDR-203BK. In other words, you can write to them at up to 8x. The list includes certain single-layer and dual-layer BD-R discs from CMC, MBI, Panasonic, Philips, Ritek, Sony, TDK and Verbatim.
The TDK 4x discs supplied by Pioneer were all 8x capable. According to ImgBrn, which we used for our tests, over half the disc was, in fact, written at 7.7x or above and the average speed was 6x. We wrote 23GB of data in 14m 18s, which is considerably quicker than from 4x models, though not twice as quick.
Media Burn Test Results
Read and write times in seconds
Shorter bars are better
The read-back time – not a worry when streaming a video, but relevant if using Blu-ray for archival – was 15m 26s for the same data, so again a noticeable speed improvement over 4x drives.
Although the primary reason for buying a Blu-ray recorder is to burn Blu-ray discs and play HD movies, it's going to take up a drive slot in your PC, so DVD and CD capability are also important on a day-to-day basis. The BDR-203BK is well specified down through the formats, running DVD±R at 16x, DVD+RW at 8x and DVD-RW at 6x. Finally, it's a 32x CD recorder, too.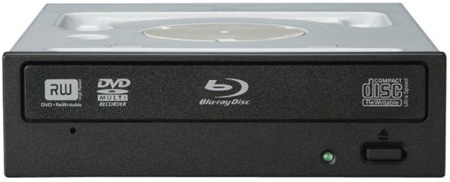 Colour conscious: BK on the BDR-203BK simply indicates black fascia
Under test it did pretty well against these specs. 4.5GB of data wrote to a 16x DVD+R in just 345 seconds and only took five more on a DVD-R. The same data was read back in 306 seconds, giving an average write speed of 13MB/s, with 14.7MB/s for reading. DVD+RW, as usual, is slower, with figures of 504s writing and 513s reading, but these times still equate to 8.9MB/s and 8.8MB/s, respectively.
Verdict
This is a true 8x Blu-ray recorder that can speed up video recordings and data archiving alike. As long as you have a Sata line available, it's an easy internal fit and comes bundled with a strong Blu-ray software suite from Cyberlink - strong, that is, if PowerDVD works for you. ®
More Storage Reviews...

LG Super Multi Blue
BE06-LU10

Lite-on
eSAU208-16

LG GP08NU10

Western Digital
My Book World Edition