In just 30 months flash solid state drives will cost only three times as much as Fibre Channel drives, prompting a user switchover to flash, according to Wikibon analyst David Vellante.
He plotted three price erosion curves (below) for single level cell flash over the next few years, expressing the cost of flash as a ratio between it and 15,000rpm Fibre Channel disk drives, the ones used for providing the fastest access to disk-stored data. The curves were for 50, 60 and 70 per cent declines in SLC NAND flash pricing. He made the assumption that enterprise NAND flash prices will decline at the same rate as consumer NAND and started his curves at June, 2008, extending them out to June 2016.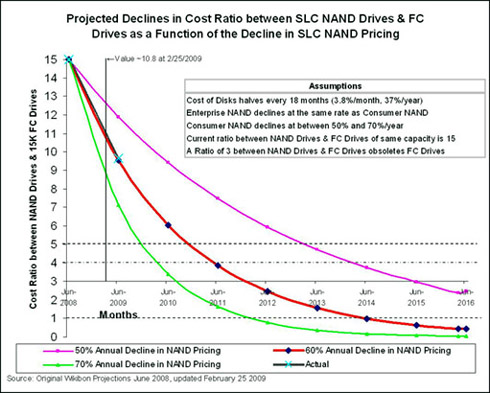 He added a line for actual NAND price declines so far, and this tracks the 60 per cent decline curve.
Vellante argues that, when NAND SSDs are only three times more expensive than Fibre Channel drives then, because flash drives are so much faster to access, not having to wait for a disk read/write head to be moved to the target track holding the data, users will start switching.
Currently customers will use flash in preference to short-stroked Fibre Channel drives where the cost/GB is much higher because the drive's capacity is effectively reduced. Data is placed on the outside tracks of such drives to reduce the head seek time.
As NAND prices drop, Vellante argues, customers will start putting fast access data in flash and the remaining data on SATA or SAS drives. His chart predicts this will happen in early 2012, with a 60 per cent annual drop in flash prices.
Effect on HDD manufacturers
What will this mean for hard disk drive vendors? Seagate is the leading shipper of Fibre Channel disk drives with Hitachi GST and Fujitsu also making them. Western Digital, the number two disk drive manufacturer, does not make Fibre Channel drives.
Seagate has already seen a 33 per cent drop in the total addressable market for enterprise drives in its most recent financial report, but this could be be recession based. It's generally reckoned that Seagate makes most of its profit from FC drives and if this product faces declining sales from 2012 onwards then Seagate profits will be hit.
The same is true for Hitachi GST and for the Fujitsu HDD business which is currently being bought by Toshiba. All three vendors will have to offer enterprise flash drives in order to stay in the enterprise data storage business. Seagate has said it is going to and may announce its first SSD product later this year. Western Digital has just bought an SSD technology company, SiliconSystems, and has said it will supply SSDs to the enterprise market.
HItachi GST has also said it will start shipping SSDs at some stage, and Toshiba already makes SSDs, having a joint venture with SanDisk, although not supplying the enterprise market.
Enterprise flash startups
Outside the HDD manufacturers there are several enterprise SSD suppliers. STEC already supplies EMC and other enterprise storage array suppliers. Intel supplies Pillar Data and Sun. Fusion-io supplies SSD accelerators to HP and probably has something going on with IBM. Violin Memory has its enterprise SSD technology as does startup SandForce, which is making marketing noises about its OEM relationships.
Lastly there is Texas Memory Systems which typically does not do OEM deals but has a relationship with NetApp for that supplier's V-Series virtualising storage controller to front-end TMS SSD product.
That gives us eight suppliers poised to fight for a market which Seagate currently dominates and for which it currently has no SSD replacement product. Neither does Hitachi GST.
The net of this is that the HDD suppliers do not have enterprise flash products whereas three startups - STEC, Fusion-io and Violin Memory - do, one will have (SandForce), and TMS could do OEM deals to add more competitive pressure.
TMS may well think it needs to go the OEM route because its potential customers will be able to get TMS-like performance from their existing server and storage drive array vendors without having to go to TMS at all.
Customer flash migration patterns
How will customers with existing storage arrays using Fibre Channel drives migrate to flash once the NAND price erosion sparks such a move? They could buy new arrays. They could front-end existing arrays with a flash box and simply turn off the FC drives. They could replace FC drives in their arrays with SSDs but, unless done with the array supplier's consent this could invalidate warranties and service contracts.
Array suppliers like Compellent, Dell, EMC, H,P and Pillar have already announced flash drives. NetApp and 3PAR have said they will do so as have HDS and Sun. They won't want to let incoming suppliers front-end their arrays in customer data centres with SSD boxes and will surely price and ship product to prevent that happening.
Another aspect of data centre flash data storage it is that server vendors could start putting SSDs on their servers, SSD direct-attached storage, that would allow them to store data on their servers that currently goes to disk drive arrays.
If Vellante's right it looks like this is going to be a strongly contested market. ®