Eva Chen speaks from the cloud
Interview Trend Micro's CEO threw down the gauntlet to her competitors last week, proclaiming that hackers are ahead of the game and that the anti-virus industry "sucks".
Chief exec Eva Chen, who co-founded the Tokyo, Japan headquartered-firm in 1988 with Steve Chang, announced last Wednesday a radical shift in business strategy for Trend Micro's anti-virus software that includes the ability to scrutinise malware "in-the-cloud".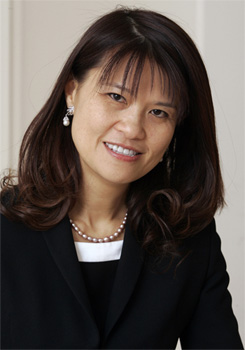 Trend Micro CEO and co-founder Eva Chen
The change in direction for the company, which competes with the likes of McAfee and Symantec, came about because the nature of the viral attack has evolved, Chen told The Register in an interview last Thursday.
Changes in the malware landscape have led to the creation of multiple variants of different malware strains and targeted attacks. Traditional top down command structures for antivirus distribution are struggling to cope. Trend Micro had little choice but to invest in the new technology. However Chen, who has five patents to her name, admitted that investors nervously questioned her risky decision.
"Building that kind of infrastructure requires a lot of investment and time and I've been questioned by Trend Micro investors for the past three years 'how come your cap ex increased so much?' and 'where did you spend all that money?'," she said.
Chen was also fast to criticise her peers in the anti-virus game: "For me for the last three years I've been feeling that the anti-virus industry sucks. If you have 5.5 million new viruses out there how can you claim this industry is doing the right job?"
Nuts and bolts
Chen, unsurprisingly, is convinced that cloud-client architecture, which Trend Micro has dubbed the Smart Protection Network, can bring down the shutters on pesky hackers.
The technology uses pattern comparison in the cloud and a client-side agent that is about 70 per cent smaller than Trend Micro's previous offering. The firm's cloud databases will be updated within 15-30 minutes of new malware being identified, claimed Chen.
Explaining the rationale behind Trend Micro's strategy, Chen said that network latency was a big issue that heavily influenced her decision to effectively edge the firm's bets.
"If the query is too slow the user will not accept it which is why we didn't redirect everything to the cloud because the scalability is very difficult for that kind of system," she said.
"We utilised our knowledge on the client-side to come out with a thin client that would minimise the need to send a file up to the cloud, we did not send any traffic there, the only thing that's sent is a query so there's no privacy issue because no [personal] information is being sent to the cloud."
But the technology isn't actually available on the market yet. In fact the two enterprise suites announced last week won't land until later this year.
The Threat Discovery Suite, which finds internal security threats on a network, is expected in the third quarter of 2008, while a Threat Mitigation Suite that provides analysis and policy review to protect against future threats will arrive in Q4.
Trend Micro has been a player in the lucrative battle against hackers for twenty years now. Chen claimed that what sets her company apart from its rivals is the fact that everything is in-house and "very specialist".
"We're not like Microsoft doing a bit of everything, this is our only business and we need to stay focused to stay on top of it. So we need to be better than the hacker," she said.
Chen admitted that getting customers to replace anti-virus software on the client-side is often the "toughest" challenge. "That's why I'm here today."
It's worth noting too, that the Trend Micro boss is aware of the competition breathing down her neck. Rival security firm Panda launched a very similar strategy in Barcelona just last month.
Chen also acknowledged that the global economic downturn has made companies very reluctant to replace their desktops in the normal three-year cycle, but is convinced that Trend Micro can help customers save a few pennies in straitened times.
Open and shut case
So, what's Chen's view on the fact that many customers are increasingly disgruntled by the price tags attached to licenses from the likes of Microsoft and other propriety software vendors, and instead are opting for an open source alternative for their business?
"There's water free out there and its drinkable but there's people buying bottled water, and you have to ask the question why?" she said. "For propriety software there's just one thing you need to do, you need to do better than the free software, either the support the service, whatever. It's the customer's choice. If you are not performing better and they're not willing to pay then you do not deserve to reap the rewards."
Chen argued that, for her, being on the propriety side of the software fence meant she could offer customers a better product than open source because the investment simply isn't there.
"The whole system needs to be able to encourage innovation. Look at the communist and capitalist models, which one has the fastest growth – you end up with capitalists, because whoever has the innovation and the creation makes the money. Therefore overall I believe you should encourage the competition and encourage the innovation to progress the society," she said. ®