Can network storage really be this easy to use?
Review Network-attached storage (NAS) boxes are all very well, but they're not what you'd call user friendly. Arch-geeks love 'em for storing and streaming content, but a fair few folk would prefer a simpler yet equally robust way of making storage available on a network.
Enter Data Robotics' oddly named Drobo, an external storage system designed with a high level of data resilience, now augmented with DroboShare, an add-on that allows a couple of Drobos to be accessed over a network.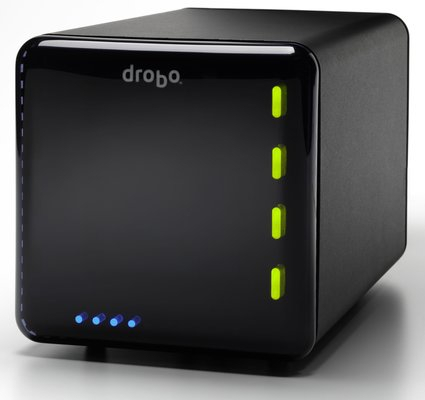 Data Robotics' Drobo: dark but well-lit
First, the Drobo. It's a large, 272 x 160 x 152mm shiny black box with a fan outlet, power and USB 2.0 ports at the back, and a smooth front that's featureless until you power the unit up. Then you get one to four LEDs to indicate the status of the drives within, and a row of ten blue LEDs to indicate what percentage of the combined drives' storage is currently being used.
The drive LEDs have a very simple colour scheme, clearly explained on a sticker inside the front panel, which is held in place magnetically so it's a doddle to remove and replace.
Drobo comes without drives: you need to add two or more 3.5in SATA HDDs yourself. The machine has four drive bays, so there's plenty of room for expansion, and since the system's designed to reconfigure itself on the fly, when you really run out of room, you just yank your smallest drive and slot a bigger one in its place.
And so ad infinitum...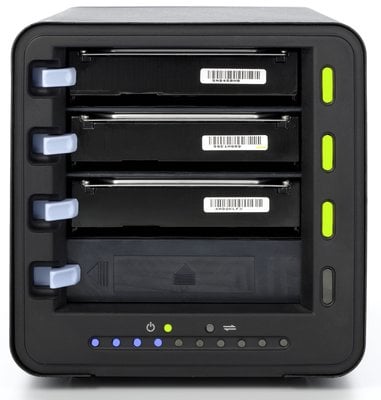 Slide in up to four SATA HDDs
We populated a Drobo with two drives: an 80GB unit and a 250GB drive. Connecting a Drobo to our MacBook Pro caused Mac OS X to pop up its usual unreadable disk warning, from which we opened the OS' Disk Utility and formatted the drive as a single HFS+ Journaled partition. You'd use equivalent tools built into Windows and Linux to set the storage up in those operating systems' preferred file systems.
Drobo presents itself as a 2TB drive to the host OS, even though the capacity is actually lower. Got more than 2TB in hard drives? Then Drobo will appear as multiple 2TB volumes. Why 2TB? It's a limit imposed by USB Trusted Storage technology, according to Data Robotics.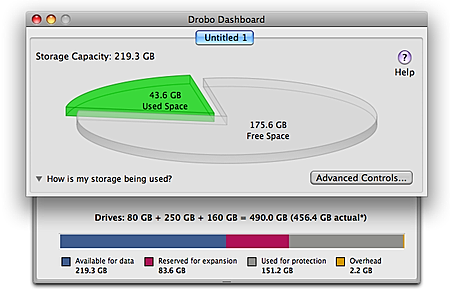 Drobo Dashboard: what's stored, where
Add a third drive - in our case, a 160GB unit - and Drobo immediately updates its internal map of the data you've stored on the system. Likewise, if you pull out a unit - as we did to simulate a drive failure - it instantly reconfigures itself accordingly, re-alloting the available space for data and for the codes it uses to recreate data that would otherwise be lost when a drive fails.
Taking out old drives and/or adding new ones can be done while Drobo's running, and your data remains fully available to you. You can continue to copy over files too. We were playing an H.264 video file when we yanked the 80GB drive, but playback continued uninterrupted. And we were able to trigger a Mac OS X 10.5 Time Machine back-up update while the Drobo was busy adjusting itself to the loss of those 80 gigabytes.
The adjustment process does take some time, so it's just as well that you can continue to use Drobo in the meantime. However, you're data's not protected until the process is complete. But you can slot in a fresh disk in due course, and reconfiguration will take the new drive's capacity into account. The auto-configuration of a new drive is reasonably fast.
And clearly, if your remaining disk space is less than that needed to hold all your data, you're in trouble. Or are you? No, because the Drobo ensures there's room for the data if the largest drive fails.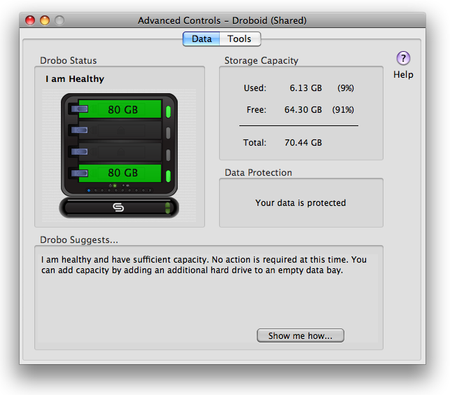 Top-top and ready to store
With the 80GB, 160GB and 250GB drives in and ready, we got an actual storage capacity of 219.3GB, with 8.36GB reserved "for expansion", 151.2GB used to store the information Drobo uses to reconstruct your files if a drive fails, and 2.2GB of other "overhead" data.
Tot that lot up and you'll get the 456.4GB of formatted storage capacity provided by the three drives. But your OS will still show an available capacity of 2TB minus whatever you've put on the Drobo.
The "reserved for expansion" space is effectively dead. Drobo likes its drives to be of a similar capacity. If they're not, the result is "unusable space... because there is not enough capacity to protect data in this space from a single-drive failure". The reserved area is essentially the difference between the biggest hard drive and the next one down. Insert two 80GB hard drives and there's almost no reserved space. Bung in a 100GB unit and 18GB are lost; replace the 100GB drive with a 160GB model and you lose 77GB. So keep the drive sizes close, OK?
And you'll note that that's "single-drive failure" not "multi-drive failure". Drobo's redundancy only goes so far, but it's within the tolerance of almost all desktop-storage users.
Later, we went back to two 80GB drives and tried to fill them. As the spare capacity dwindled, the Drobo flashed an orange LED at us which shortly went red to indicate it needs a new drive urgently.
Interestingly, at this point, while data was apparently still being copied, the system was barely registering increases in the total amount of information sent to the drive. A slowdown in the remaining time for the copy process feels like the Drobo's trying to compress as much of the incoming data as it can pending the insertion of a fresh HDD.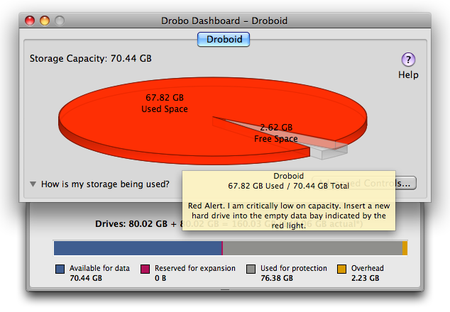 Danger, Will Robinson
Now, we got tired of waiting for something to happen and decided to put the Drobo out of its misery. We slipped in a 160GB disk - which was formatted by the unit and made available to use in seconds - at which point the time to completion began falling again and the tally of bytes copied over to the drive began to increase at the rate we'd expect it to run at. It looks like Data Robotics has at least attempted to cram as much data on the drive as it can in a bid to cater for unattended copies and back-up runs that take the unit over its storage limit.
The purist will complain that there's no option to grab the whole 456.4GB of formatted storage capacity for data, but that's not the point, Data Robotics would say. Drobo's for people who value data safety more than raw capacity. In any case, hard drives are relatively cheap, so if you want more storage space, fit some bigger drives. As we say, it's fully hot-swappable.
What we have here is not a RAID system in the true sense, but an expandable external drive with proprietary, RAID-like data protection. What's missing from this picture? Network connectivity.
This is where DroboShare comes in. It's styled not only to match the Drobo's looks but also to form a stand for it. There's a Gigabit Ethernet port on the back and two USB ports to let you plug in two Drobos.
We particularly liked the bundled power adaptor cable, which lets you drive the Drobo and the DroboShare off a single Drobo AC brick - nice space conservation, that.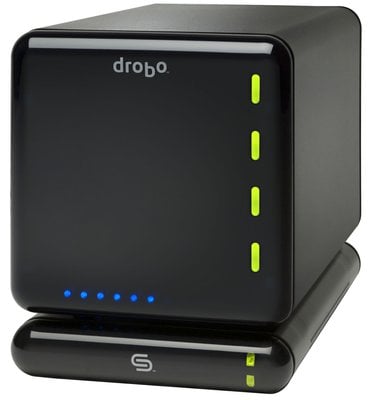 Drobo and (underneath) DroboShare
Having configured Drobo directly, sharing it is just a matter of powering it down, connecting it to the DroboShare and that device to your network. Turn the power back on, and DroboShare will grab an IP address off your router and you're ready to access its contents from any machine.
Data Robotics bundles DroboShare with a tweaked version of its Drobo Dashboard utility, which provides an initial access point to the device if you don't know its IP address. From here, you can get a readout of the available storage capacity, assign a manual IP address and, if you like, set a password for the shared storage space.
Unlike a NAS box, Drobo and DroboShare won't let you partition the drive, or create users and groups of users to help you police how the storage is used and shared. There's no remote access by HTTP and FTP, and you can't run your own server software on it.
Instead, like Netgear's TurboStorage line, Data Robotics' set-up is arguably more of a storage area network (SAN) product than a NAS. It's a big bucket of storage available to any and all users on a network. Pros and power-users may scoff at Drobo and DroboShare's NAS inadequacies, but they make for a much easier system for ordinary folk to set up, use and maintain. And keep their data safe against drive failures.
Unlike TurboStorage, Drobo uses simple, cross-platform software to access it, and if you're using a manual IP address, you can always get your data directly through your computer's own OS.
A perfect group-oriented storage offering then? Not quite. Install the Drobo first as a USB-connected drive, and Dashboard will update to the latest version. But it wasn't the version compatible with DroboShare, so we had to re-install it, using the version on the disc that came with the add-on. We also found Data Robotics' website lists contradictory information on the latest versions of the Drobo and DroboShare firmware and Drobo Dashboard. It's time to clear out the cobwebs, guys.
Copying data across isn't particularly quick, either. Copying over 1GB of data - comprising 100 10MB files - took, on average, just over three minutes - a data-transfer rate of 44.21Mb/s. That's over a wired links with a Netgear router, but we didn't see any improvement over a manually configured Mac-to-DroboShare link. In any case, so much depends on how busy your network is, whether you're connecting wirelessly or over a wired link, or whether your other kit has Gigabit Ethernet as DroboShare does.
What drives you put in will affect performance too. Oh, and it doesn't like multiple copies made in parallel. Doing so really slowed out test set-up down.
It's easy to take the Drobo off the DroboShare and re-connect it to a USB port on a computer, and you'll see a marked increase in data transfer speed if you do. Switching 'modes' this way doesn't require the drives to be reformatted - all your data is retained.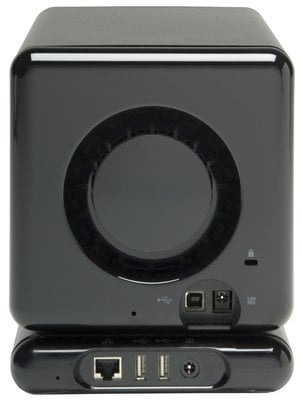 Ports for Gigabit Ethernet and hooking up two Drobos
Then there's the price. One drive-less Drobo costs $499/£350, and you can add a further $199/£160 on top of that for DroboShare and then more for the drives. Say, $400/£205 for the three 500GB units and a 80GB drive you need to get 1TB of user-accessible data storage - after the overheads - from the Drobo. That's $1098/£715 in full.
Apple's newly released Time Capsule offers 1TB of (unformatted) shared storage for $499/£329, and that includes a full, dual-band 802.11n access point and three-port Ethernet switch. You don't get the data protection facility, of course, and that's really what you're paying for with Drobo: safety from hard drive failures. But it won't protect you if it gets stolen or, god forbid, your house burns down. It doesn't provide any easy way to back-up its contents for, say, off-site storage, something you might well want if you consider your data so important it needs the level of protection Drobo affords.
Verdict
There's no question that Drobo and DroboShare make data resilience and storage capacity expansion really easy. Both are smart-looking boxes packed with even smarter technology to keep your files safe from drive failures and provide you with scope to expand their storage capacity for as long as Seagate, Fujitsu and co. make SATA hard drives.
We liked the Drobo and DroboShare, and we think Data Robotics has come up with something special. But the company needs to get the price down if it's to win over the kind of users who'll benefit most from its technology.